09/09/19
Hello, and welcome back to my final Disney planning post.
It is now just TWO DAYS until I board my Virgin Atlantic flight and head to sunny Orlando for 2 weeks of family fun!! And honestly it can't come quick enough!
With just 2 days to go that means we are now here at Phase 4, the final stage of the planning.
To bring you up to speed you can check out Planning posts 1,2 and 3 below ????
1. ?? https://lifestylelisa.com/2019/03/20/disney-planning-phase-one/
2. ?? https://lifestylelisa.com/2019/03/29/disney-planning-phase-two/
3. ?? https://lifestylelisa.com/2019/08/08/disney-planning-phase-three/
OKAY SO PHASE 4 – FAST PASSES (FP)
And for anyone who is reading this and has no idea what a FP is – in brief it allows guests to reserve and plan a visit to a Disney Park in advance selecting FastPasses for attractions, Character Greetings, entertainment, and viewing areas for parades and fireworks. The system as I mention below allows guests to make reservations up to 60 days in advance (when staying in a WDW resort) , and change at any time.
The first thing to point out is that this year we are staying off of Disney property in a villa, which means our FP window opens 30 days before our first day in the Disney parks, where as any guest staying in a Disney park resort will have a 60 day window. As previously mentioned.
The second thing to mention is that there are 9 of us travelling to Florida this year – yes NINE!
So I guess you may understand now WHY PLANNING IS JUST SO IMPORTANT! I mean you can't book a FastPass if you don't know what park you will be in on a certain day!
Obviously I am serial planner, and Luke is "on the ball" when it comes to dinning reservations and FP's, so even though we only had a 30 day window we have still done pretty well, and managed to get everything we wanted. Except for Flight of passage at Animal Kingdom and Slinky dog dash at Hollywood Studios. These are super popular rides, and to try and get 9 FP's within a 30 day window was just not possible! Luckily we have the after hours at AK so hopefully we can ride Flight of passage with very little wait time.
Luke and I discussed beforehand and knew exactly what FP's we did want to get, and Luke was on it with lightening speed as soon as the window for us opened.
So here's what we have ??
Thursday 12th @ Magic Kingdom – Space Mountain, Buzz lightyears Space ranger spin & Pirates of the Caribbean (Plus after hours event 10pm – 1am)
Monday 16th @ Epcot – Spaceship Earth, Nero & Test Track
Tuesday 17th @ Hollywood Studios – was Tower of Terror, Beauty and the Beast live on stage & Frozen sing along
Thursday 19th @ Magic Kingdom – Big Thunder Mountain, Splash Mountain & Haunted Mansion
Friday 20th @ Epcot – Soarin, Nero & Living with the land
Monday 23rd @ Animal Kingdom – Expedition Everest, Kali River rapids & Festival of The lion king. (Plus after hours 9pm – 12am)
Tuesday 24th @ Magic Kingdom – Big Thunder Mountain, Jungle Cruise & Pirates
I suggest researching all of the rides and shows that you and your family will enjoy and want to do before your allocated window opens. This way you maximise your best chance of getting the FP's you want and therefore avoiding major disappointment.
We now have a white board planner that looks like this!??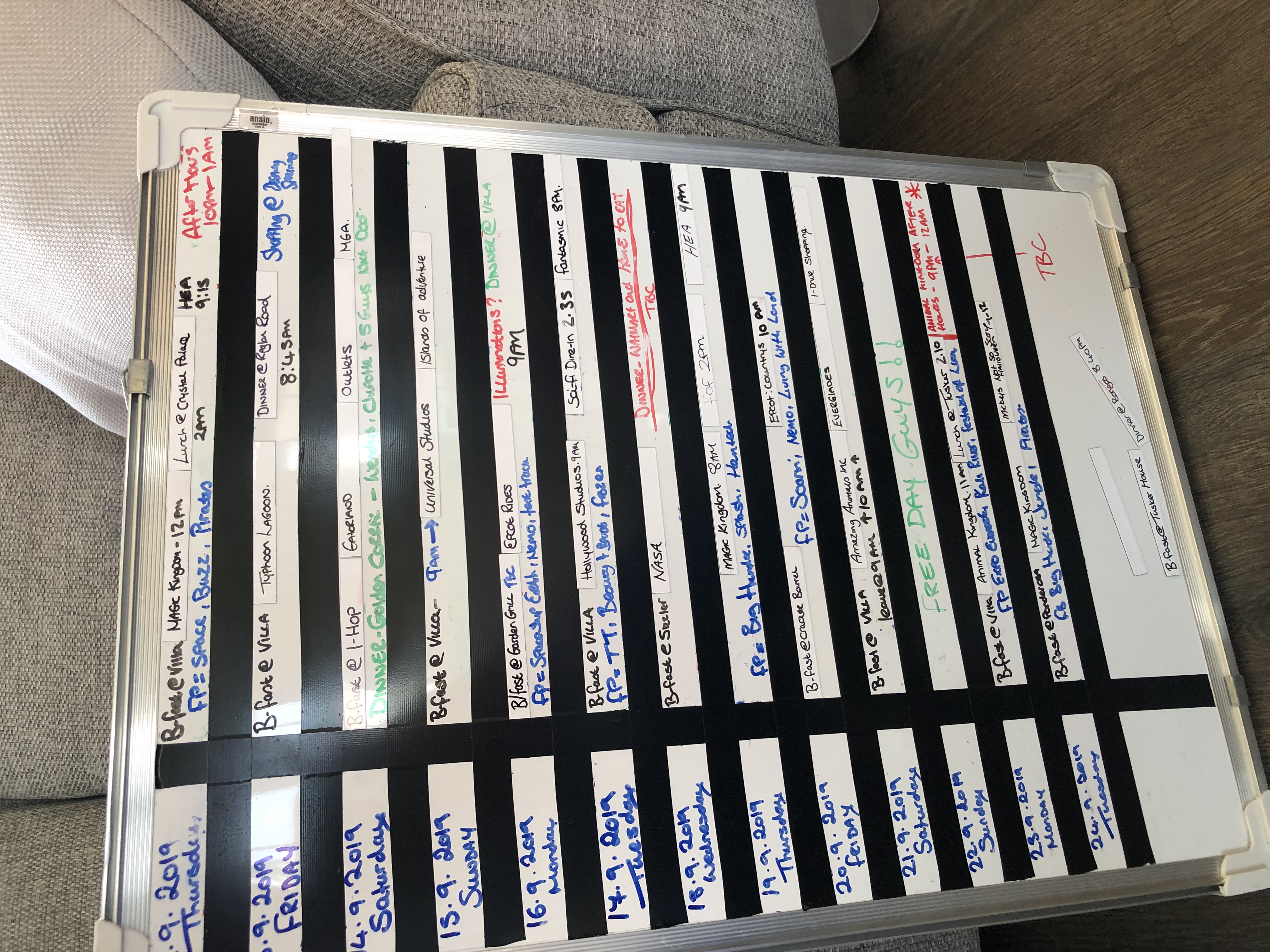 Next is to type up the itinerary so that everyone has a printed version (yes we actually do that) and lastly TRY really really really hard to change a dining reservation time that we have! Fingers crossed!!
And we are done! The FOUR stages of Disney planning!
Okay over to you Disney fans , how do you plan? Let me know by leaving a little comment below.
By the way have you checked out my other Disney related blog posts? ?? https://lifestylelisa.com/category/disney-adventures/
Thanks for stopping by today