If you have been following my Social Distancing blogs you will have read that since lockdown started I have found my inner Gordon Ramsey (and been watching far too many episodes of Kitchen nightmares USA) I have been enjoying being in the kitchen, experimenting and making new tasty treats and smoothies for Luke and I to try.
Pinterest is where I get most of my inspiration for healthy protein bites, and other healthy(ish) treats, the only 2 main requirements for me are 1 – They have to be relatively healthy and 2 They can't be too complicated to make!
Today with the weather being a little overcast and not sitting outside weather I decided to try out a pin I had recently saved for "Healthy" cookie dough! Who doesn't love to indulge in some cookie dough occasionally? And the fact that this is healthier than the standard cookie dough is a winner for sure!
The unusual main ingredient that I'm going to be using is chickpeas! Slightly weird, but I'm following the recipe (for a change) and measuring out all the ingredients!
Here is everything you will need to make Chickpea cookie dough – 1 can of chickpeas (drained), 64grams of peanut butter (note, I only use the good stuff and never substitute for a cheap nut butter) 32g of maple syrup, 1 tbsp of oats, 2tsp of vanilla extract and chocolate chips to serve
This is so super super easy to make because once all of your ingredients are measured out you can literally throw them all into your food processor together (minus the chocolate chips) Now I don't have a food processor so I use my blender for everything, I mean is it the same thing? It certainly does the job that's for sure!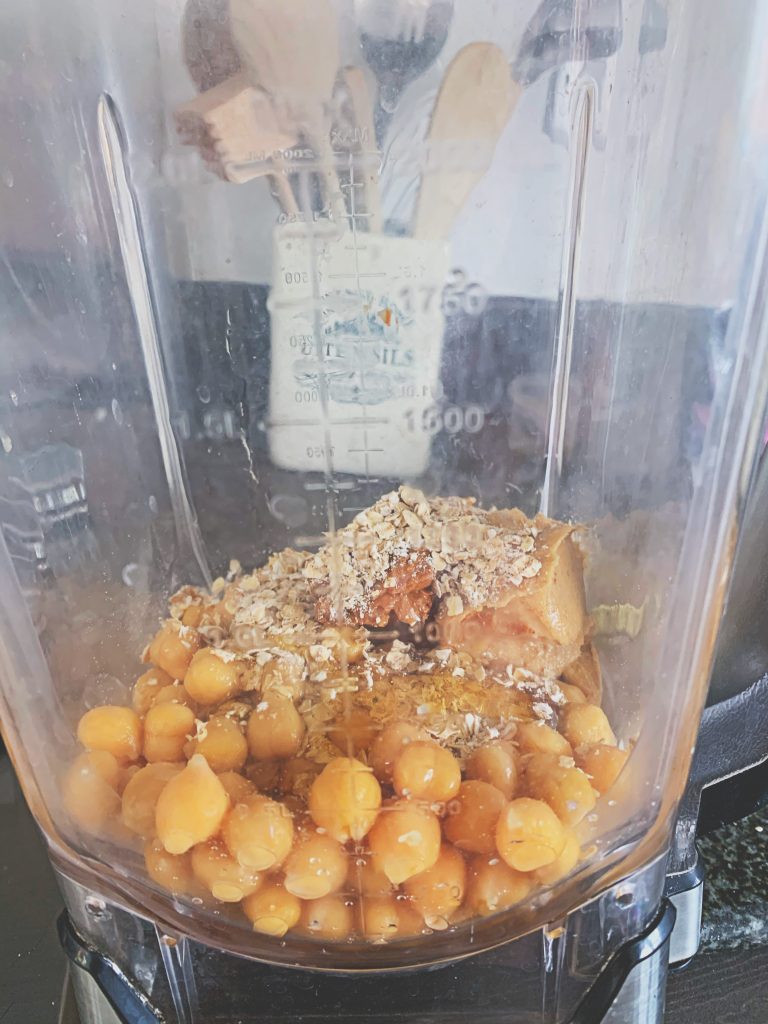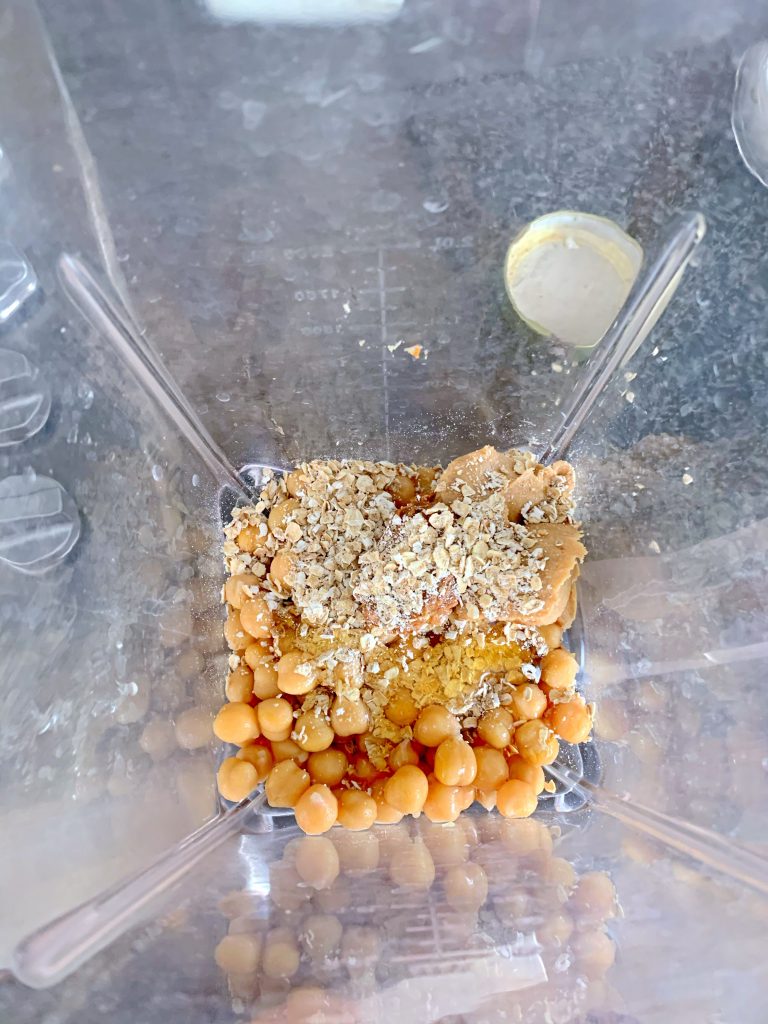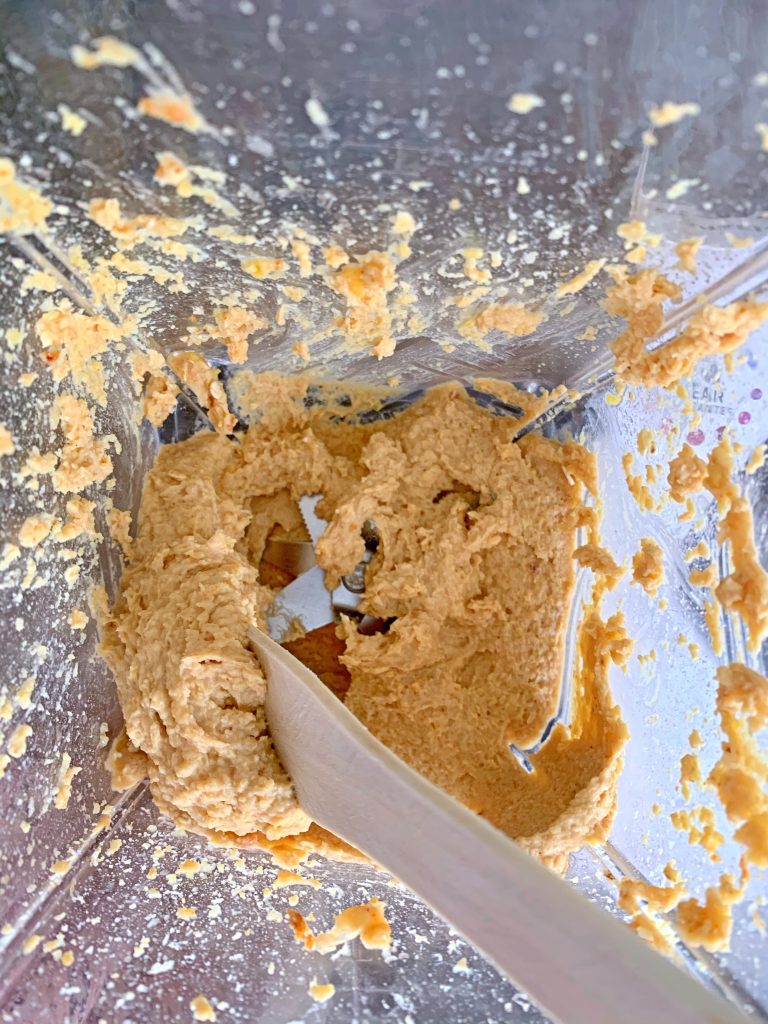 I would say from start to finish this took around 20 minutes to make which includes prep time and clear up time, seriously it is THAT easy!
The only problem I came across with using a blender is I had difficulty scraping the cookie dough out, but hey, I managed in the end!
Placing the dough into 2 separate ramekin dishes I then added my chocolate swirls (in the UK chocolate chips are like gold dust and I haven't been able to get any for weeks! Chocolate swirls were the next best thing!) I also added for fun some hundreds and thousands and served with some cinnamon graham crackers!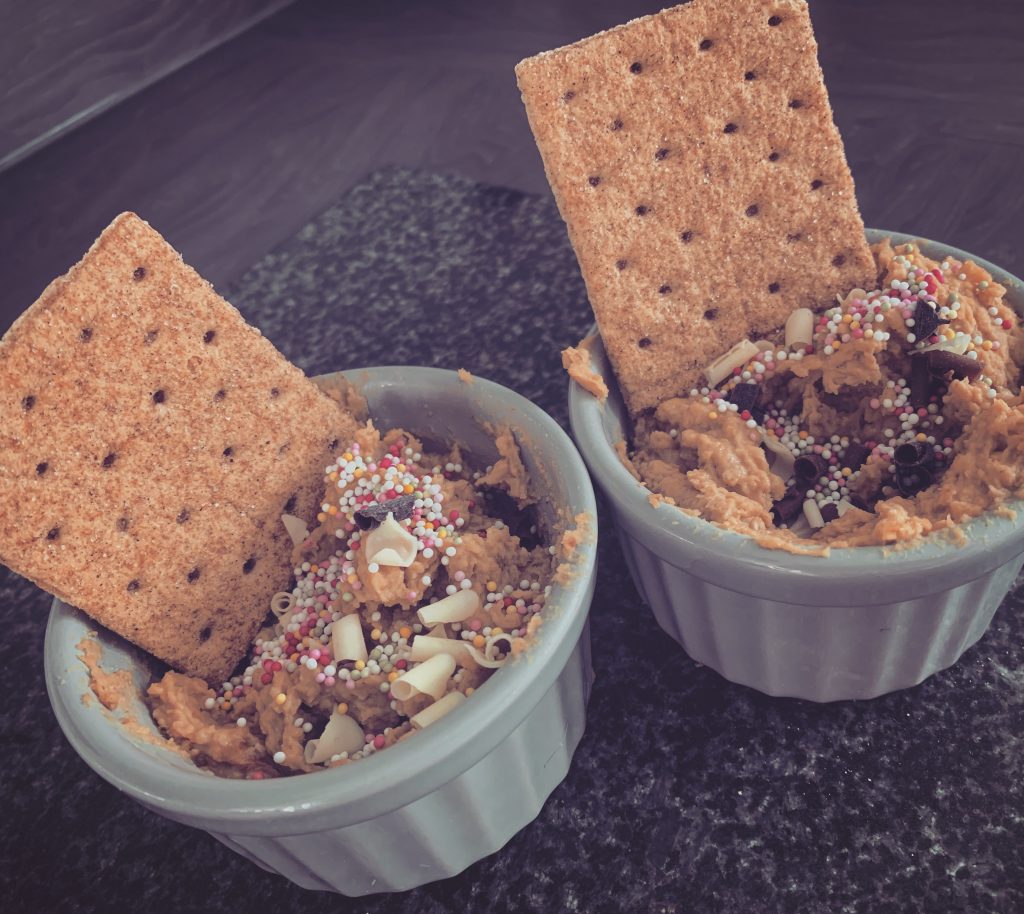 Now for the taste test – Well I have to say it's REALLY REALLY GOOD! I thought it was going to be weird because using chickpeas is a little odd, but it all works really well together! Luke tucked right in and really enjoyed it, and I always rely on him for an honest answer!
I'm definitely going to make this again, and try experimenting with different nut butters, maybe almond or cashew!
This is a perfect keep in the fridge go to snack for when you want something sweet & savoury and don't want to eat anything too calorific!