12/02/2019
I have woken up to SNOW!! OMG IT'S SNOWING IN NEW YORK! It's like all of my dreams coming true at once! I really really wanted it to snow whilst I was here, and my wish actually come true! SUPER EXCITED!!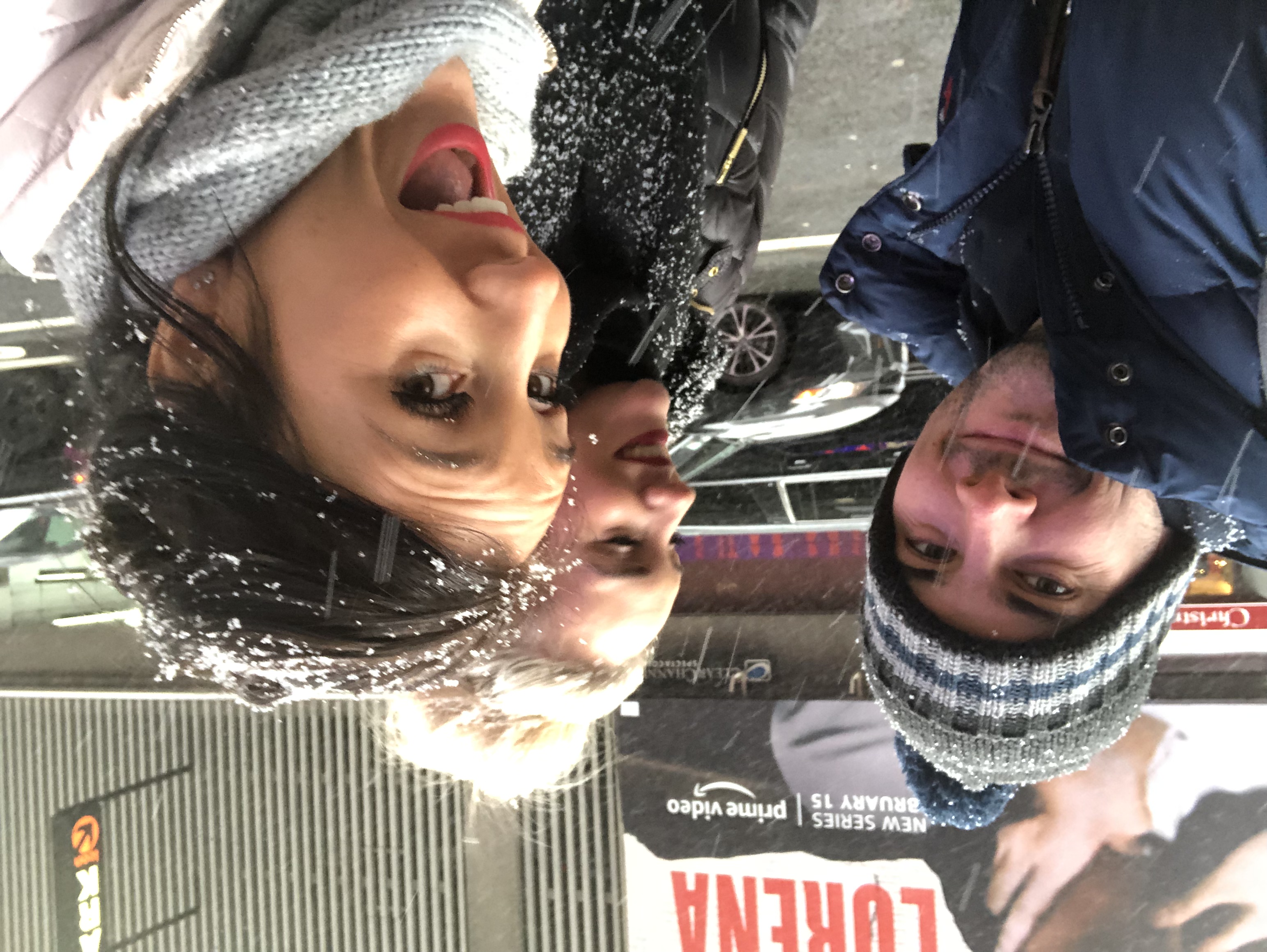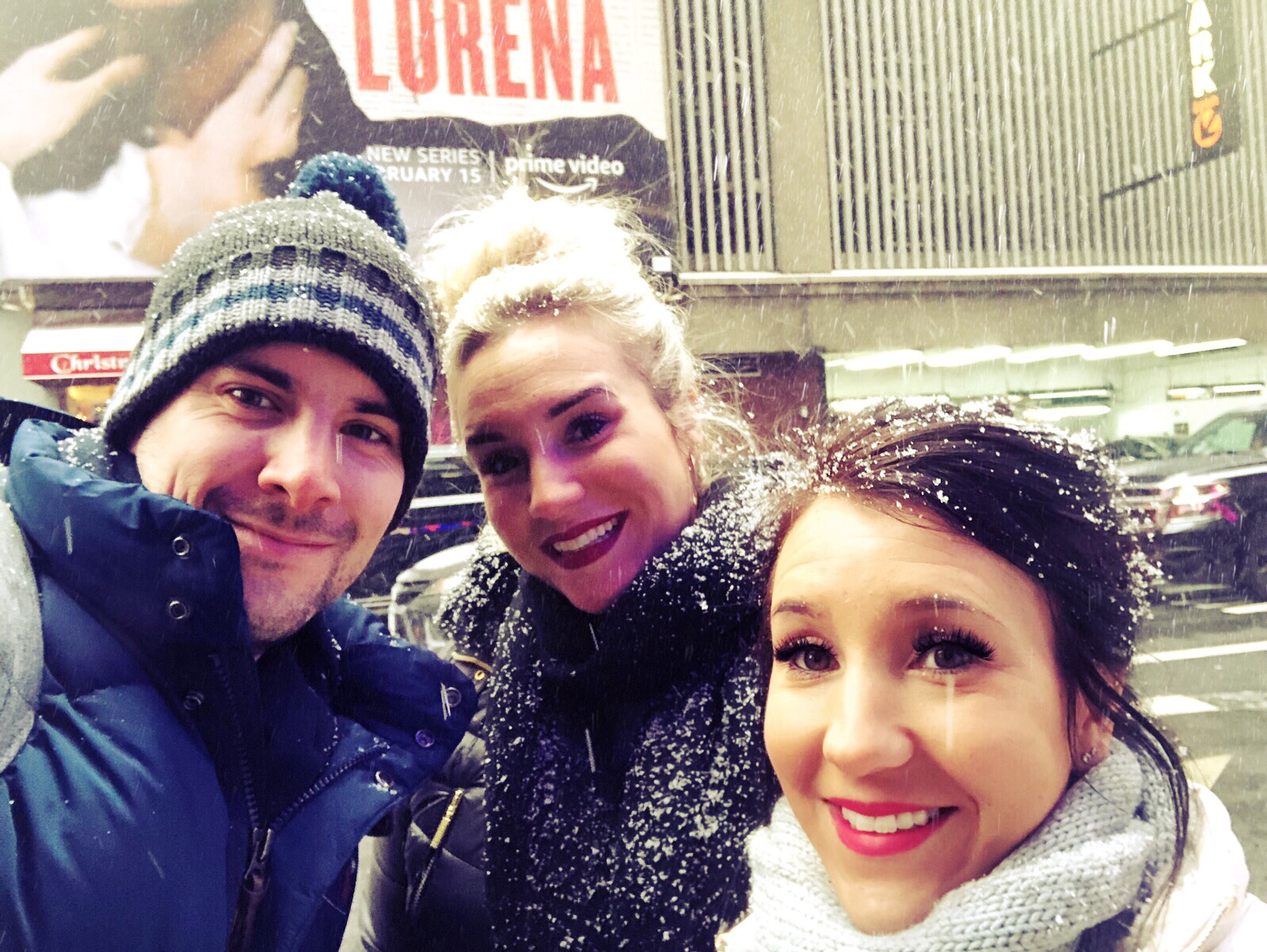 SO the stats of the day – well I woke up 7am! I don't know why, nothing woke me, I was just all of a sudden wide awake! I think it's because I am loving New York SO much I don't want to miss a single thing!!
A quick shower later….. okay I lied, a long Hot shower later I was ready and dressed….. and starving!! Like stomach rumbling starving, I needed FOOD and COFFEE!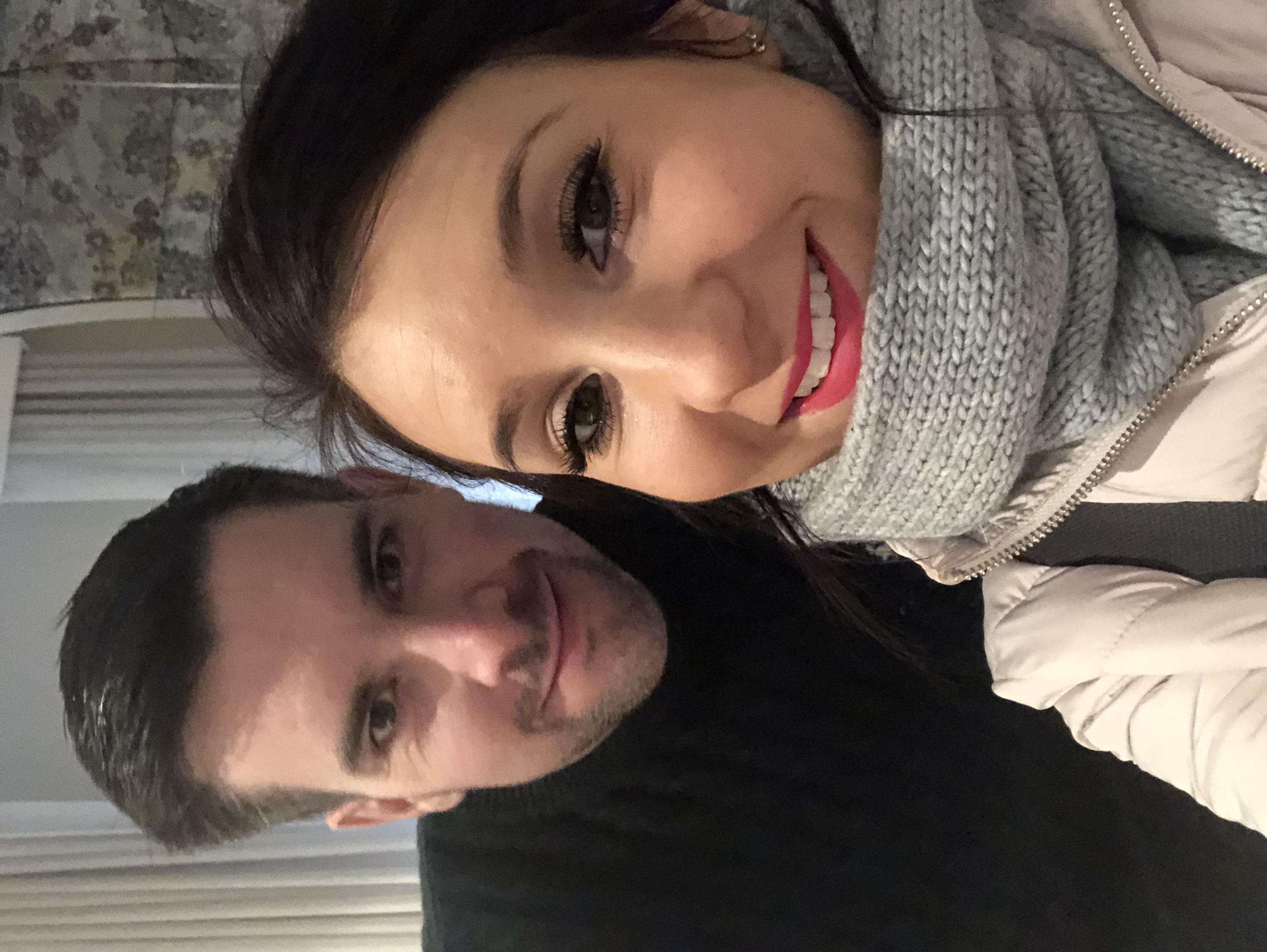 First stop of the day 1650 Broadway, Ellen's Stardust diner! My sister had spoken about this place and I had seen it featured on various vlogs as one of the top 10 places to eat whilst in NYC, and of course I had already checked out the menu and planned exactly what I was going to eat, so as you can imagine I couldn't wait to get inside and check it out for myself!
You CANNOT book a table here and in the summer you can expect to wait at least 45 minutes to an hour plus to get seated, but believe me when I say it is more than worth the wait! I think we were lucky on this particular Tuesday morning, as it was snowing the cue (which is outside) was quite short and I think we ended up waiting around 20 minutes before we got a table, which really wasn't too bad at all.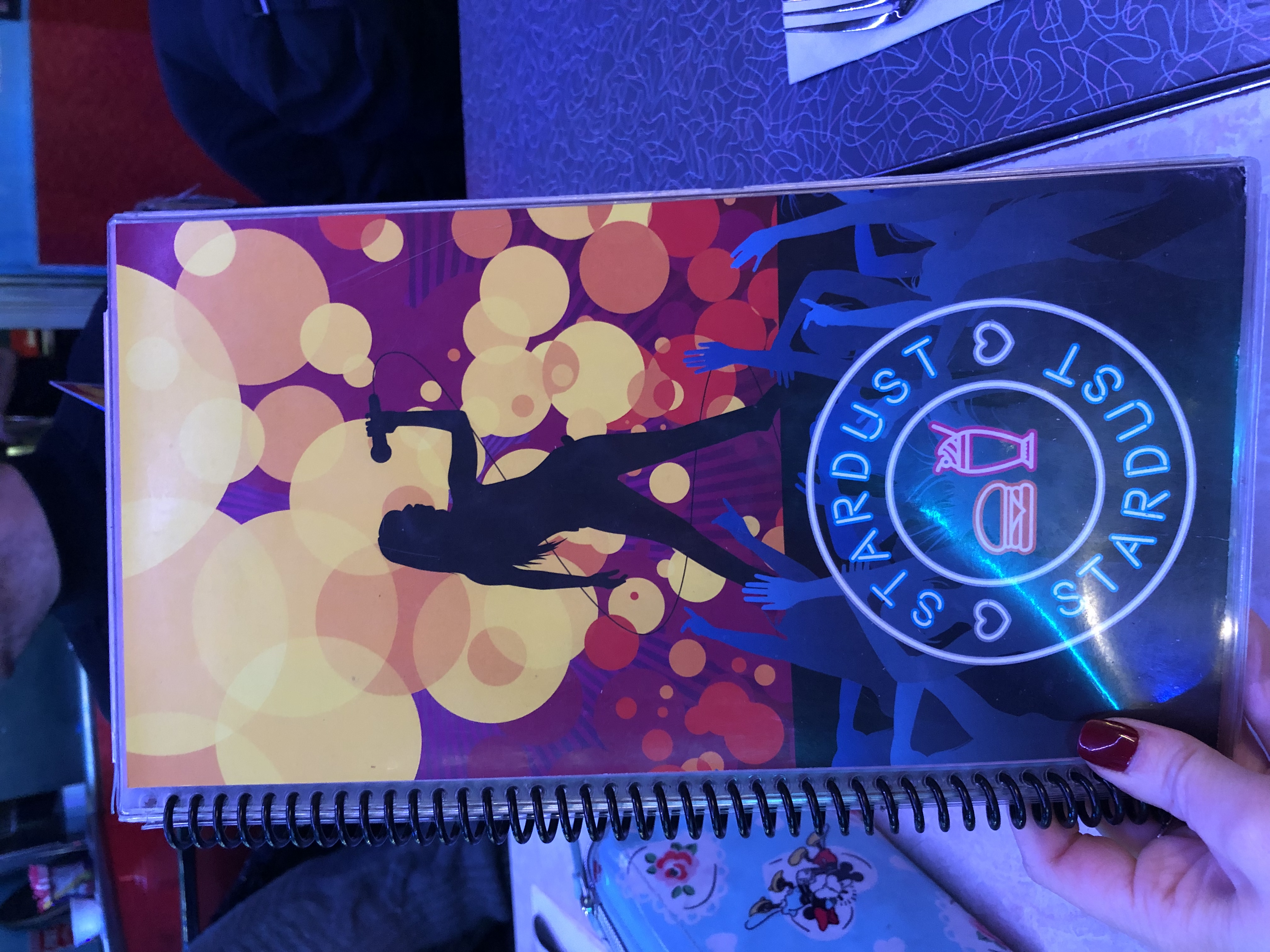 So WHAT EXACTLY IS ALL THE FUSS ABOUT HERE? You may very well ask, and I will explain! Times Square, Midtown Manhattan, New York City – the home to famous Broadway theatres and also home to the future stars of the stage. Ellen's Stardust Diner – is where you will find the world famous singing waitstaff! Every member of serving staff is an aspiring broadway performer who is also studying performing arts, waiting for their big break. Whilst they serve you breakfast, lunch, dinner and coffee, they also sing and perform, like absolute true stars! They sing anything from, Musicals, to Disney, George Michael and more! And they are STILL walking around SERVING!! The food was delicious and YES I do recommend the Rainbow bagel with cream cheese and sprinkles! Don't knock it till you've tried it!! Reasonably priced, and a place that YOU NEED to visit when in NYC!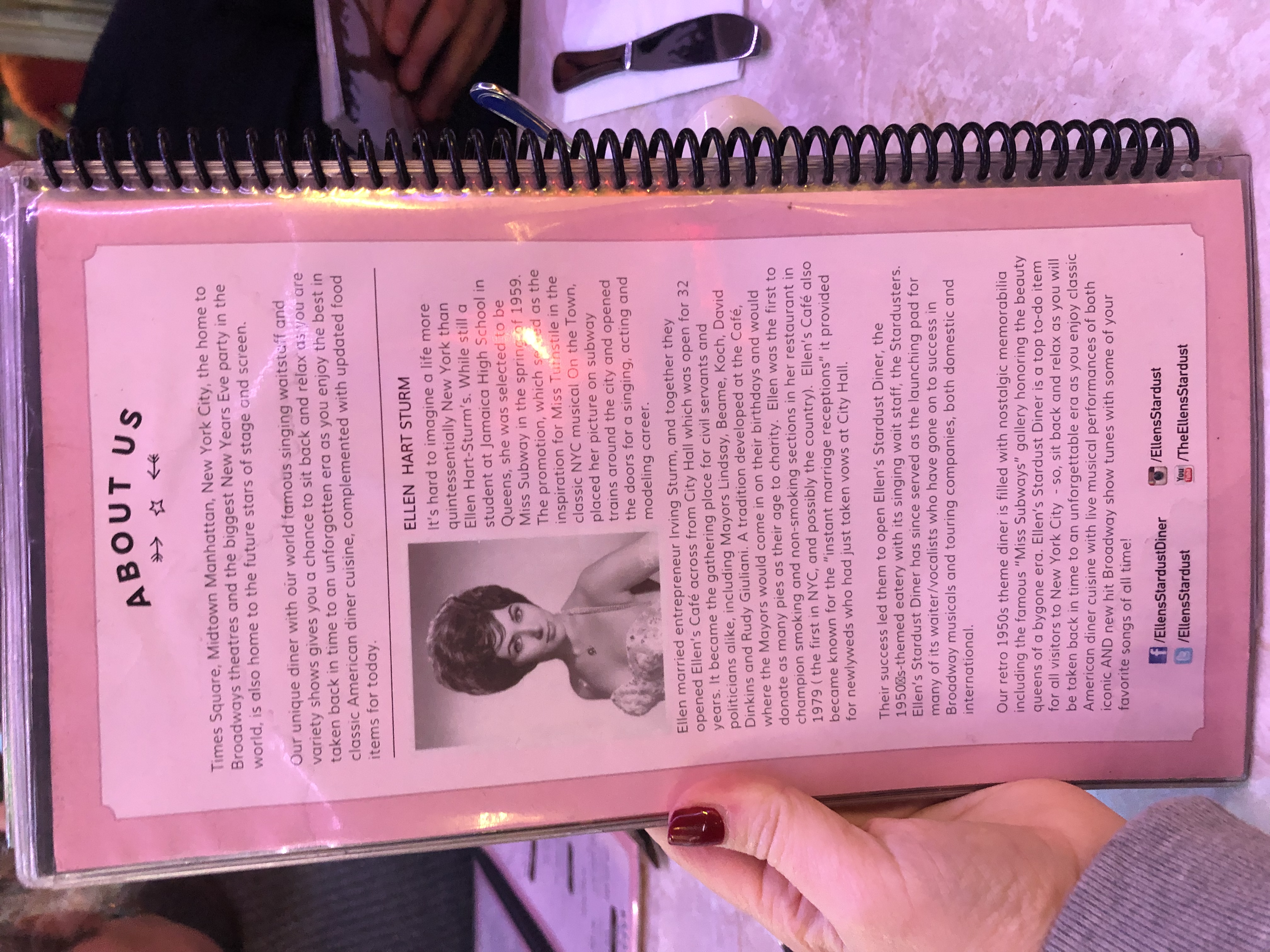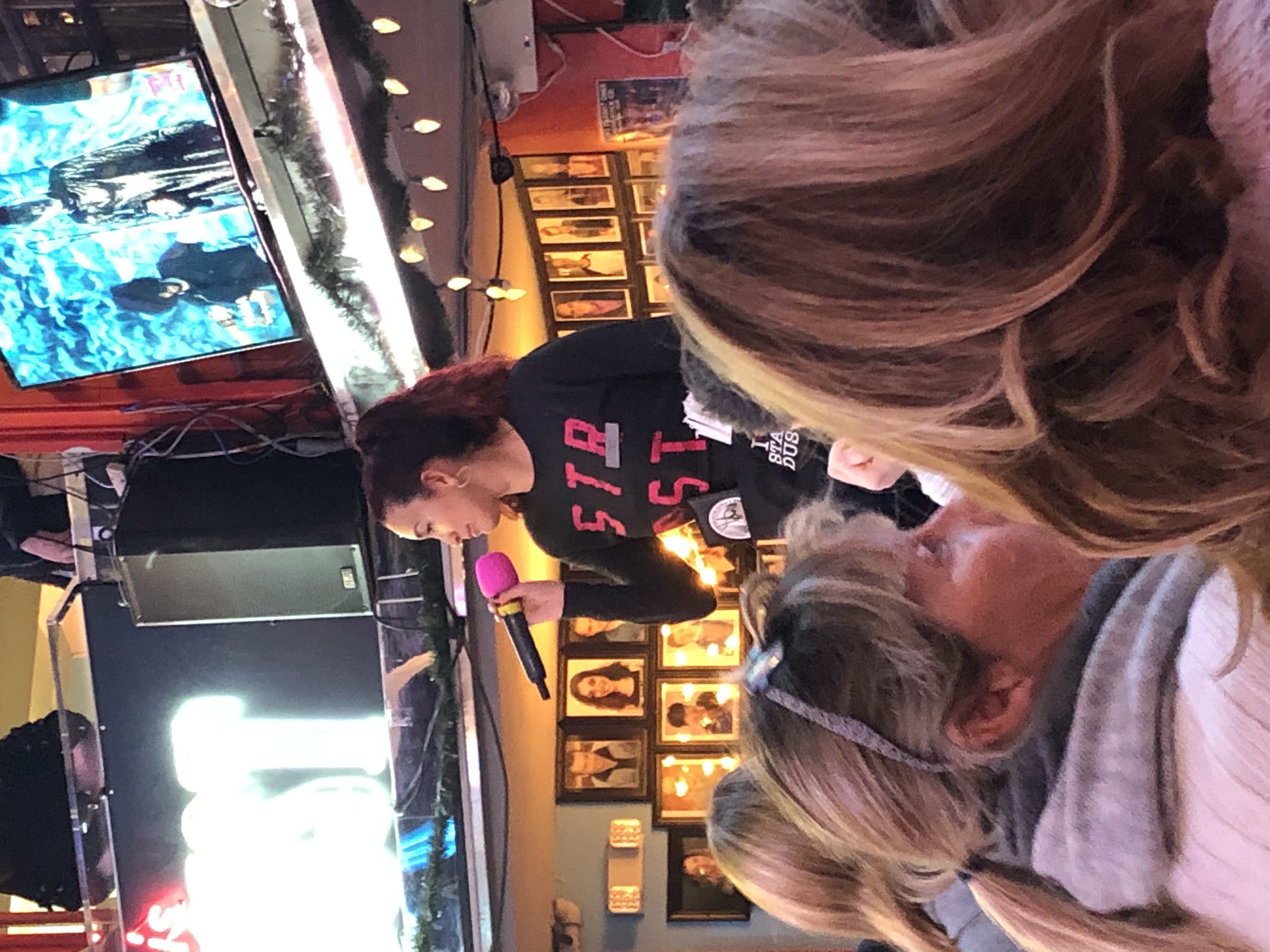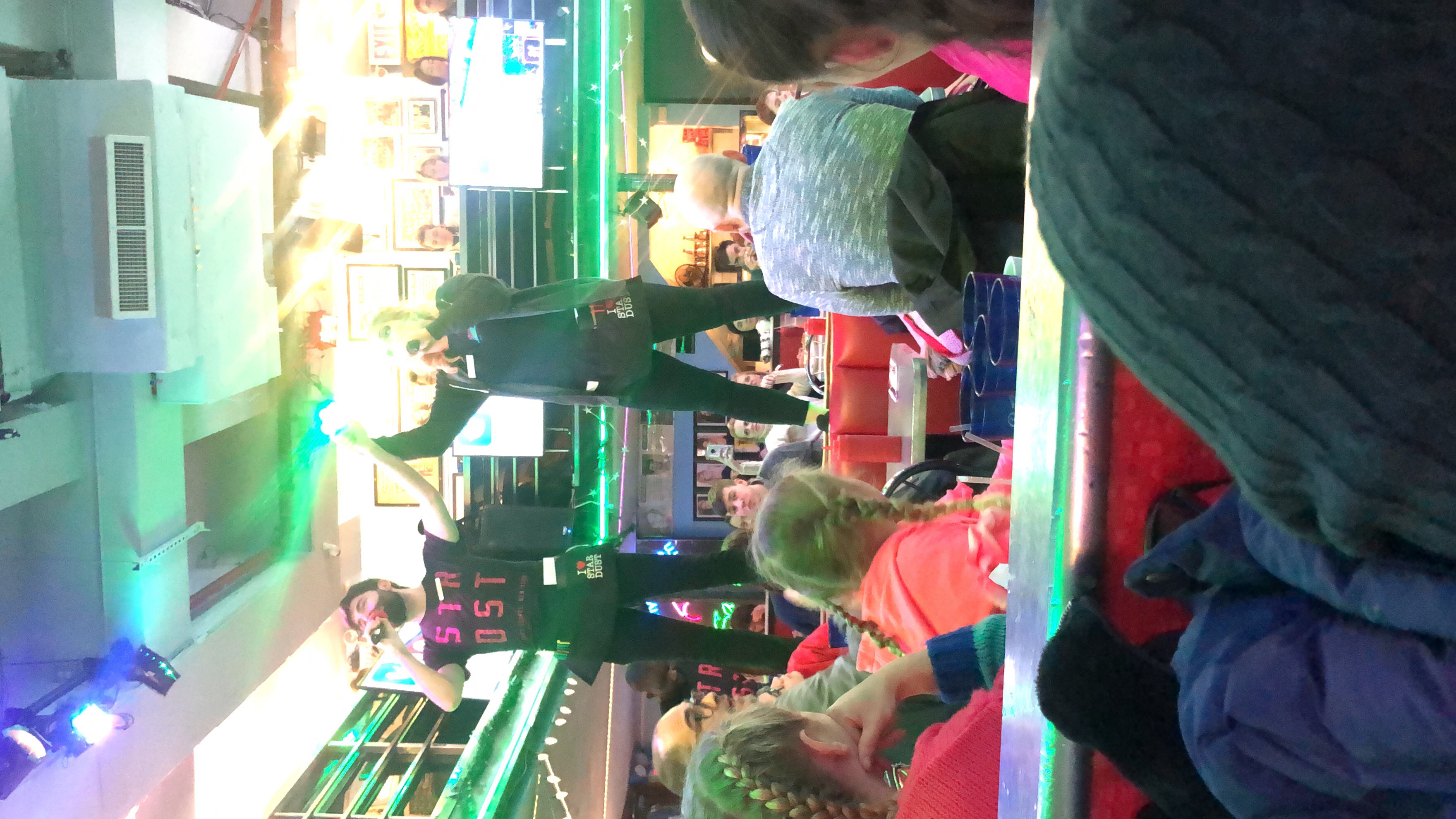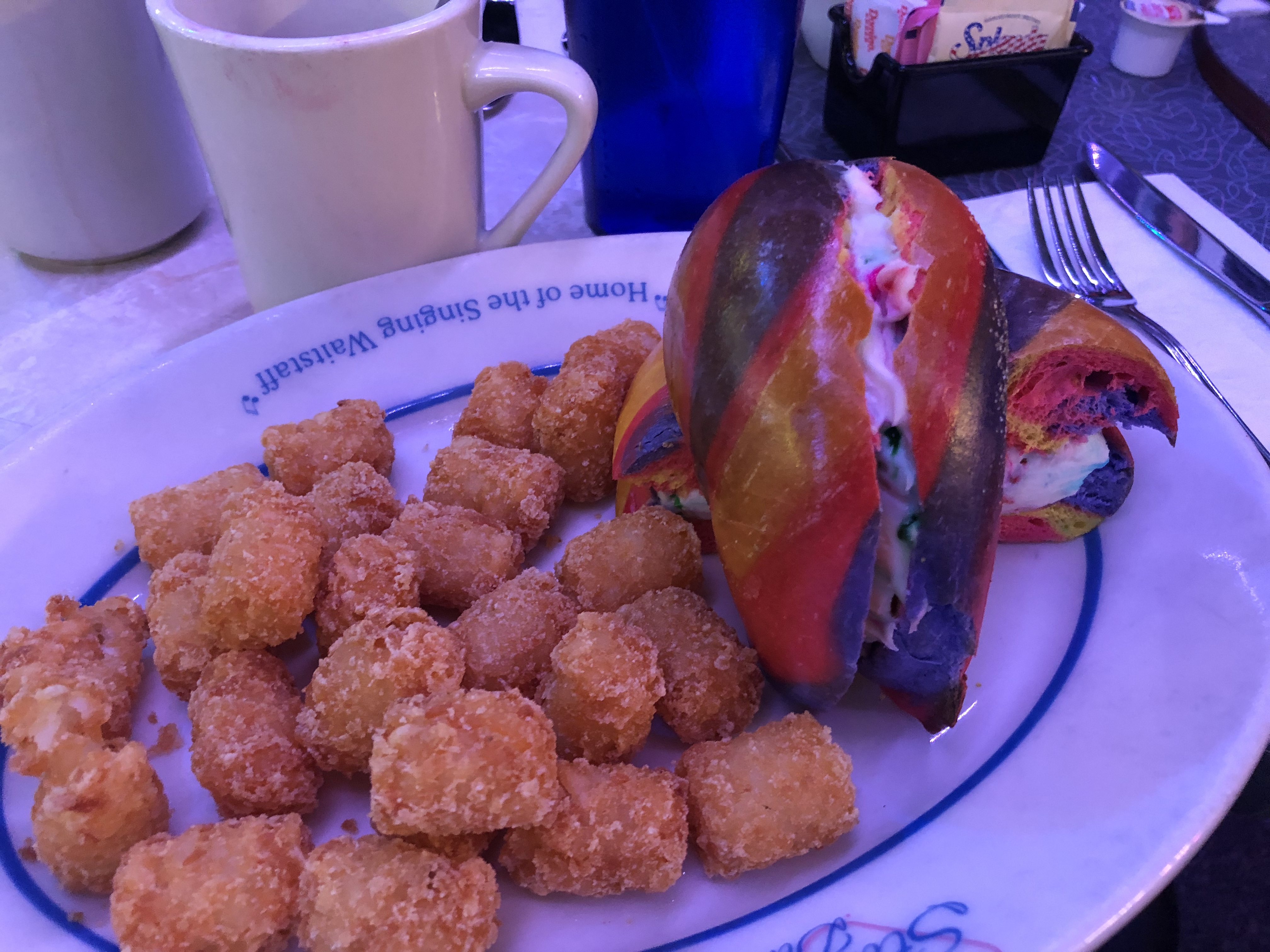 Okay the SNOW is really heavy now! But we have an itinerary and NOTHING is going to get in our way!!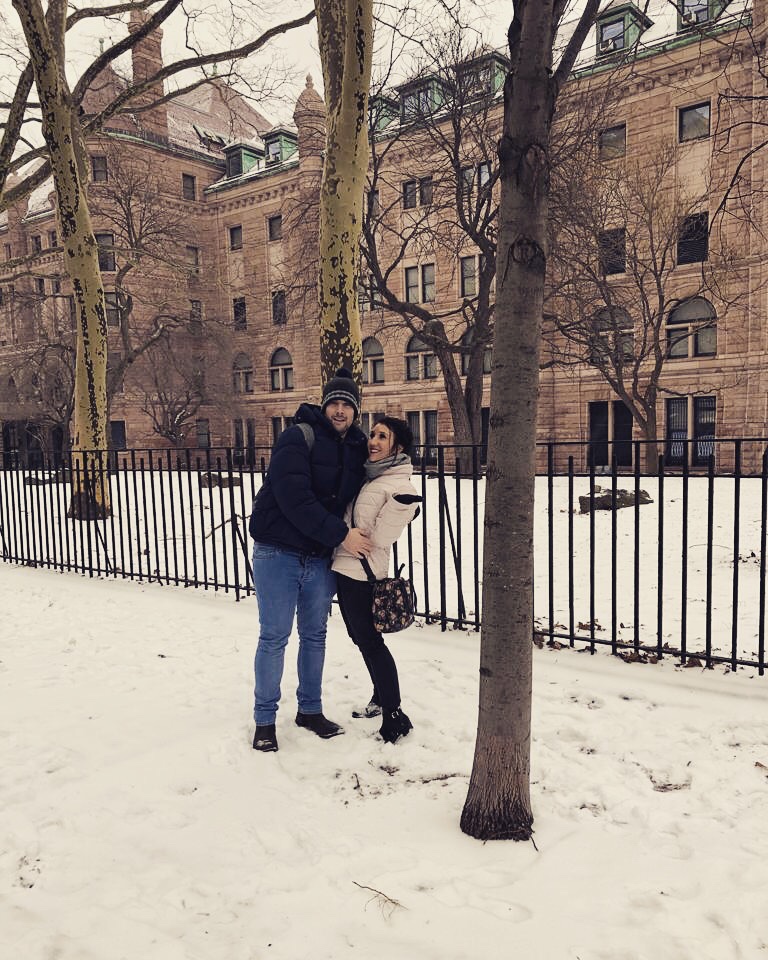 From there we had a pretty busy day ahead of us. Taking the subway we made our way to the first stop in the list, the 911 memorial and museum. This has to be on the list of any tourist visiting New York. The museum is a real tribute to the thousands of men and women who lost their lives on that awful day. It has been set out respectfully showing the historic aspects of the day, and you can also see items from the buildings, fire engines and cars and personal items too. There is a memorial tribute with all the pictures of every woman man and child who lost their lives on that fatal day, which although is extremely upsetting it's also significant and honourable. It's very surreal to be there, and I really felt a great sense of sadness walking around. We spent around 3 hours here, and it was Important for us to visit, as this really was a significant day that we will always remember in our lifetime.
Wanting to do something a little more lighthearted we made our way to the natural history museum, YES we have one right here in London, but COME ON, when in New York right?! I love the natural history in London and find it fascinating so I knew I was going to enjoy walking around the one in NYC! We got here a little later than planned, so spent around an hour and half picking out the bits we wanted to see the most – IE THE DINOSAURS!!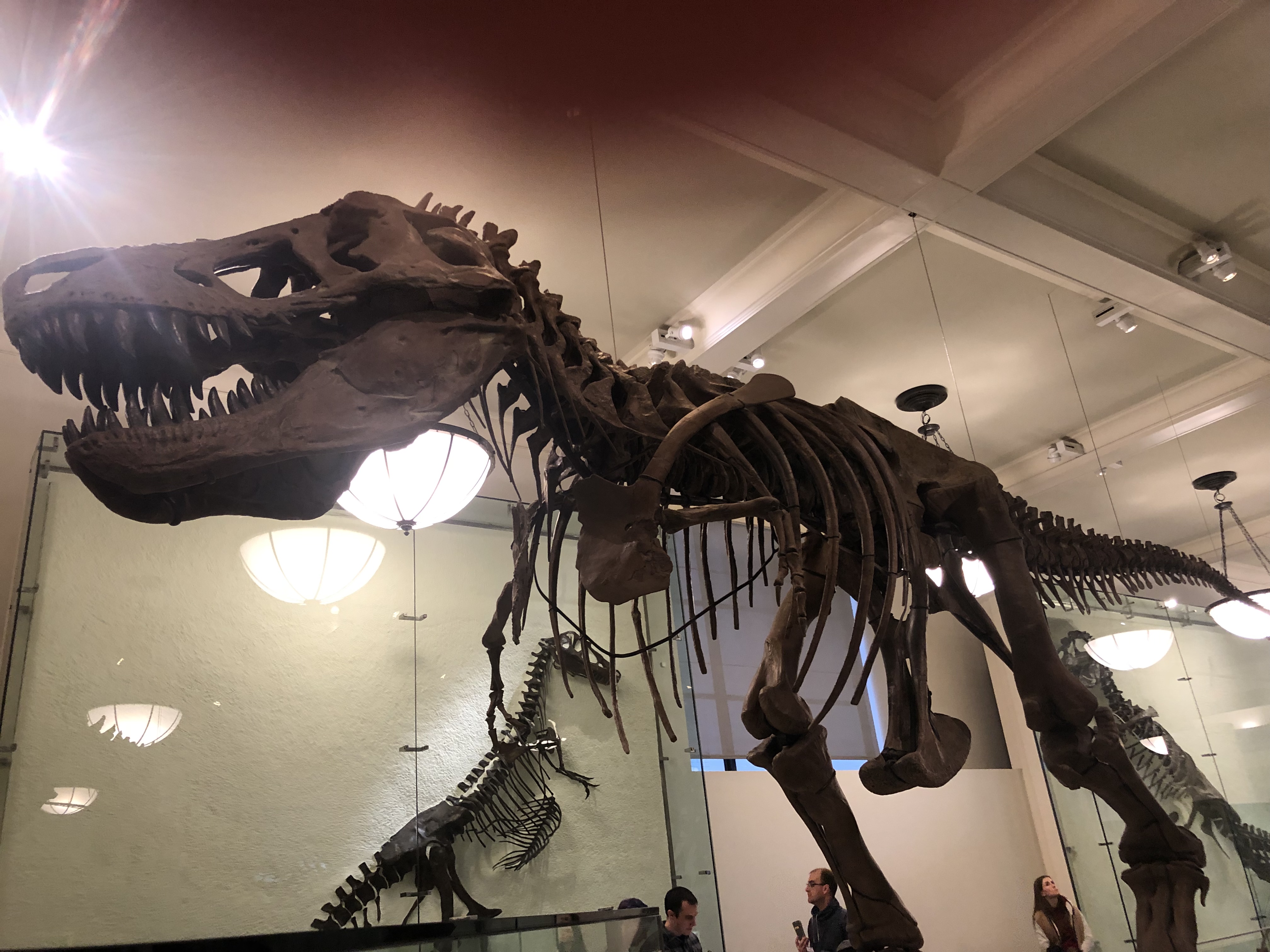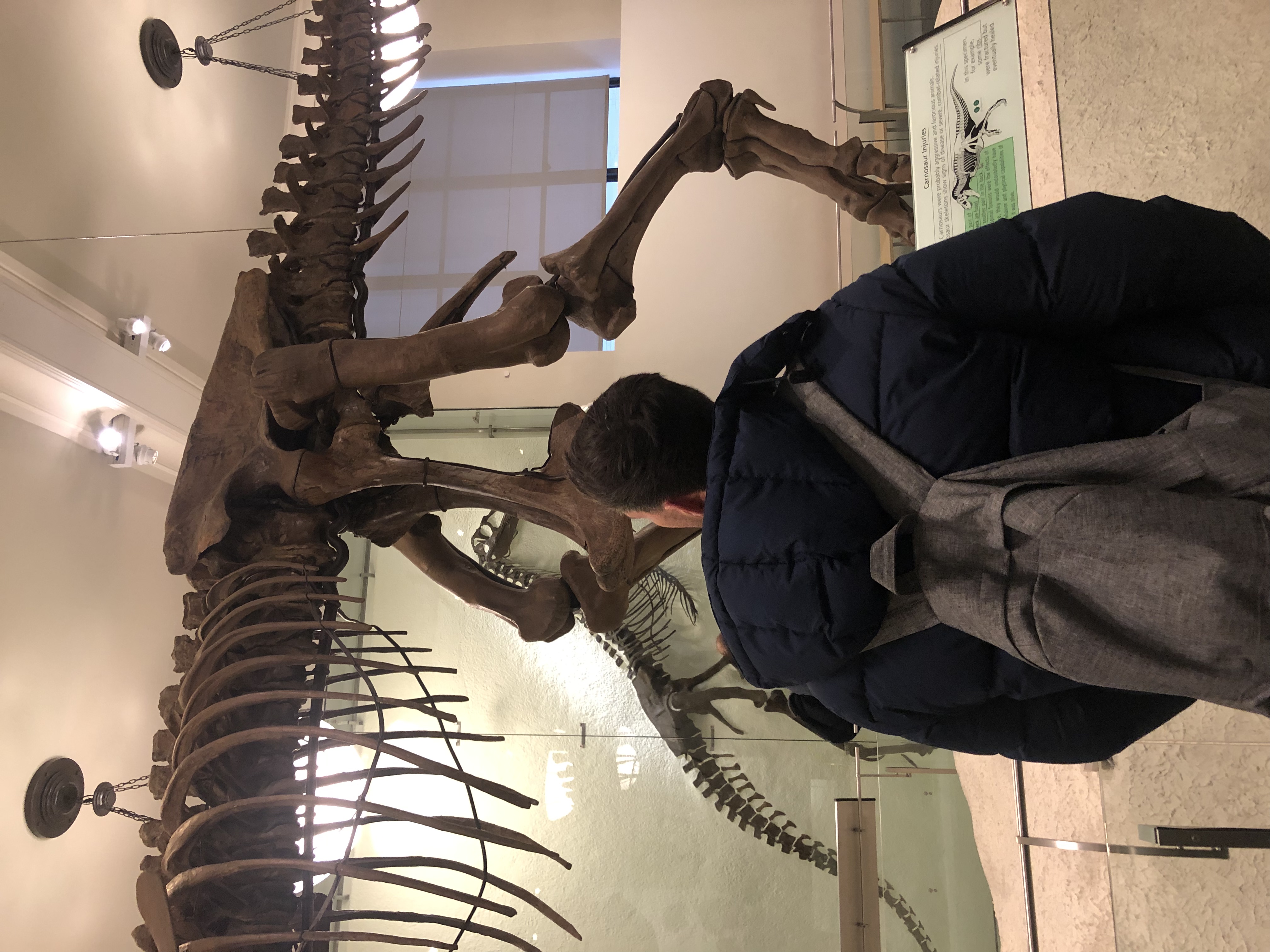 CAN I JUST SAY ITS ABSOLUTELY FREEZING! I literally cannot feel my nose, or toes, or feet or fingers!!!!!!!! I don't think I even felt this cold when I climbed Snowdon last April, it's this weird kind of cold that literally wraps it's self around you! It's so strange!!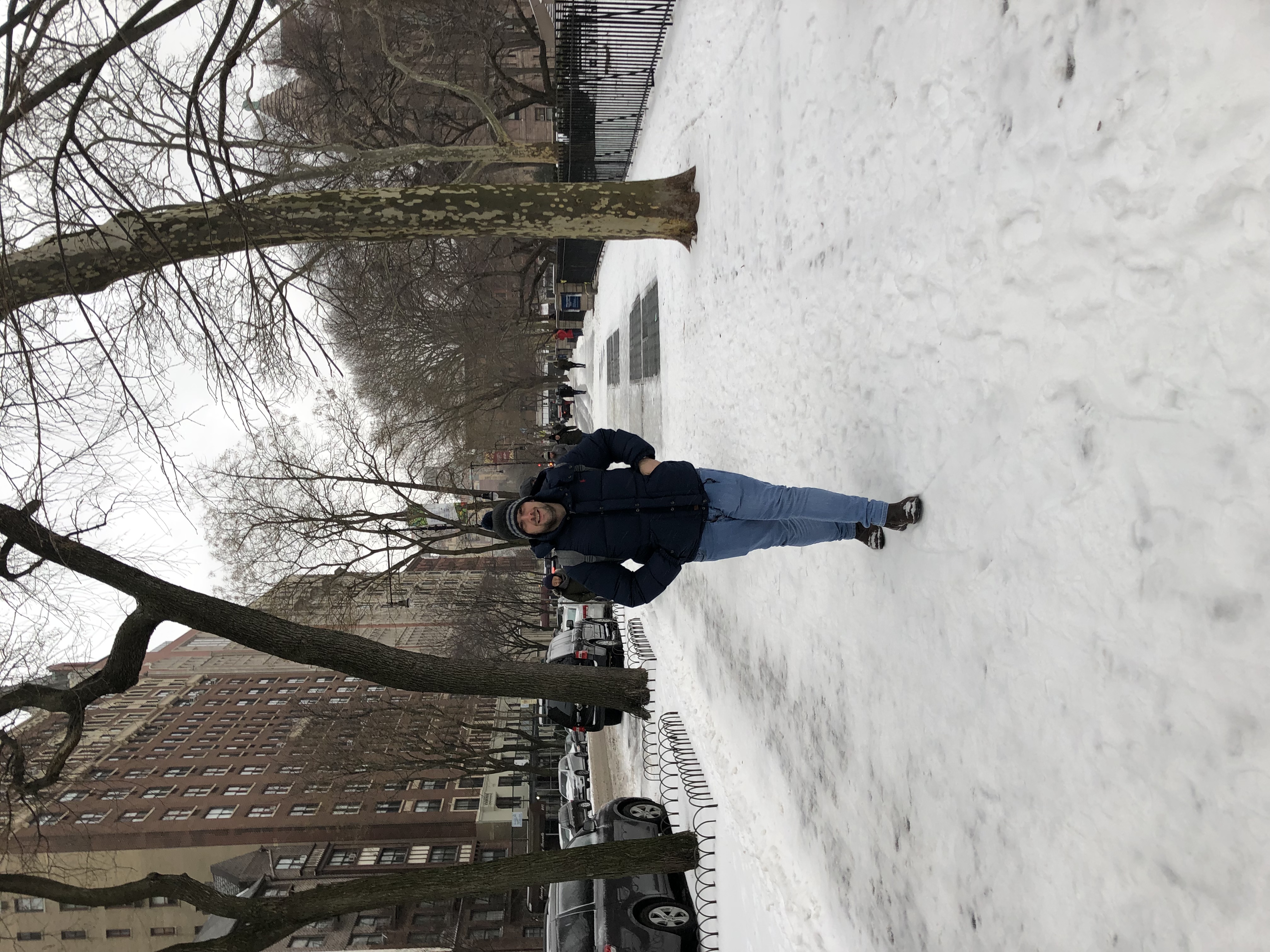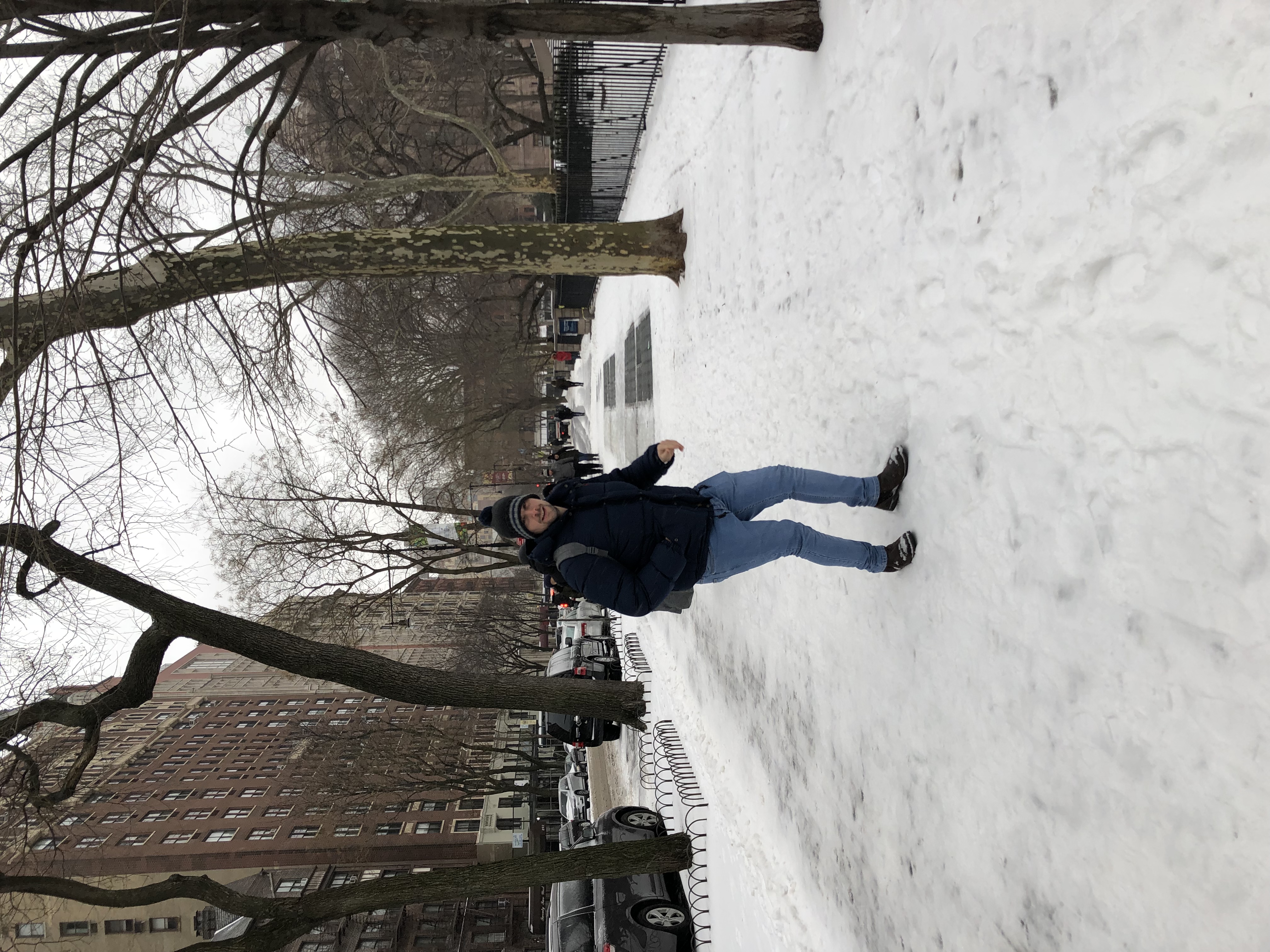 We finished up at the Natural History to find that the snow had turned to fine rain, but not even the rain would stop us from heading onto our next adventure – The Brooklyn Bridge!! A short subway ride later and we found ourself's in Brooklyn, the fine rain was coming down pretty heavy, and was making me a whole lot colder!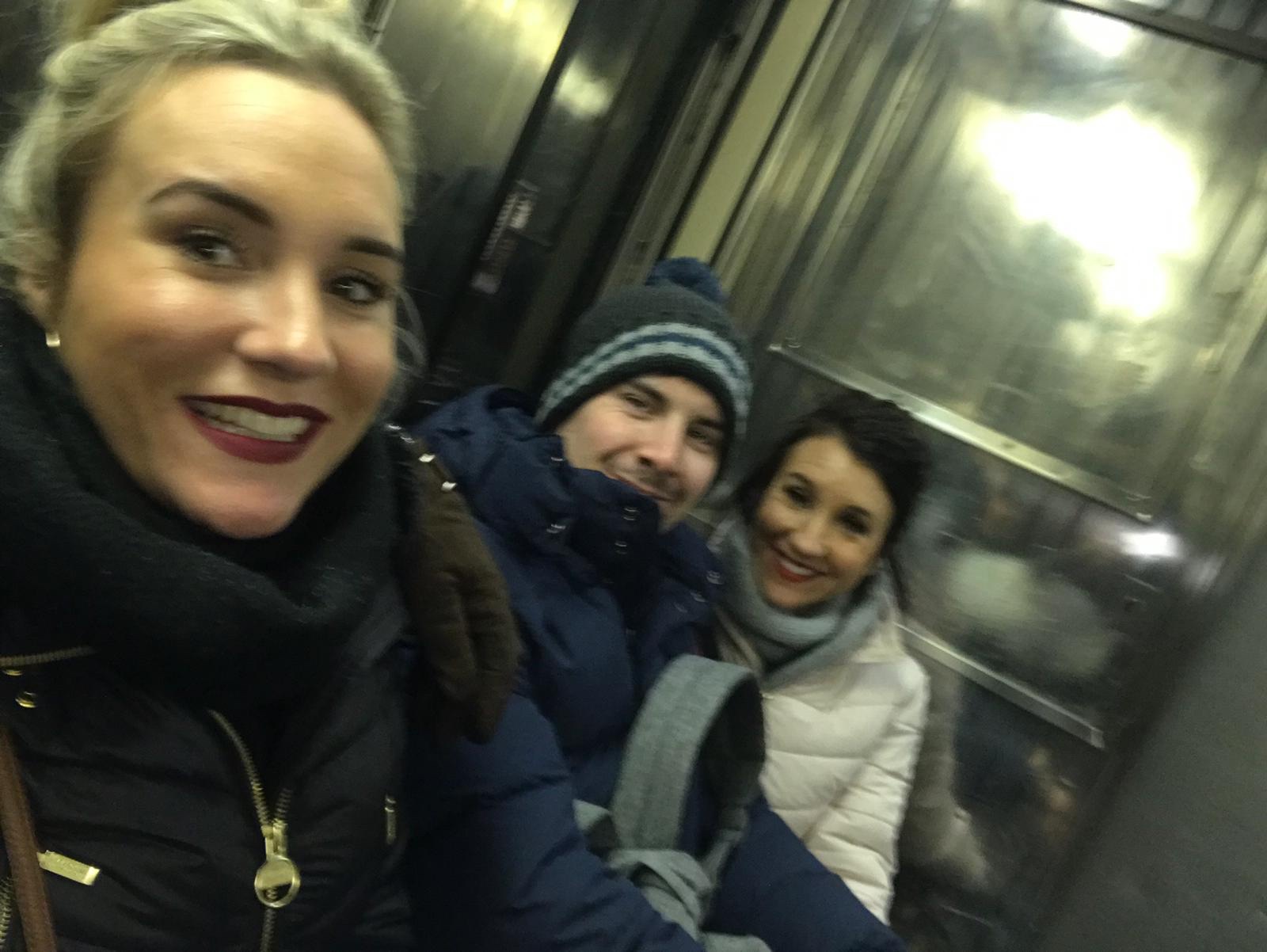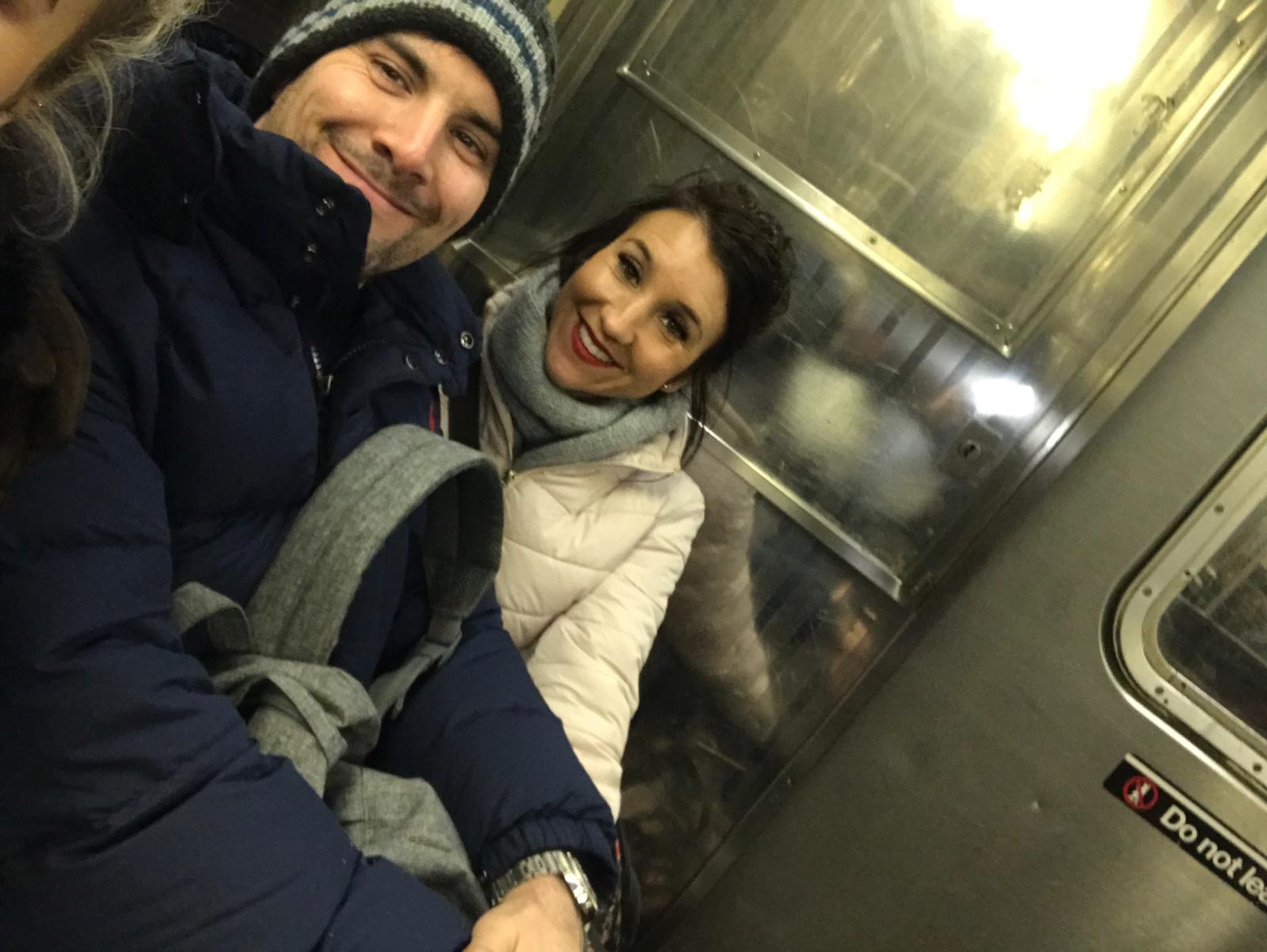 Before we headed to NYC we did a bit of researching on YouTube to find out where people recommended eating and visiting etc, WELL it just so happens that fairly near the Brooklyn bridge there is a place called Luke's Lobster selling LOBSTER ROLLS! And don't we all know how much I LOVE a lobster roll?! Well it would have been pretty rude not to grab one right!!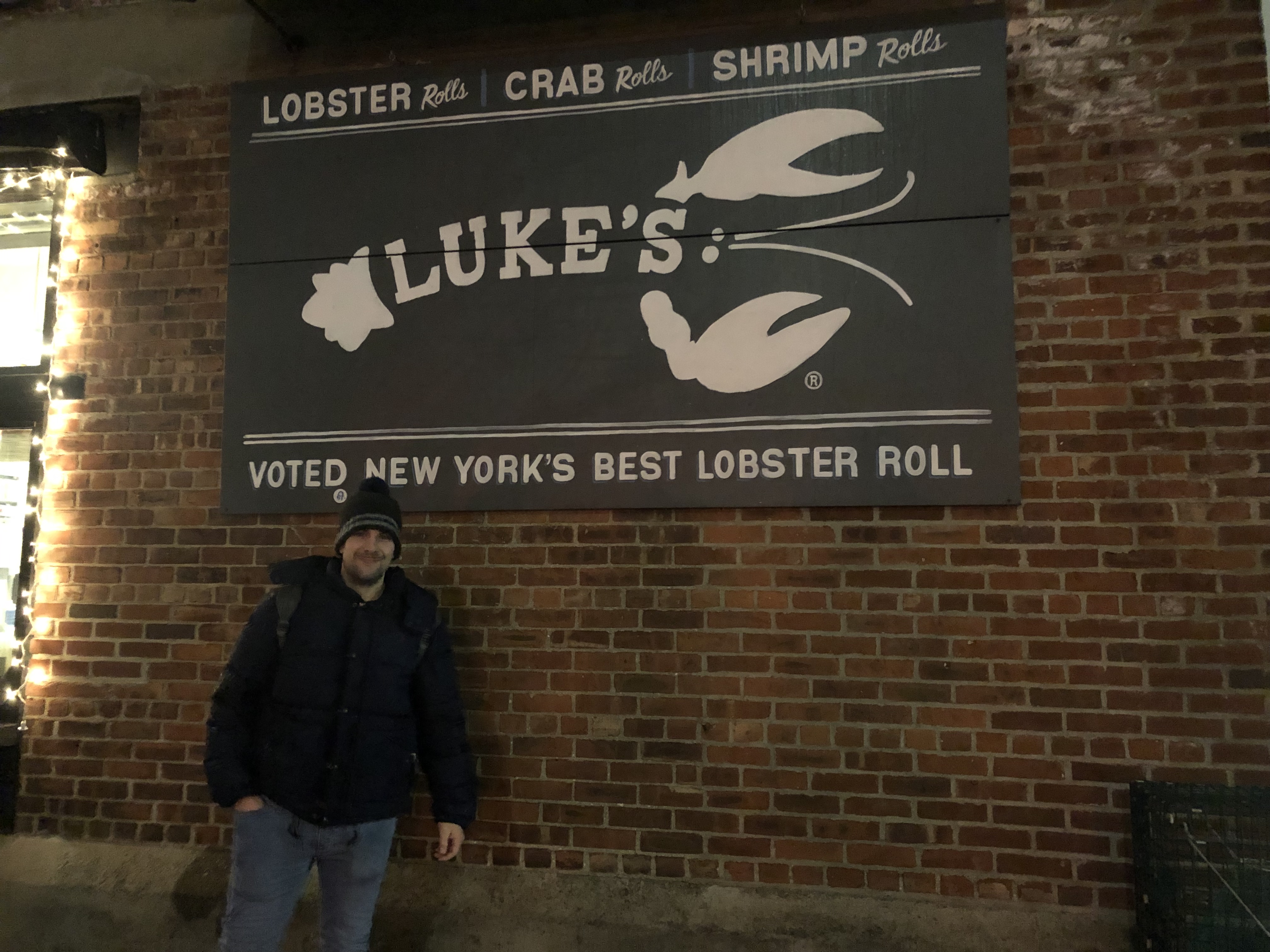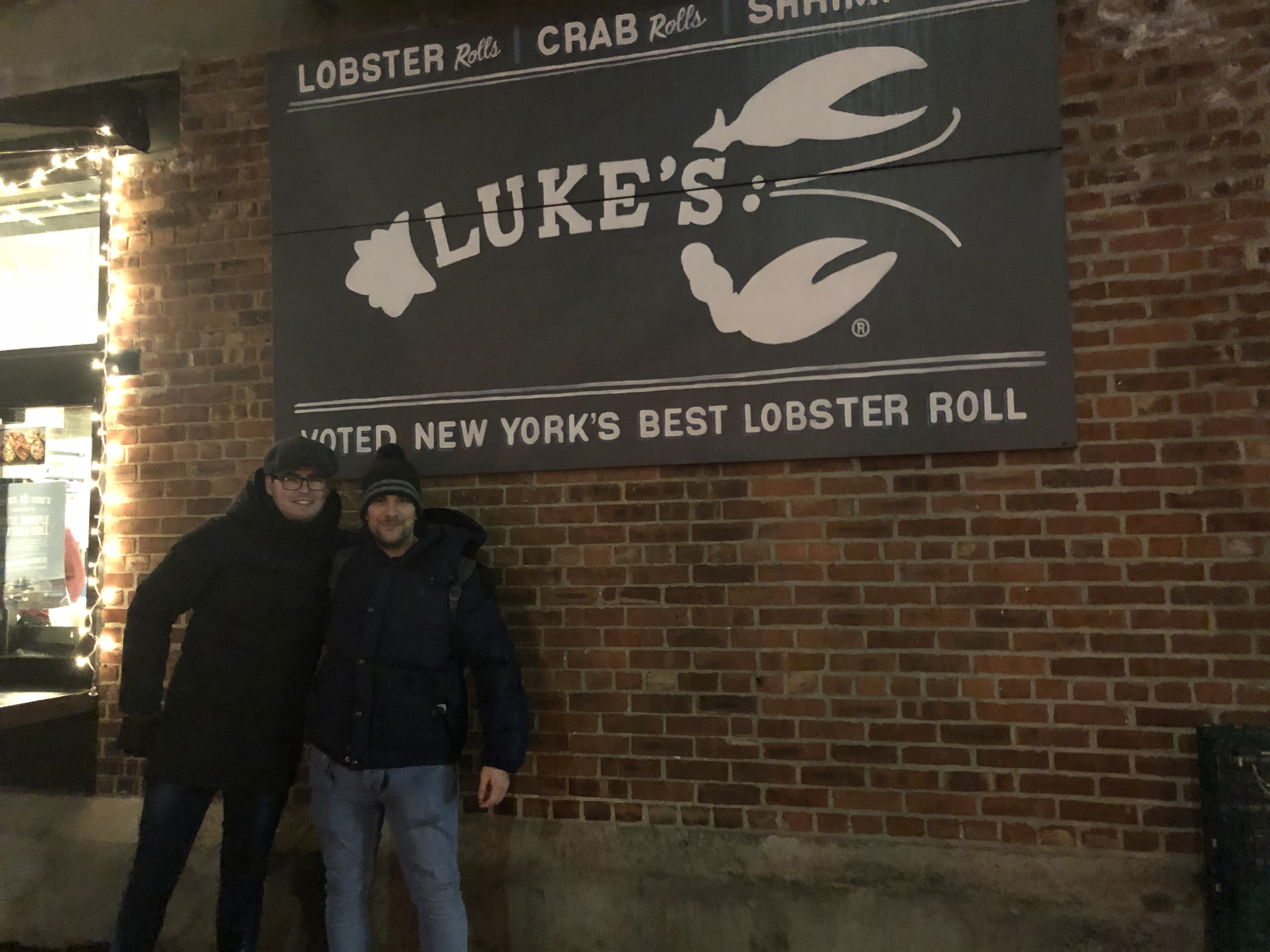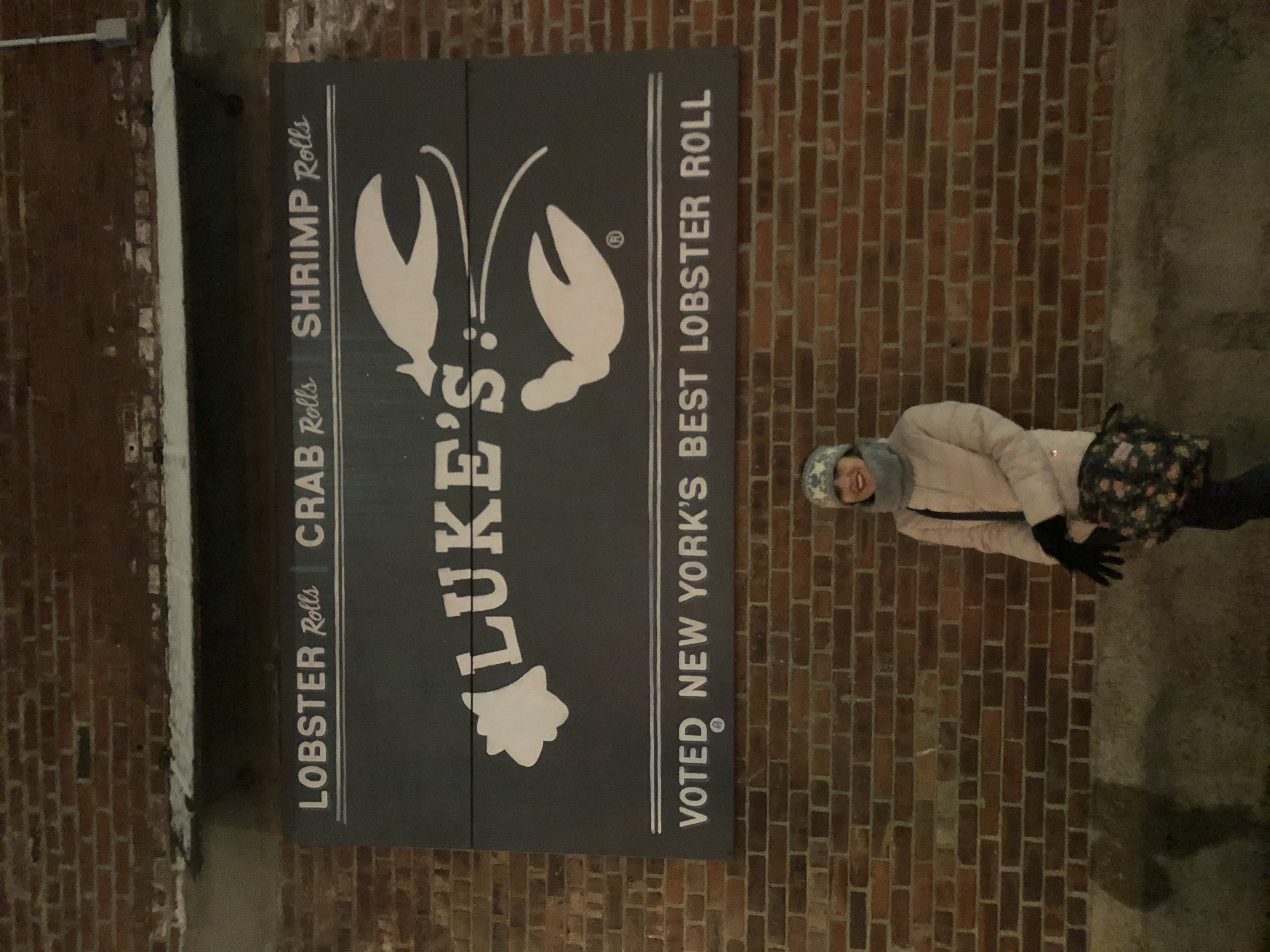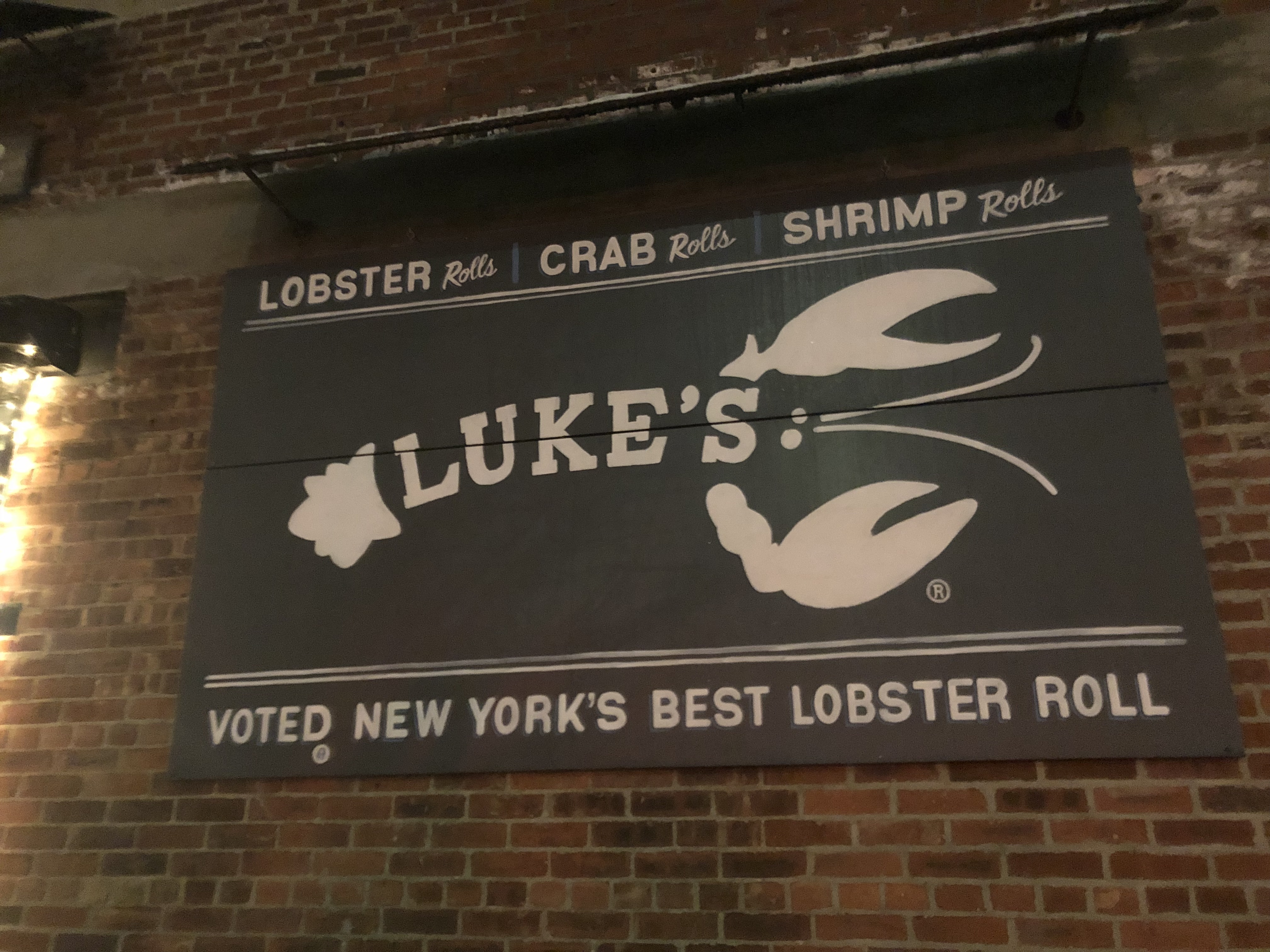 Named NYC's Best Lobster Roll! Luke's Lobster is a cozy, Maine-bred seafood shack, inside it's small and quaint and seat's maybe 10/15 people. On this particular early evening there was no line or queues, and we received quick friendly service that delievered a buttery, delicious, melt in your mouth lobster roll. It was simple non fussy and super tasty! A solid 8.5 out of 10!! Finishing up our quick snack, it was time to face the cold and rain and hit the Brooklyn bridge!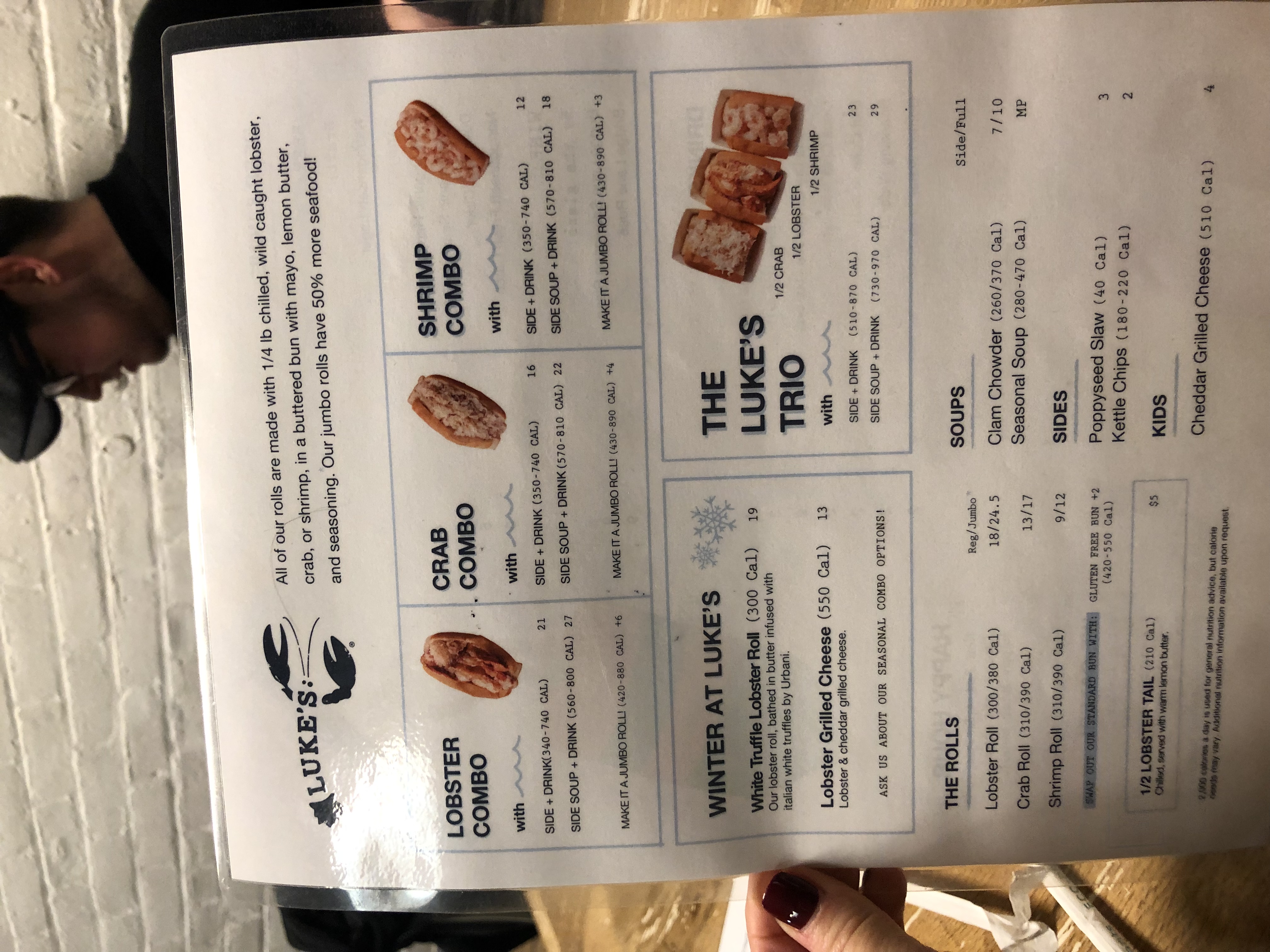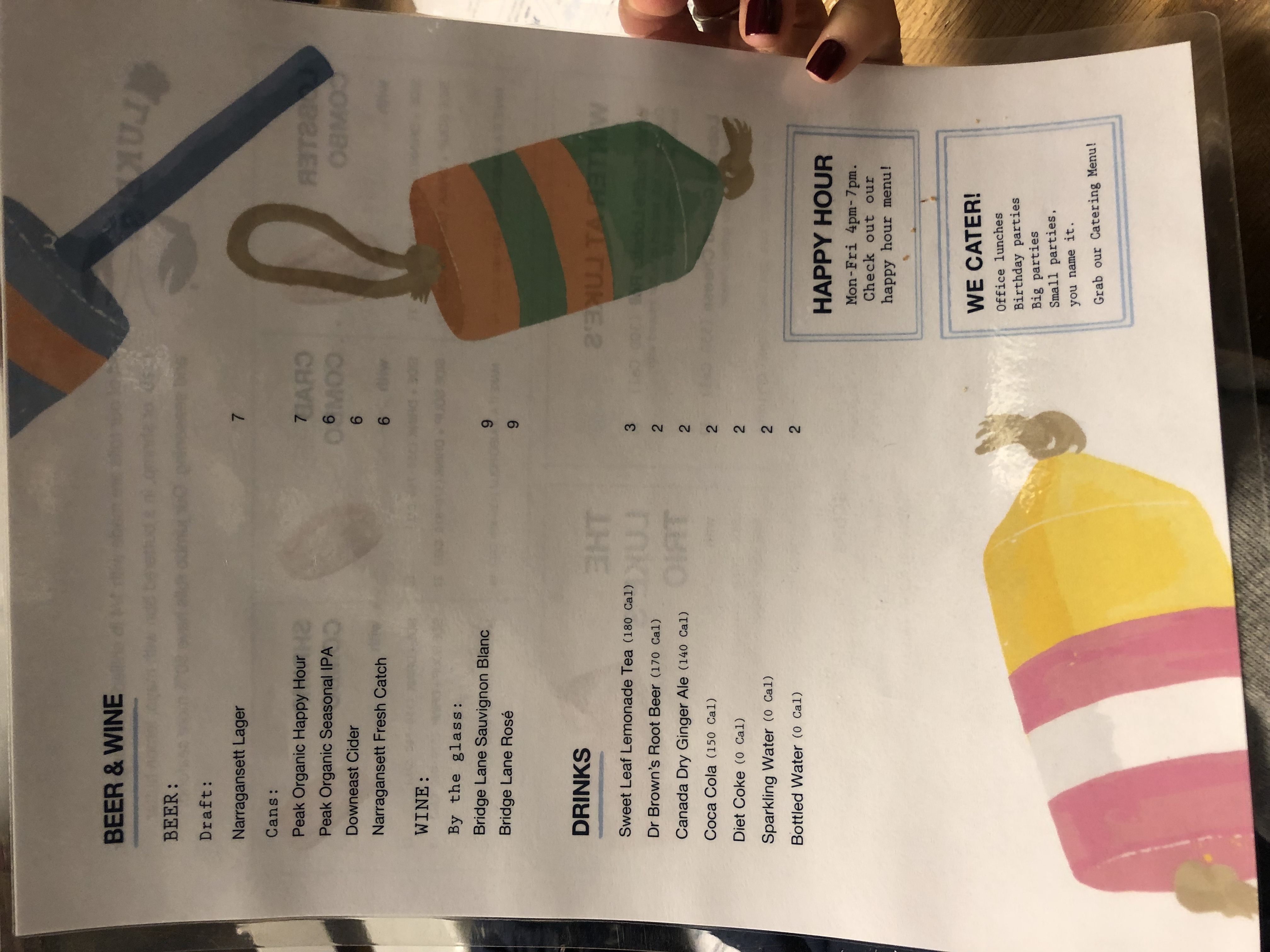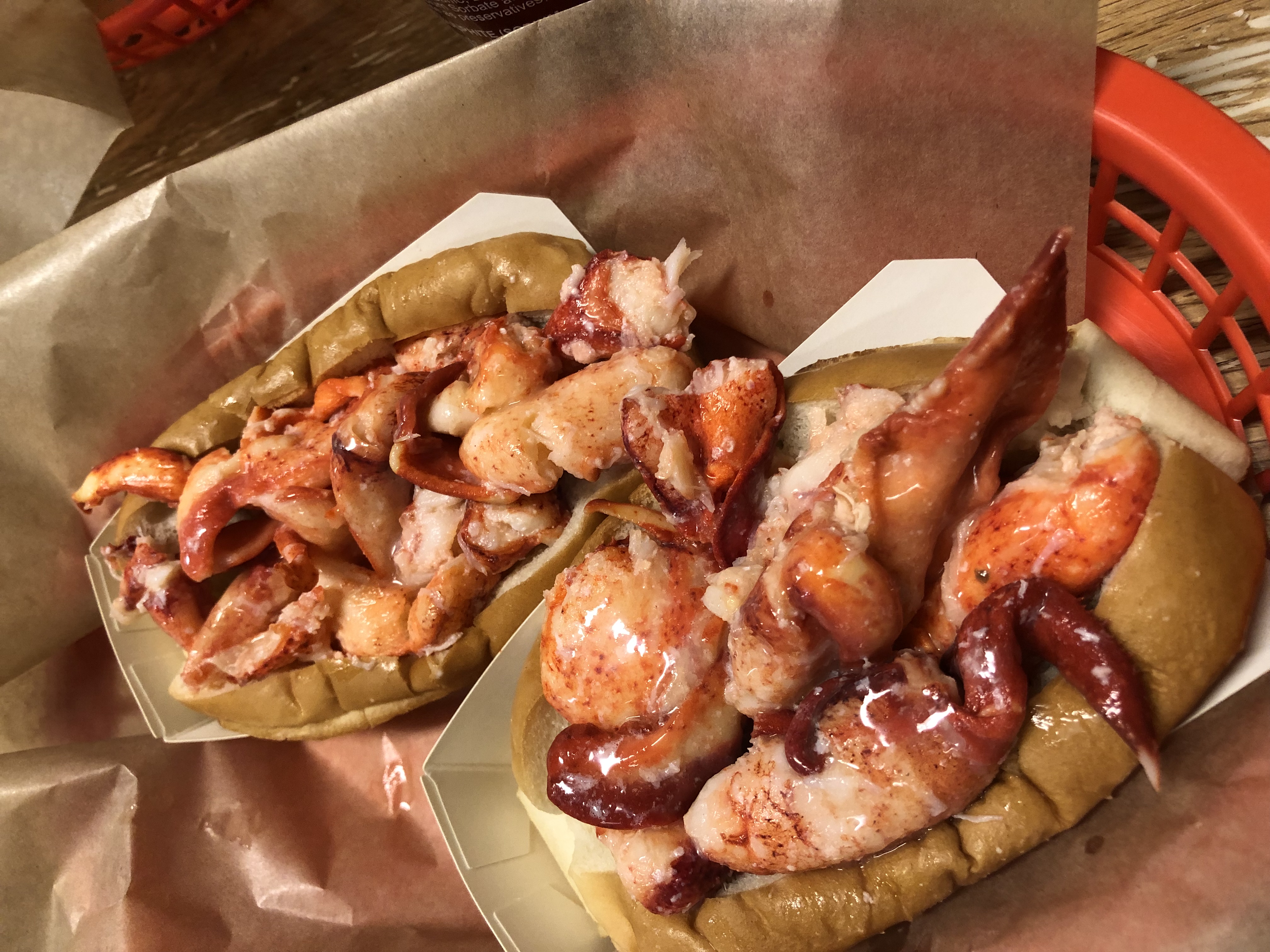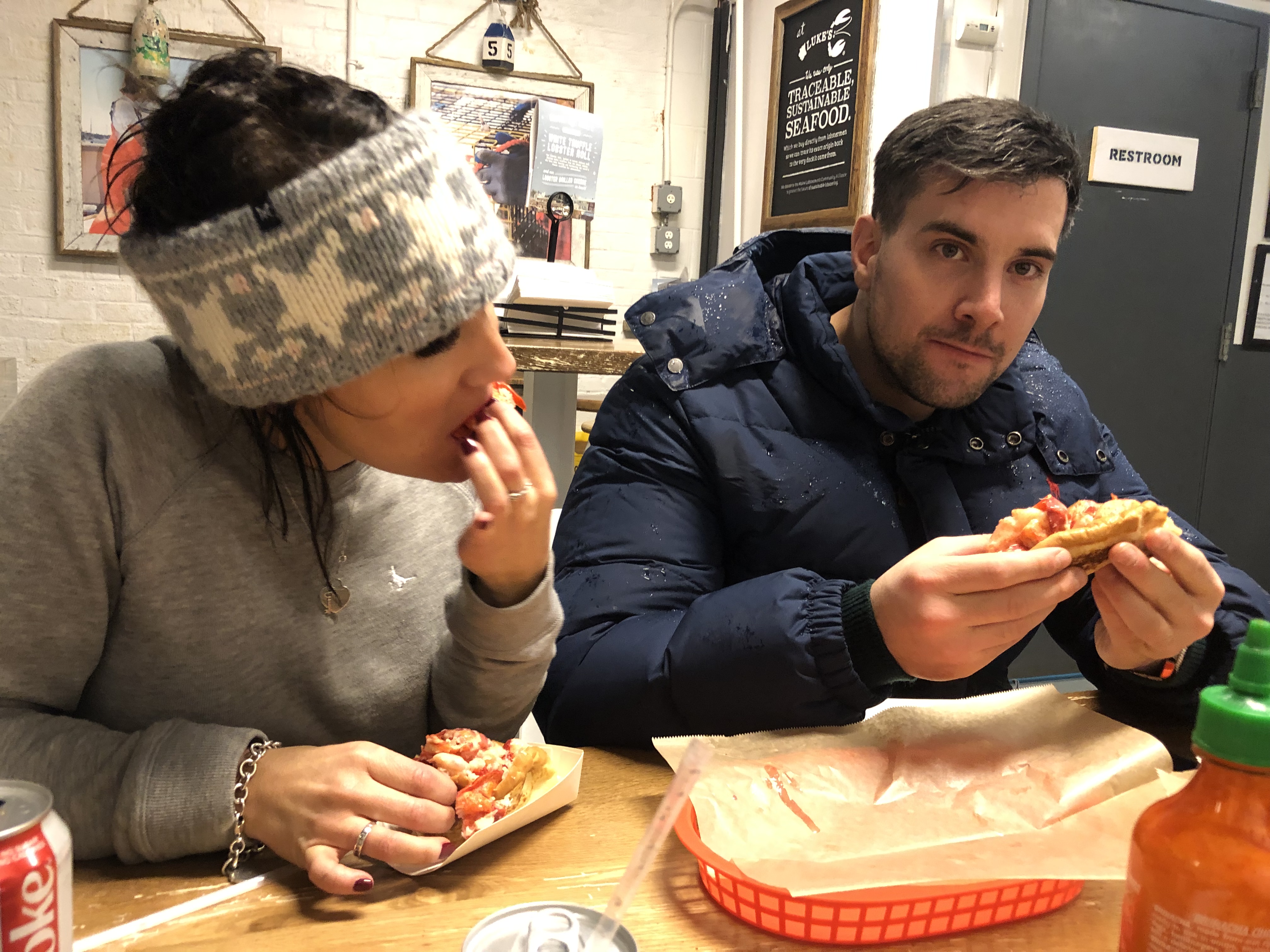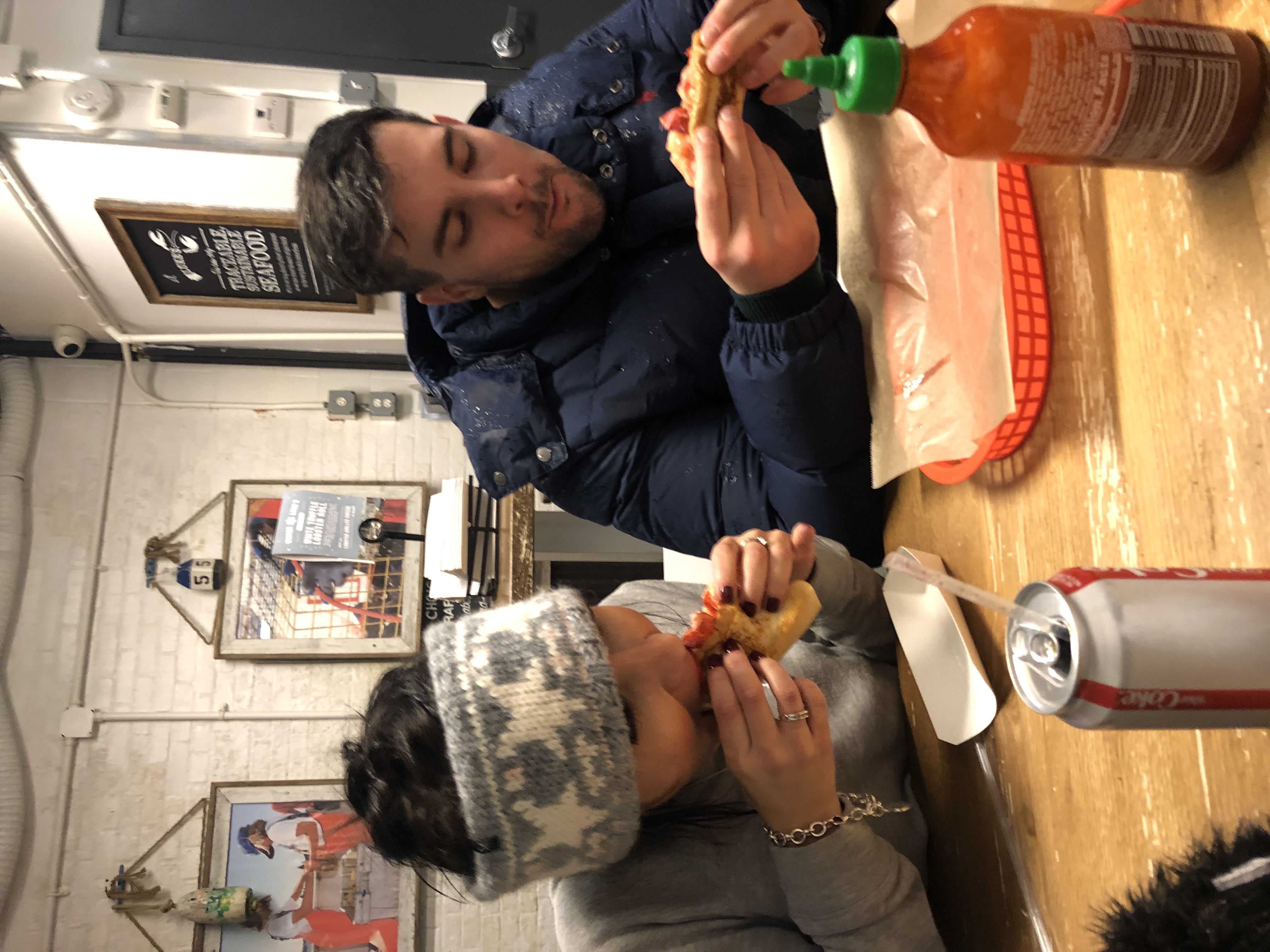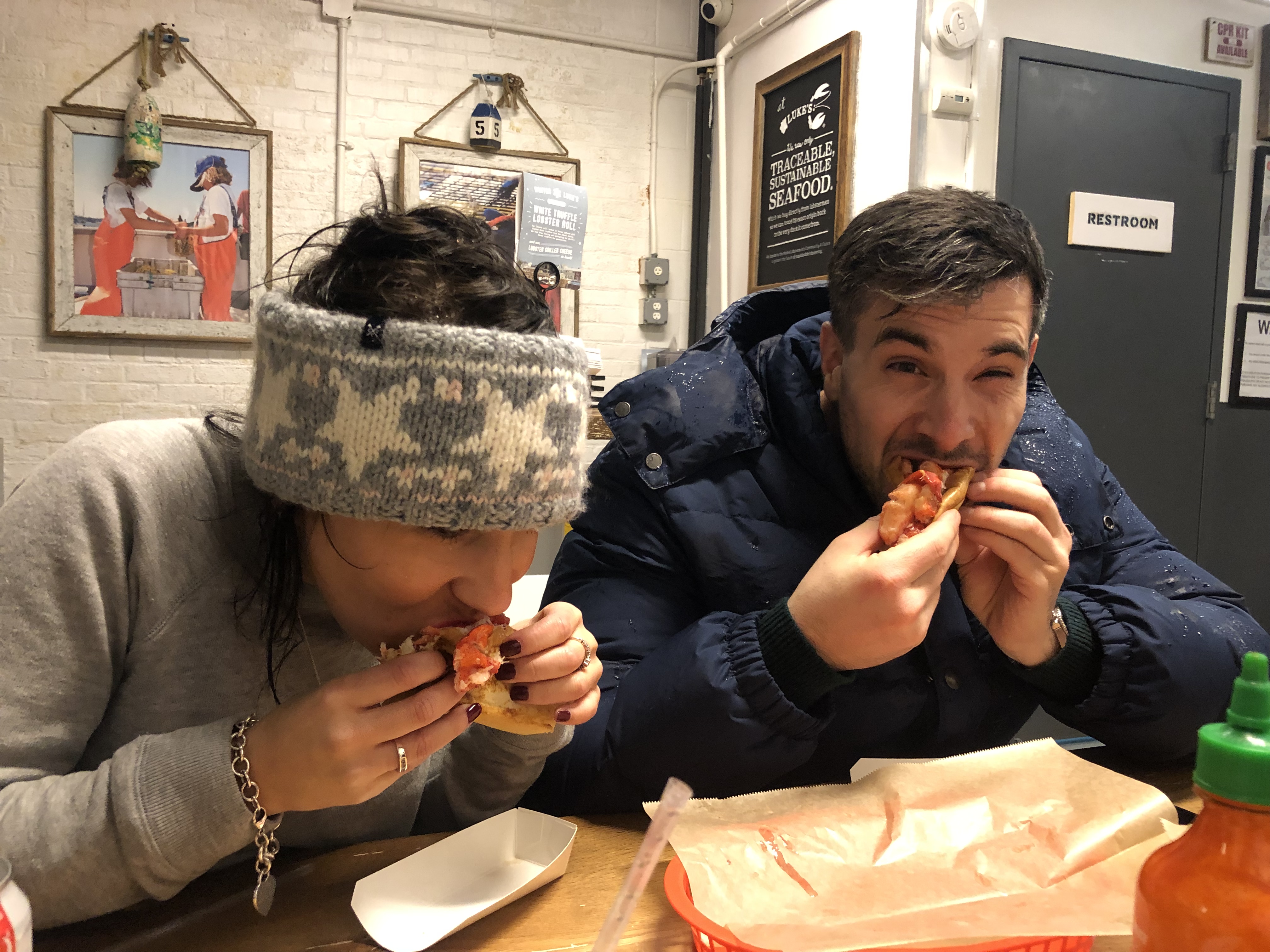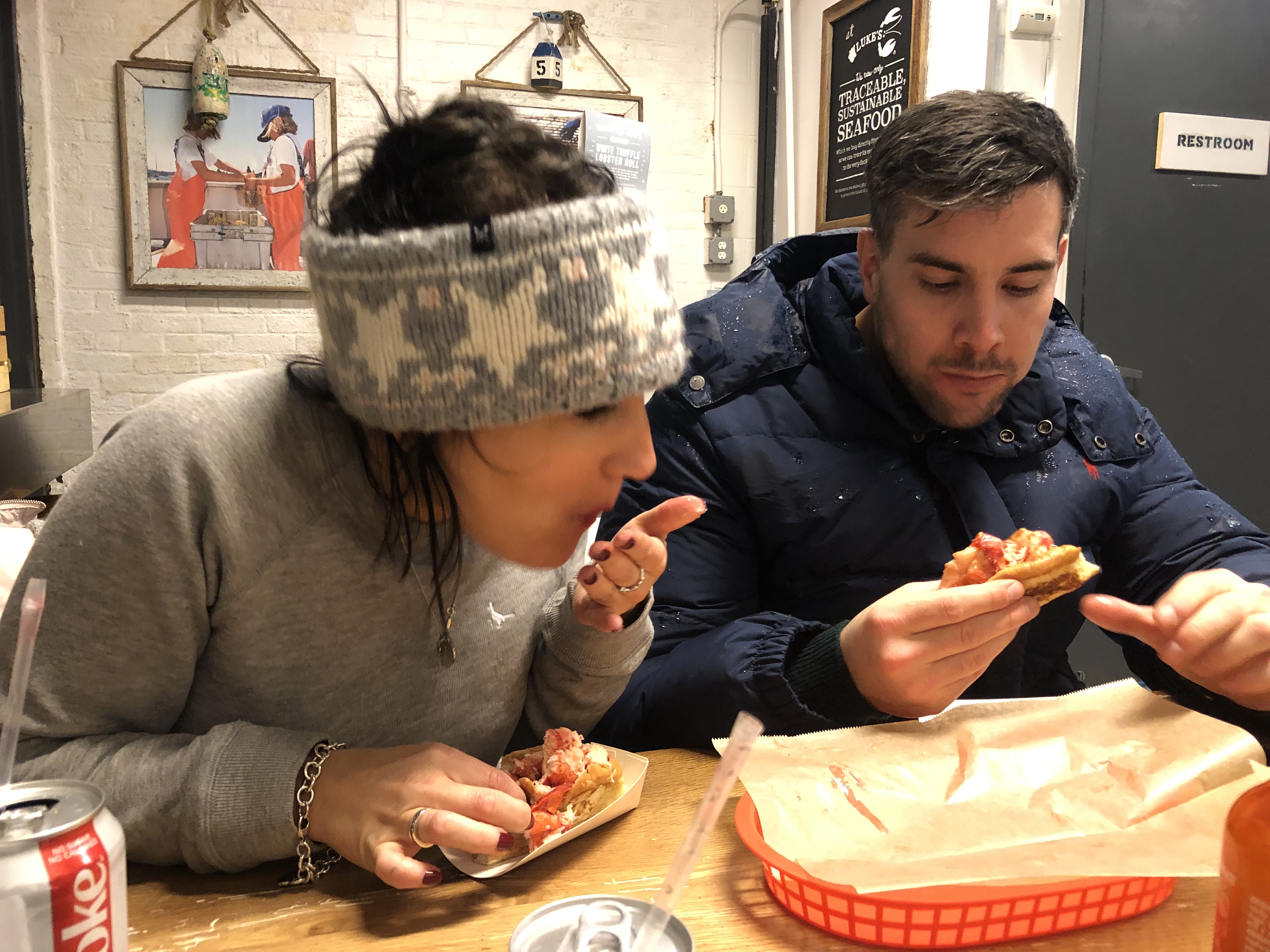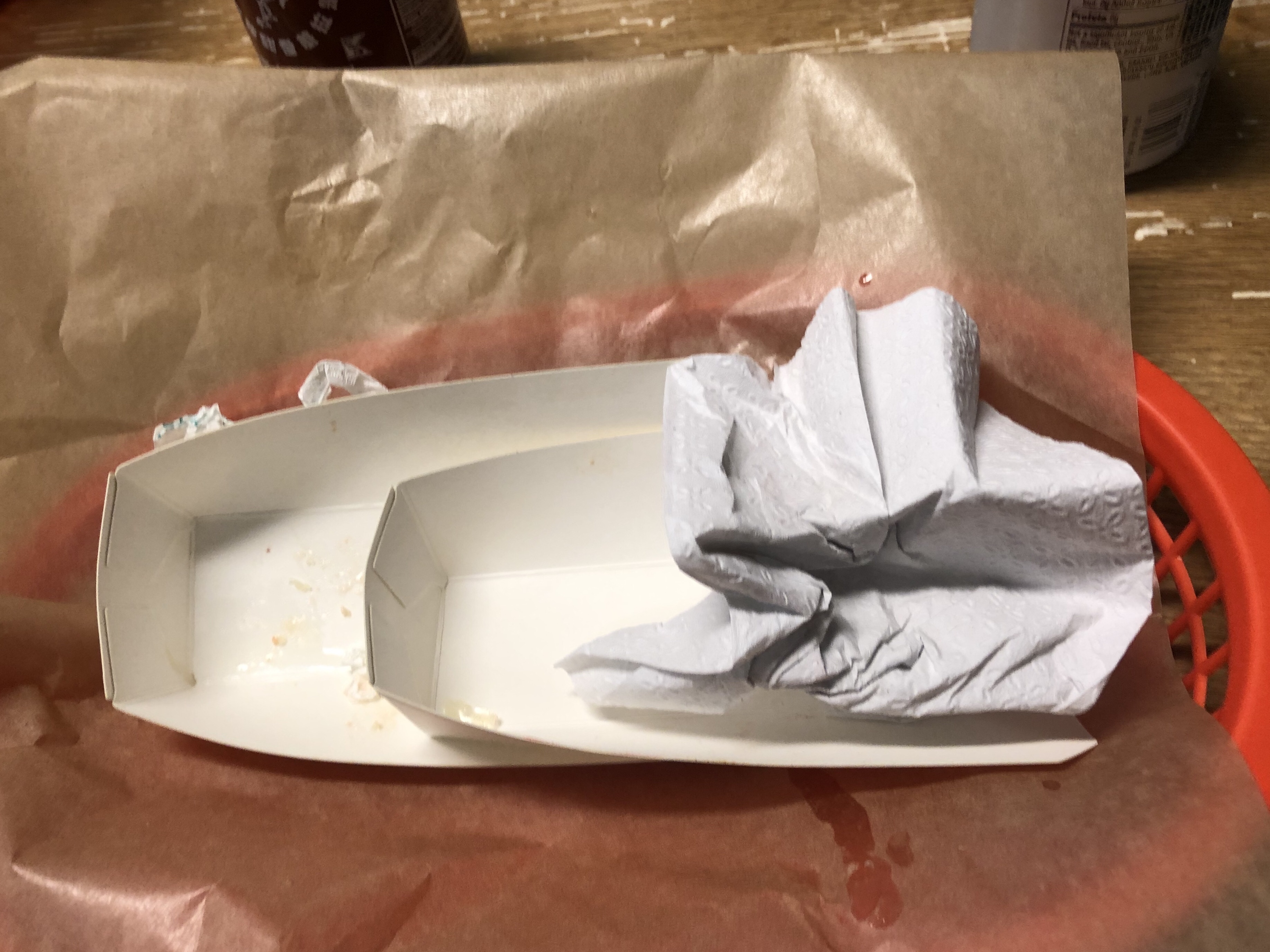 Normally if it was this kind of weather back home we would most probably cancel our plans! But HELLO I'm in NYC, and cancelling any plans was not an option!! There was only one way I was heading and that was up the Brooklyn bridge!!
It was dark at this point, which meant the Manhattan skyline was lit up and was looking absolutely stunning! Who cares if my fingers are numb and my left boot is starting to leak water! SERIOUSLY WHO CARES!! Where else can you get the most beautiful views?! The walk took about an hour, maybe slightly longer, the path was quite slippery in places from the earlier snowfall and now the rain, so you had to be sure footed so you didn't do a dramatic fall over! I found walking the Brooklyn bridge breathtaking and beautiful and real site to behold. I took SO many pictures, there's just so much to photograph. I have to say that even though it was dark, because it was around 8pm when we started walking , I felt completely safe and didn't feel on edge at all. The bridge was really quiet and we passed maybe only 2 other couples whilst in the walk. But there were also 2 police officers on the bridge, one at the start and one near the end, so I felt completely safe, I wasn't worried at all.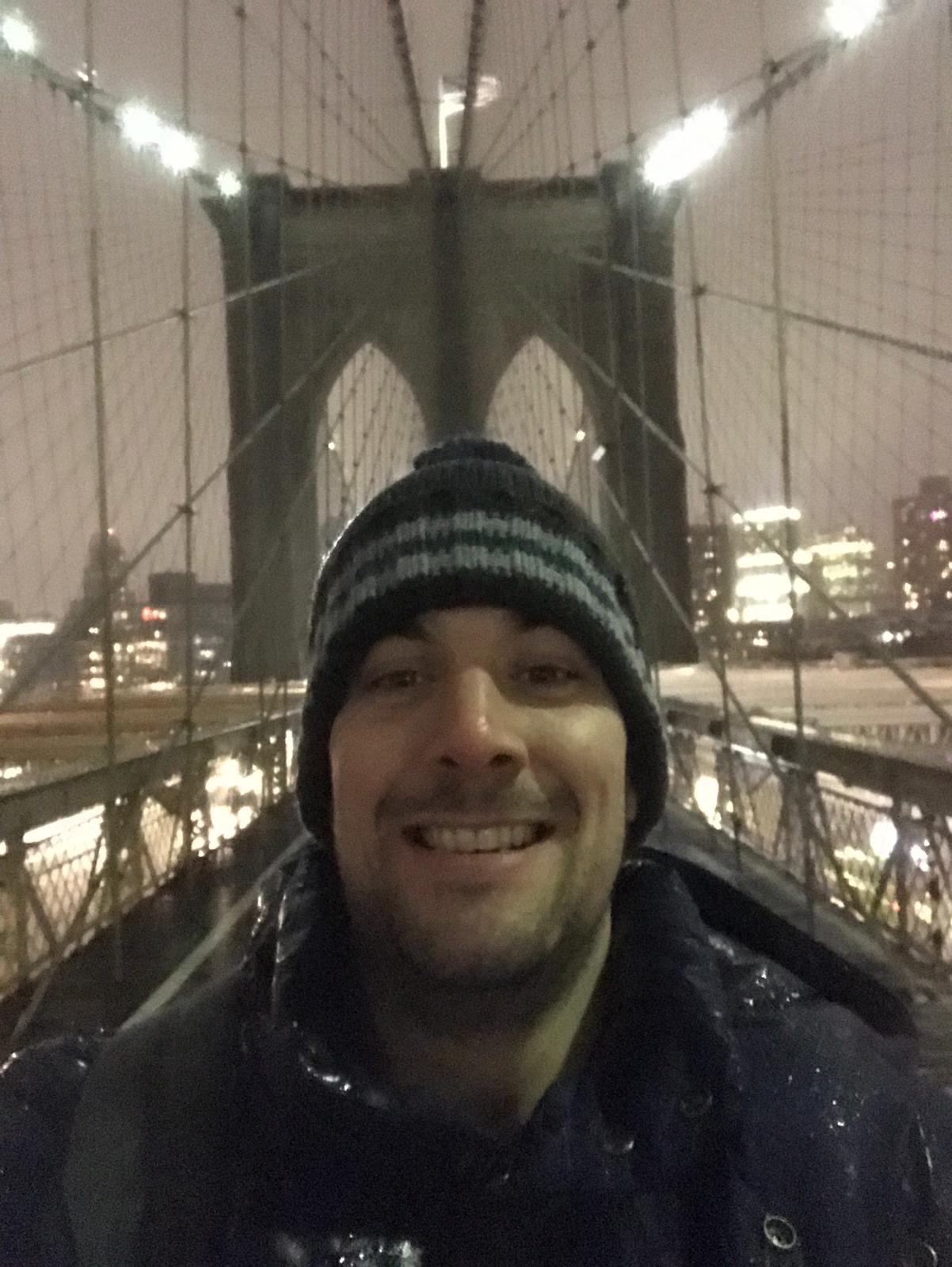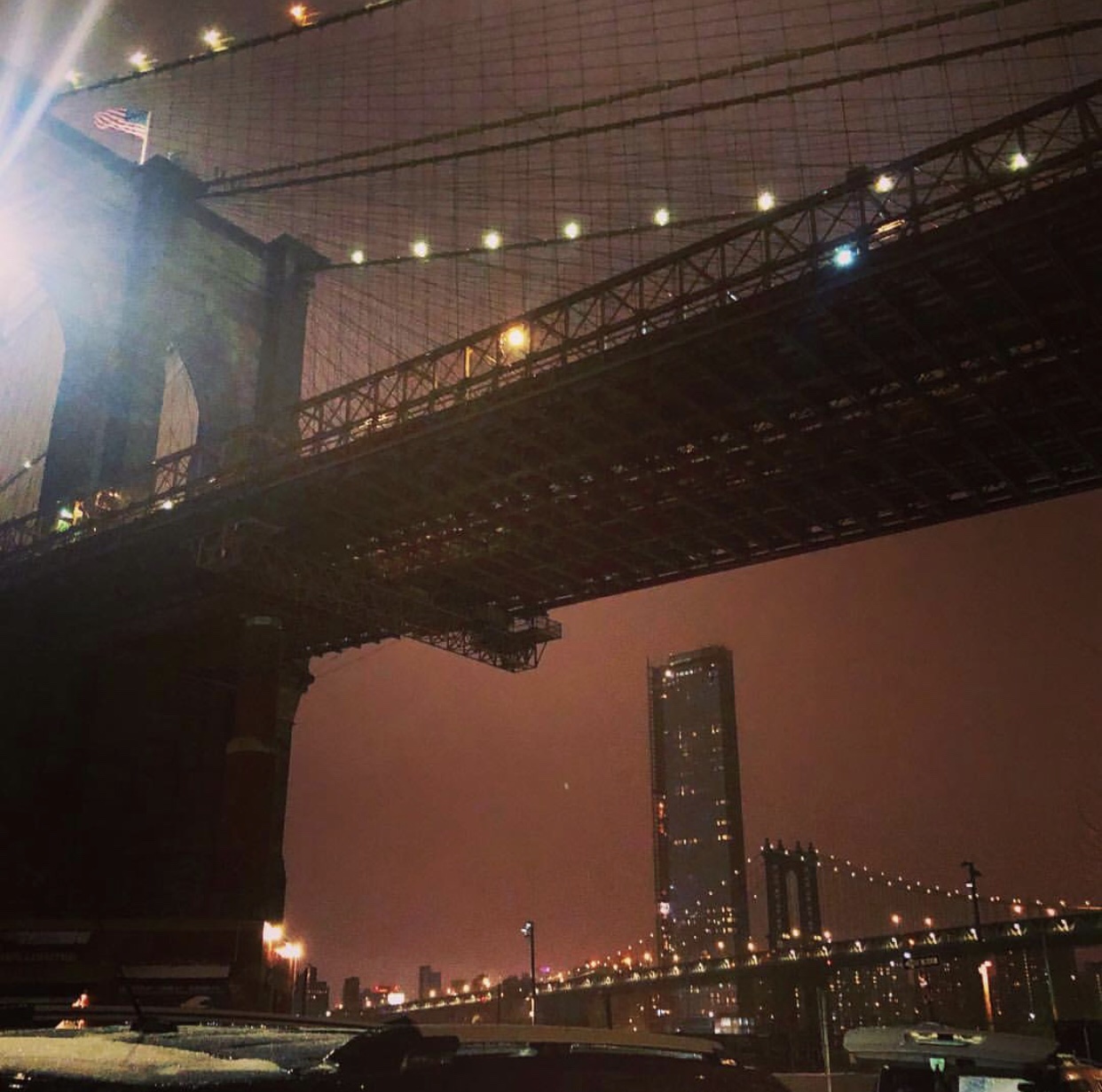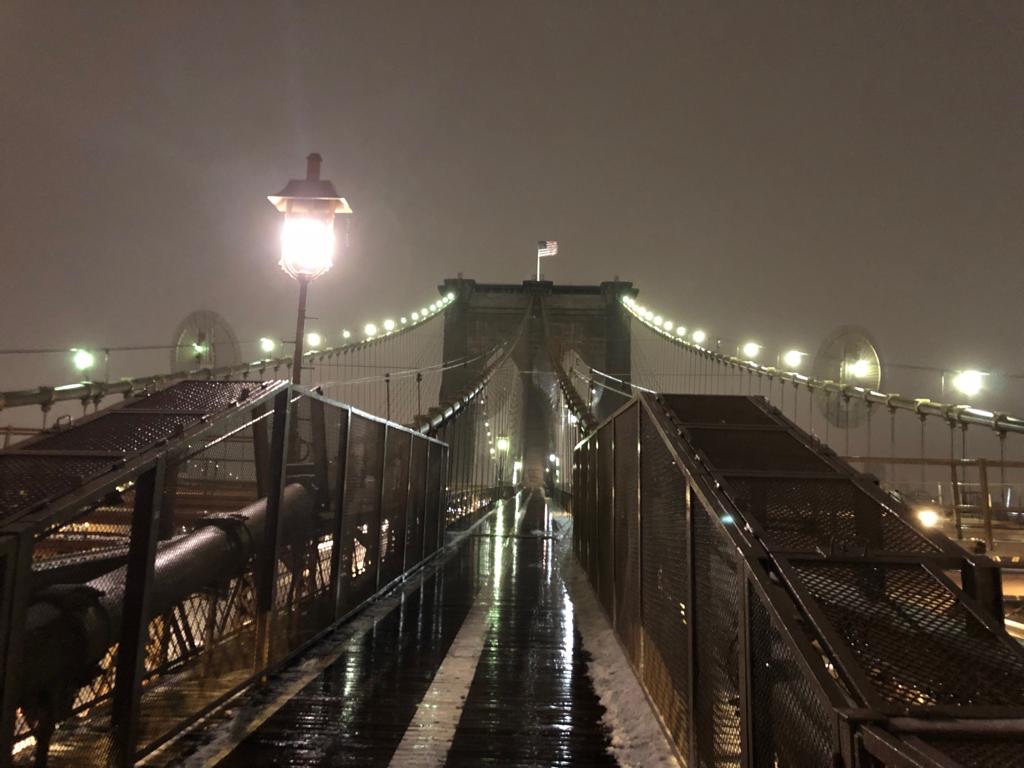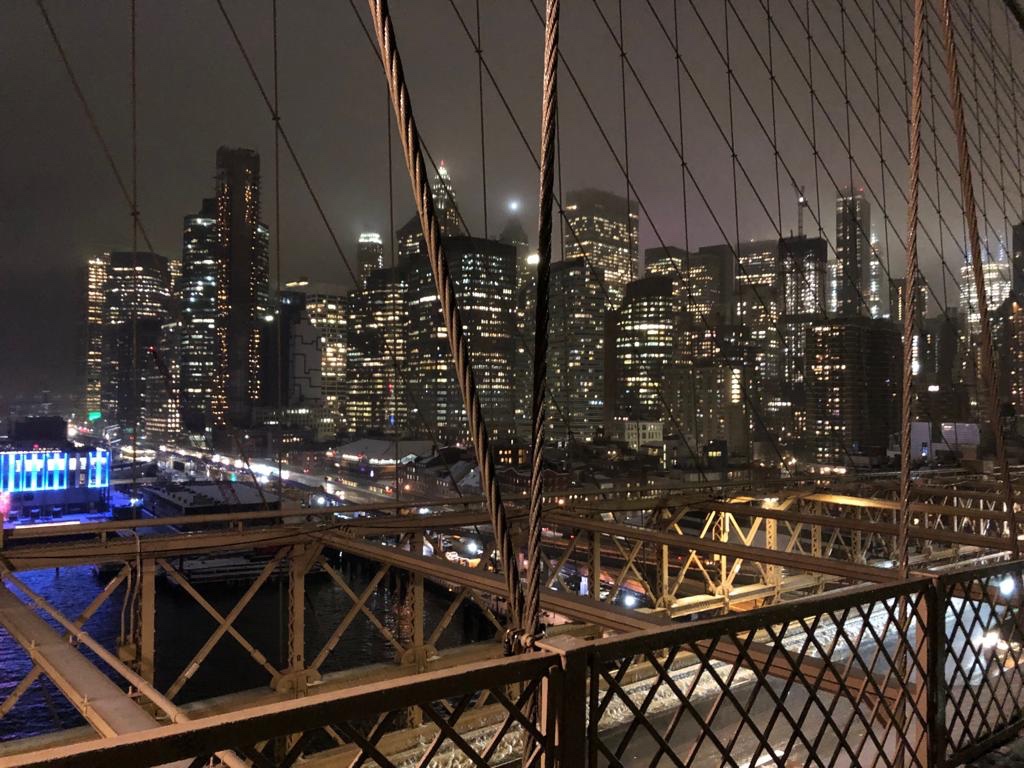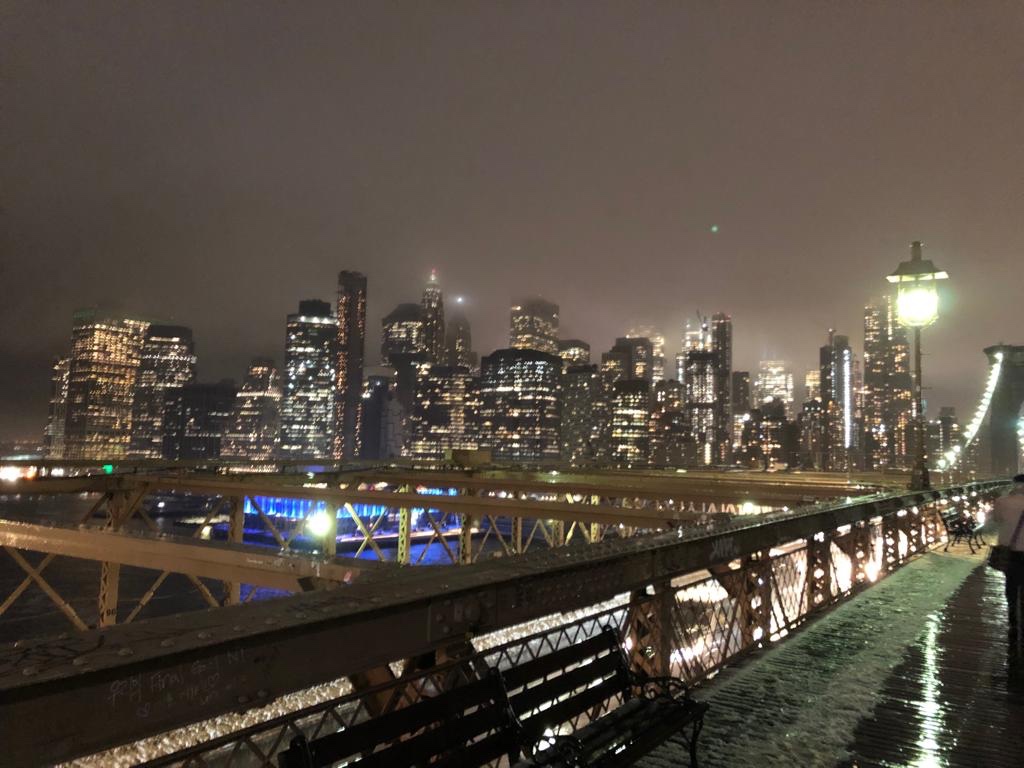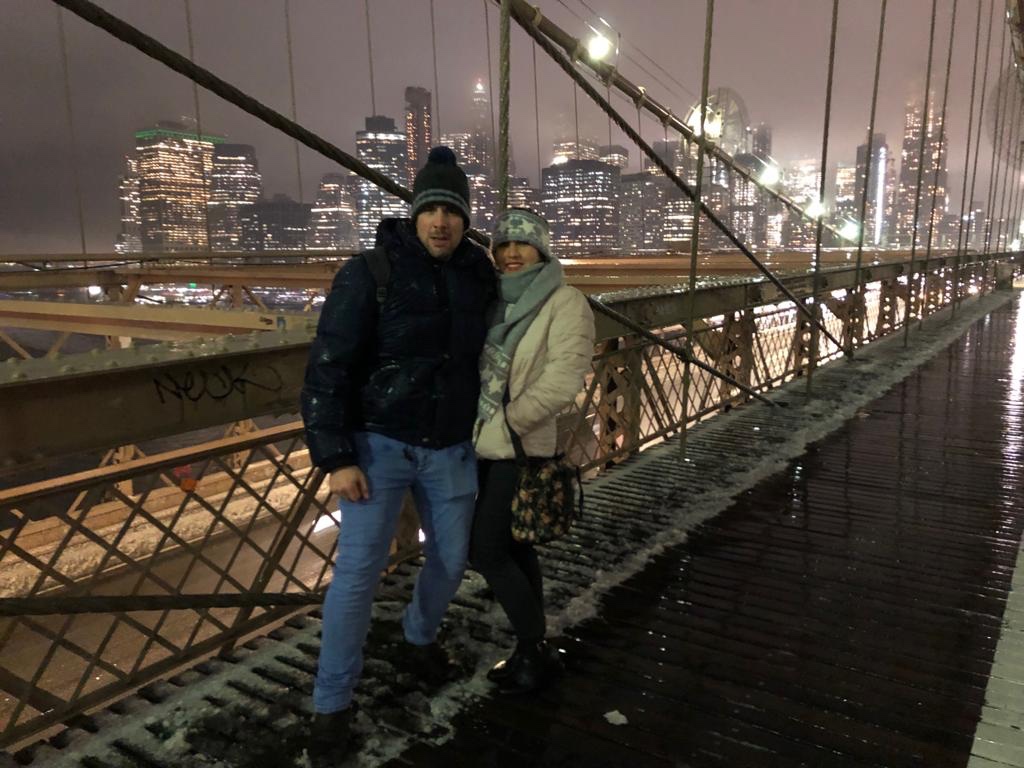 Finishing up the walk of the Brooklyn bridge we were now all drenched, freezing and getting tired! But there was more thing to tick off of the list before we headed back to the hotel….. Grand central station, no trip is complete without a visit here!!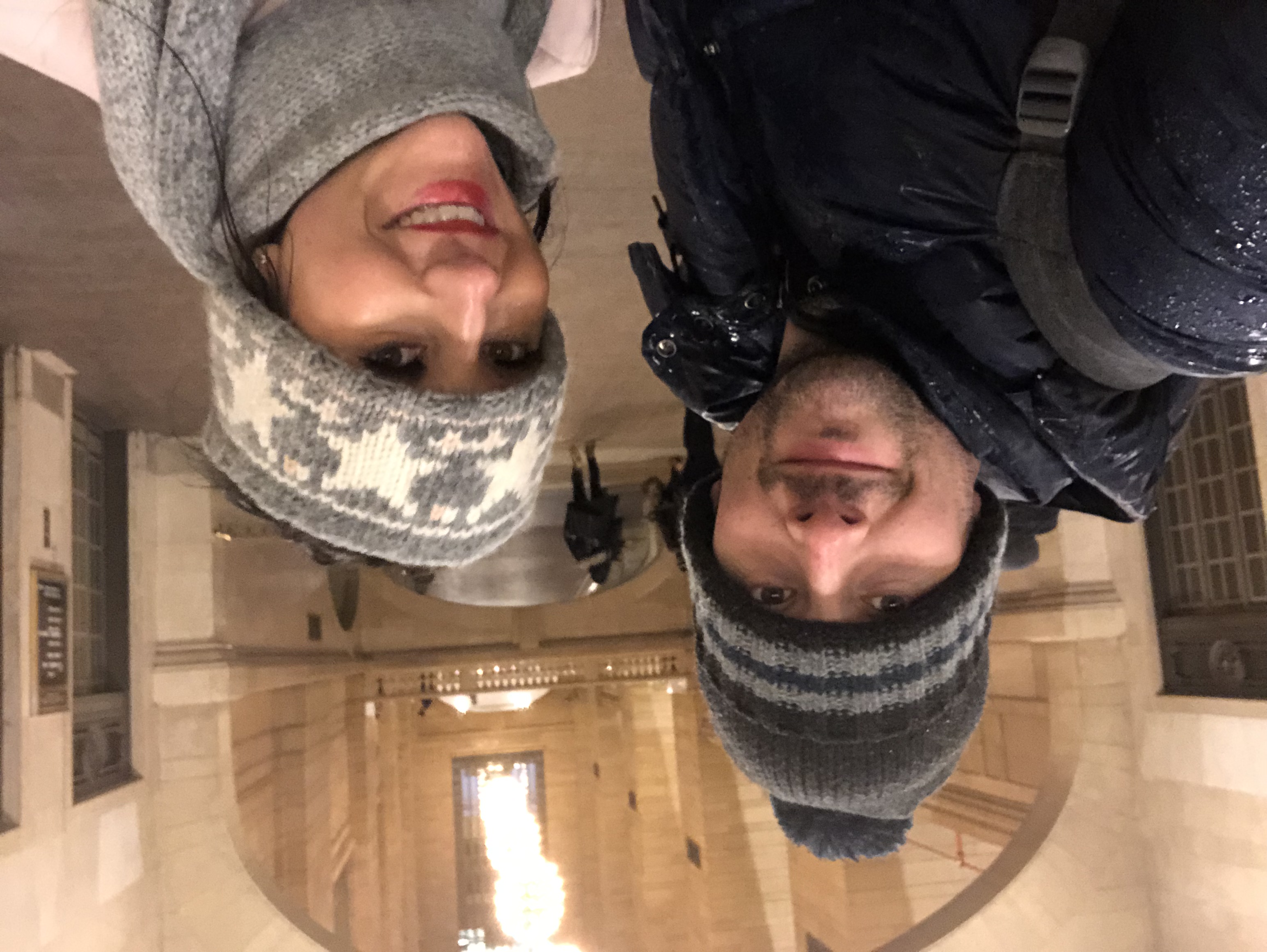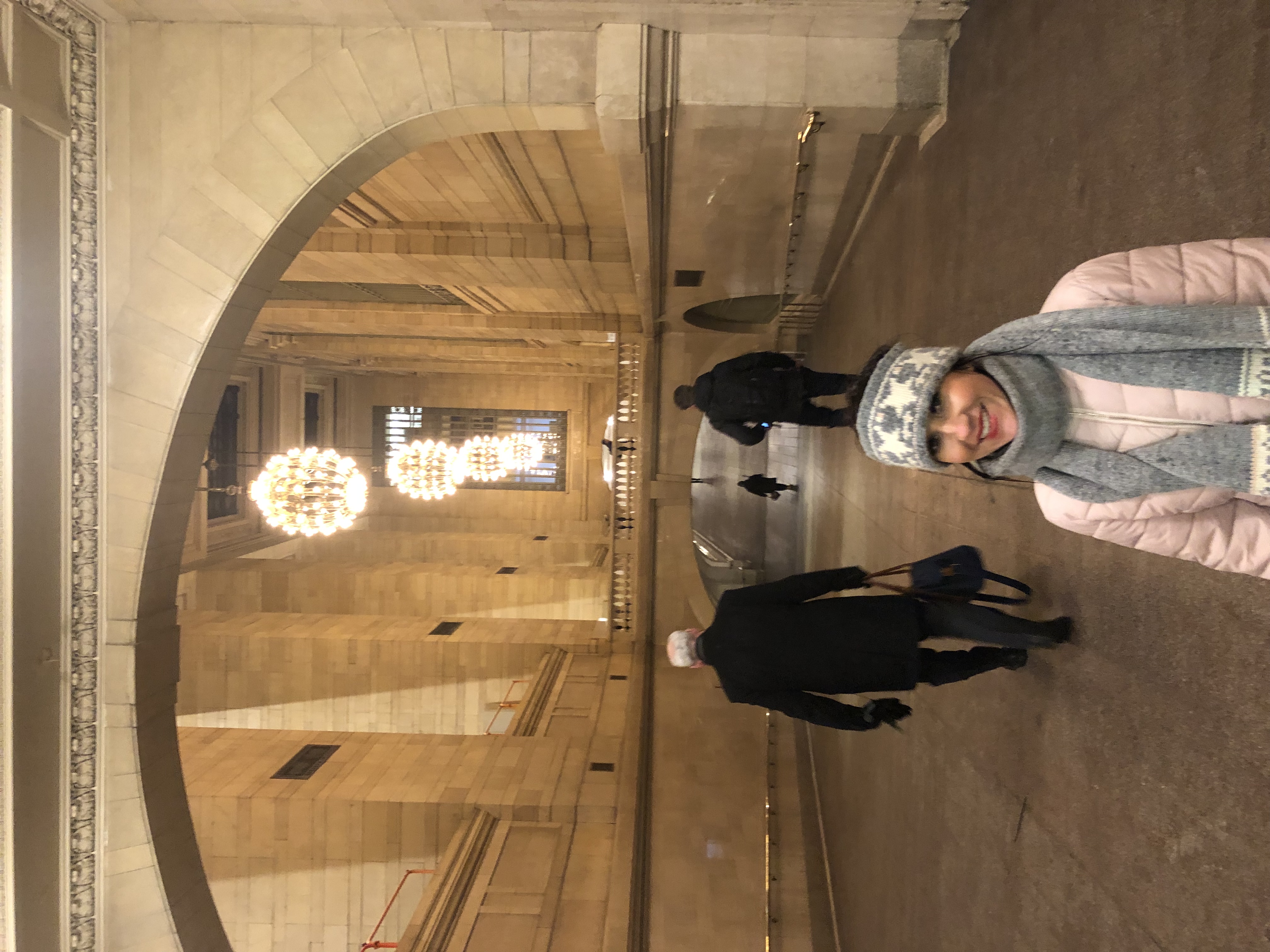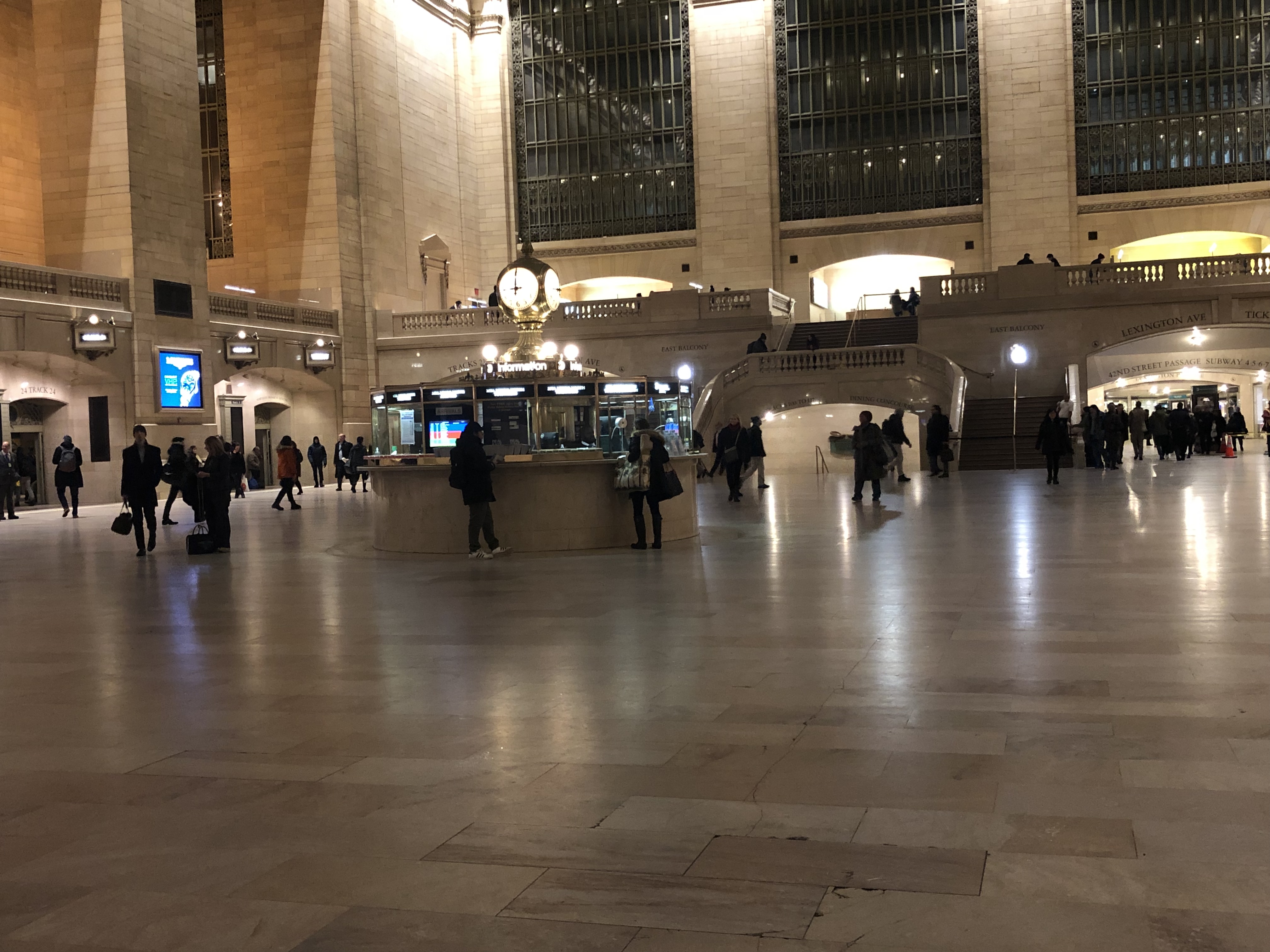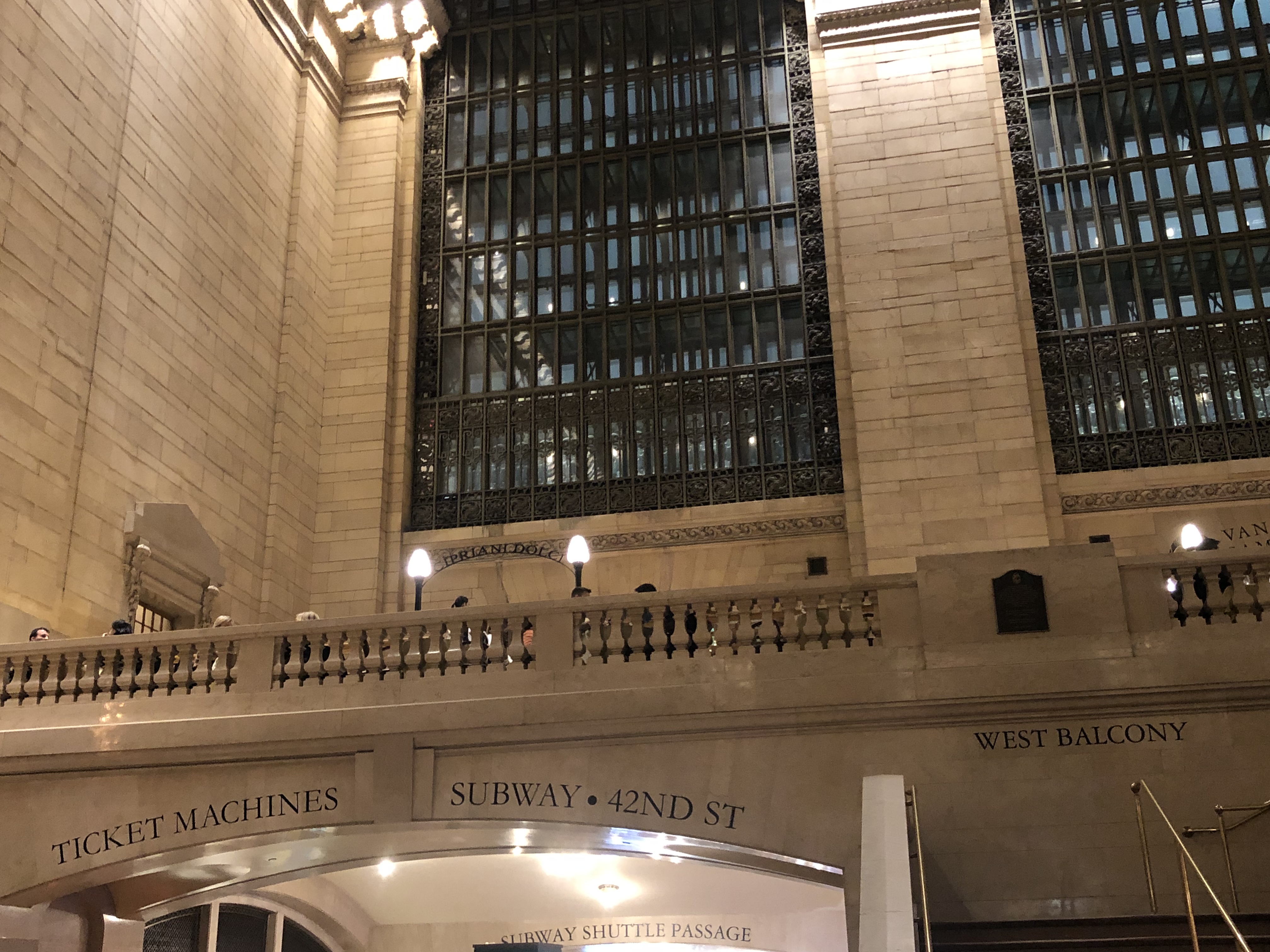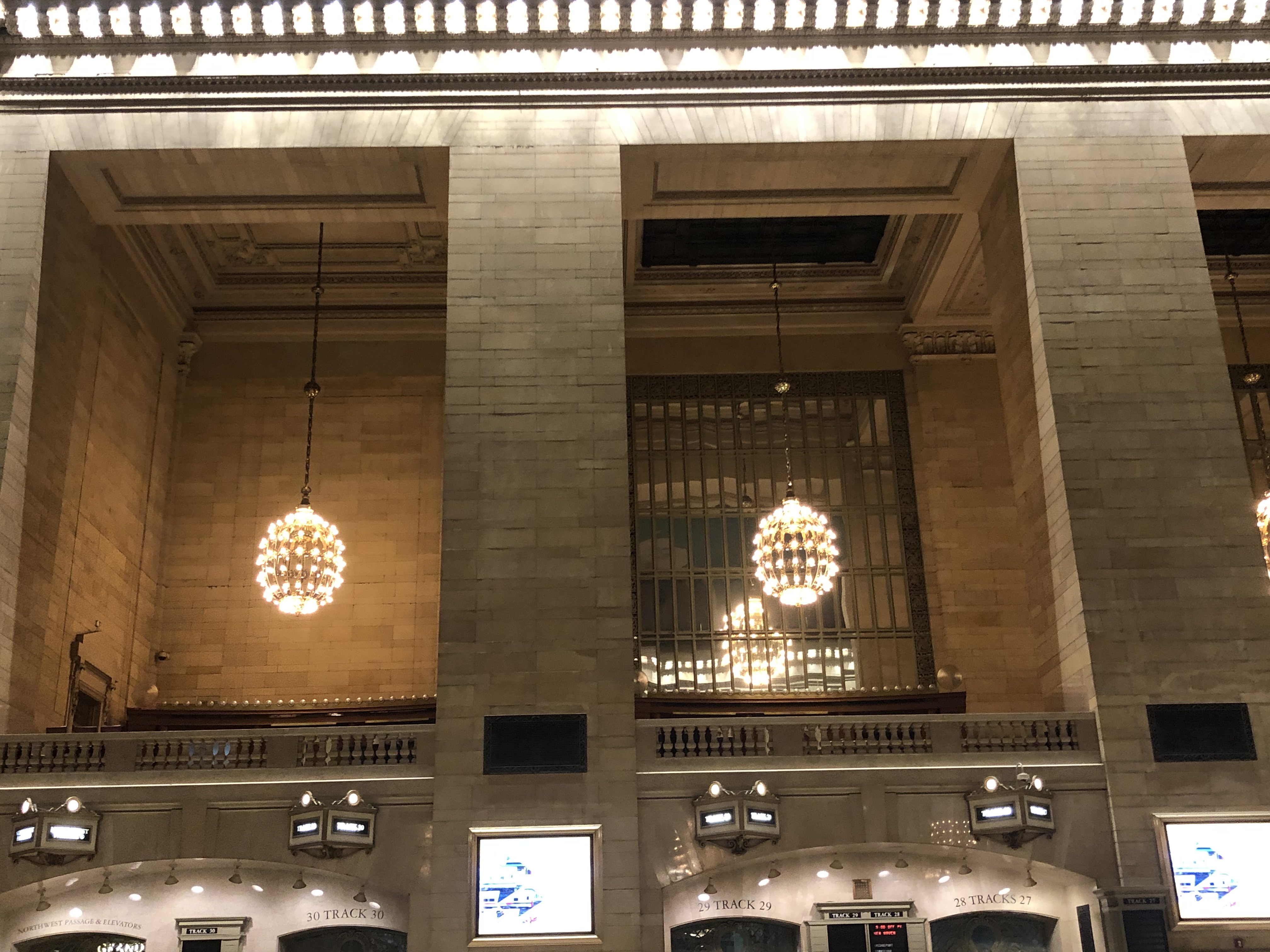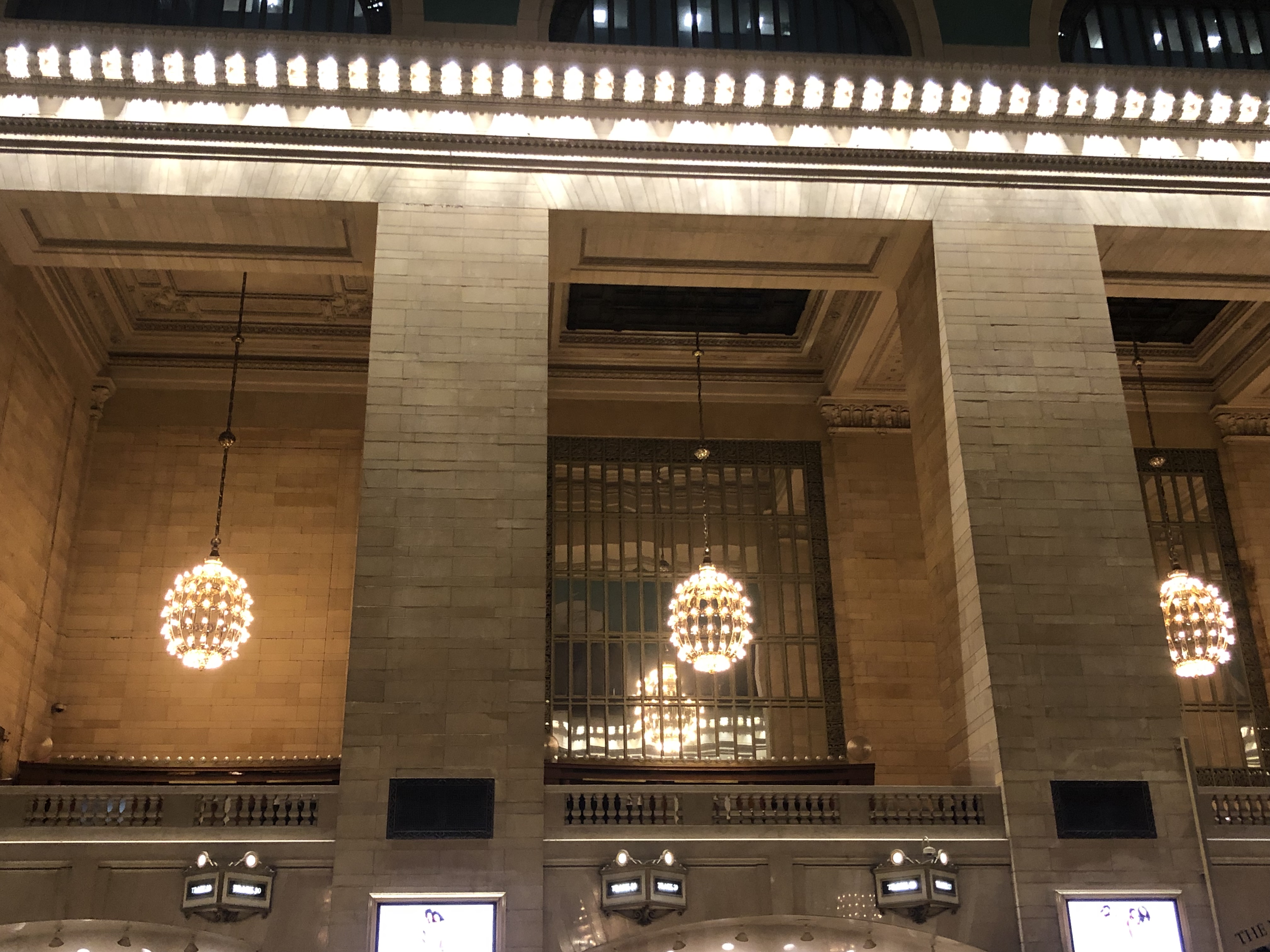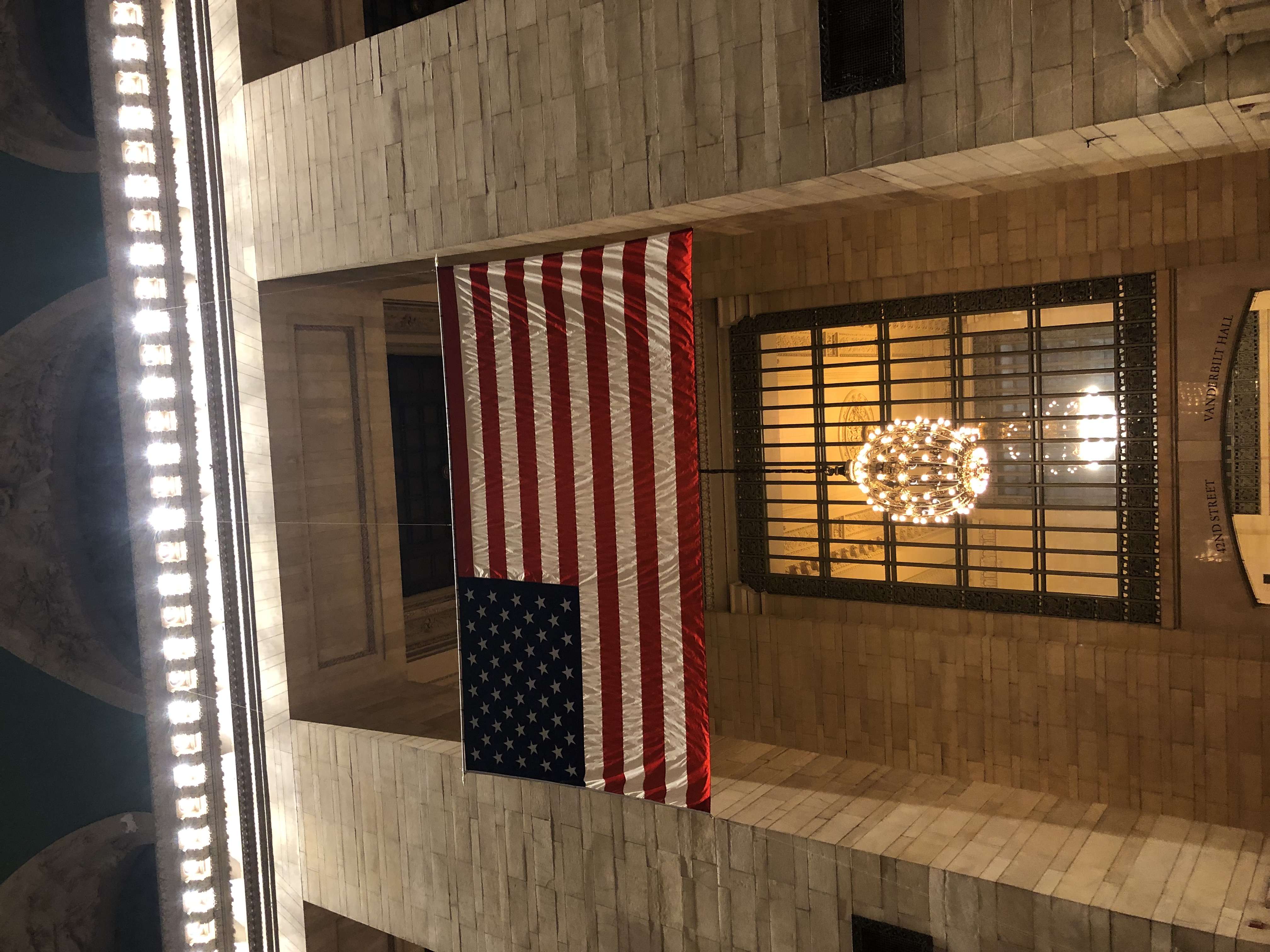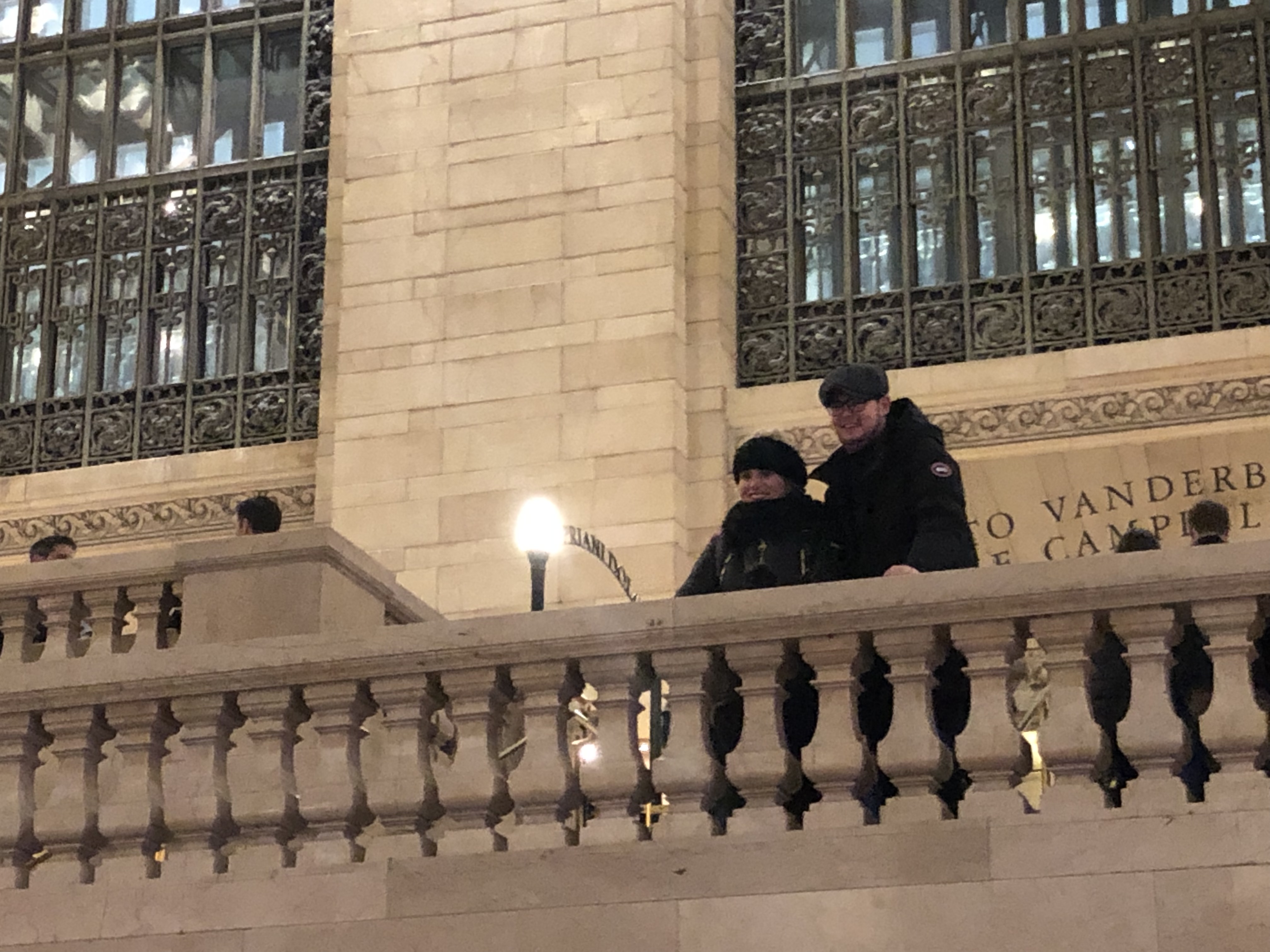 After grand central we decided to finish up for the day and head back to time square for some food. It was around 11(ish) when we got back, and Luke and I decided we wasn't really hungry for a meal, so parted ways with my sister and her boyfriend who went to get food, and Luke and I went in search of HOT coffee and a slice of Juniors cheesecake!
Staying in a hotel that is literally a 5 minute walk from the hustle and bustle of Times Square most definitely had massive perks! Luke and I got out takeout Starbucks coffee grabbed a slice of cherry cheesecake to go from juniors and made our way back to the warm and inviting hotel so we could both take hot showers, and chill out for a while watching some tv and eating quite possibly the BEST cheesecake I have ever had! I mean seriously cheesecake will never be the same again once you've tried a slice of Juniors!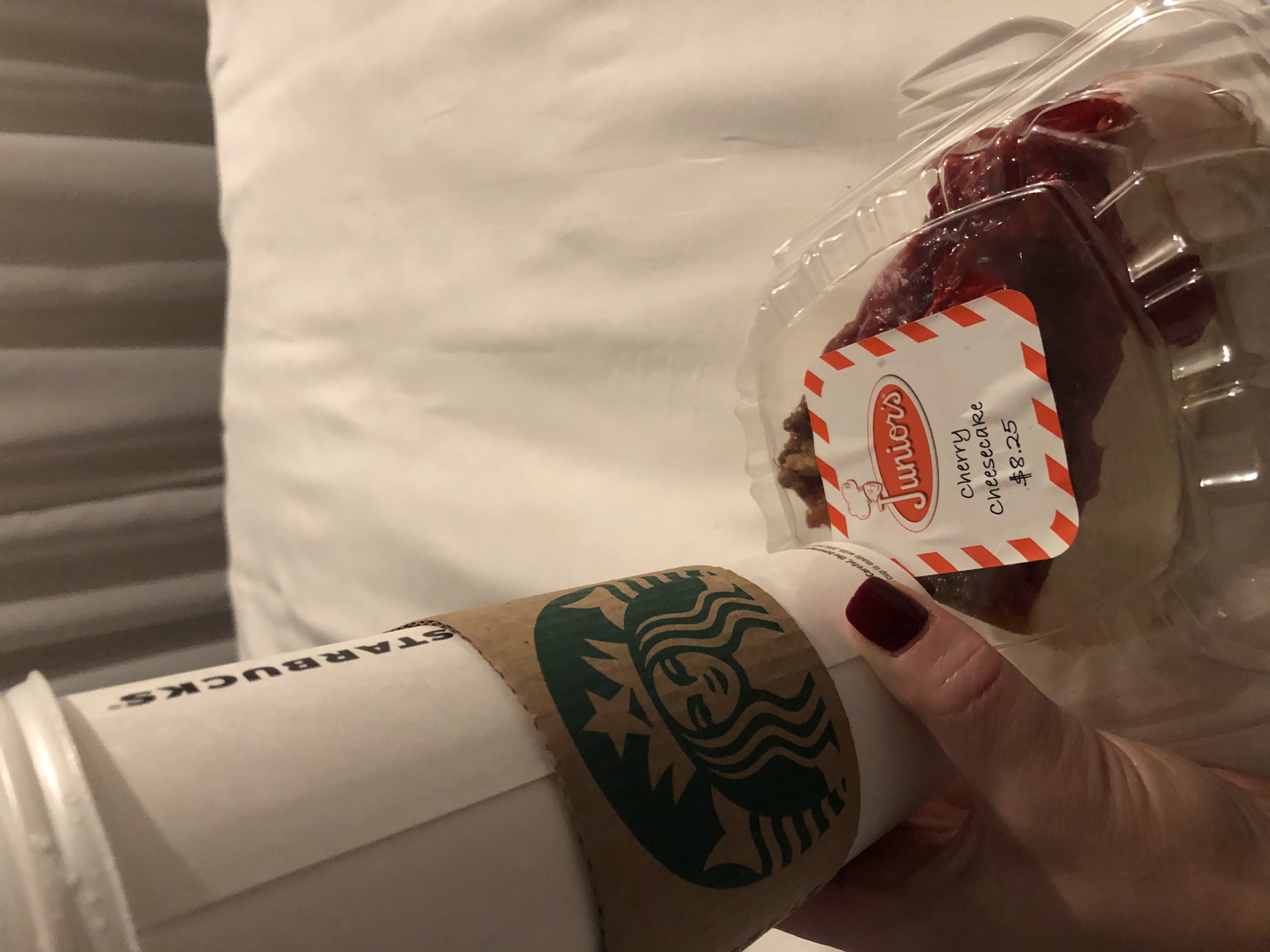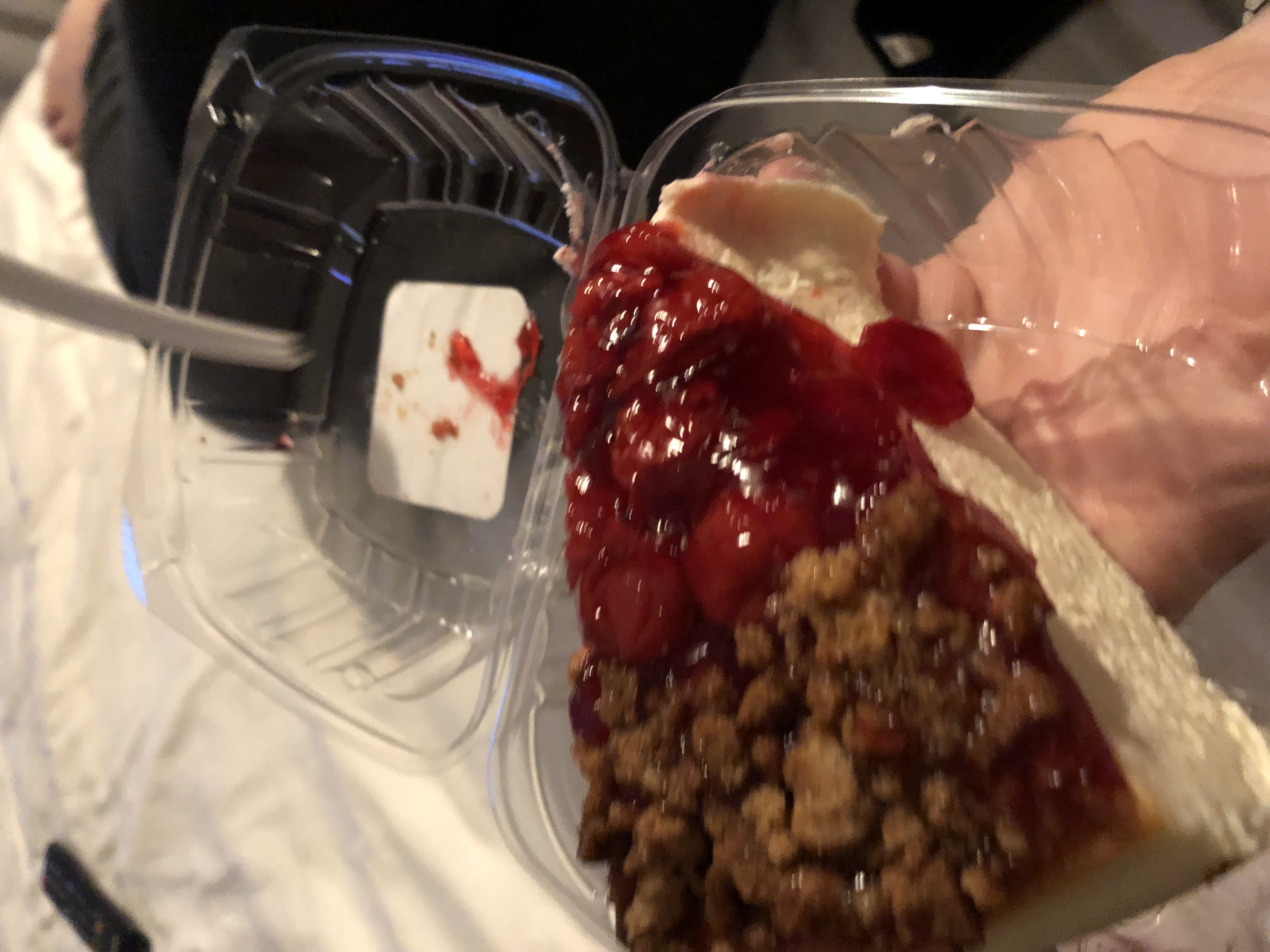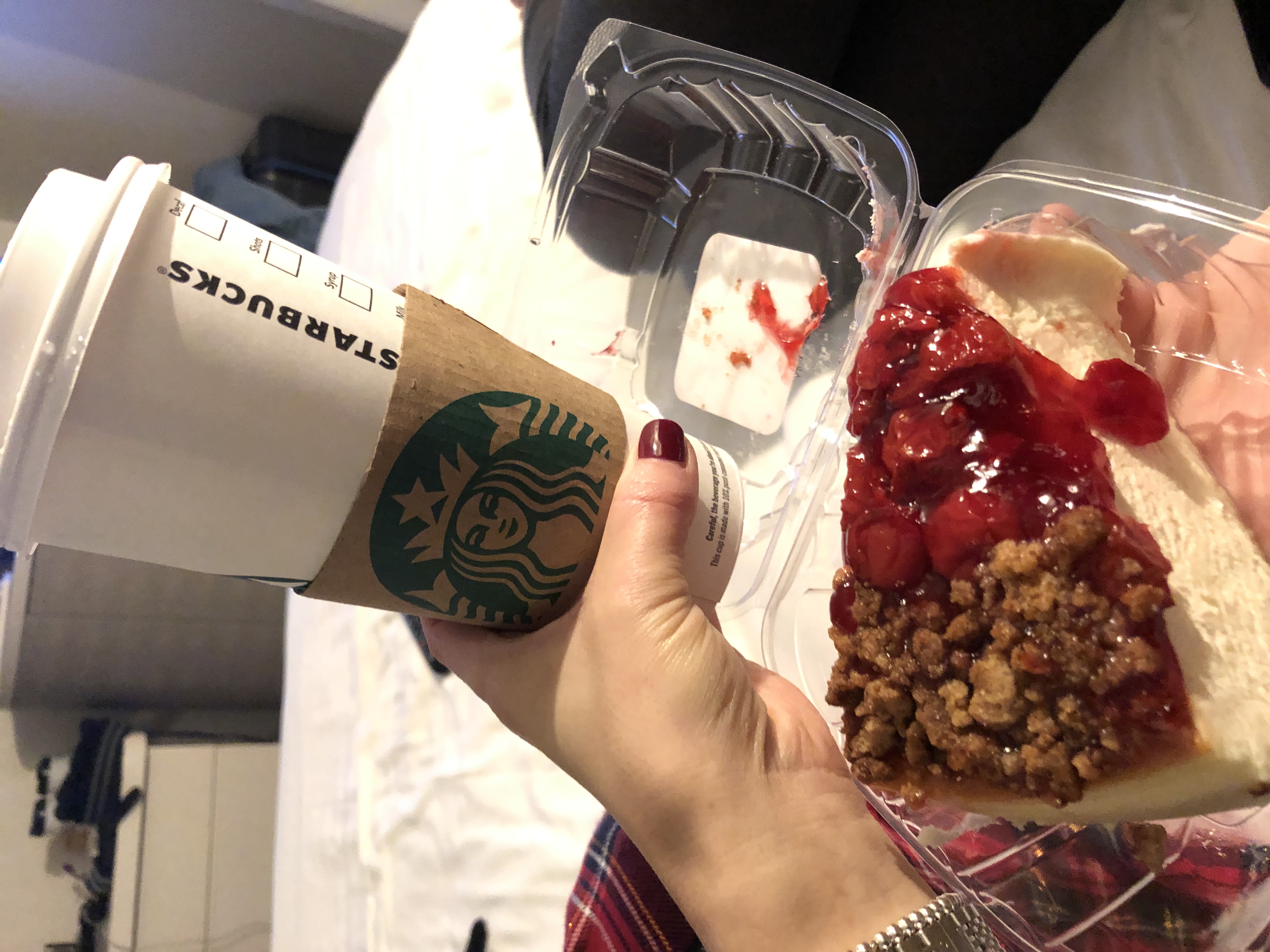 Time for sleep!!!!
Last day tomorrow
It's going to be a busy one!!!!!!!!
Don't forget to check out my other New York Travel diary's!!
??https://lifestylelisa.com/2019/02/11/new-york-travel-diary-travel-day/
?? https://lifestylelisa.com/2019/02/21/new-york-travel-diary-day-one/
Thanks for reading