Choosing your wedding dress is like a really big deal right! You have to fall in love with it and know you'll still be in love with it when it comes to walking down the aisle and saying "I do"
I have dreamed of going wedding dress shopping since I was a little girl playing with my Barbie dolls and dressing them up in weddings outfits. Finally it was actually my turn! Wedding venue deposit done, it was now time for me to go out and choose THE dress!!
You can read all about my first visit to Adella bridal and saying yes to the dress here
As mentioned in my previous post Adella just ticked all the boxes for me and the fact that they were featured in and recommend by British vogue – I mean come on, that's just AMAZING!!
So about the dress – My stunning, beautiful dress was an actually an original design by the extremely talented Amy owner of Adella bridal.
I was quite specific in what I wanted, I had a Pinterest board full of ideas and a picture in my head of what I wanted my dress to look like. Luckily because I had chosen an original dress Amy was able to customise it to pretty much how I wanted it.
Long sleeves were a must, as I was having a winter wedding and had my bridal party in dresses with long sleeves, and I wanted to compliment their dresses.
So although the dress I originally chose didn't have sleeves I was able to get those added on, and matched perfectly with all the lace and trimmings. I also decided to add length onto the veil, because when your only going to do this once, go big or go home right!!
Although being completely honest the veil as beautiful as it was, was annoying after a while as their was just so much of it! it was like having a best friend attached to you. Having said that, I wouldn't change it for the world, as it was all just stunning.
I also had extra beading added to the bodice, skirt panels and to the sleeves that were going to be made and added at a later date. To finish it all off I added a diamanté and beaded belt which just made the dress even more spectacular than it already was! I have added my original receipt but of course hidden the price – let's just say it was totally worth it.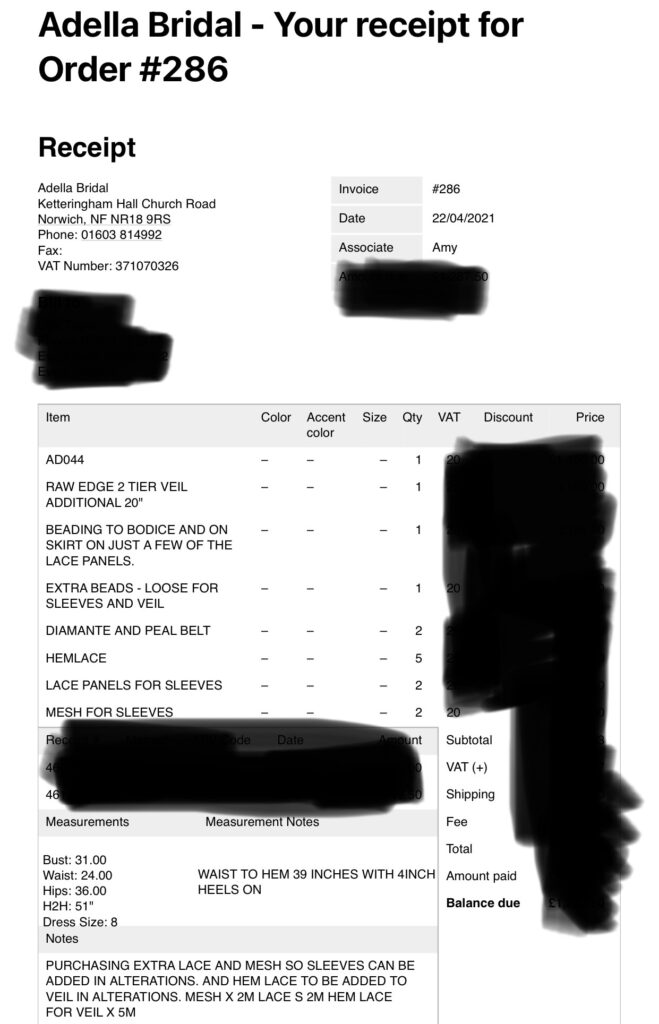 It was 8 long months until I got to see my dress again! My dress was delivered to the boutique in December and I was so excited to go and see it again!! Okay I was a little nervous too, what I didn't like it? What if it wasn't what I wanted anymore!! WHAT IF I HAD PUT ON WEIGHT AND THE DRESS DIDN'T EVEN FIT ANYMORE!! So many emotions right there!!
I remember walking into the changing room at Adella and seeing the dress hanging there and just being blown away at how beautiful it was, I'd forgotten, as it had been so long. It was such a relief that I still loved it as much, actually even more than I did the first time round. And honestly it was even more of a relief that it actually still fitted me, I seriously would have been devastated if it had needed it to be made bigger!
Choosing a dress is difficult because when you are standing in a room full of beautiful dresses, it's so hard to choose. It's definitely true what they say, you just KNOW when you've found the right one, you get the "feels".
I also wanted to be different, so although my dress can be purchased at Adella, I made it unique for me, so it's a one of a kind, and although someone may have similar to me, it'll never be the same, and I love that fact.
My wedding dress got so many compliments on the day, and I felt like the Disney princess I had always wanted to be.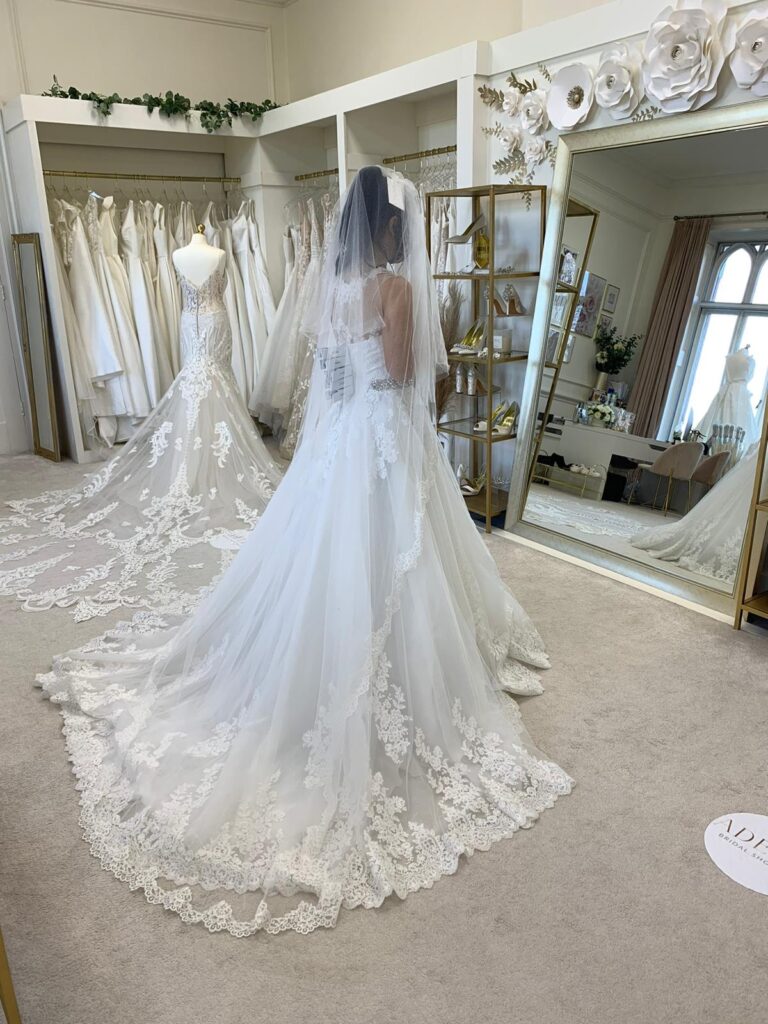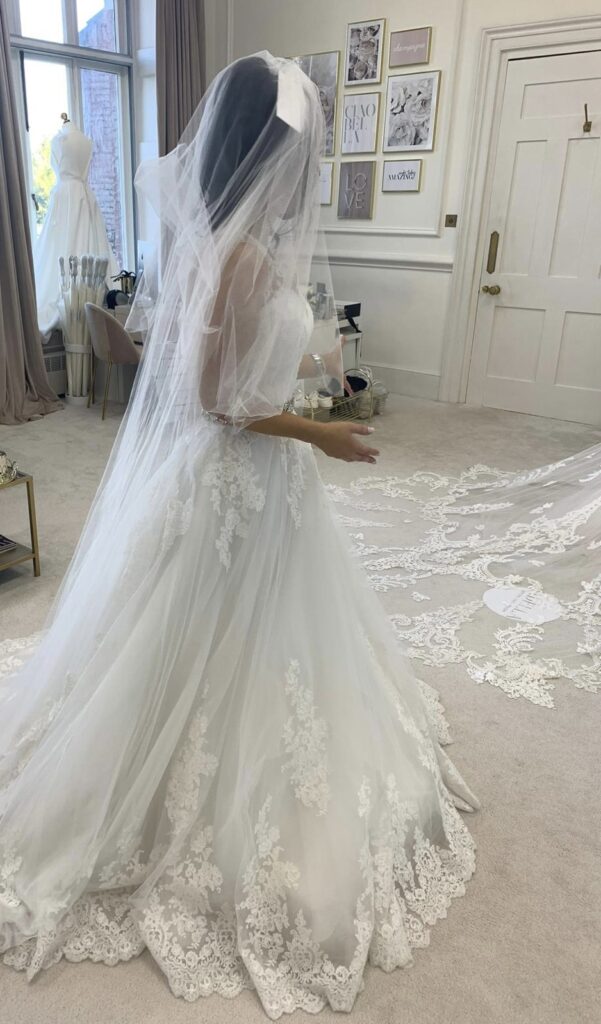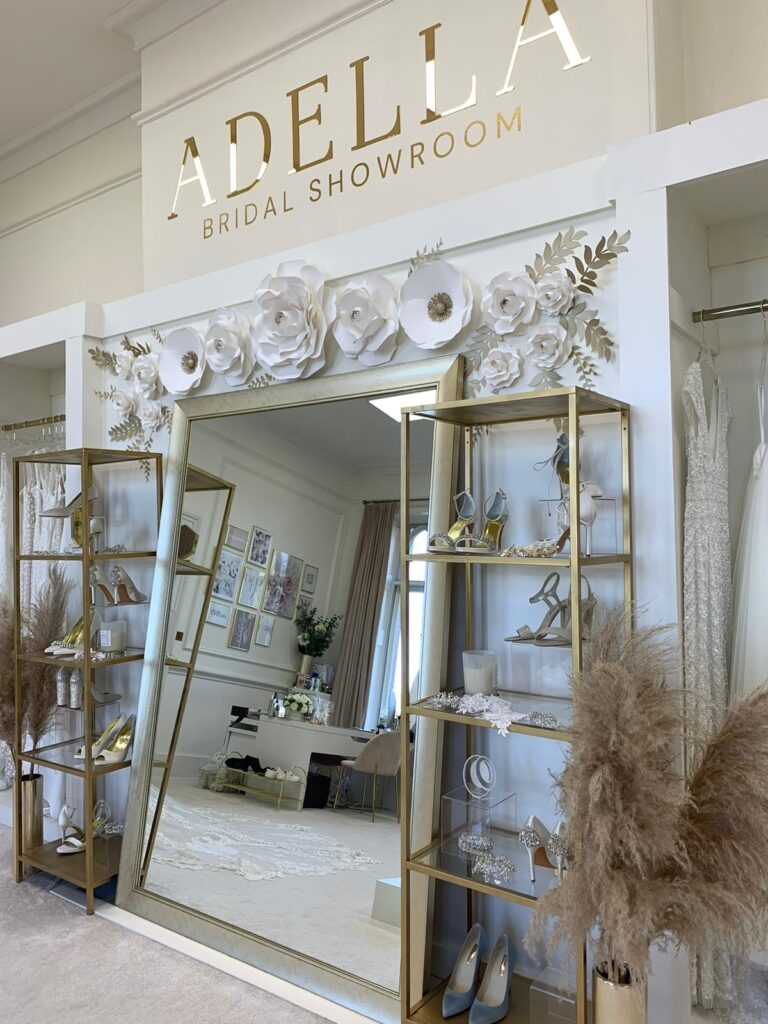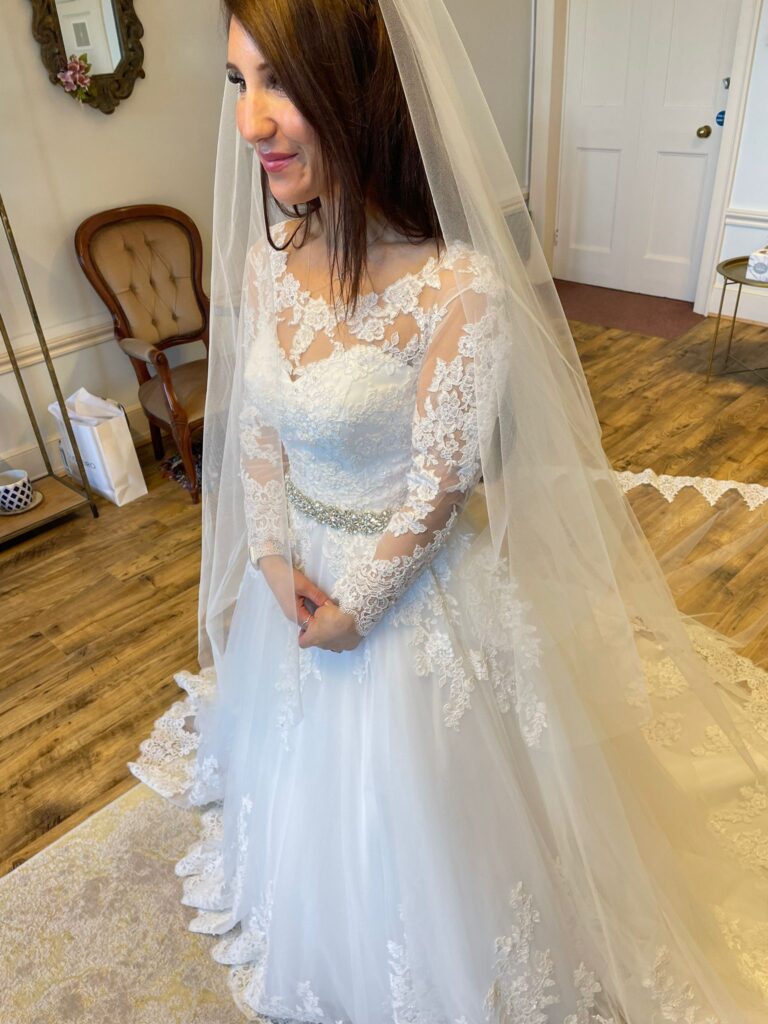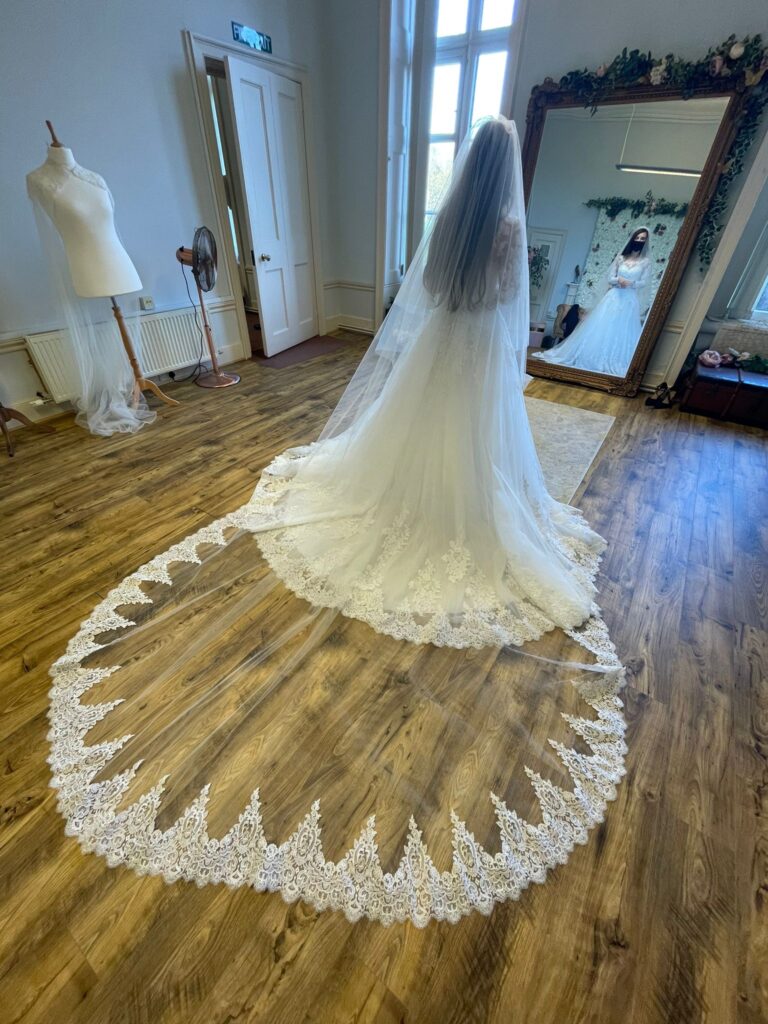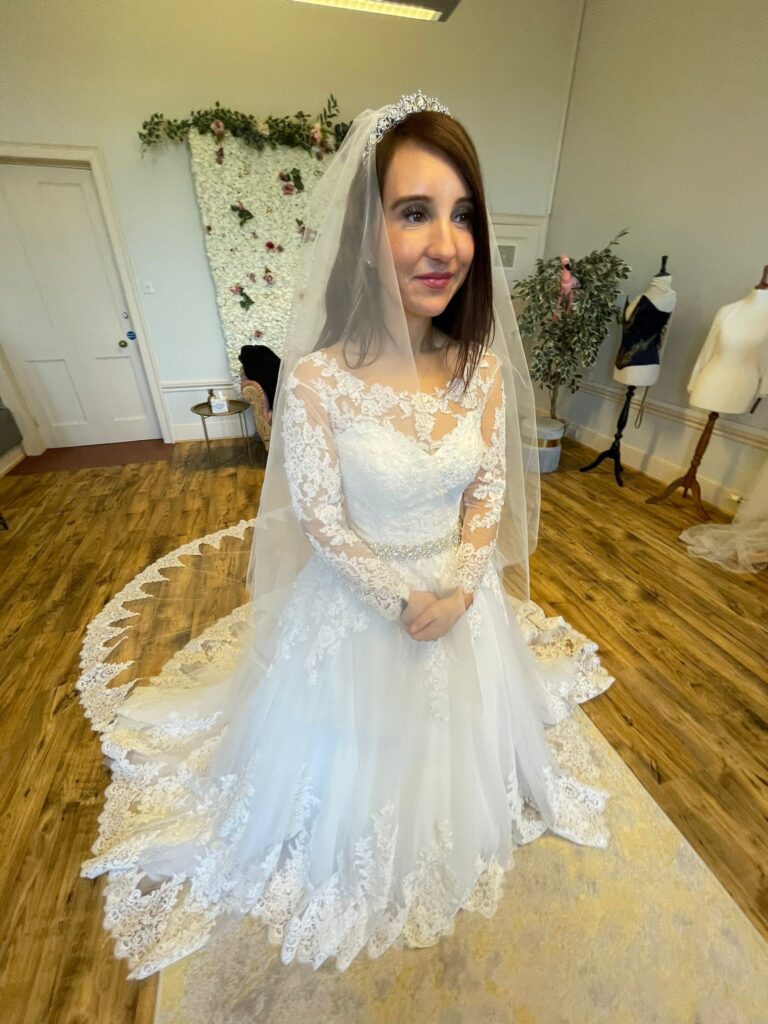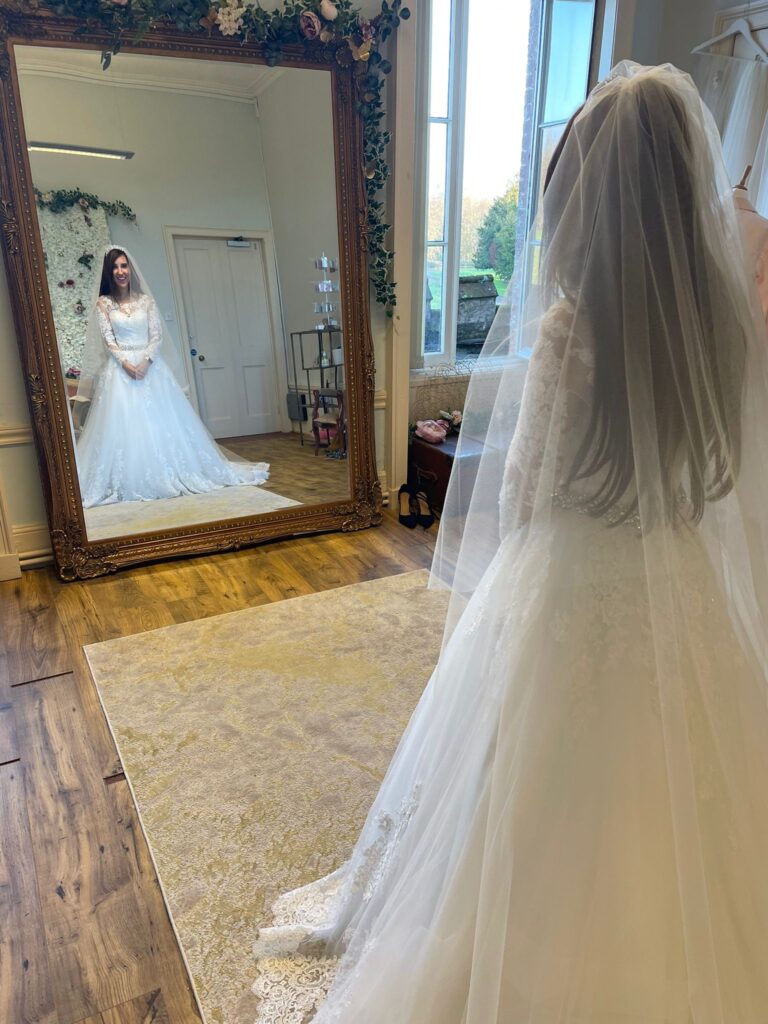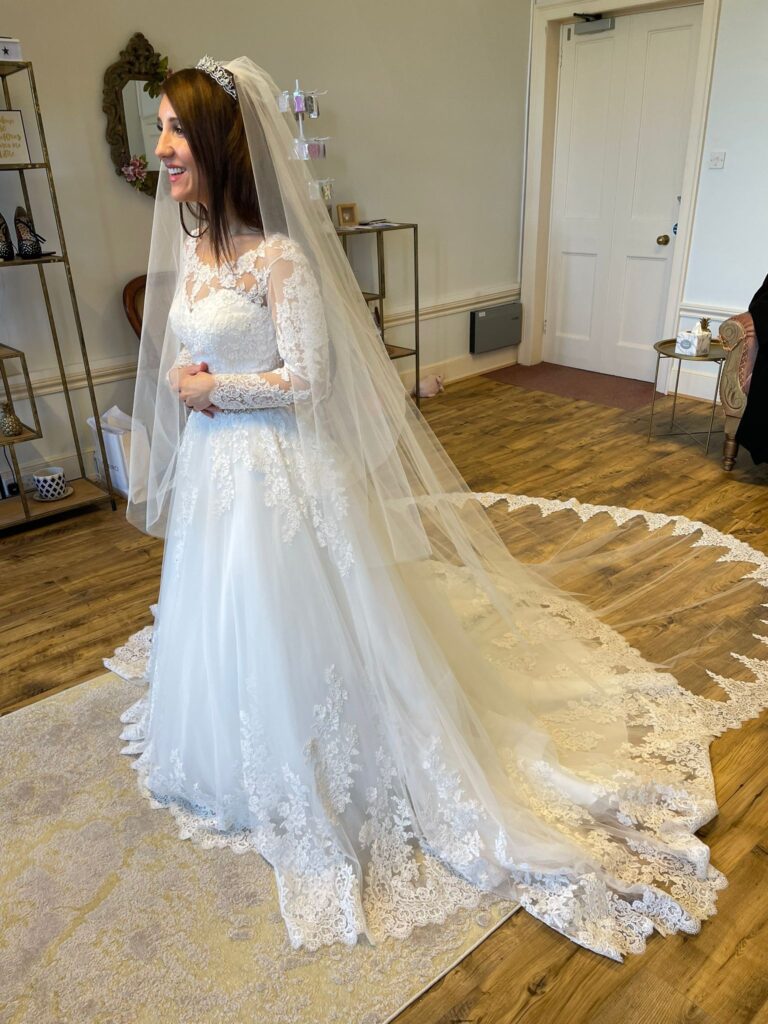 So sad that I'll never get wear it again.