Wedding prep is officially taking over my already busy life, but as a serial planner I'm really not complaining! In fact I am having the best time organising my dream wedding, although stressful at times, it's mostly pretty good, and hopefully can only get better with more and more restrictions being lifted in the UK.
With plans kind of coming together I can now tick another thing off of my wedding to do list….. BECAUSE I have chosen my DREAM WEDDING DRESS! YES wedding dress shopping finally happened and I found in my opinion the most stunning dress and I honestly couldn't be happier with it, and I can't wait to wear it on my wedding day!
So let's rewind so I can give you the details!
It was Thursday 22nd April when myself along with my Sister (who is also my Maid of Honour) and my Mum headed to Ketteringham in Norfolk UK to visit Adella Bridal for my Pre booked appointment. I booked my appointment well over a month in advance as they are very busy, so brides to be…. don't leave it until the last minute.
I found Adella bridal by pure chance on Instagram and instantly knew this was the one and only place where I would find the most stunning dress to wear on the biggest day of my life. I loved the Instagram page and when I headed over to the website and got a sneak peak of the show room I decided that it was THE place to go, and no other bridal boutique would do!
Norfolk is actually over an hour and a half away from where I live in Essex, BUT when a bridal shop looks so good and you get THE VIBE it was most definitely worth the travel.
I really had no idea what to expect from an afternoon of playing dress up as this is all very new to me having only gotten engaged in December of last year. Up until recently I had found trying to plan a wedding during lockdown difficult due to the many many restrictions in place, it kind of made everything a little deflating, with not bein able to view venues and get completely stuck in. I was wondering how trying on wedding dresses during restrictions and a pandemic would be, and was slightly worried that it wouldn't be the dream experience I had been hoping for.
Adella Bridal is nestled away in the beautiful countryside, and is situated in the most stunning building at Ketteringham Hall.
On my arrival I was met by Amy owner of Adella Bridal who was warm friendly and welcoming and by the end of my personal 2 hour experience I felt like I had known her for ages.
The boutique I can only describe as beautiful and luxurious, it was everything I had hoped and more. Beautiful soft carpets, and stunning decor, and even complimentary slippers upon arrival. And even though face masks had to stay on there was still a selection of complimentary drinks both alcoholic and non alcoholic, which was the perfect touch. One of the very many reasons I fell in love with this boutique is because it's quite simply not a shop.
Amy spent the first 10 minutes or so talking me through the different designs and getting an idea of what I was looking for. She then left myself, my sister and mum to our own devices to have a browse and choose the ones I wanted to try on. Of course I went in with a Pinterest board idea of what I thought my dream dress would look like, but I was most definitely open to playing dress up!!
Amy was great at letting us browse the designs and then offering her opinion, I mean after all she is the expert so I was super happy to have her input.
I picked out a total of 7 dresses to try on, and I definitely had my favourites (one in particular) that I couldn't wait to try on and one that my mum picked out that my sister and I didn't like at all.
So after picking out the dresses to try on (7 in total) I must admit I was a little concerned that maybe I wouldn't find my dream dress…. I think I've watched WAY too many "say yes to the dress" episodes and was completely overthinking things (as usual).
Amy took myself along with my chosen dresses through to the large spacious changing room where the fun could really begin! Oh and the slight worry I had about stripping down to my underwear to try on the dresses (hello potential awkward situation) was just another classic overthinking on my part, because I actually didn't batter one of my false eyelashes when it came to it! Amy and I were chatting making it so much less awkward, and I'm sure she's more than used to seeing many many brides in their underwear!
So remember the dress I mentioned earlier (you know the one my sister and I turned our noses up at?) well I tried that one on first, to get it out of the way and it was the one my mum picked out so I thought I'd show her and take it straight off. Well in a turn of events I put on the dress and completely FELL IN LOVE WITH IT! It was crazy, I mean I know they say you will know when you've found your dress but I don't think I actually believed it! But I can confirm that the saying is completely true, I just couldn't get over how stunning it was. I then learnt that Amy had actually designed this dress (so talented) and to make it even more dreamy, unique and special, I could actually make certain alterations to the dress, making it a one of kind!
Of course I still tried on the other 6 dresses just to make sure that I had made the right decision, and I loved them all but none of them measured up to dress number one.
I got to try the chosen dress on again where I spoke with Amy about what tweeks and alterations I wanted, and how long I wanted my veil and what bling (if any) I wanted to add on, and of course none of what I have chosen is going in any blog post until after the wedding in January 2022. BUT I can say that I am in love with the most beautiful dress and I can't wait to wear it!
Saying YES to the dress was such a lovely happy experience that I got to share with my mum and sister and Lukes mum over FaceTime. What could have been an overwhelming experience was chilled and fun and surpassed my expectations completely.
Amy was wonderful throughout the personal 2 hour appointment, and what I really liked was that she didn't mention prices, and that was important for me as I didn't want my dream dress to be defined by a set budget. I wanted to find the dress I loved and then get the price, instead of shopping only for dresses in a certain price range.
The dress was bought for me by my mum and dad, and yes I was given a pretty decent budget but I knew if I went over I'd just give Luke a call and get him to put the rest of the money, I mean at the end of the day he does benefit from seeing me in such a gorgeous design for one day only.
My sister has photos of me in the dress and the dress on her phone but I don't have them nor do I want them. I don't want to keep looking at them and then start overthinking wondering if this was in fact the dream dress for me or should I have stuck with my Pinterest board ideas. I KNOW I made the right decision and I can't wait to revisit Adella Bridal for my dress fitting, I am so excited to see my dress with all the added detail.
Saying yes to the dress was a day I'll never forget.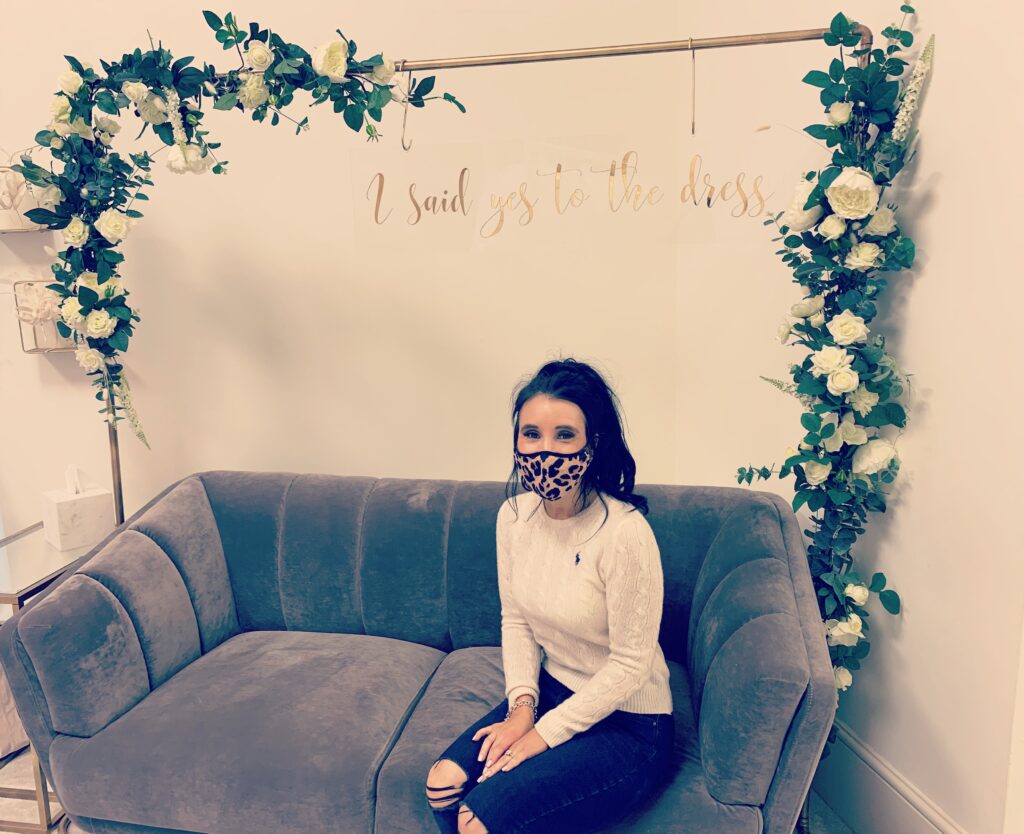 Brides to be…. check out Adella Bridal!!