In today's post I'm giving a shout out to my "Bride Tribe" who are in my opinion squad goals!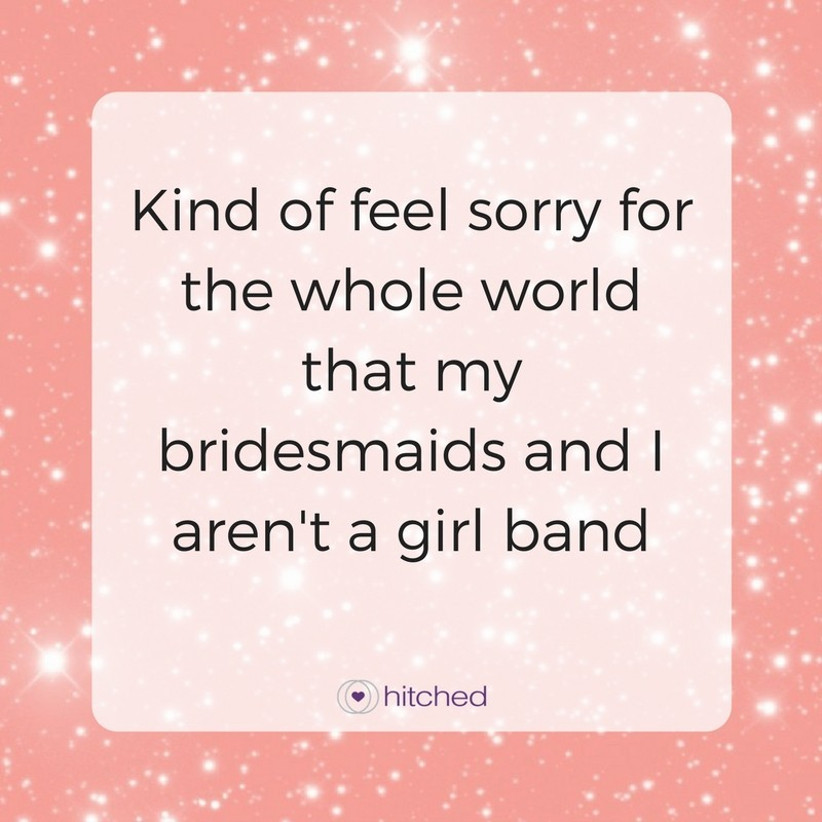 It's true, every bride needs a solid amazing dream team by her side not only on her big day but also leading up to her big day!!
Choosing the girls that will do the honour of standing by you as you Maid/Matron of honour and bridesmaid, is a carefully well thought out process. I mean potentially these girls are going to witness the bridezilla in you on more than one occasion!
For me it was pretty easy as I had always had a general idea of who I wanted in my "bride tribe" I knew the girls who would be supportive and loyal and would also let me have my diva moment…..
Once hand selecting my bridal party (which I pretty much did, the day after I got engaged) I wanted to do something special to ask them, instead of just asking them out right.
Proposal boxes are very much in right now, and I decided that I wanted to present my bridal party with a a proposal box.
I found some great ideas on Pinterest, and initially looked at buying all the boxes and bits inside from Etsy, less hassle for me to do, and it would be quick and simple. After having a good look though I felt like I wanted mine to be personal, and I wanted the effort to have been put in, so I decided to do it myself!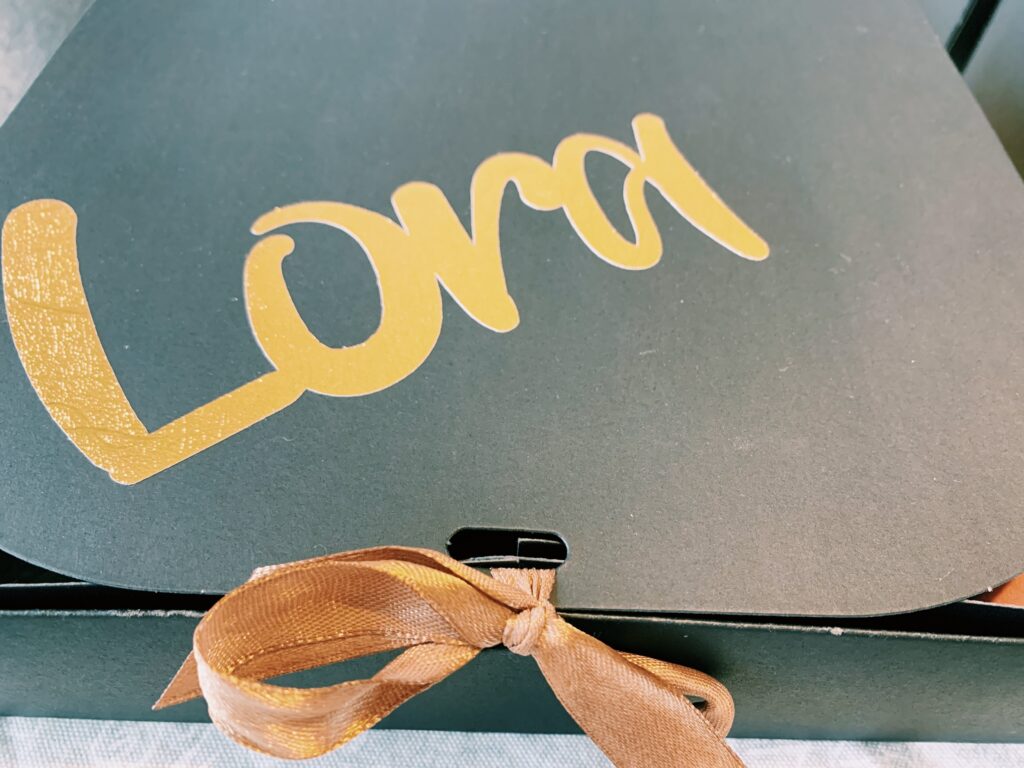 Okay yeah it was kind of stressful, finding boxes and deciding what I would be putting in them and then I had to get all the bits to pad out the boxes but all in all I really enjoyed it. I even decided to get a machine so that I could write the stickers that would go on the boxes – HELLO cute Cricut machine!! I love her!!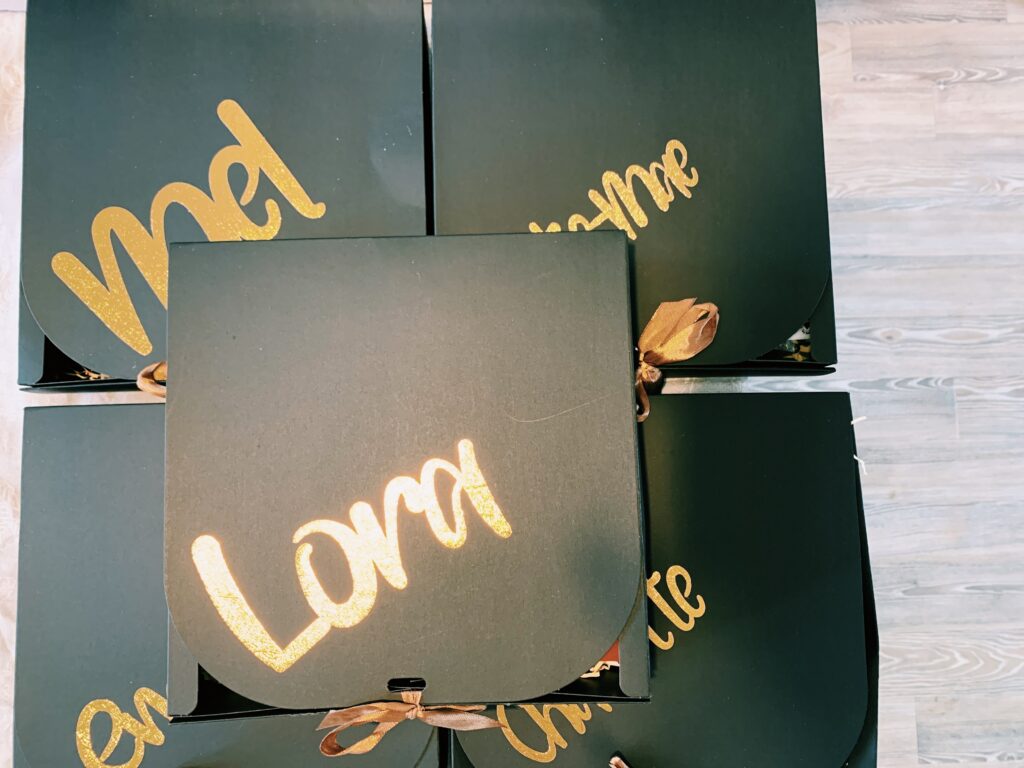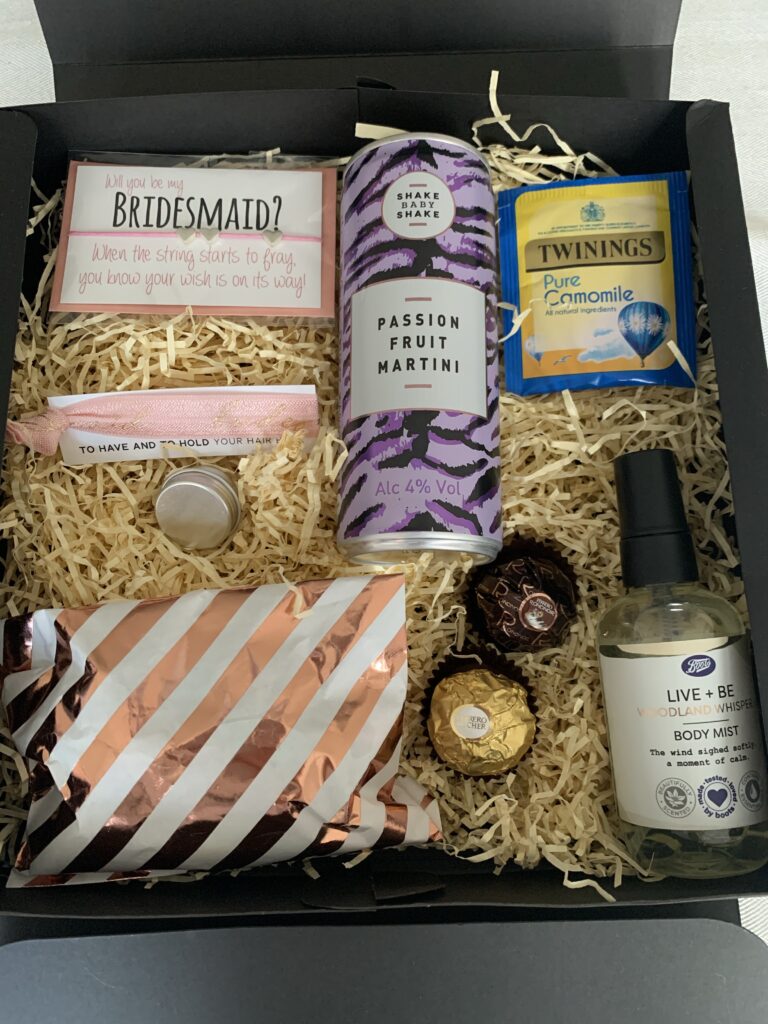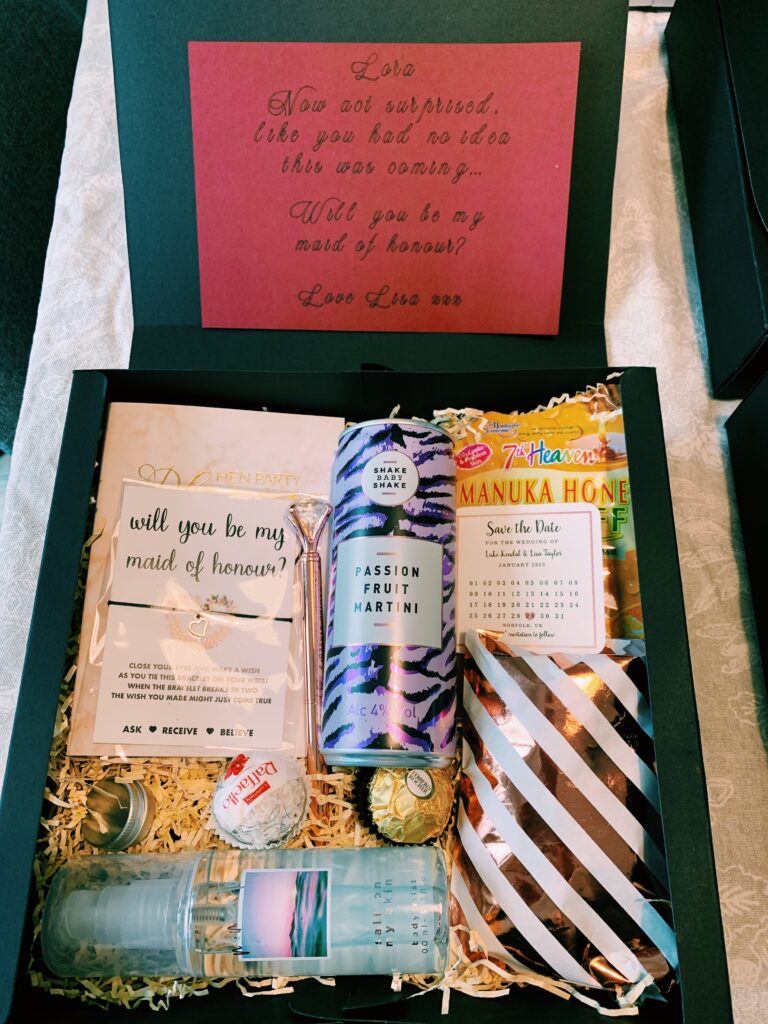 I was so excited on the day that I got to socially distance drop off my boxes to each bridesmaid, I LOVE a good reaction so I couldn't wait!!
It took about 2 hours to surprise my unsuspecting bridesmaids, but it was so worth it, and their reactions were priceless. I think they were all pretty surprised, and I was actually surprised at myself that I had managed to not let slip to anyone who I was going to ask, I'm usually one to just spill the beans way too early, but not this time!!
Luke and I have quite a big wedding party but everyone one of them is an individual who we wanted to be involved and a play a part on our day.
I have 1 Maid of honour, 1 Matron of honour, 1 Chief bridesmaid & 3 bridesmaids.
I also have 1 chief flower girl & 4 flower girls!
Luke has 1 best man, 5 groomsmen & a page boy!
That's a big wedding party of 18!! But we are fortunate to have so many lovely people in our lives.
Of course now my maid of honour and matron of honour after accepting their titles are in charge of organising my hen do/bachelorette party (good luck with that girls) Luckily they both know me SO well!
I've given the dream team (as I like to call them) the names of the girls that I would LOVE to see on my hen party, I haven't invited lots of people just the girls that I can have a giggle with and who I like being around.
I am planning a family hen too as I want to do something that involves both my Nan and aunt, but that's something I will arrange myself, I'm just patiently waiting for some of these restrictions to be lifted, so I can get planning….once a serial planner, always a serial planner!!