14/08/2019
Morning, and seriously – HAPPY WEDNESDAY! And if your interested, YES the struggle is most definitely real!!! The weekend seems so far away!!!!!!! And the working week is long!
Today I am here with a thought provoking post, and I would love to know your views on it!
????????
A mums old rant on her twitter account about hating "childless" couples at Walt Disney World has recently been resurrected from the archive file and has once again been doing the rounds. I managed to grab a screen shot below, and after reading it, it got me thinking about my views as one of the said "childless" couples who have quite frequently enjoyed a WDW trip.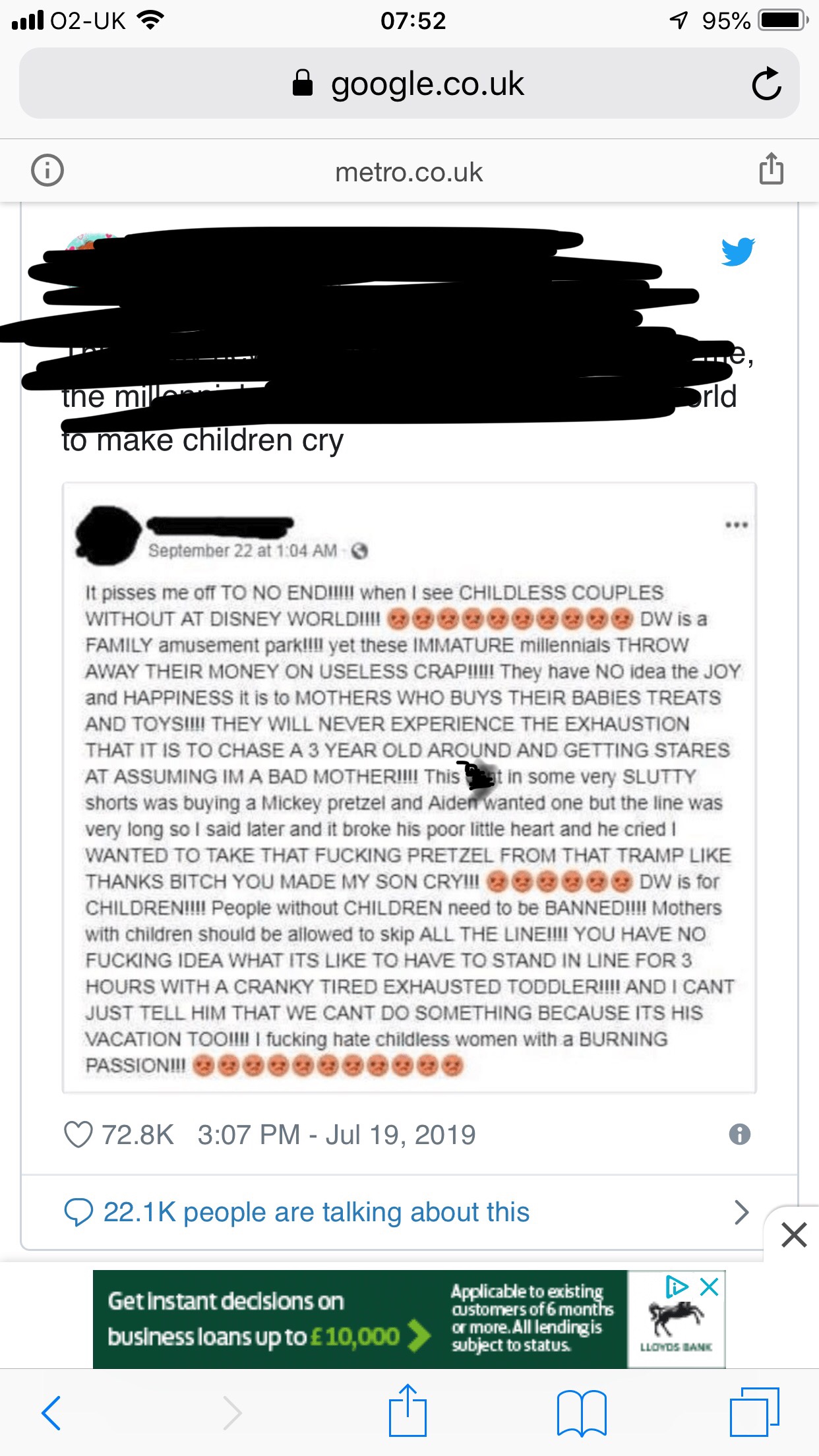 So here's the question, should Disney parks in general be just for kids?
Okay so OBVIOUSLY dissecting this crazy rant of a post, we have a cranky mum whose child had some kind of major breakdown from not getting their own way (I'm sure as kids we've all done it right!)
BUT the rant IS a little harsh, actually NO it's REALLY HARSH!
I mean reality check here, JUST MAYBE the so called "slut" was buying a Mickey pretzel for HER child who may have been sitting down somewhere OR just maybe the woman in question would love to have kids of her own BUT CAN'T! OR SERIOUSLY JUST MAYBE "slutty shorts lady" (by the way what are slutty shorts?) but anyways just maybe she was enjoying a well deserved holiday with just her other half, BECAUSE SHE CAN!
Whilst yes I agree Walt Disney World may aim its marketing at families with young children, but I think it really is a great place for adults too, and you will find it is a popular holiday spot for couples all year long.
I have been to Disney as a young girl with my family, my love for all things Disney related remained as I grew up, and I was able to share that when I met my boyfriend Luke (who is also equally childless, just for the record)
Luke and I enjoyed several trips to WDW with our families before going it alone as a couple in 2017.
We planned our trip right down to the final moment, and packed it with dining experiences and rides and extra magic hours.
Whilst it's true I don't visit WDW to skip down Main Street USA hand in hand with Mickey Mouse, and nor do I usually do the character meet and greet's. I visit because it's a super fun place to be, there is literally SO much to see and do, and if you strip back the layers essentially it IS a theme park! Just like Alton Towers, Thorpe park or even Efteling, only its bigger, better and far more magical!!
Life is just so serious and at times completely and unnecessarily stressful and difficult, so WHY for just 2 weeks out of an entire year shouldn't everyone, no matter who you are be entitled to release their inner child and be a big kid again without a care in the world?
There's just something about being right there, whether your in Magic Kingdom, or Hollywood studios, there is an atmosphere and it's the best feeling in the world.
In all honestly maybe the child in question was just too young? I always have said age 6 is a good age to take a child, but that's just an opinion and something I most definitely wouldn't force on someone!
Anyone whose been stood in those long long lines waiting to get on a ride knows that YES it can be stressful, and when your hot and tired, your patience levels drop!! And to be honest I'm pretty sure I've thought to myself at times how nice it would be if WDW were in fact CHILD FREE! But it's a passing thought and a silly one at that, because of course I don't really think that should be the case at all!! My point is we all have those moments, it's just that most of us certainly don't take to twitter to share the views to anyone who will listen!
I'm sure that when Walt Disney was designing WDW he wanted the young and old to be able to enjoy it. The rides are catered to suit both children and adults. Alcohol is now becoming more accessible in certain parks, and what about the golf course or the spa? And all that amazing food you can eat around the world showcase?
WDW is there to be enjoyed by everyone, both young and old.
So now over to you, what's your views? I would love to know. Drop me a comment below, or email me at [email protected]
Thinking of a booking your own Disney trip, check out these planning blogs ?? https://lifestylelisa.com/category/disney-adventures/
https://lifestylelisa.com/category/florida-adventures/
Thanks for reading lifestylelisa