16/09/2018
I have unfortunately woken up to another day of rain, so far it's been pretty torrential too so I am currently sat in my hotel room hoping it will stop. Feeling pretty sad today actually as this was not how I visioned my holiday being. You get the image in your head of making forever memories with your boyfriend but so far we have had rain every day, which have ruined some plans. BUT as they say it's not about waiting for the storm to pass but learning to dance in the rain, except I HAVE DANCED IN THE RAIN everyday, so is it really too much to ask for a bit of sun and heat?!?!
We decided to be rebels This morning and have breakfast at 9am today, I settled on a nice little fruit platter with some fresh mango, papaya, coconut and melon, I added a small banana smoothie to this, so hopefully it will keep me going until dinner, which I am already looking forward too.
11.30, it LOOKS like it has stopped raining, time to head out and see what we would like to do today. We haven't as of yet checked out the U SPA in our resort and it would be just criminal not too whilst we are here!
Hitting the spa we were tempted and eventually swayed with doing the couple massage priced at 5,300 rupees (around £150) we initially wanted to book this in for tomorrow (Monday) but seeing as there was space today we decided WHY NOT just do it. I have had massages previous to this but never a couples one with Luke. EXCITED!!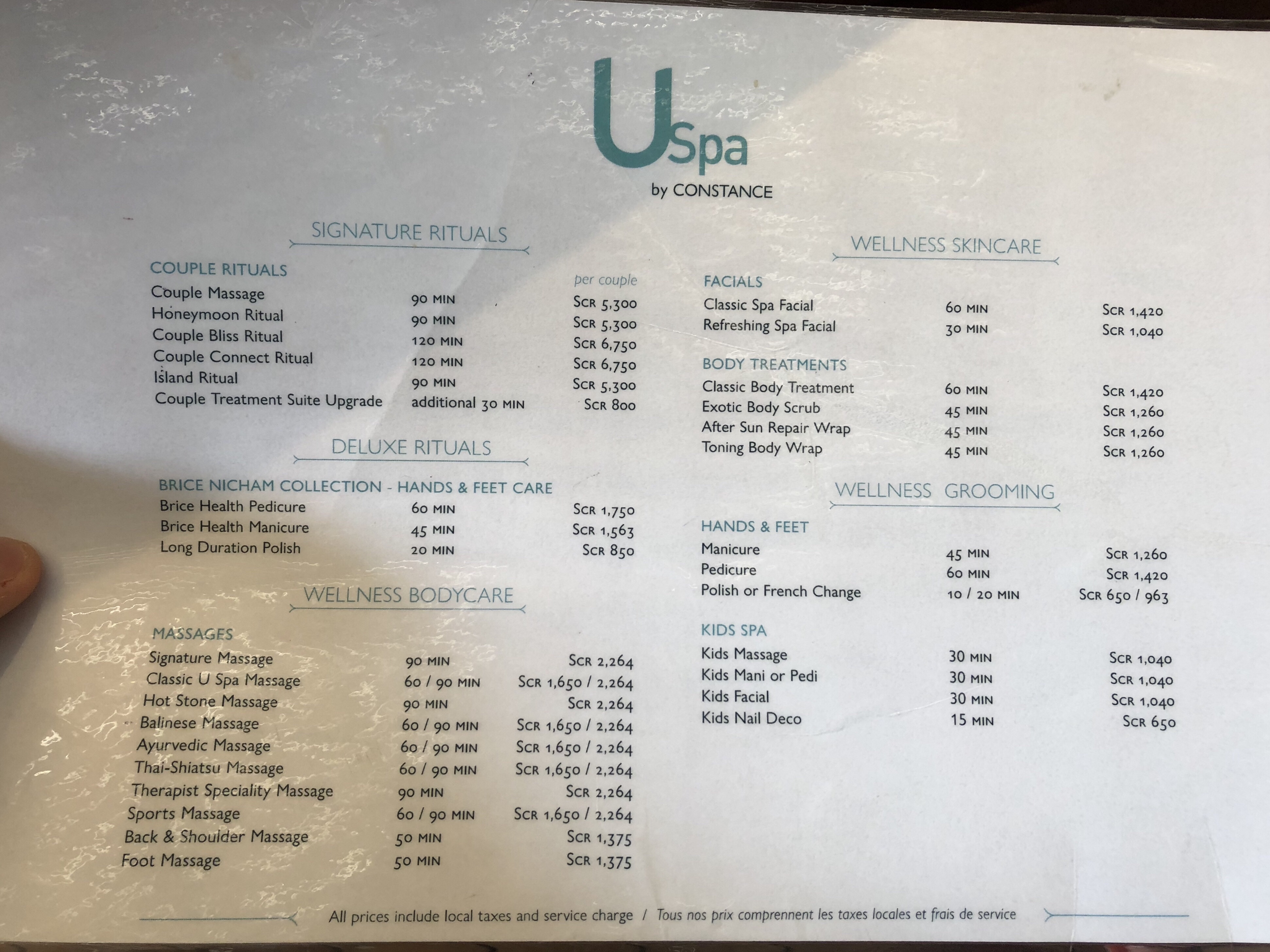 We were firstly treated to some ice tea whilst we filled out a short questionnaire, on there were question like- what pressure would we like our massage, do we mind the use of oil, any parts of the body we didn't wish to be touched, so very standard questions. We were also asked if we preferred a male or female masseur, neither Luke or myself minded.
After a short while we were taken to our treatment room, and left to undress and put on the disposable pants and the bathrobe provided. We were then told to soak our feet in the bowls filled with warm soapy water. It was here that we met our masseurs and they confirmed with us exactly what we wanted and how we liked everything.
From here we were taken out into the main treatment room, for really what I can only describe as 90 minutes of pure bliss! It was another level of relaxation, time just went by and all I could hear was peaceful relaxing music and the crashing of waves and wonderful scents of aroma's, I was on cloud 9 and didn't want it to end. It was as you can manage all very tasteful and professional. I left the spa feeling refreshed and stress free.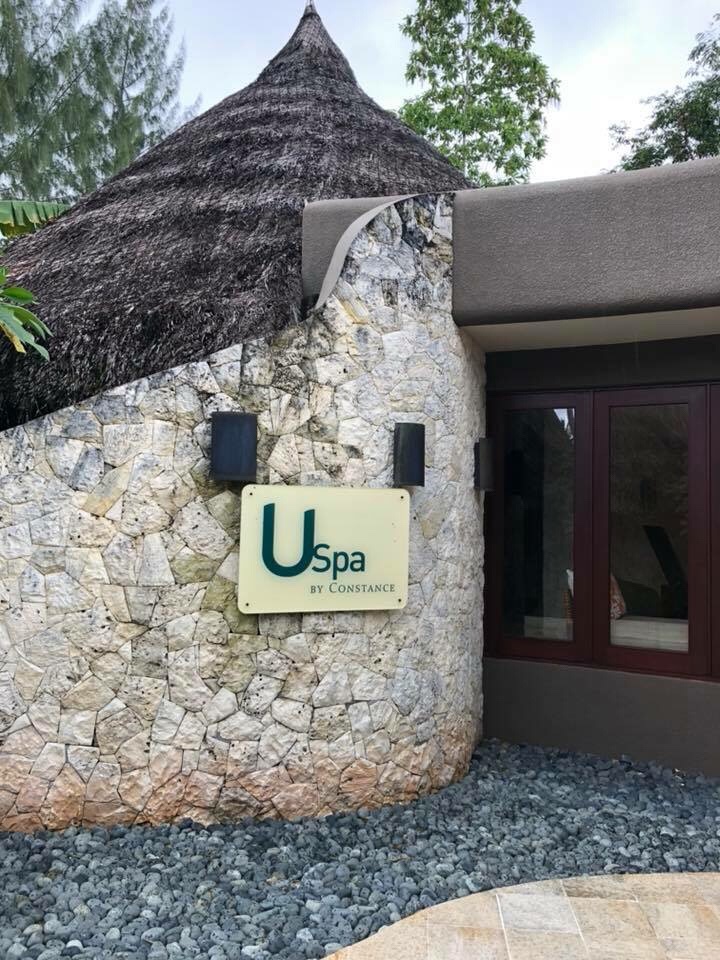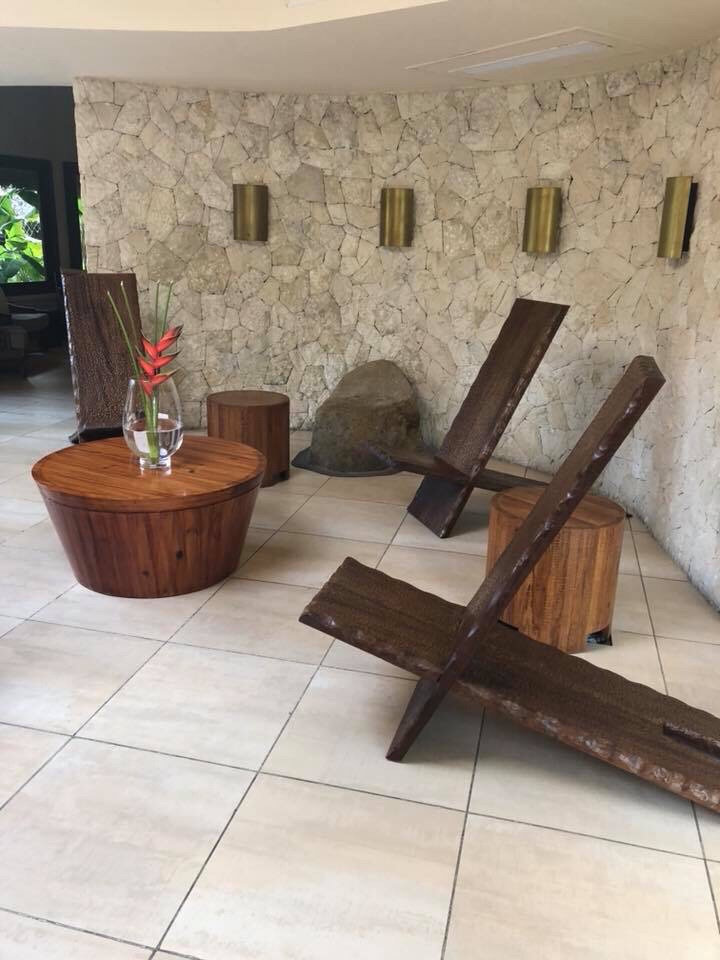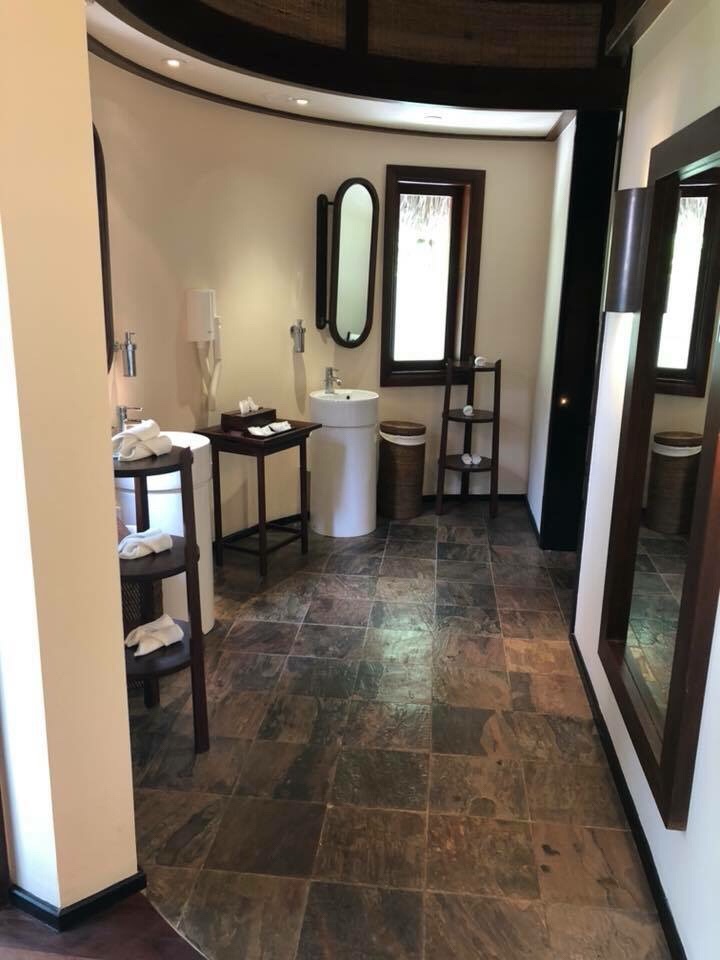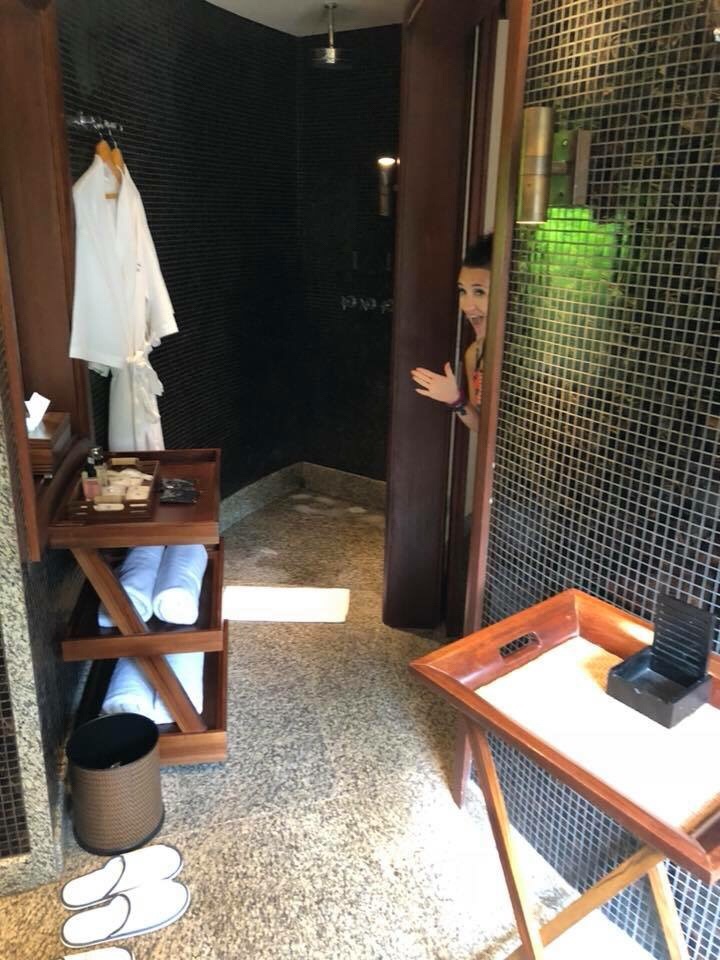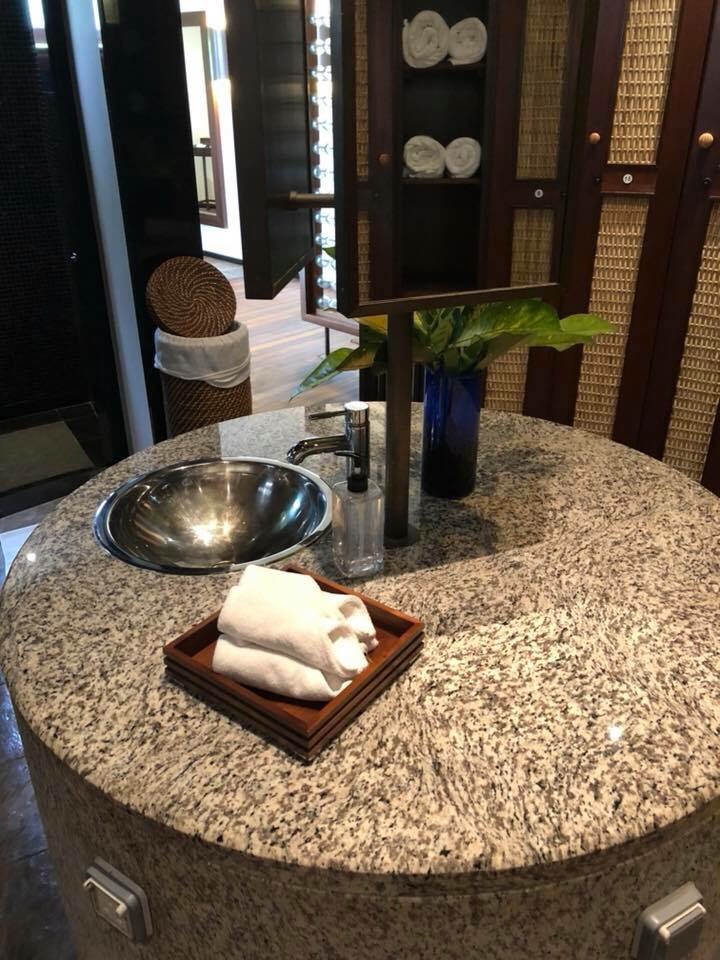 Afterwards we led our to a private area to enjoy a cocktail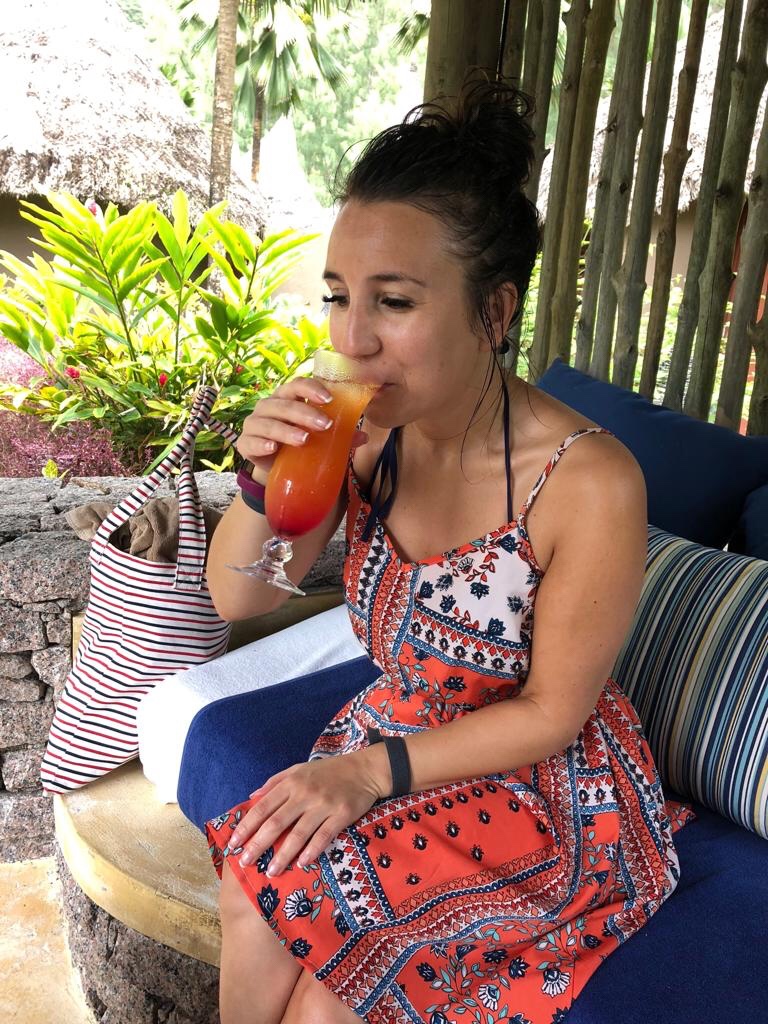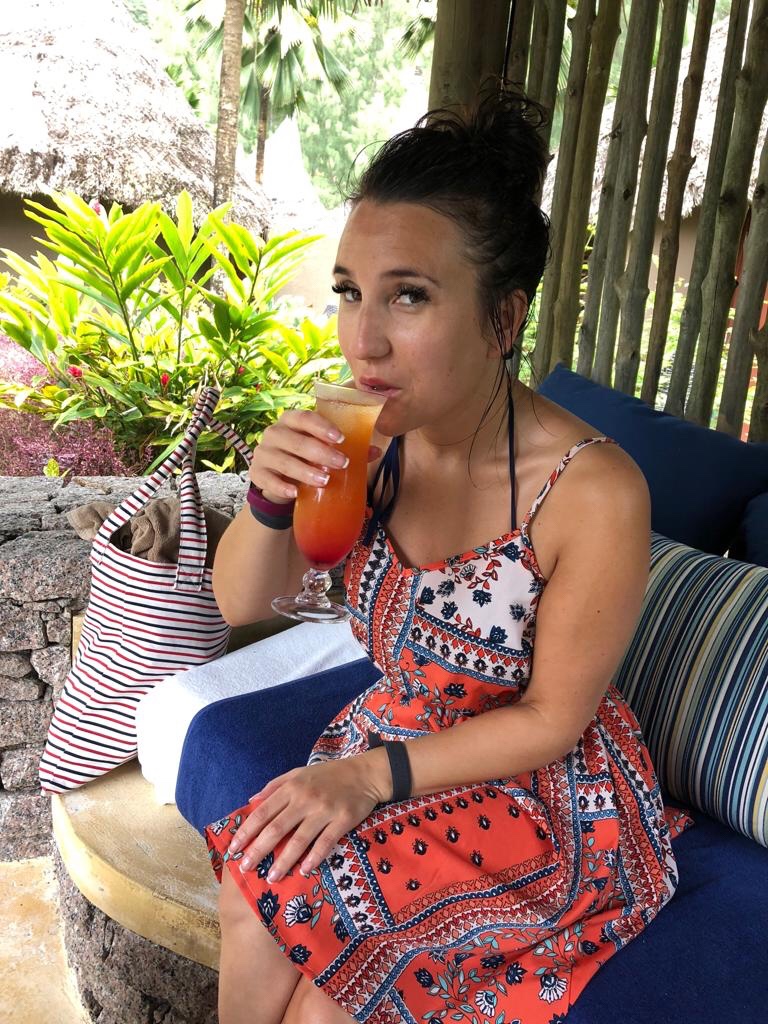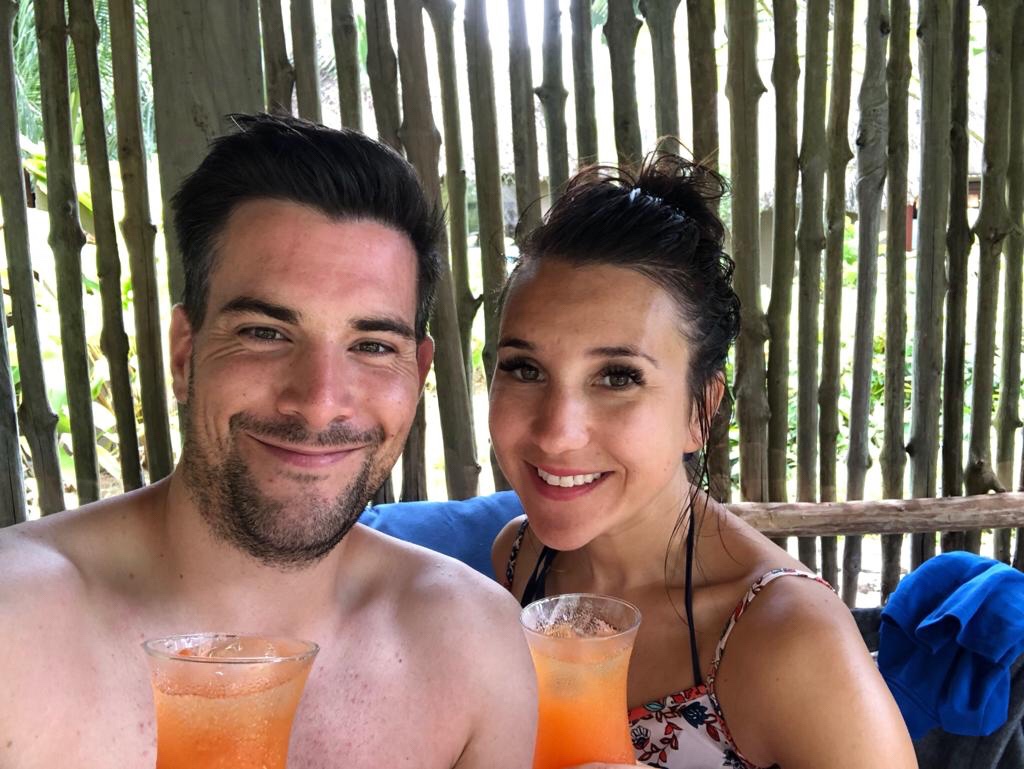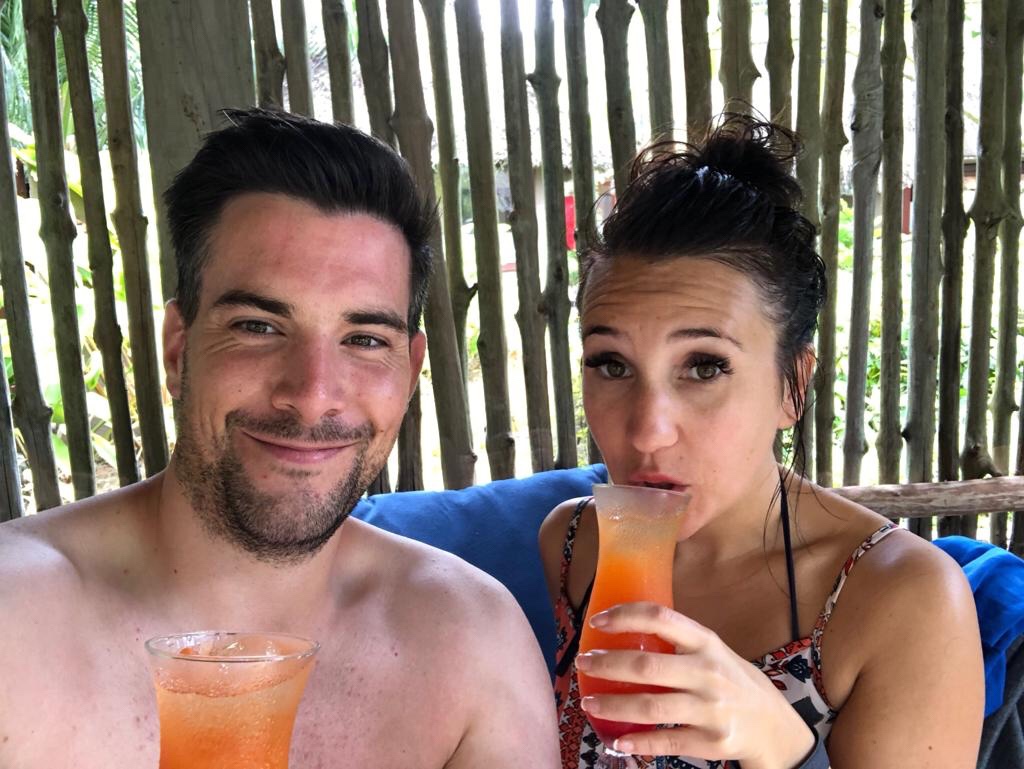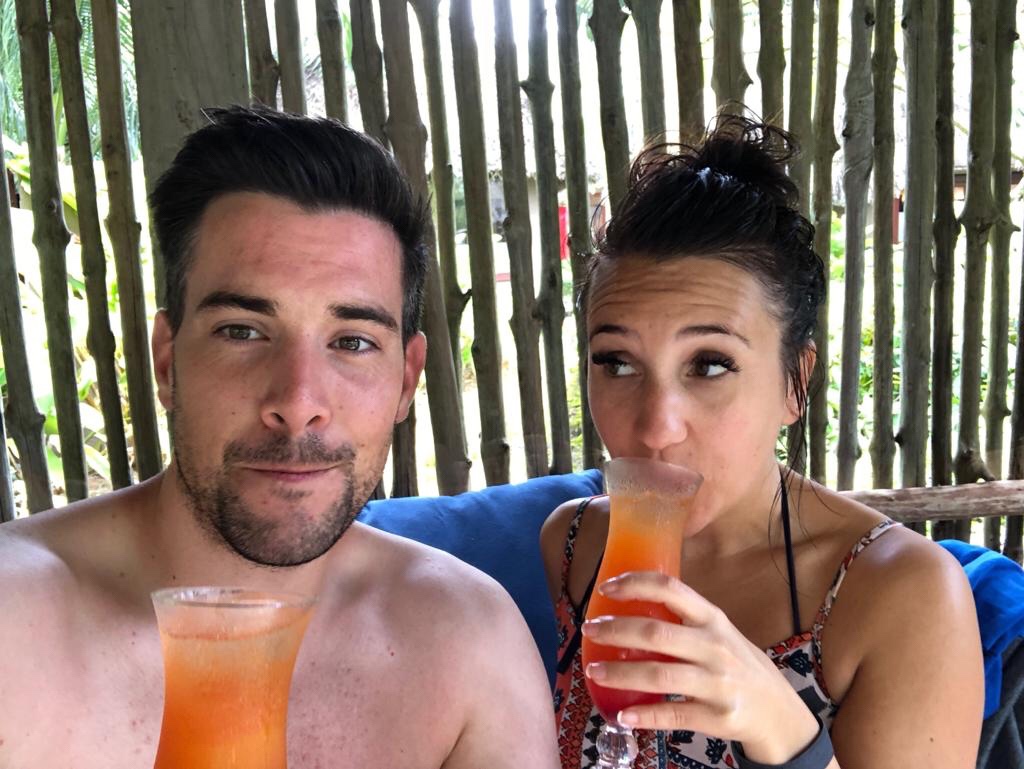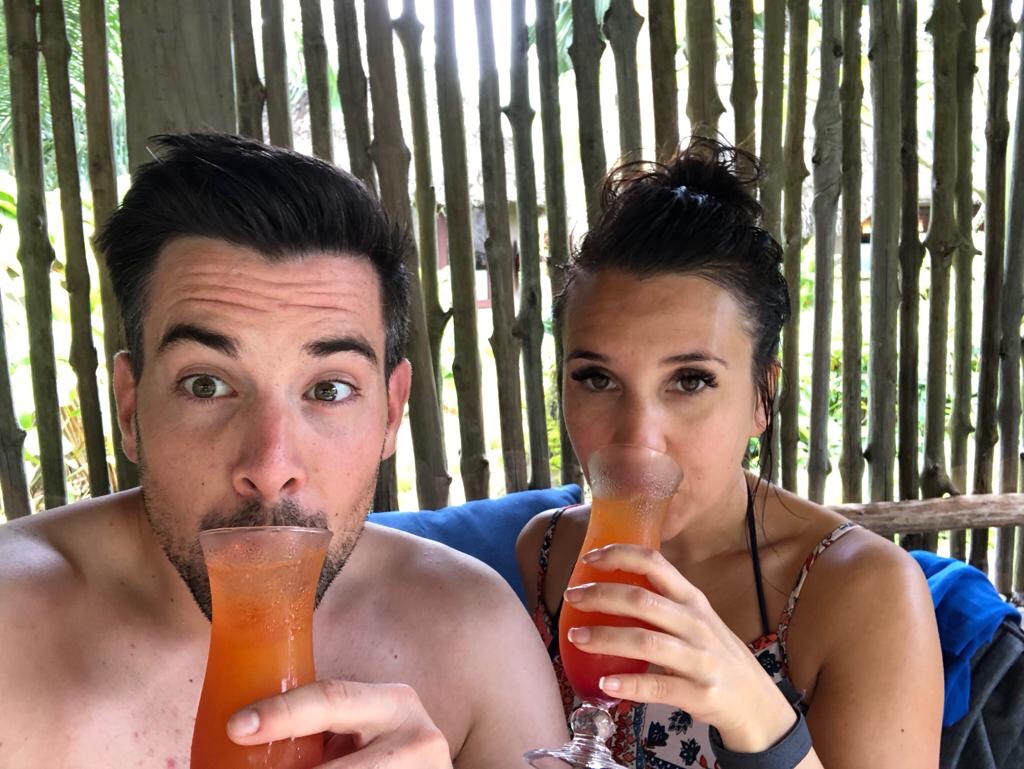 Luke and I decided to go and laze around the pool for an hour or so before heading back to the spa to enjoy the facility's such as sauna, steam room, thermal bath, infinity pool and swimming pool, oh and jacuzzi of course! We spent a good hour or so using everything, and it wasn't even very busy which was a bonus! The U spa is open to all guests from 9am until 2pm then ONLY guests who have a treatment booked or have had a treatment that day can use use the spa from 2pm until 9pm. This is a fab way of doing it as will never be overcrowded!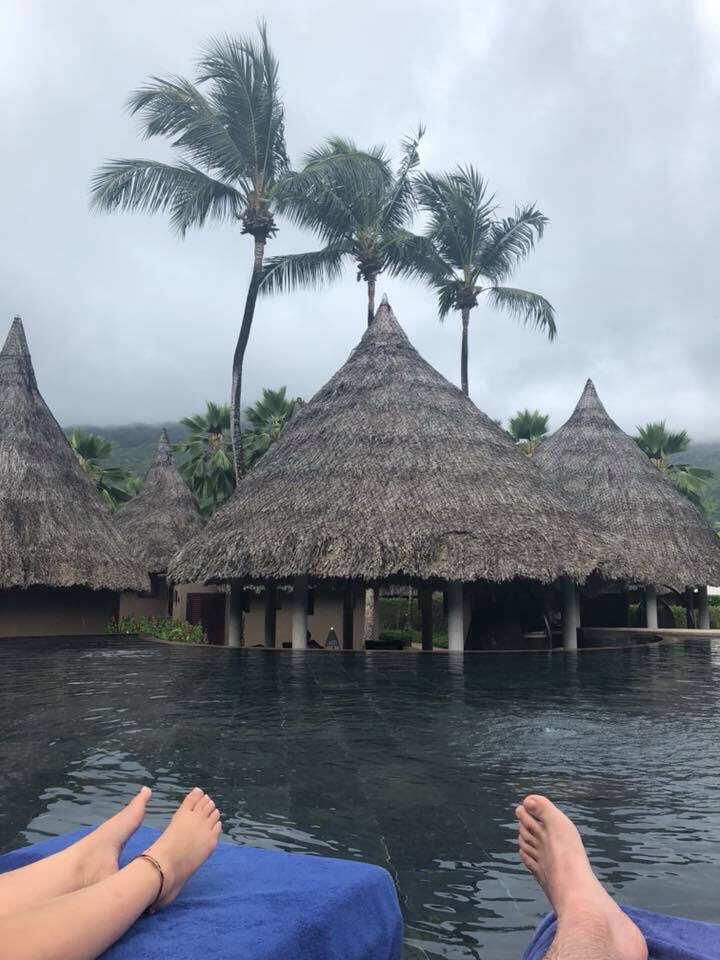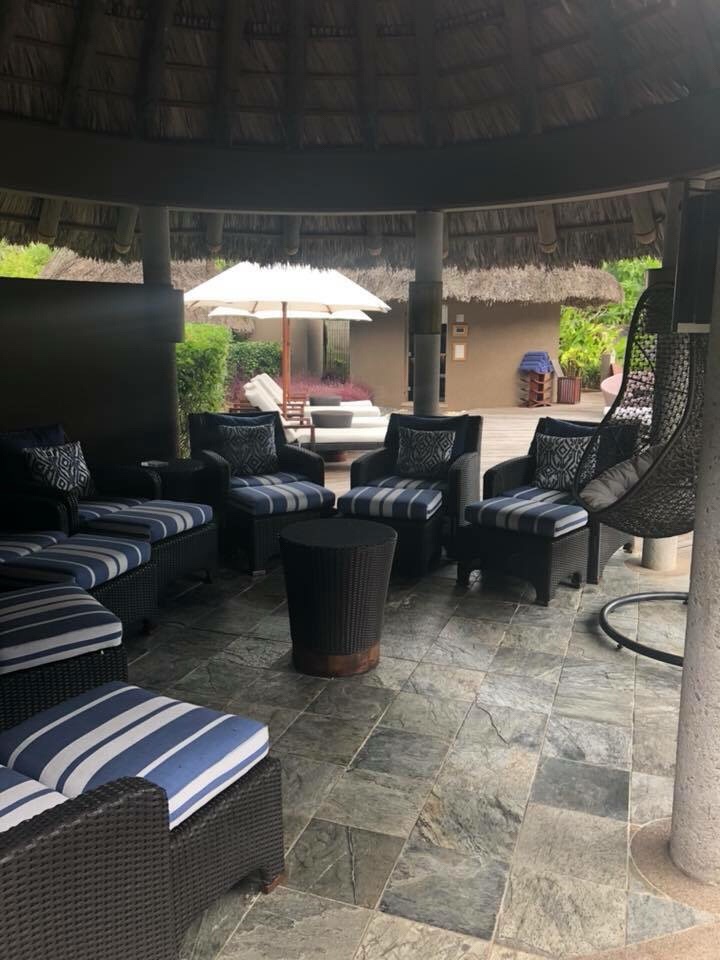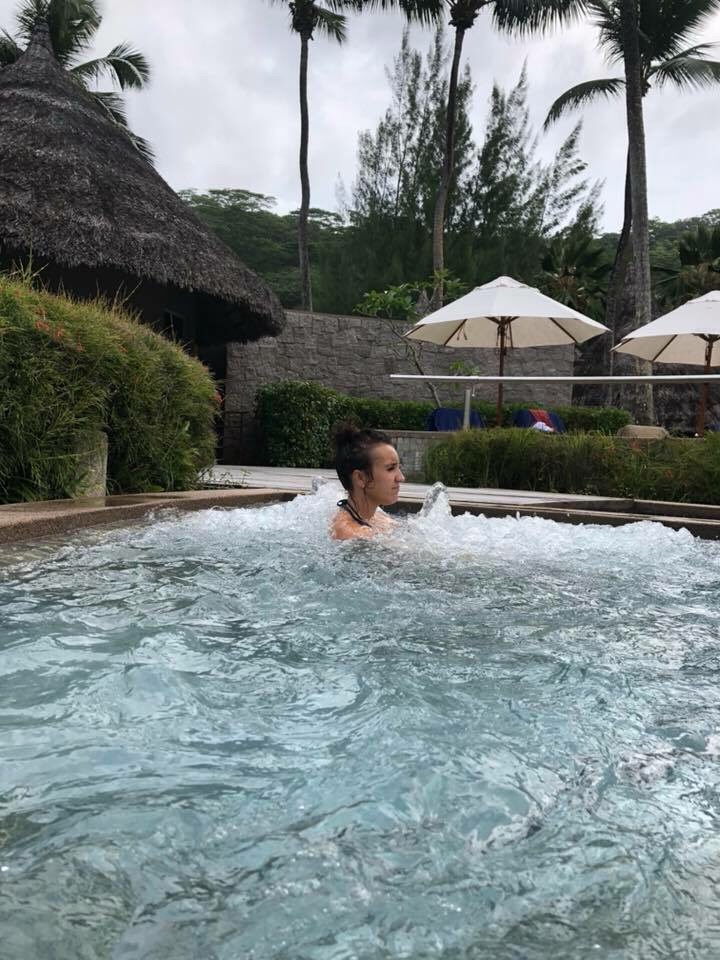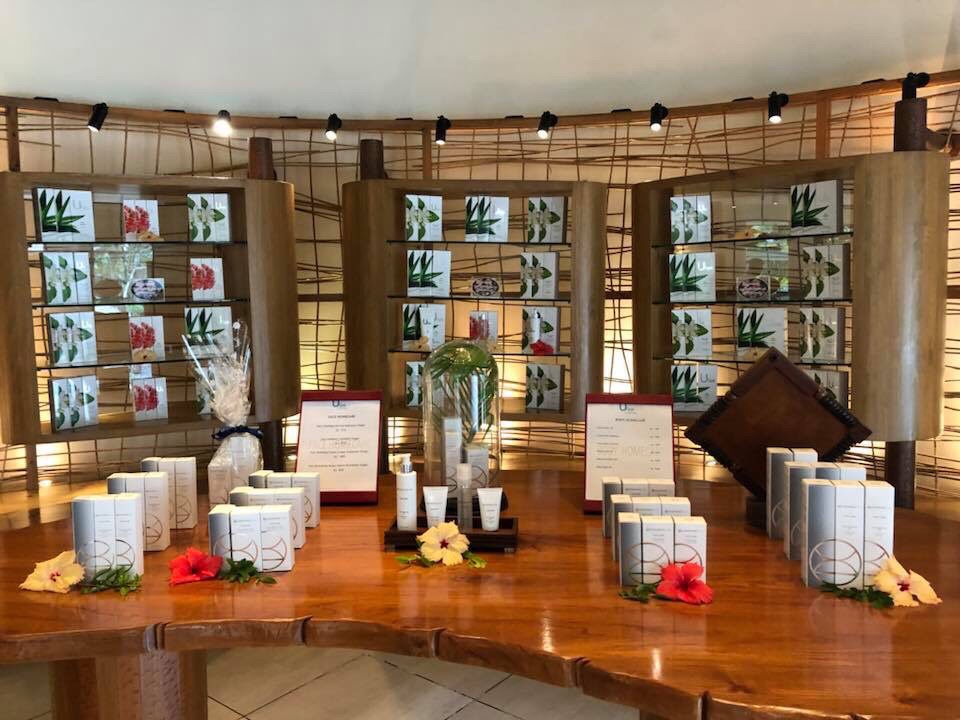 The rain also eventually cleared and we actually saw some blue skies, although like always it was very warm and very humid day.
We went to dinner at 7pm this evening all that relaxing had made us extremely hungry!!
We went for the Asian buffet tonight, they had a huge amount of fish on offer, and I made the most of it!
I've now been in Seychelles for a whole week! It actually feels a lot longer, this laid back little island certainly makes you forget what day of the week it is!!
spending the rest of my evening chilling with my Tom Collins my boyfriend and some music.
Today has been an impromptu fantastic day, what was a bleak looking morning turned out to be a really enjoyable day.
I think an early night is in order, I heard the sun was making an appearance tomorrow and I don't want to miss a moment of it!
Night all
Thanks for reading lifestylelisa
Read all my travel blogs here