03/09/2018
Here we are again!!! It's Monday!!! Hope everyone had a fab weekend, and here in the UK it was lovely to enjoy some nice weather again, although I am more than ready for the autumn to arrive.
I'm feeling pretty good on this Monday not only is it my last week before my trip, but I also have today off work, as Luke and I are going to be London bound soon to go and watch Bat Out Of Hell for the 3rd time in London's Westend!! I really am very very excited, as this is my favourite musical of all time! Better in my opinion than any Westend show I have been lucky enough to have seen!
So this means it is a short 4 day working week for me, as I am now just 5 days away from travel day!! In fact this time next week I'll be waking up on the beautiful Mahe island in the Seychelles after my 10 hour flight to get there!!
I'm flying with British airways this year, and I am hoping there is a good selection of films to keep me occupied! Although it's a night flight so I will definitely try and sleep, not that I can ever get comfy on a plane!
I thought this morning I would throw in a little post about what I take with me as my ultimate long haul travel essentials! The must have's that I need for my 10 hour flight!!

Headphones! Honestly these are a MUST for me!! The ones you get given on your flight are never any good!! Luke bought me this pair (excuse the white Apple ones, I need those for the I phone adapter) for my birthday back in 2015 and they have travelled with me on every vacation since then.
Book– I am a self confessed book worm which I get from my gorgeous mamma, she also loves her books (never a kindle!) I am on the look out for some other books that I can read around the pool. But I have one book that is my travel companion and comes on every trip with me! It's my chick flick feel good book, and even though I have read it over and over, I still enjoy reading it!
Notebook– Wherever I go my note book goes! I have things I need to plan…. and I love to keep a note of blogging ideas and tips on my flight, I have 10 hours to get blogging inspiration!
Hero and my lucky cat– Hero the lion is a little travel buddy, Luke got him for me at Gatwick airport last year before we flew to Florida, and he became our travel companion. My little lucky cat (the small one) is now 13 years old and was purchased from the Japanese pavilion in Epcot on my trip to Florida back in 2005. He goes EVERYWHERE with me, he just sits in my make up bag, no matter where I am.
Eye mask and travel pillow- I really do find it hard to sleep on flights, even though we are premium economy with extra leg room, I can never get comfy. I have a memory foam travel pillow that Luke bought me in 2015 before our Florida trip. It helps a little because it's super comfy and I do manage to get some sleep with this. I also need to have an eye mask! I sleep with it anyway at home as I like complete darkness, and on a flight there is always too much going on, so this just makes me feel a little more chilled and relaxed.
Beauty esestials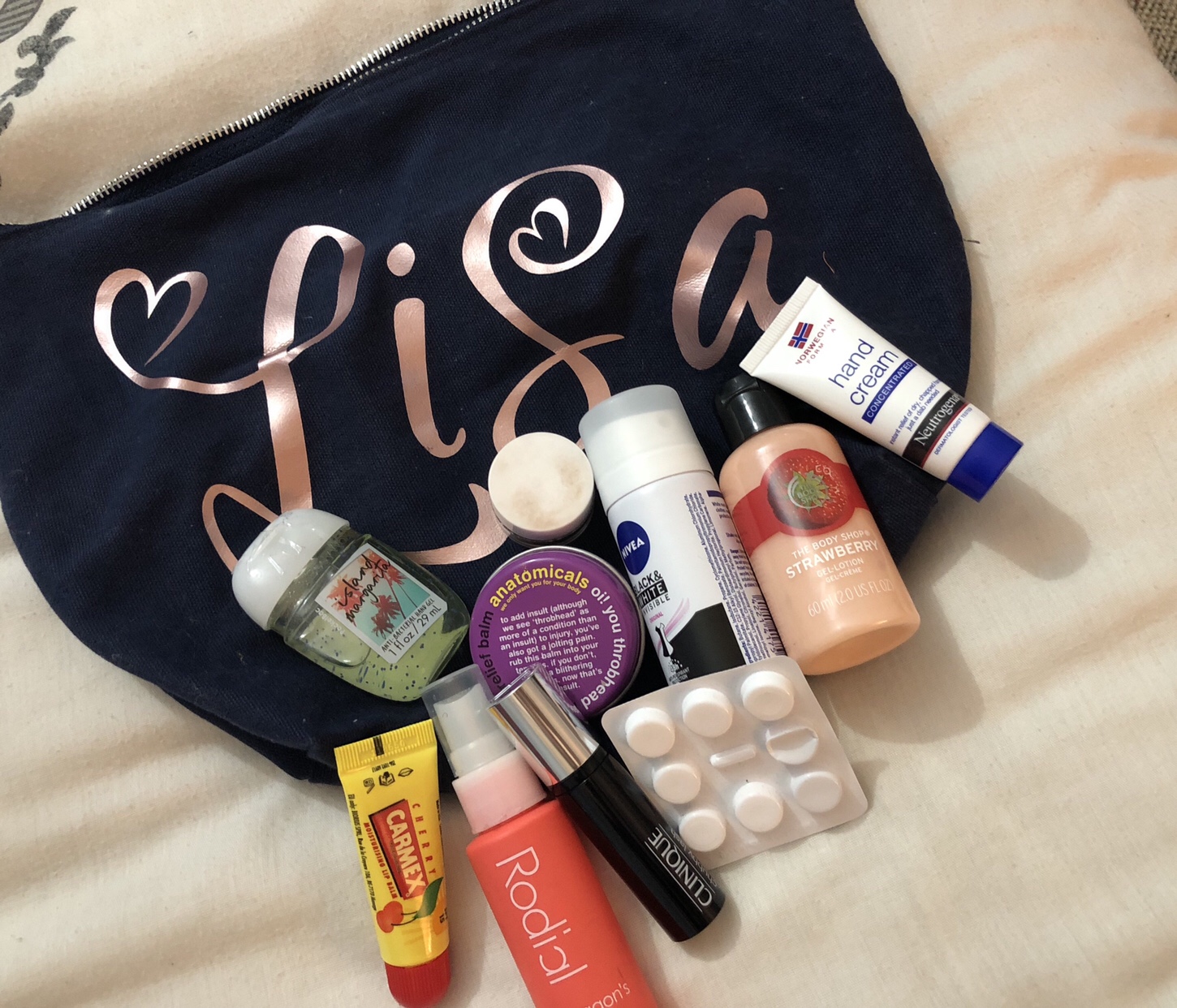 Long haul flights play havoc with my skin, so I like to travel prepared for any eventuality!
Facial wipes- Being a night flight I intend to take off my make up as soon as I am seated to allow my skin to breath. Plus I don't know about you but my skin always feels dirty on long haul travel!!
Radial re-hydrating toner- A tip from my sister was to take a facial spray to use for a quick spritz whenever my skin starts to feel dry and distressed. The the altitude and cabin pressure always makes my skin feel dry and tight!
Carmex lip balm- My sister (again) who was once cabin crew for British Airways swears by carmex when she's travelling, so if it's good enough for her, it's good enough for me!! My lips seem to get super dry in the pressurised cabins, and lipgloss and lipsticks make them worse!
Hand cream- To be honest this is something I take everywhere! Because I use anti-bac hand gel often, my hands seem to suffer and dry out quicker. Being on a plane is no different. I use the Norwegian hand cream to keep them soft and well nourished.
Hand gel- Which brings me on to my anti-bac hand gel! I CANNOT go anywhere without it! Especially on a plane!! It's definitely an essential! And this one is a bath and body works…. my FAV!!!
Body cream- Nivea is definitely something my mum swears by, and this comes in the handy travel size just in case I need it!!
Deodorant- THIS is a definite MUST HAVE on any flight be it long or short haul!! I find it can get really hot and stuffy, so a quick freshen up with my deodorant is a winner!!
Mascara and body shop bronzing gel– About an hour before landing I like to freshen up, brush my teeth and put on a little make-up. My body shop bronzing gel is a life saver! It's light weight and gives my face a lovely glow without applying any foundation or bronzer. Mascara is of course an essential to make me look and feel more awake after a 10 hour flight!
Headache balm and paracetamol- I'm taking these just in case!! Altitude and cabin pressure really does play havoc and I don't want to be getting of the plane in Seychelles suffering with a headache!!
And last I have handy wipes and tissues, because you never know when your going to need them!!!!!!!
So there you have my long haul travel essentials, everyone of course has there own travel tips and beauty essentials, and if you feel like sharing any of that with me I would love to hear from you, drop me a comment in the comment box, or email me at [email protected] 
If you have enjoyed reading this post then please do check out the rest of my posts at lifestylelisa.com
I'm now off for a day in London with the wonderful Luke, for some lobster and more importantly to watch Bat Out Of Hell on stage for the 3rd time!
As far as Mondays go I think this one is going to be pretty awesome!
Thanks for stopping by today