11/07/2018
Good morning, and happy HUMP DAY! You know from here it's all downhill heading straight for the WEEKEND!!
So today I have a post about my Seychelles planning, this is what i typically like to call (in Disney terminology) phase one planning!! 
Last weekend Luke and I finally sat down, put pen to paper and started planning for the Seychelles.
Which took all of 10 minutes!
SERIOUSLY I'm not used to NOT having a white board full of plans, Fastpass's and an itinerary! This is a massive change for me- the serial planner!
I'm not saying we need to have a detailed down to the minute plan like you do with a Disney vacation , but I really don't want to waste any of my time whilst I am on this beautiful island! I'm only there for 11 days!!
We now have 59 days to go before we jet off to paradise. I haven't even done a proper countdown sheet yet… WHAT!!! I need to get that done!!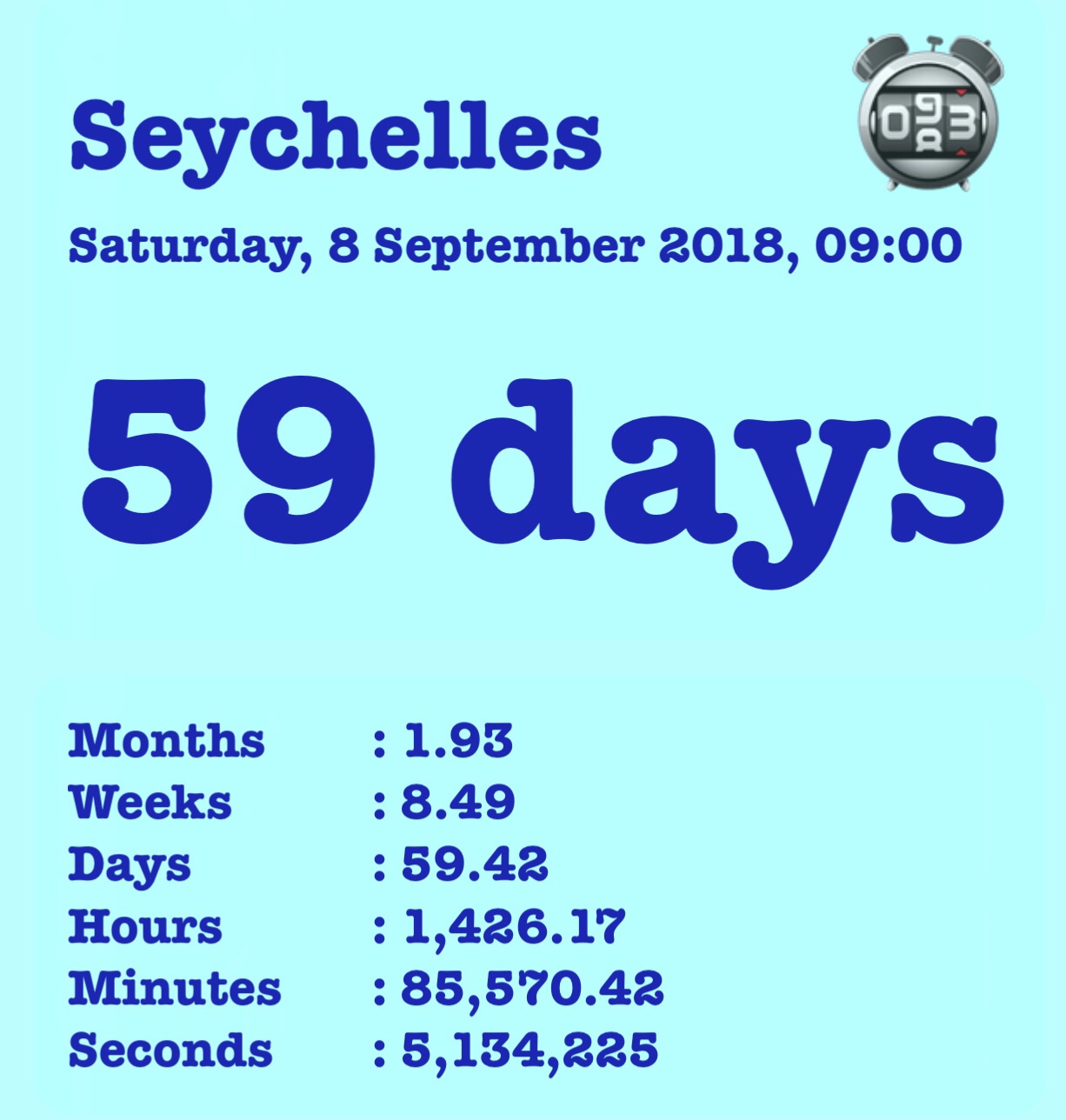 Okay so here are the plans that Luke and I have so far for Seychelles 2018
Departure date 8/09/2018
Departing from London Heathrow (LHR)
Flying with British airways premium economy
Destination Mahe Seychelles (SEZ)
Flight time approximately 10 hours and 10 minutes
Staying at The Constance ephelia MaheDuration of stay 11 days
So far from the research I have been doing on google and the vlogs Luke and I have been watching we have come up with this little list
Visit the tortoise's on Moyenne island
Visit Victoria (the smallest capital)
Botanical gardens
Port Lounay waterfall
Baie Lazare Beach
Petite Anse Beach
Praslin island
Anse intendance
Curieuse island
We arrive around 7am in the morning and there is a time difference of 3 hours, I am hoping to get some sleep on the plane as it's a night flight, meaning I will be refreshed when I land.
We have decided that we really want to keep the first day free for checking out our gorgeous resort and chilling by the pool!
As well as the above there will be a lot of snorkelling involved in this trip, there is also a zip line somewhere on Mahe, and I am keen to find some local village markets.
This vacation really is so different to ones I am used to planning for the last 3 years! I need to realise it's more chilled and relaxed and therefore I need to CHILL OUT and just go with it!!
I would LOVE to hear from anyone who has been to Seychelles, I would be interested to know if there is anything that you recommend and that should be on my list.
Leave me a comment below or email me at [email protected]
Thanks for stopping by today
L xxx