I had never been into cooking, until lockdown 2020, when I had way too much free time on my hands and decided to get experimental in the kitchen. It was then that I realised that I didn't hate cooking and baking as much as I thought I did, and actually following a recipe was not rocket science!
I now love finding new recipes to try out, my only stipulation is they have to be EASY!!
Since getting married in January of this year, Luke and I alternate Saturdays in the kitchen and make a meal of choice from scratch. Its a fun idea and actually Luke is like a really good cook (annoyingly).
So since adding yet another new category to Lifestyle Lisa – Food & Drink I can now share all of my easy recipes – YAY! BTW none of them are mine – Instagram and Google are my go too!
So let's go
Prawn, sweet potato & butternut squash curry (recipe from This Morning website)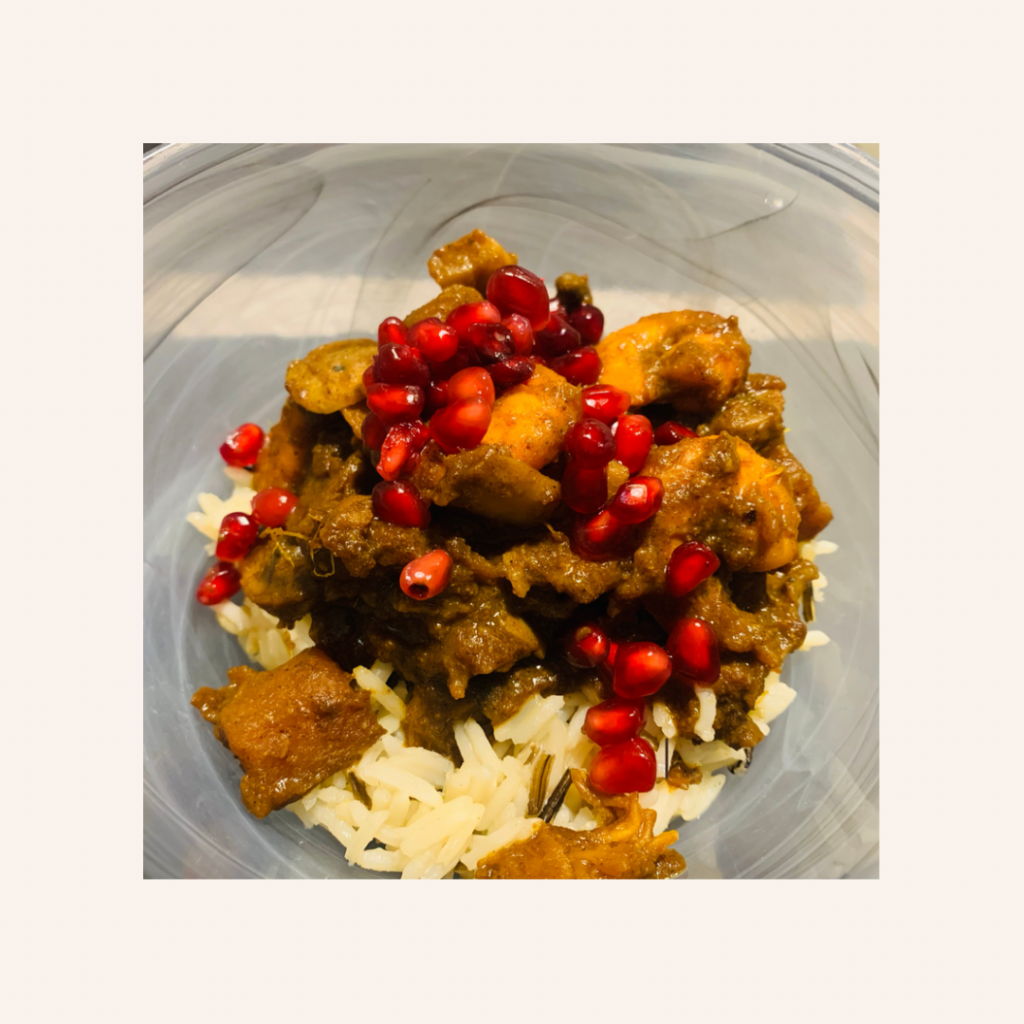 Ingredients
2tbsp of olive oil
1 heaped tsp fenugreek powder (which is now my new favourite spice!)
400g of butternut squash & 400g of sweet potato peeled and cut into 1.5 cm chunks OR you can totally do what I did and buy this prepared from the supermarket, I found this in the frozen section at sainsbury's
300g of cooked prawns (I guess you could use raw? But I used cooked)
¼ tsp ground turmeric
1/4tsp chilli powder (or more if you like it quite spicy)
1½ tsp salt
1½ sugar
1 tsp garam masala
1 tsp lazy ginger (you can use fresh, but hey I'm lazy)
Juice of 1 small lemon
1 cup of vegetable stock
My easy method –
1. Put the vegetable oil in a large nonstick frying pan set over a medium hugh heat.
2. In a bowl with some water, microwave the cubed butternut squash until soft, usually around 12 minutes. Although if using frozen definitely check timings.
5. Add the softened butternut with a splash of vegetable stock water, ground turmeric, chilli powder, salt and sugar and stir until everything is mixed. NOTE – The consistency is quite dry so keep adding water to stop it from sticking.
6. Add the prawns and stir amongst the butternut squash and cook for 5 mins to heat through thoroughly.
7. When the pumpkin and prawns are cooked through, add the garam masala and grated ginger and continue to cook for a further 8-10 minutes or until slightly broken up.
8. Finish with the fresh lemon juice and garnish with pom, serve in a warm chapati or tortilla wrap or with rice. I served mine with wild rice which I cooked with a vegetable stock cube, I did finish with pomegranate seeds which I really liked, Luke was not a fan so much.
This recipe really was Quick, simple & really DELICIOUS.