Welcome to my very first fashion blog post! It's super exciting (for me) that I have finally added another category to lifestyle Lisa, and of course it just had to be fashion!! Obviously it goes without saying that when it comes to fashion I am the beacon of all knowledge (literally rolls on the floor laughing head off) because that is NOT true! Okay, okay whilst I may not have a wealth of knowledge on fashion, and whilst I myself may not be that influential fashion icon I had secretly always desired to be. I do love fashion, and clothes, and I genuinely believe that you shouldn't follow the latest trends, because seriously some of those of just plain right awful. I'm more a fan of if you like it wear it and own it!
With that said, let's chat about Mom Jeans!!
So here it is the big debate (okay there's bigger debates going on in the world right now) but still this is pretty huge (and a light hearted debate) in the world of fashion!
SO are you a fan of skinny jeans or are you now a firm fan of the highly fashionable mom jeans?
It seems that the likes of Kim Kardashian, Sarah Jessica Parker and even the super stylish Kate Middleton have all ditched the skinny jeans in favour of Mom jeans!
I personally LOVE skinny jeans, it actually wasn't until 2018 that I dared even try on a pair of skinny's let alone add them to my wardrobe, but after losing some weight and gaining a small amount of confidence I quickly found that skinny jeans were my new best friend.
I now have a wardrobe full of skinny jeans, in various blues and blacks, and I have to say they truly are a versatile item of clothing.
However according to some top fashion blogs skinny jeans are LIKE SO 2020 and Mom jeans are just SO NOW!!
The retro-style mom jean were a firm favourite among mums in the 80s and 90s, which is where the name come from. 2021 has seen them come back and pretty much dominate the world of denim, and let me tell you, it's pretty cool to be seen in a pair! Mom jeans have a super relaxed comfortable fit, but sit quite high on the waist. They are loose around the thighs and have more of a tapered leg.
Looking for a new pair of jeans on asos recently I decided that I was going to give Mom jeans a try, I mean everyone else is, so maybe I should now be looking at ditching the skinny's and saying hello to Mom's!! I have to be so careful with jeans as I am only 5ft so I always have to shop the petite range so that they fit me length wise. I usually buy all my jeans from Dorothy Perkins as the petite sizes are very easy to follow, sizes 6-18 and are normally always a true fit. Shopping for jeans on asos was slightly more difficult as everything is in length and waist sizes, so much aggravation when I just want a size 8 pair of jeans!! The first 2 pairs of jeans I ordered were a waist 26 and length 28. I ordered one pair of mom jeans and one pair on wide leg jeans. When they arrived I tried on the Mom jeans first and they looked HORRENDOUS! Way too big up the top and seemed to puff out and just made my hips look even bigger than they already are! When I saw my ever honest sisters reaction it just reiterated what I already knew (glad for the honesty from her, and she's a girl I most definitely trust) and to be fair she was right, they just made me look BIG!! The wide leg pair I ordered I JUST LOVE! Such a 70's vibe, they are a little big around the waist, but still I'm keeping those bad boys!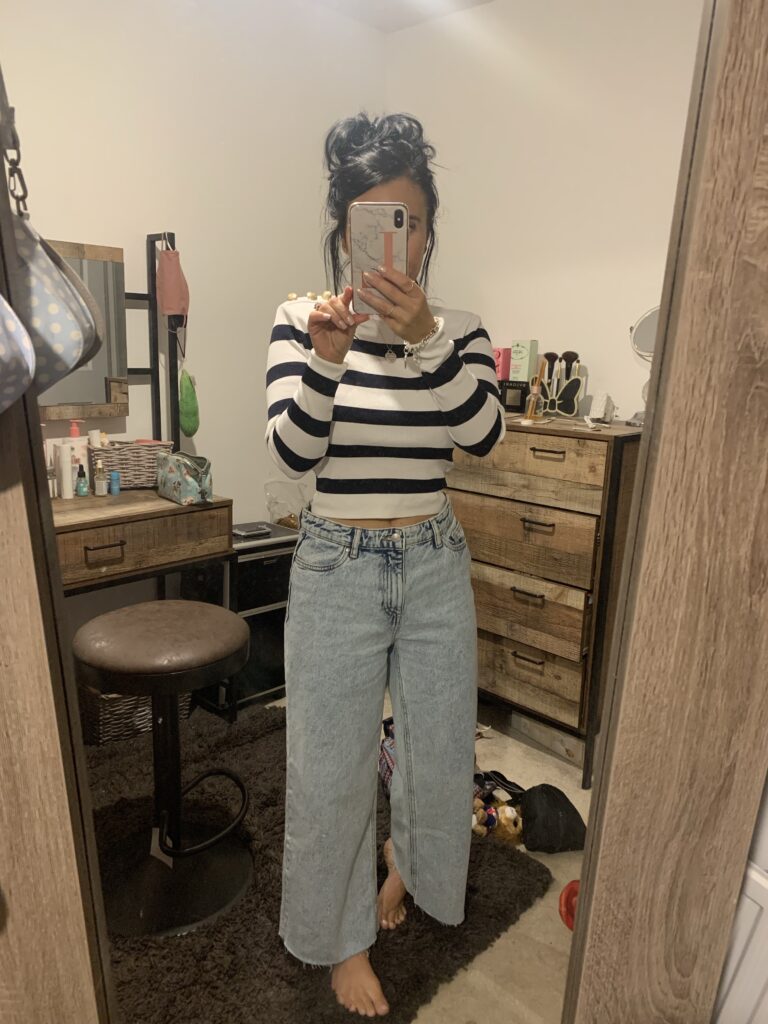 I was still on the search for the perfect pair of Mom jeans so I ordered myself another pair from ASOS. This pair I was surprised to find kind of fitted (bit too big around the waist) but didn't look too bad so I decided to keep them.
I've worn my new mom jeans twice, and here's the thing, I don't love them, but I don't hate them either. The high waist I find puffs out when I sit down, and I find the jeans overall just a bit baggy, even though they are from the petite section. The waist is too big, and they keep falling down, although I do take into consideration that I my figure isn't in proportion as my boobs and 24 Inch waist are smaller than my hips (that don't lie….. Shakira, Shakira!) so for that I do struggle when buying clothes (especially jeans)
I'm not sure Mom jeans are for me, as a petite 5ft girl, I think they look great on anyone who has that added bit of height but I don't think that I am pulling the 80's/90's look off, so I'm keeping my skinny jeans firmly in my wardrobe…… Spring after all is just around the corner and nothing is cuter than a pair of skinny's teamed with a cute top and a pair on converse, perfect for that transitional weather.