Hello October, you beautiful month!
Okay yes I am going to say it BUT …… HOW is it OCTOBER already! This year is like full throttle heading towards 2022 (the year I Marry Luke) it's completely mad, one minute it's January and things are looking bleak and now it's October, there's a petrol shortage and things are looking bleak …. Okay maybe nothings changed after all?
In all seriousness, petrol crisis aside, this is most definitely my month, with crispy mornings, crunchy leaves beneath your feet, pumpkin spice everything, horror films galore and Halloween!! Oh and not forgetting my sisters birthday (although I'm a little behind on getting her presents yet – note to self must do that ASAP!)
So now that it's officially Autumn I spent last Saturday morning packing all of my summer clothes away (sad that I hardly got to wear them with the crappy summer we had) but I was super excited to unpack the autumn & winter wear!! Hello cosy clothes, tights, boots, hats, gloves and scarves!! I love getting out the winter wardrobe because I forget what I've bought throughout the year so it's always a nice surprise when unpacking and seeing all of my nice purchases. For a good hour and a bit my whole room was messy and there were clothes everywhere but it was organised chaos, or so I like to think! Hunter was making my job a little more difficult as he wanted lots of attention, but how could I resist, really?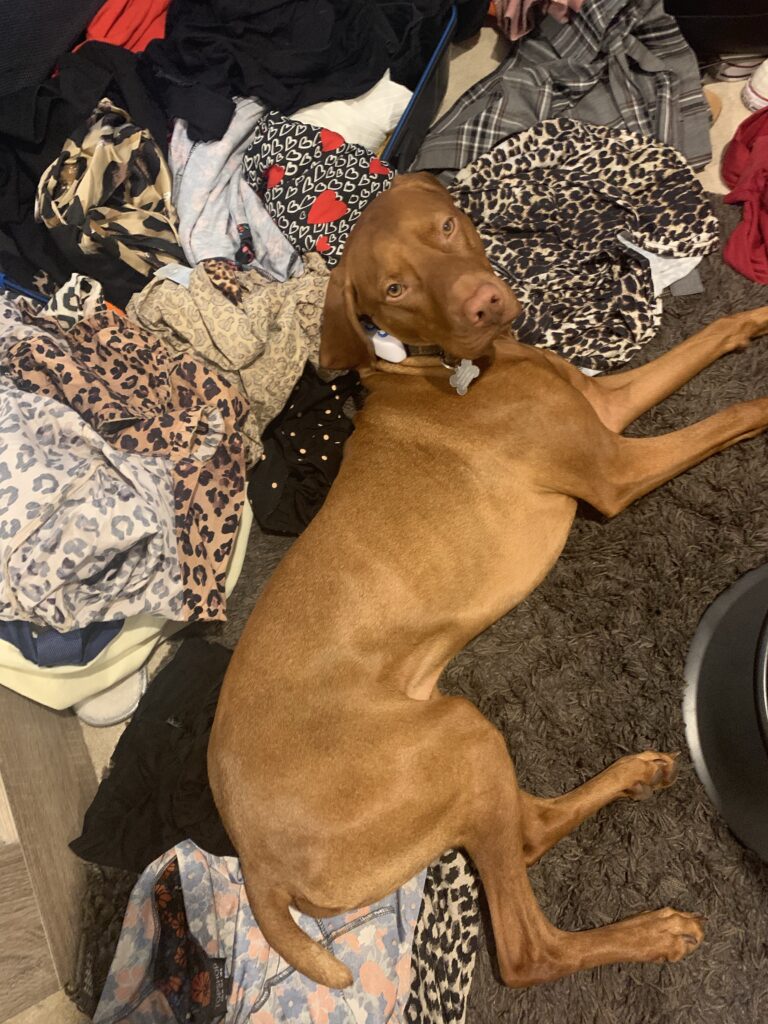 I am now so excited every morning waking up and getting ready for work, knowing that I have so many outfits to choose from! Rewind to last year, I had just been made redundant and spent most of my time in tracksuits and no bra! I'm going up in the world for sure!
Everything about Autumn feels my heart full with joy, even walking Hunter this time of year is far better than summer. I don't even mind the dark mornings and the nights that draw in quicker, that does not bother me at all.
From September onwards my diary for the first time in a long time goes a little crazy, with various things going on, including my hen do (super excited for that!) Luke also has his up coming stag do (slightly apprehensive for that!) And I also have a bunch of other things going on, that will keep me nice and busy, which is just the way I like it!
Im going to embrace my favourite season, going on long walks, drinking plenty of pumpkin spice lattes and frappe's, eating toffee apples, and watching plenty of horrors!
Happy, happy Autumn