Day 2
Today was all about the beach! The sun was shining and it was pretty warm, I could definitely think of worse ways to spend a Monday!!
I was so excited for beach day because this was a first for Hunter!! I couldn't wait to see him on the beach and in the sea (assuming that he actually liked the sea!)
Our chosen beach for the day was Daymar Bay PL27 6SA, which was about a 30 minute drive from our staycation home. The beach is within the the Camel Estuary so is pretty sheltered and has a gently sloping beach making it safe for swimming. It's also a dog friendly beach all year round!
We arrived at around 11.30am and it was BUSY! Very busy! I wasn't expecting it to be as busy as it was, but lots of people seemed to be making the most of the summer sun, not that I blame them!
The beach is pretty big (as you can imagine) so even though it was packed it was still easy to find a space that kept you socially distanced from anyone else.
For Luke and I today was all about Hunter, and to say that he was in his element is a complete understatement! He instantly seemed to love the feel of sand beneath his paws, and was enjoying the new smells and encounters with other dogs (and people) luckily he is a friendly puppy and so far seems to love everyone.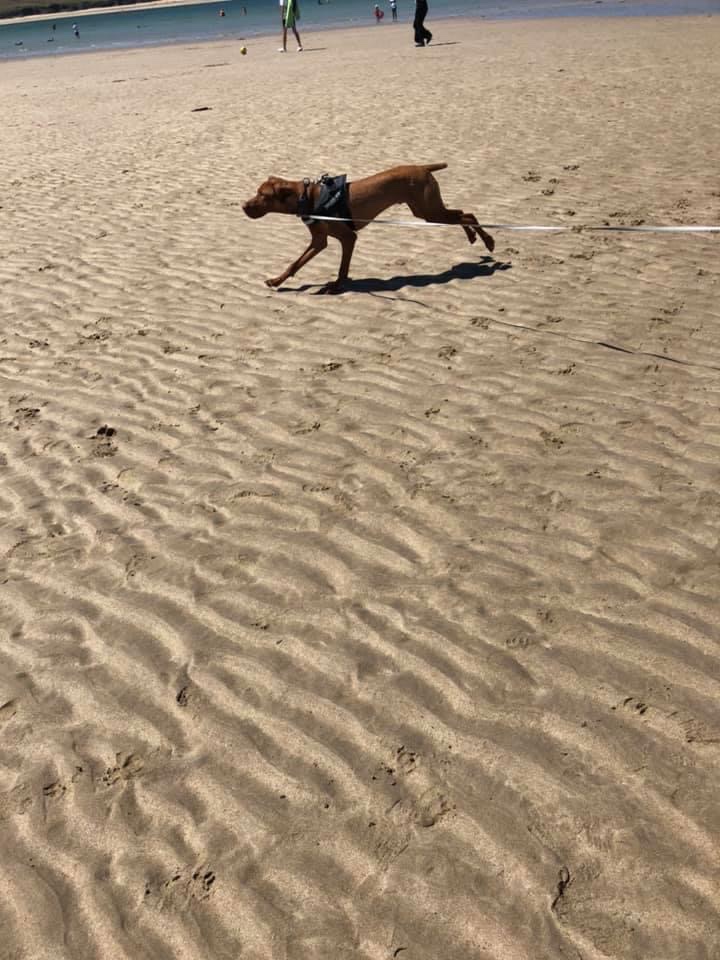 Walking him towards the sea, I could tell he was a little unsure at first but once we got him wading in the shallow area he was in fact loving life!! Splashing and jumping, he was super happy.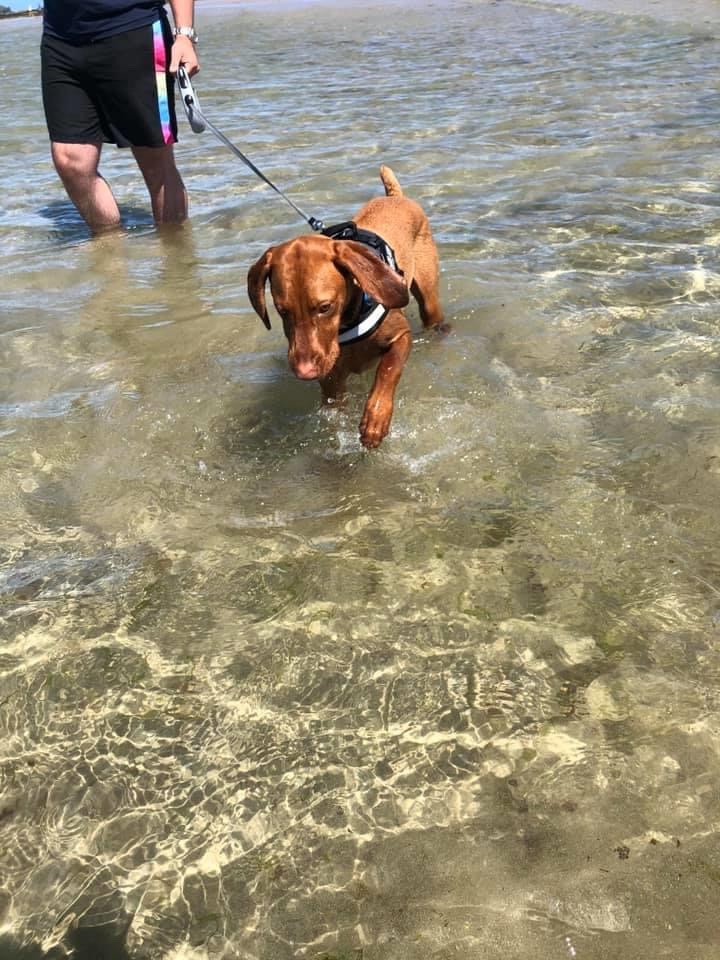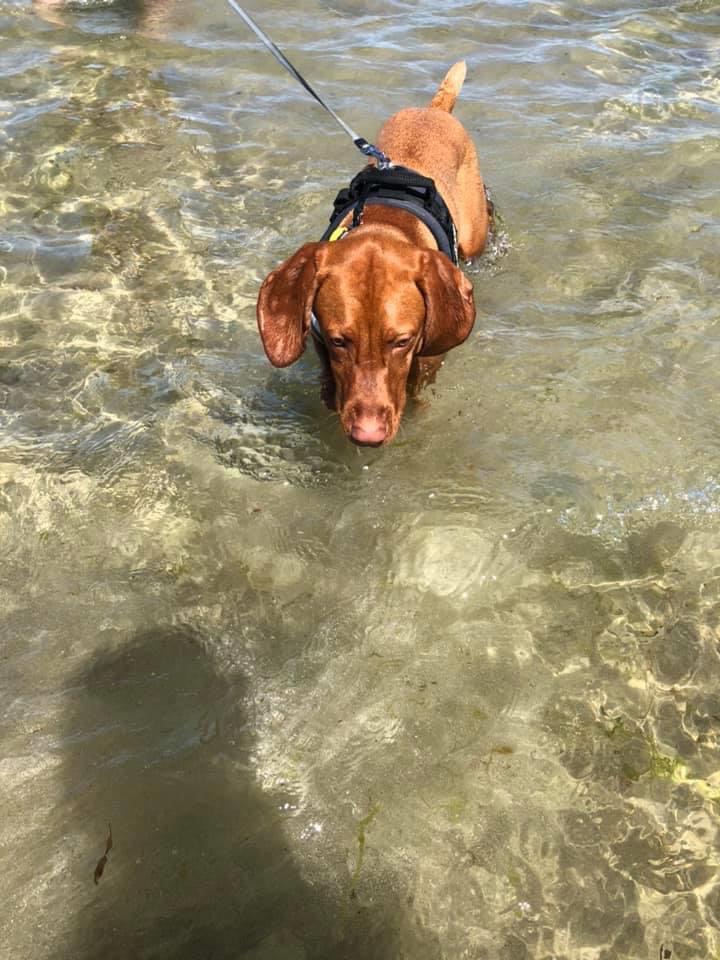 Having an active 6 1/2 month old puppy meant that there was very little down time for Luke and I, so we busied ourselves with splashing in the sea (which was cold) and walking along the beach to check out the rock pools. I'm pretty sure a hunter wanted to be off the lead, but this dude has pretty poor recall so unfortunately for him that was a no no!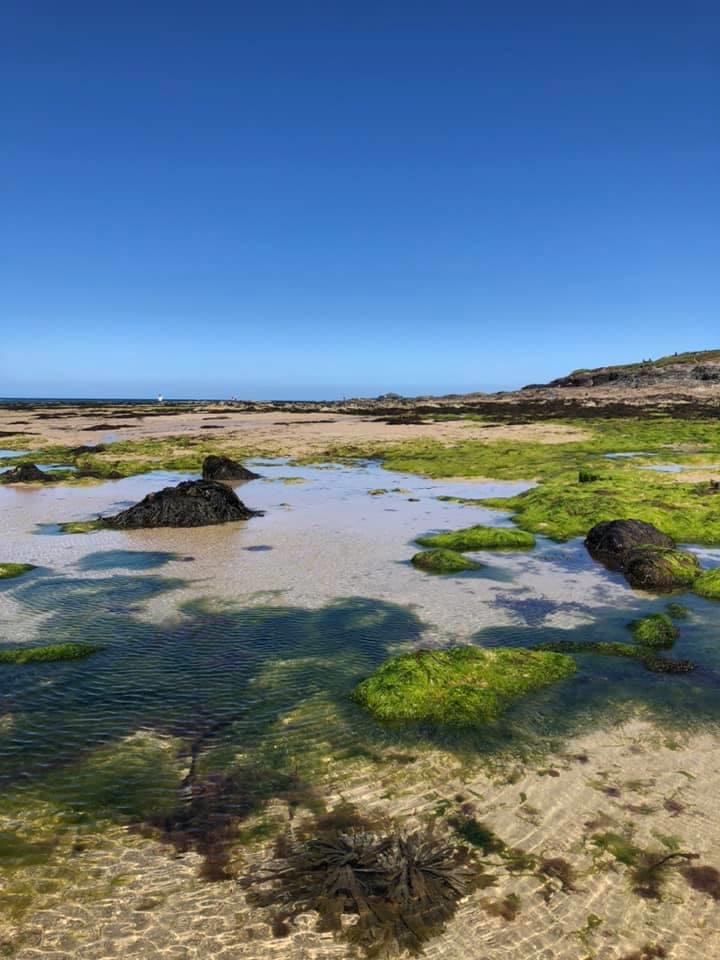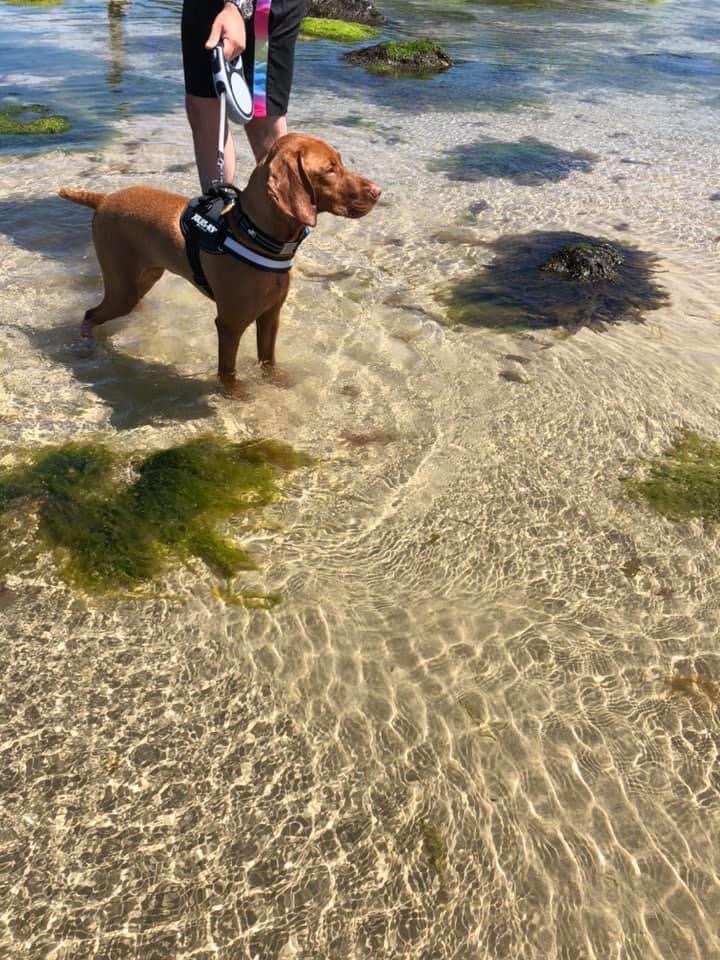 We spent a good 4 hours enjoying the sun and the salty air, one of my favourite places to be is at the beach, I love the fresh air and the smell of the sea, I could spend hours walking along the shoreline with my bare feet in the sand.
When Hunter started to get restless we decided it was time to pack up and head back to the holiday home. He's a little nightmare when he's restless and can't settle and has Luke and I up every 5 minutes, we knew it was time to leave.
Spending the evening sitting outside looking out at the most incredible view and eating pizzas. Oh Cornwall so far I love you!!