Arriving in Cornwall early Saturday morning I could instantly tell why its such a popular destination. It's quite honestly a stunning part of Great Britain, the scenery is green and the sea is the most amazing turquoise blue. I can't believe it's taken all these years for me to visit!!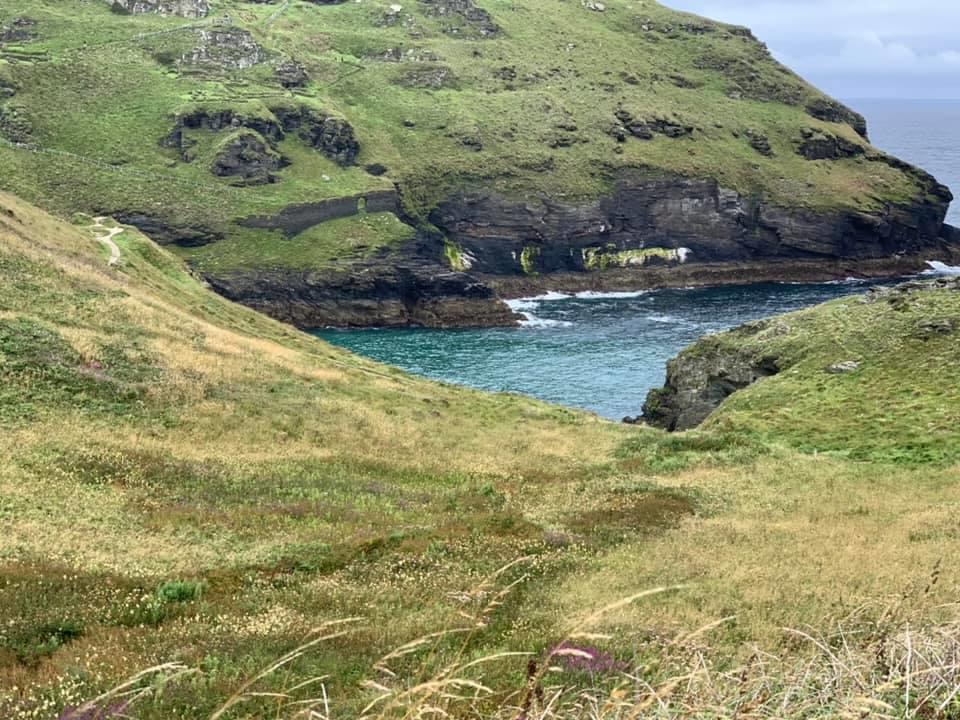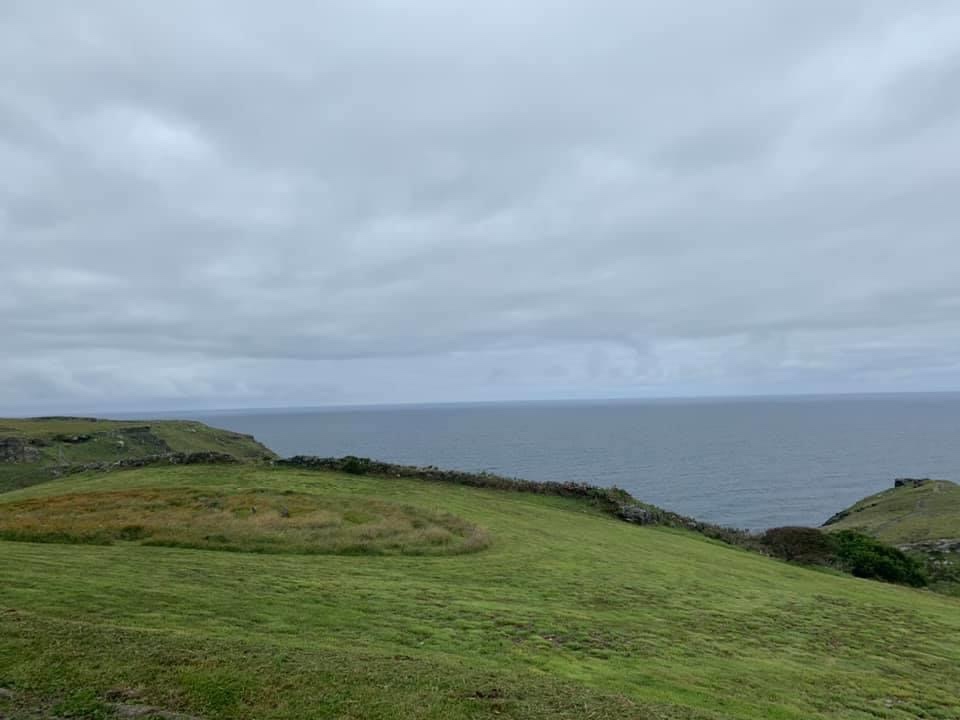 We arrived super early on Saturday (18th July) In Tintagel (Cornwall) wanting to miss all the traffic, which we did, so we had lots of spare time on our hands.
Hunter was such a good pup for most of the long 5 hour journey, baring in mind he's only 6 1/2 months and has never been in the car for longer than 30 minutes at a time.
Arriving nice and early meant we had some time to explore the near by town which was just so cute! Little shops, tea rooms and pubs and of course some little bakery's too all looked just SO appealing! I couldn't wait to return and look in the ones that were open. Being here surrounded by beauty it's so easy to forget about the current situation of the world, and if I'm honest social distancing didn't seem to be a big thing here, not that I noticed anyway.
Lunch was pre booked for 12.30 at Camelot Castle Hotel situated in Tintagel. The Hotel offers a stunning sea view overlooking the cliff and literally looks like a castle (just in case there was any confusion!) I am assuming the rooms are beautiful inside the hotel judging by some of the clientele I was watching enter the building, lots of Gucci and Louis Vuittons and very expensive cars were lined up in the car park. I did feel somewhat underdressed and looked like a mess from the 4am start and the 5 hour long car journey, but I was starving and lunch was booked so I was going in! Inside it's VERY eccentric and grand oh and I forgot to mention dogs are absolutely welcome, even in the grand dinning room! Unfortunately this was a Hunters first trip to a restaurant and he was not on his best behaviour as there was too much going on!
In between Luke and I trying to distract Hunter with treats, I did manage to eat my absolutely delicious lunch, I went for the Cream Cheese and Dill hot roll which was so tasty!!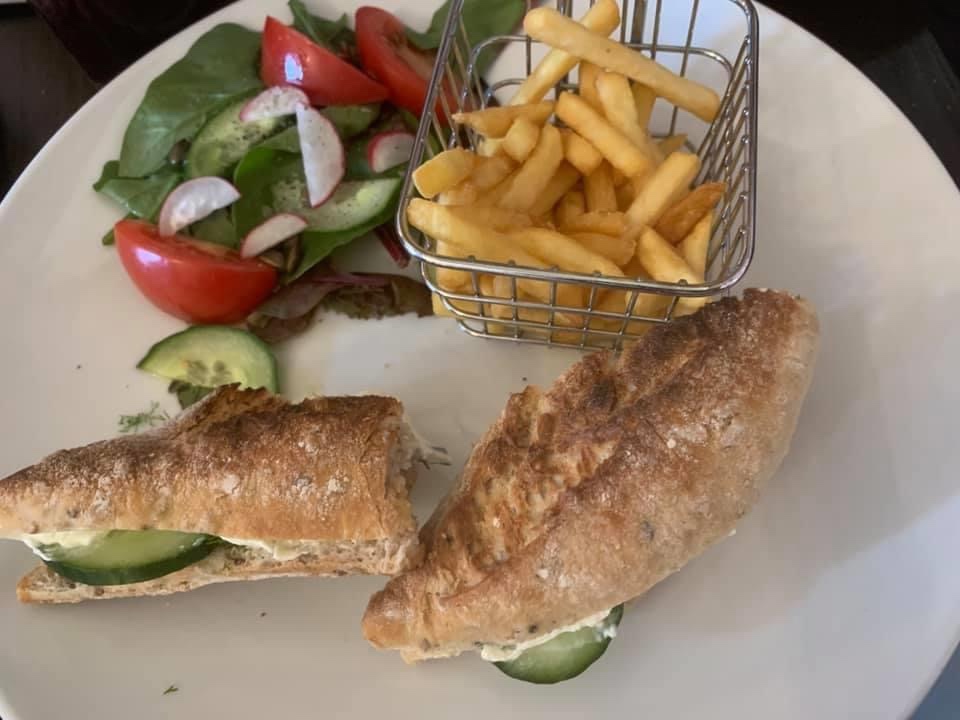 Everyone's food looked delicious and there was positive reviews all round. Whilst sitting down eating the owner John Mappin stopped by our table for a chat, he is as eccentric as the castle he owns, but very friendly and welcoming, and it was a nice personal touch I thought. I have since done my research on the hotel and have discovered that John Mappin is not only connected to the fine jewllers Mappin & Webb but is also a Scientologist and apparently the hotel is some kind of meet & greet place for Scientology conventions – SERIOUSLY WHO KNEW!
Lunch done, stomach full(ish) eyes feeling oh so heavy it was time to head off to our "staycation" home so we could all unpack, chill and unwind
FINALLY we arrived at our lovely "staycation" home Boskenna which is a lovely 5 bedroom detached house with the most fabulous views out to sea. An ideal house for large groups like ours (9 in total) as it was so spacious inside. Although maybe a tad tired inside it still served as a perfect base for a great holiday.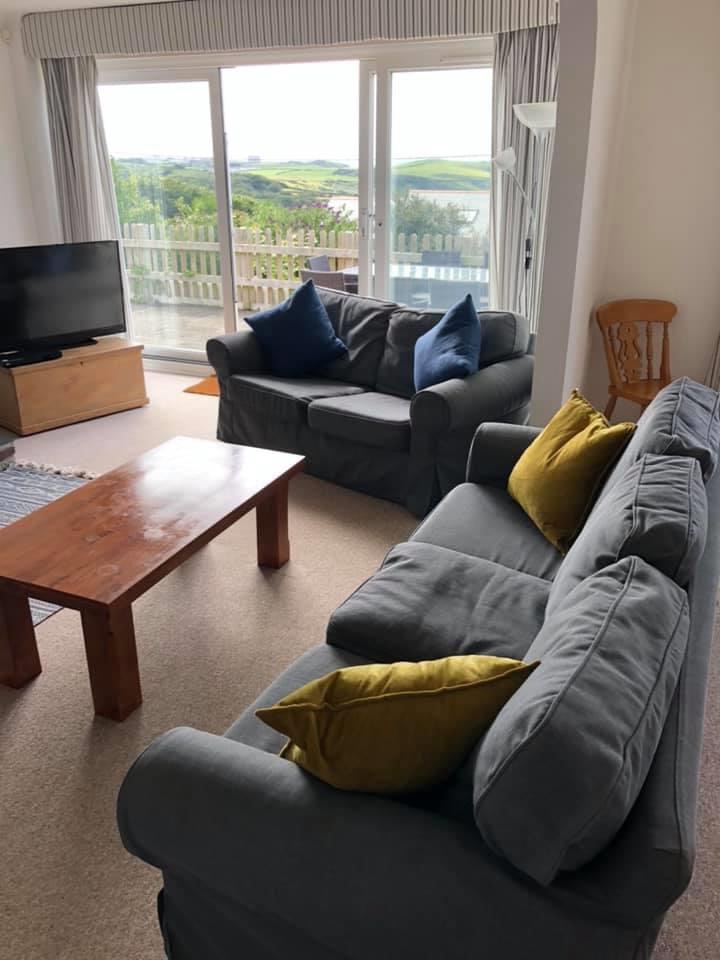 Location wise Boskenna was perfect, less than a mile walk to the local cove of Bossiney, and not far away from the mystical ruins of King Arthur's Castle at Tintagel. Within 2 miles you will find Boscastle, an historic Cornish fishing village of immense charm and character. The excellent surfing beach of Trebarwith Strand is only 5 minutes away by car and Polzeath a further 20 minutes. The beautiful St. Nectan's Kieve Waterfall and Hermitage are located just up the road and there are many stunning coastal walks and good pubs/restaurants nearby.
My first "staycation" in 7 years, I was already loving it!! Chilling out with my first REAL Cornish Pastie (vegetarian of course) I was ready to watch the sunset on the first day.