27/03/2020
I've made it to day 5……YAYYYYYYYY and it's the weekend tomorrow, double YAYYYYYYYYY, although my plans for the weekend, are, well pretty much the same as they have been for the past 5 days, still not a time to be complaining!
This morning I was up before 7am, wide awake and ready for Friday, in fact this morning I was showered and dressed before 7.30am! I am definitely feeling that motivational Friday, as by 09.45am I had eaten breakfast, which will be of no surprise when I tell you it was porridge and tea , listen I am no way breaking the habit of a lifetime, just because we are on lock down in the midst of a pandemic!
I also baked another delicious (by my own admission) oaty bake. I mean it is amazing what you can make with porridge oats! This morning I added in blueberries to my oats, with almond nut butter, honey, chopped nuts and a splash of cashew milk, in the oven on 150 degrees for 15 minutes, and its done, and delicious, and just too good not to eat!! It's a perfect healthy homemade treat! Seriously when all this over I am definitely having my own baking show or something!!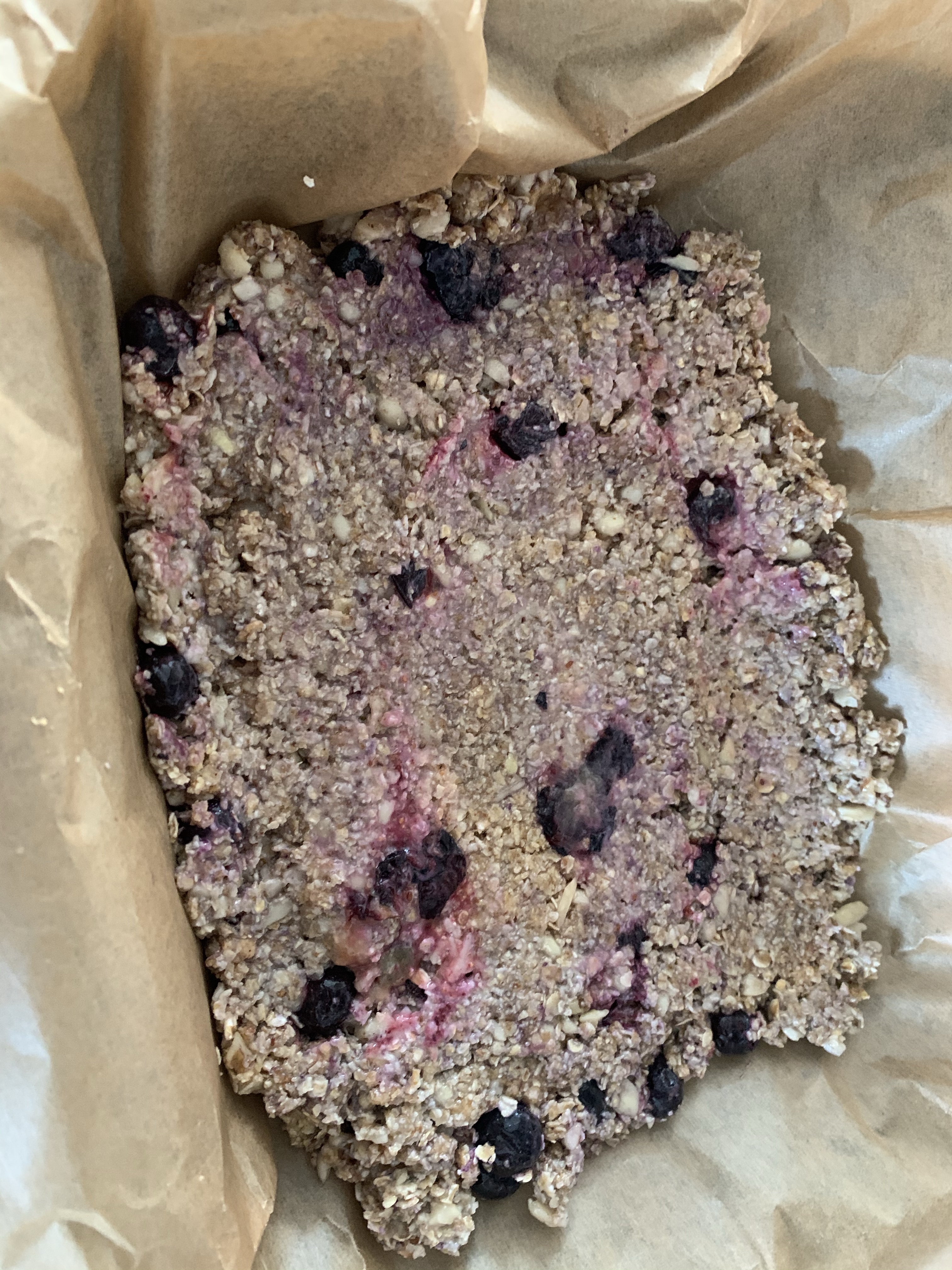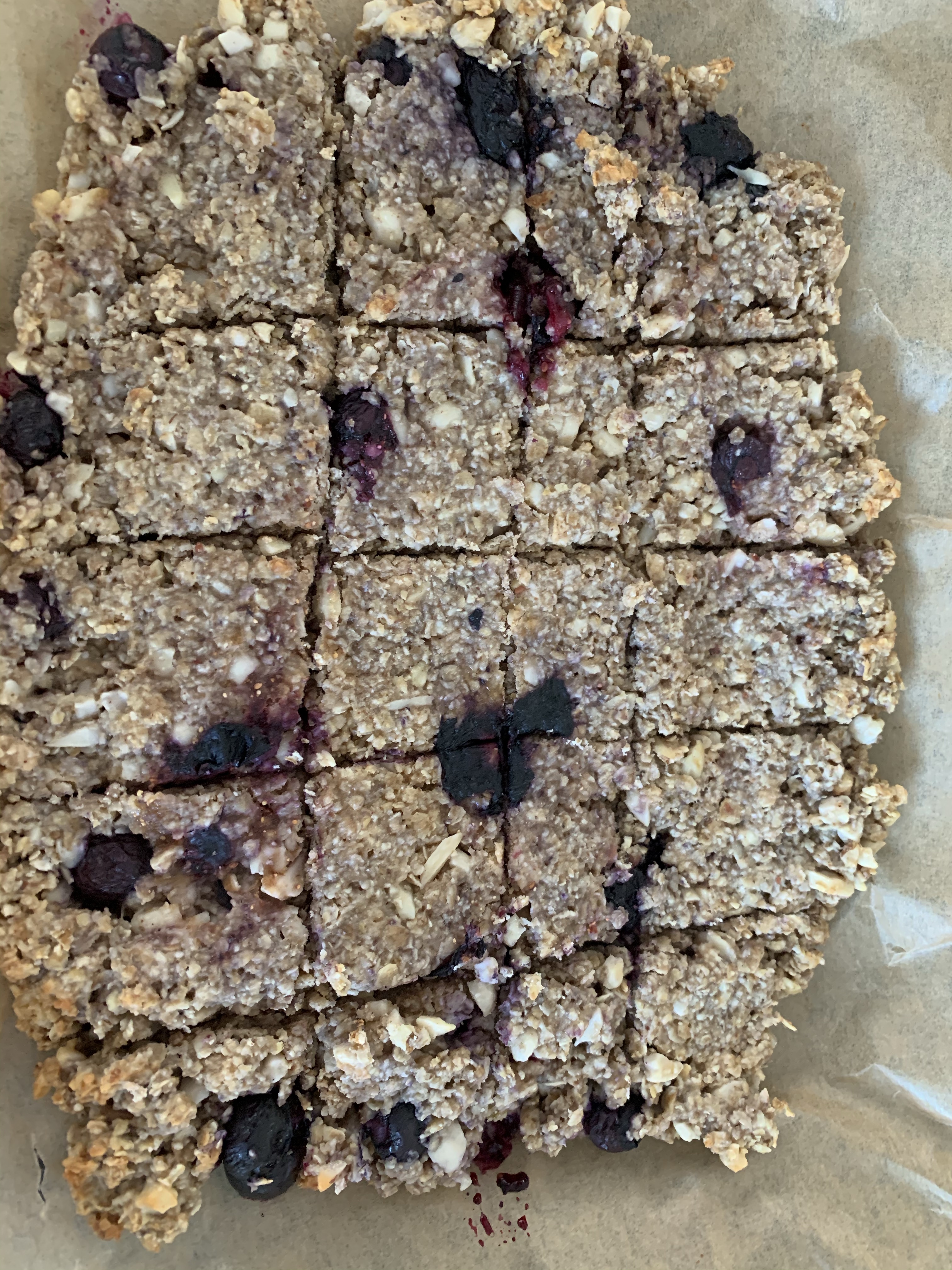 This morning I also did a mini clean of the down stairs part of the house, I swear it's currently so tidy that you could pretty much eat off of the floor!
After that it was SMOOTHIE TIME, another favourite part of my day is making up some free style smoothie, seeing as my fruit supply is running low and there is no frozen fruit in the supermarkets at the moment – crazy times!! Anyways day 5 and I got a little bit carried with the smoothie and put a little twist on the usual one and added in Spirulina powder! It was in the cupboard, it said it could be added to juices an smoothies so i was like – why not!! and 2 level tea spoons later it was in with the cashew milk, almond butter, tea spoon of honey, cherries and ice cubes!! It was very very green, but actually tasted really nice!! I may even right my own smoothie book when all this over….I mean who knows the world is my oyster!!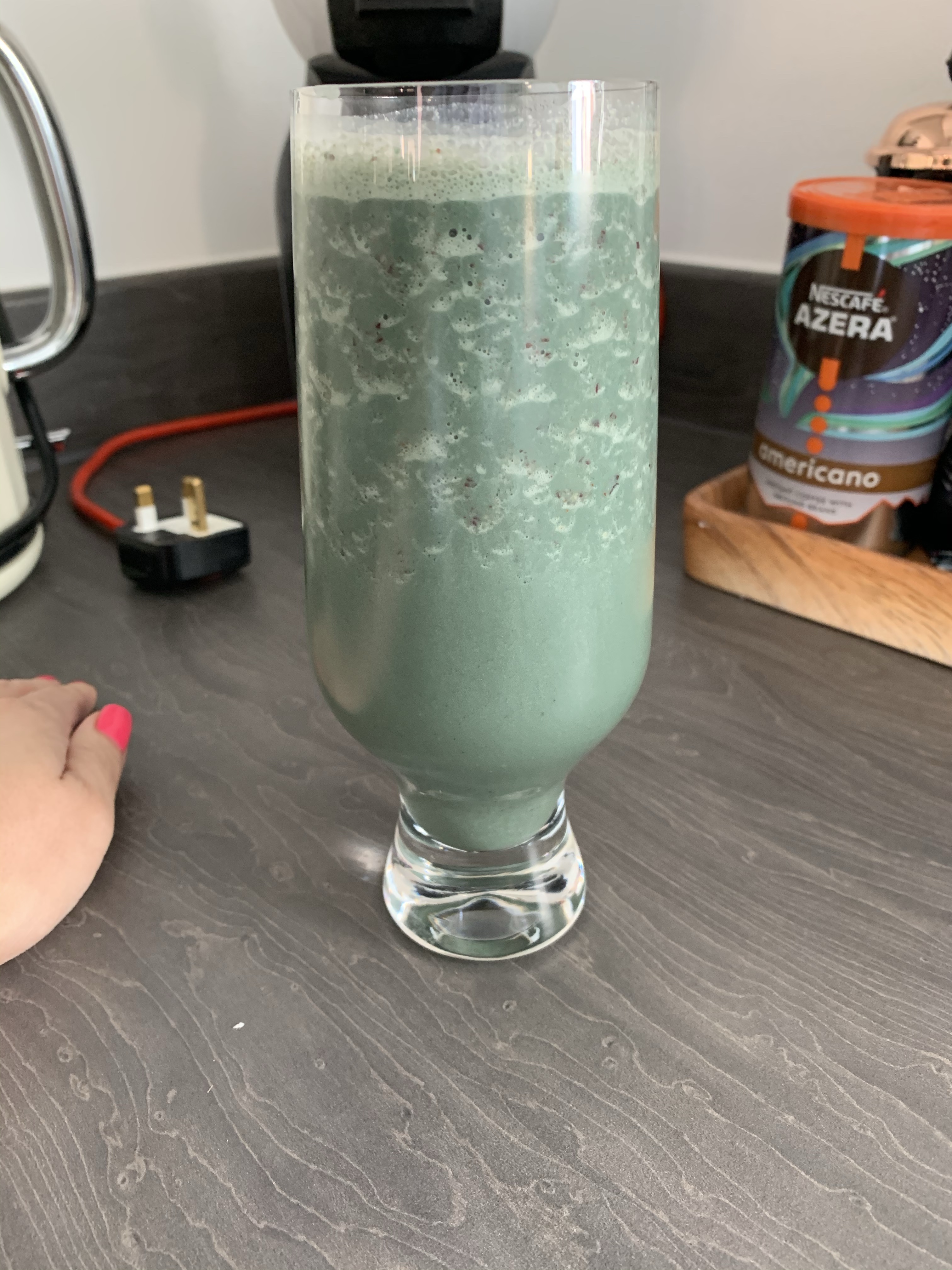 You know what though – jokes aside this whole social distancing and lock down has actually really made me appreciate what I do have in life, life its self and to not take things for granted. Things that I once moaned about, a Monday morning for example knowing that I had to set an alarm and get up early for work, even work it's self actually. WE all at some point moan about work, however trivial the moan is, we are all only human after all. But now all those moans, all those I don't like Mondays, I can't wait for the weekend to start seem so irrelevant at this moment in time. I would love to be setting my alarm for 6am on Monday morning, to be dropping Hunter at my Nan's for the day, to be going into work, to be doing normal everyday things that I once took for granted. It is such a big eye opener. When this is over and it WILL be over, I will appreciate things that I once considered to be the mundane things in life, like the online shop, the food that I never really thought about before and would just order whatever I wanted without limitations. I'll appreciate time spent with family and friends, make more time to see them, and not worry about things so much. I definitely want to see the world now more so than ever, and explore beautiful Britain. I can't wait to eat Lobster roll's with Luke again and to plan a holiday just the two of us. I am looking forward to a Starbucks frappe, and sitting in the cinema watching a movie eating a bag of popcorn without worrying that i may put on a tiny amount of weight. I just can't wait to enjoy all those small things that I took for granted.
Hmmmmm well deep and meaningful part of this blog post done, it's now time to get my mind on other things…. FOOD! Lunchtime! Since all this has started and Luke has been working from home I have become his PA and am on breakfast, lunch AND dinner duty, not forgetting in between snacks and drinks! I like to make sure that Luke is well fed as he is still super busy working away from the make shift office upstairs!!
I spent the remainder of the afternoon chilling, blogging and did a few bits around the house, and waited patiently for Luke to finish work so that we could go out for the "walk of the day" Today it was a later walk than usual, and we headed back into Shalford to collect two bags of shopping!! YES we managed to get some food, not a full shop but enough to get us through, it was mainly the fresh bits I was out of, like salad and fresh fruit. My sister had a Tesco food slot booked and we managed to add onto that along with my mum and dad!! And YES I got my dry shampoo ??
When in Shalford we stop by my parents house just to chat from 6ft apart for a brief 5 minutes, I'd like longer, but for now it'll do.
Veggie kebabs for dinner with Pitta bread, and it was time to settle in for the night with a movie AND popcorn!!
5 days down, now to enjoy the weekend with my 2 boys, Luke & Hunter. I'll be back Monday for day 6 as weekends I'm keeping free and to some extent normal.
Have a great weekend guys, remember to keep 6ft apart at all times!!