21/10/2018
Good Evening
and of course happy Sunday!!
My blog today is all about my trip to London on Saturday, but first let's talk about Sunday. I love Sunday's, it's a day where if I stayed in bed watching movies all days in my PJ's it would be completely acceptable. Sunday is mine and Luke's day and where possible we keep it free for us time.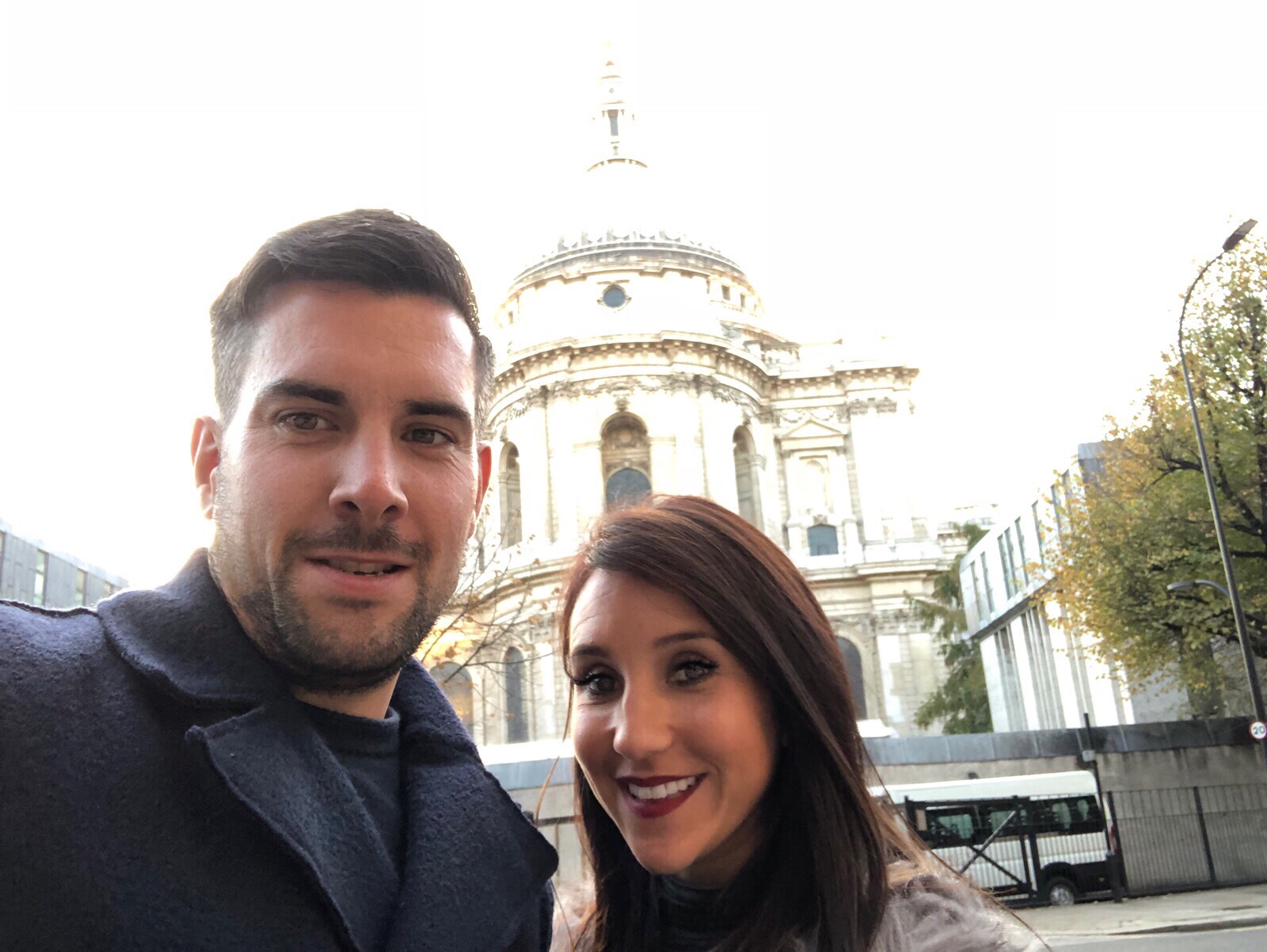 I had a lovely chilled Sunday today, which in true fashion has seen me do very little, Luke and I spent the morning chilling out eating our porridge and watching suits, whilst drinking cups of tea! Sunday afternoon my mum made one of her roasts complete with quorn chicken for me. I swear her roasts are the best, nothing beats them!! And if that wasn't good enough for dessert she served up hot apple strudel AND Jam roly poly! I have never had jam roly poly before despite it being quite a British dessert it's just never appealed to me, but I thought I'd give it a try and I am SO glad I did! It may just be my new favourite dessert! Jam roly Poly and custard, so delicious! Needless to say after all the food consumed I was so full and fit to burst! Time for a movie I think!?….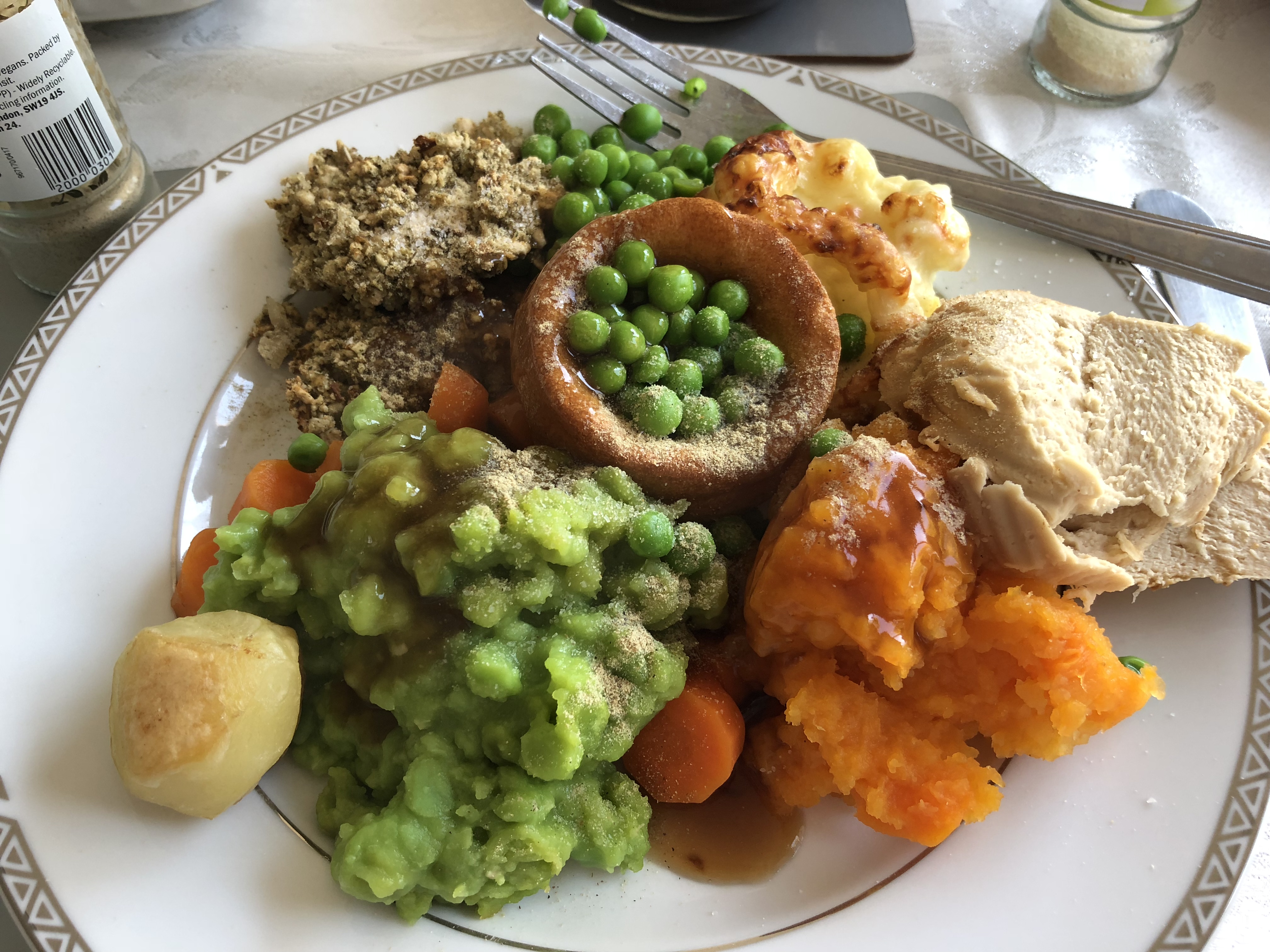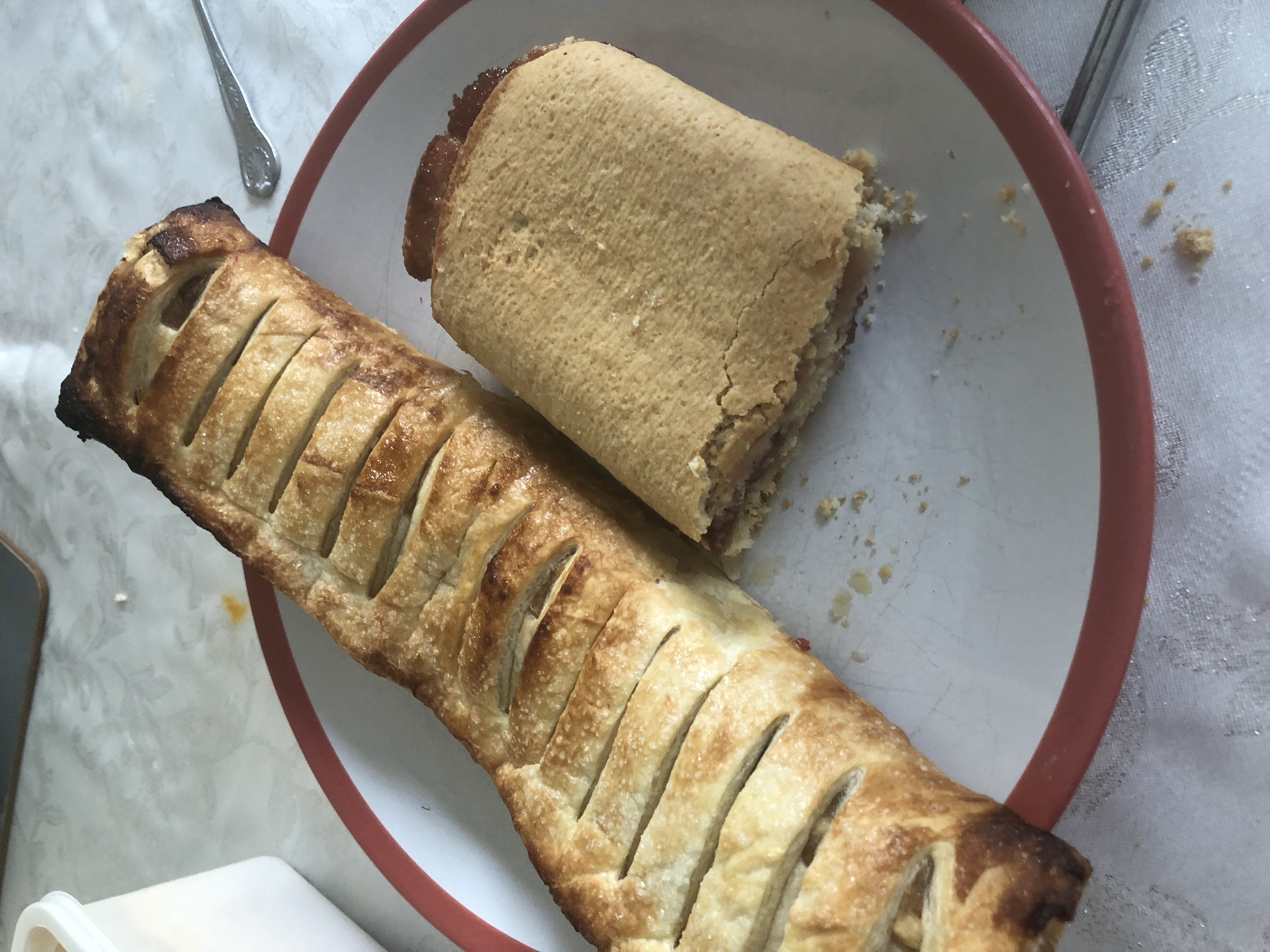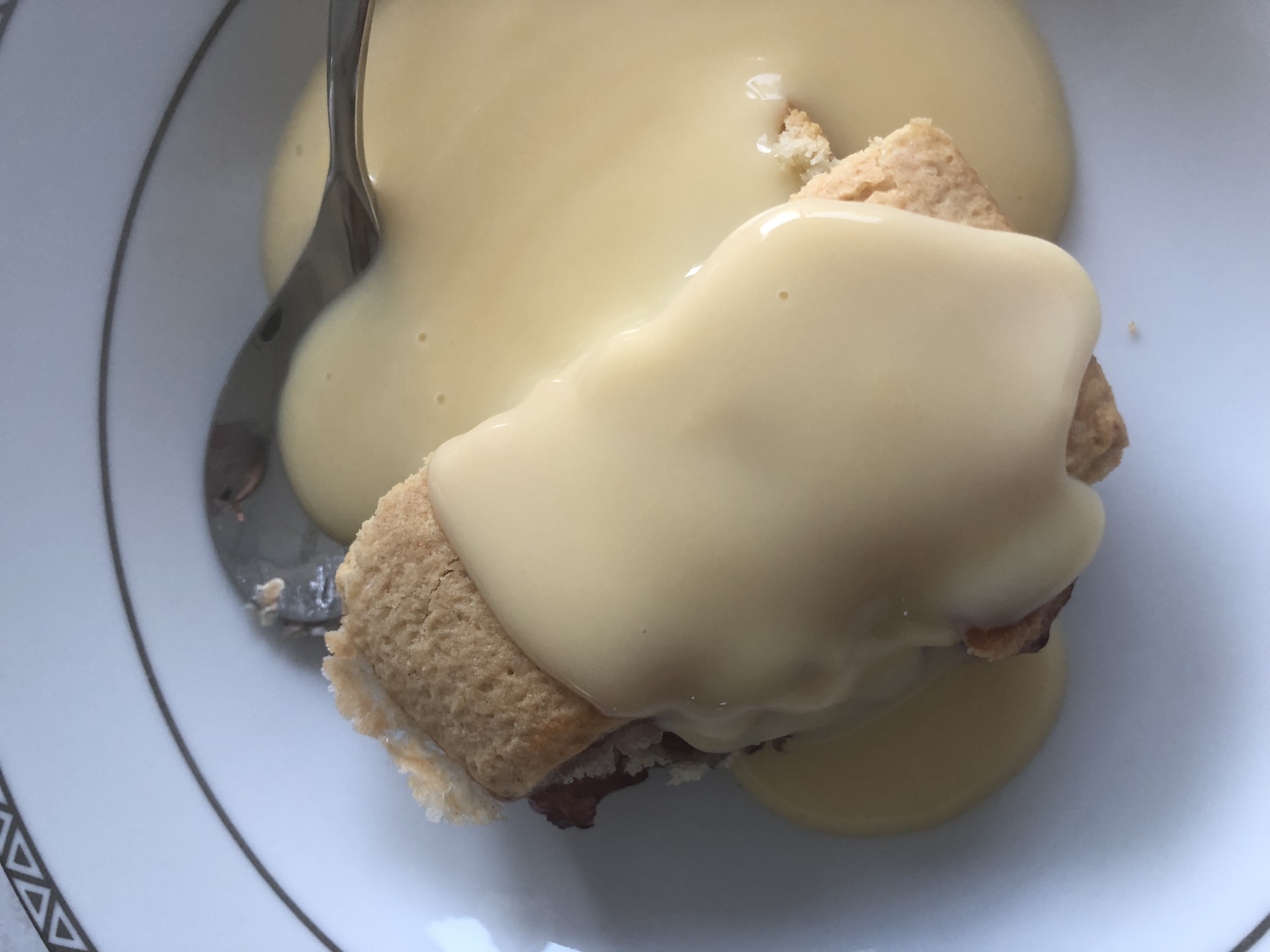 Now let's back track to Saturday when Luke and I spent the day in London, we had plans with friends to do a ghost walk in the evening around the streets of London, and decided to go up earlier to make an afternoon of it and get some lunch…..
So I don't know if I have ever mentioned this…. but when in London I love nothing more than eating at my personal favourite restaurant Burger & Lobster, the lobster rolls they serve are by far the best I have ever had!! But Luke and I came to the conclusion a few weeks back that we MAY eat at a Burger & Lobster a little too often, and maybe it was time to eat in other restaurants. I gave Luke the challenge to pick a restaurant, any restaurant, one of his choice for us to eat in on yesterdays trip. He accepted the challenge and kept it as a surprise for me.
Luke's chosen restaurant (which was booked online beforehand) was Madison restaurant Which can be found on the top floor of One New Change, near St Paul's cathedral. It is renowned for its buzzing atmosphere and spectacular panoramic views from its rooftop terrace. Inside the restaurant it also has floor to ceiling windows which look out onto St. Paul's Cathedral. As well as amazing food and drinks there is also music from the in-house DJs. The vibe inside the restaurant was buzzing and I instantly liked it, we arrived a little early which gave us time to grab a drink and take in the amazing site of St Paul's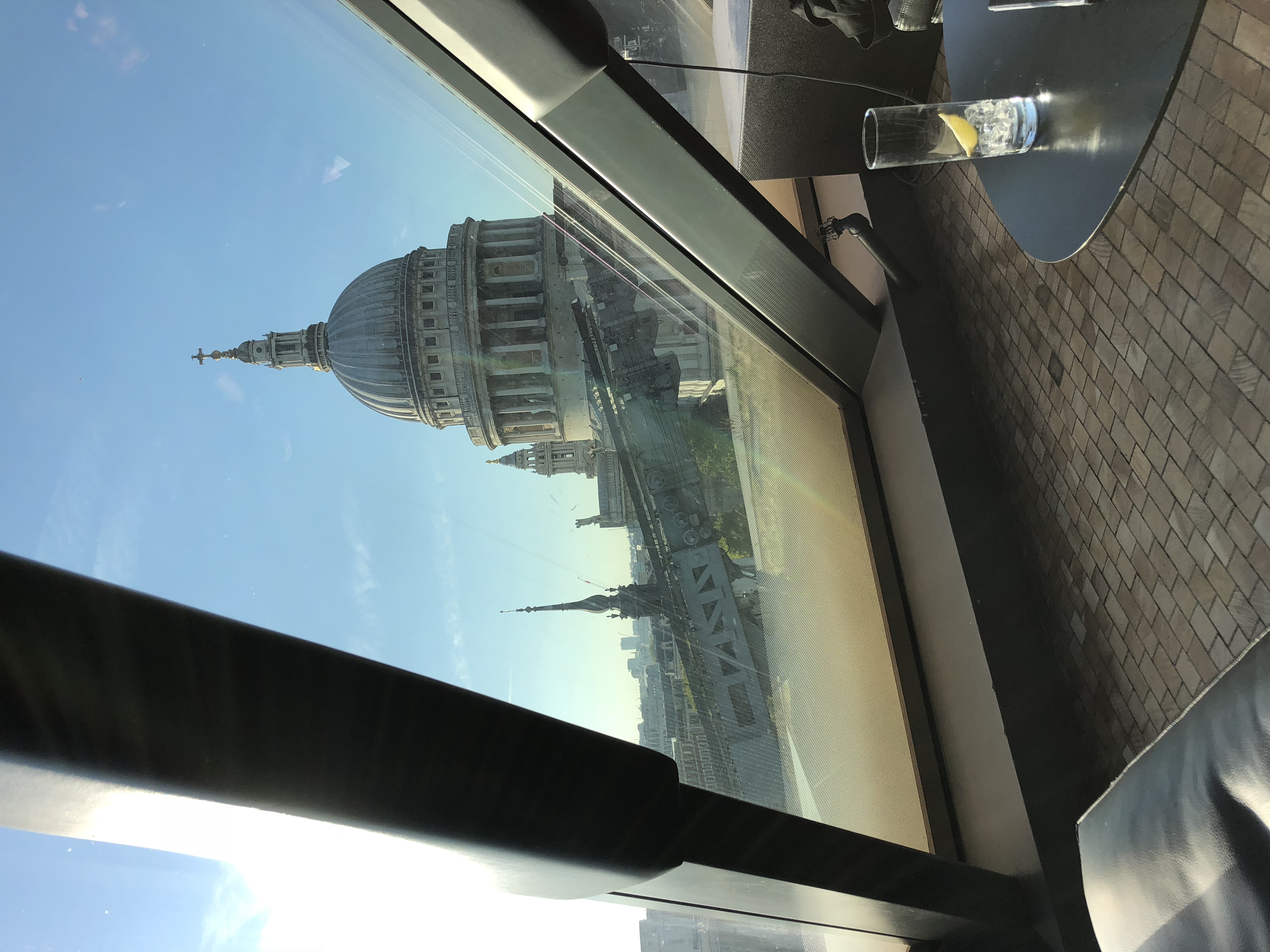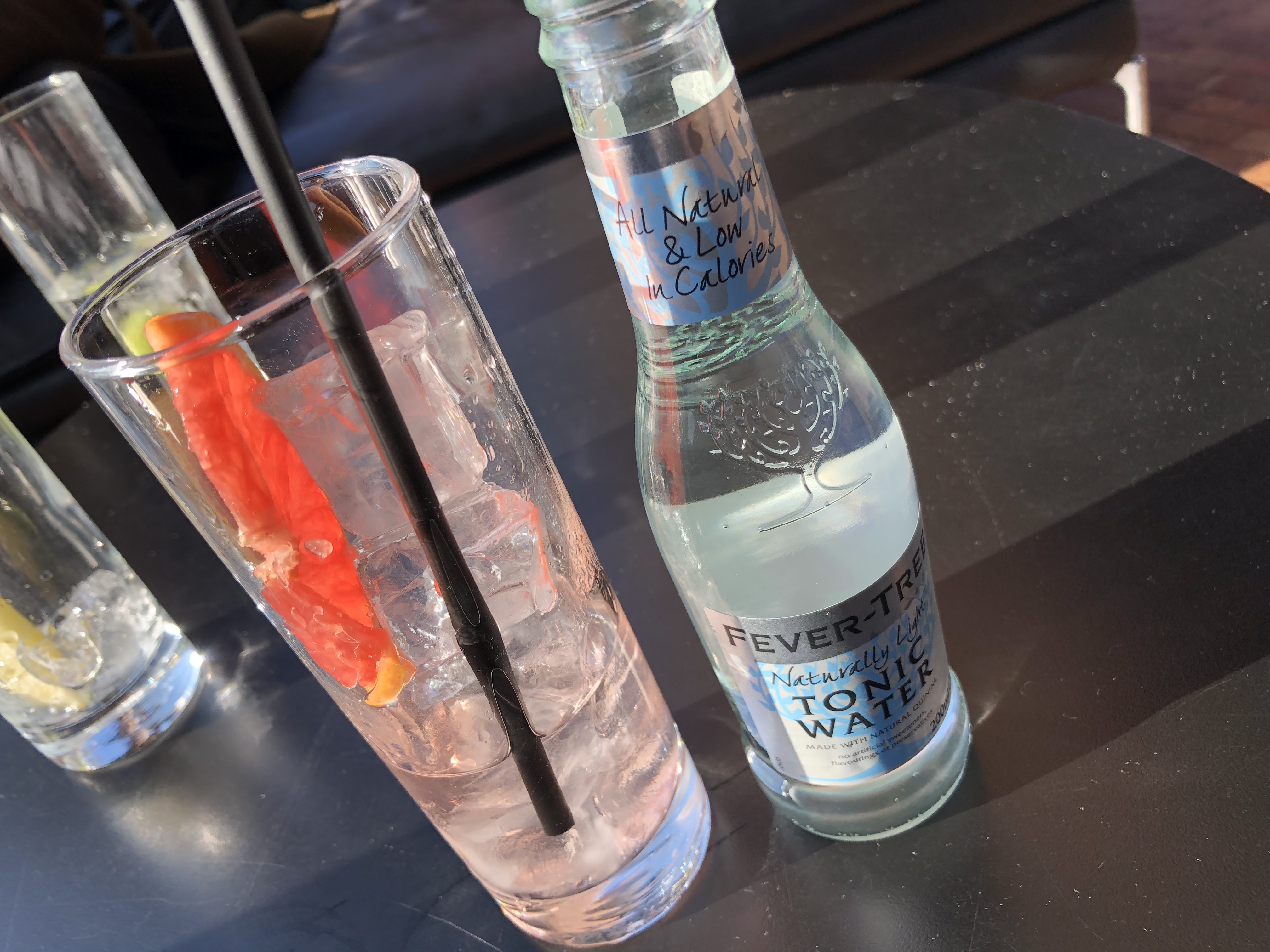 We only waited a short 15 minutes for our table to become available, our server was friendly and took our coats from us before seating us on our table for two. The menu looked amazing, and Luke had chosen this particular restaurant thinking I would opt for the mushroom risotto for the main course…… he had FAILED to notice that Madison did a Lobster Roll!! Hello game changer!!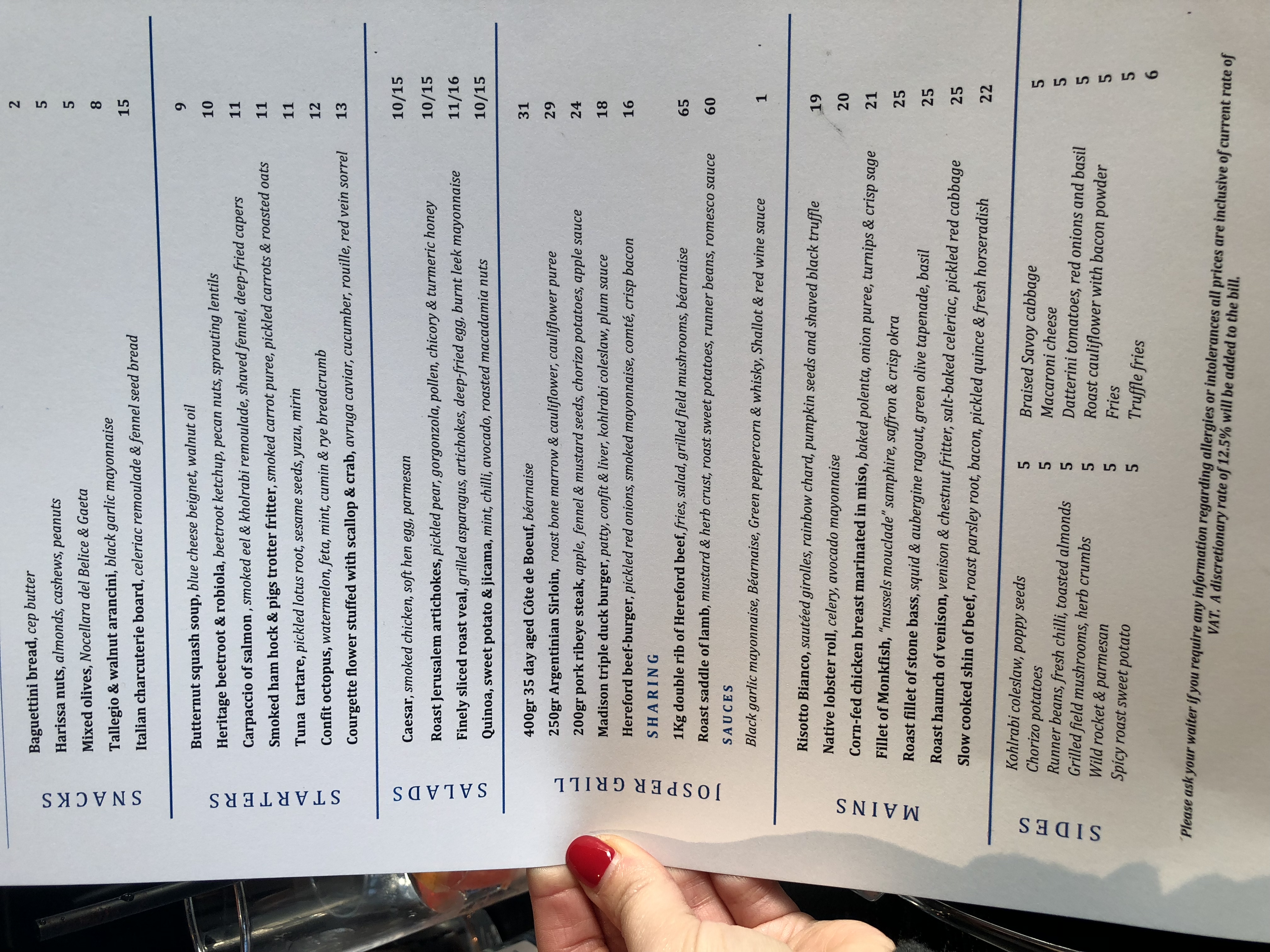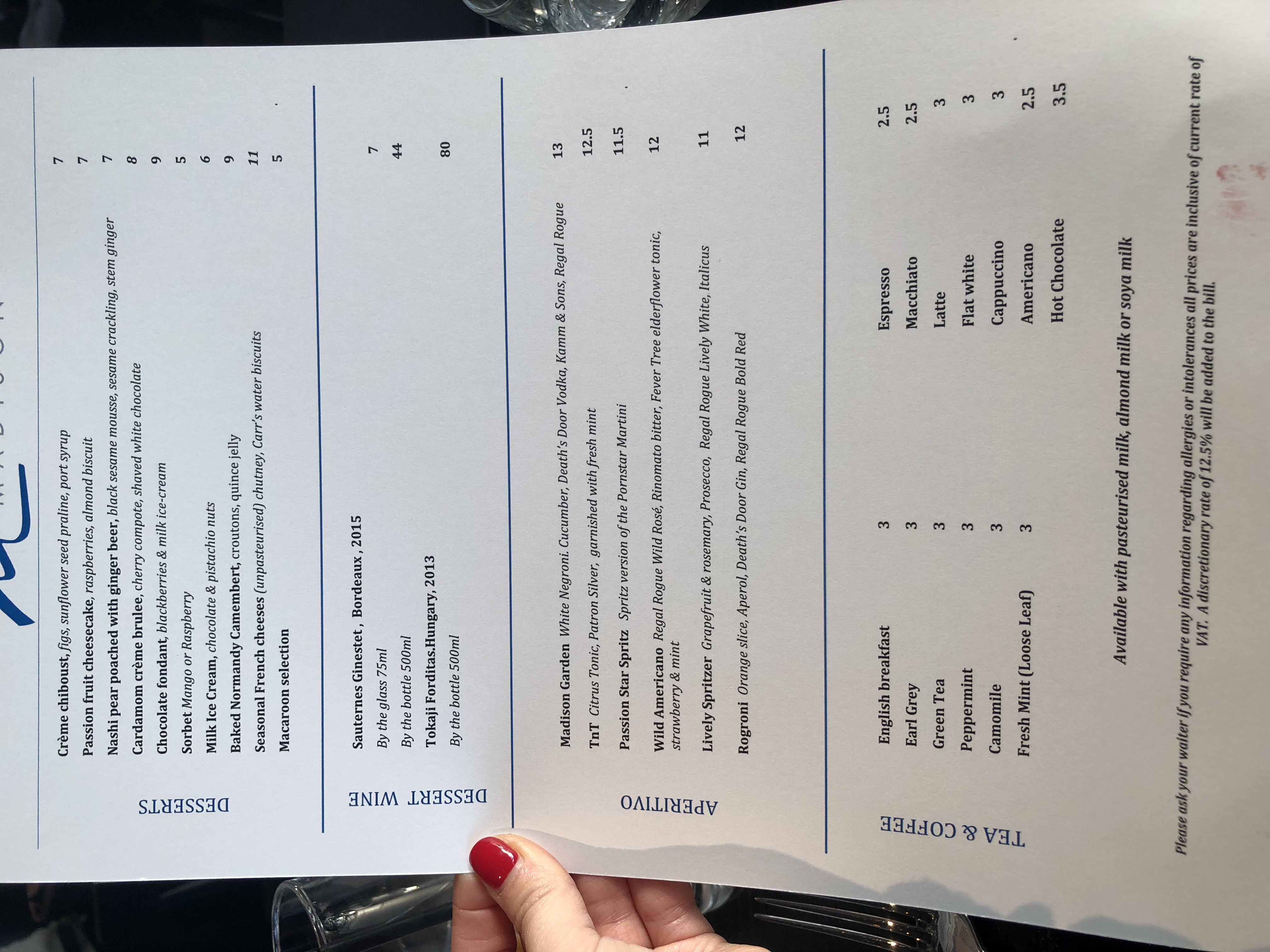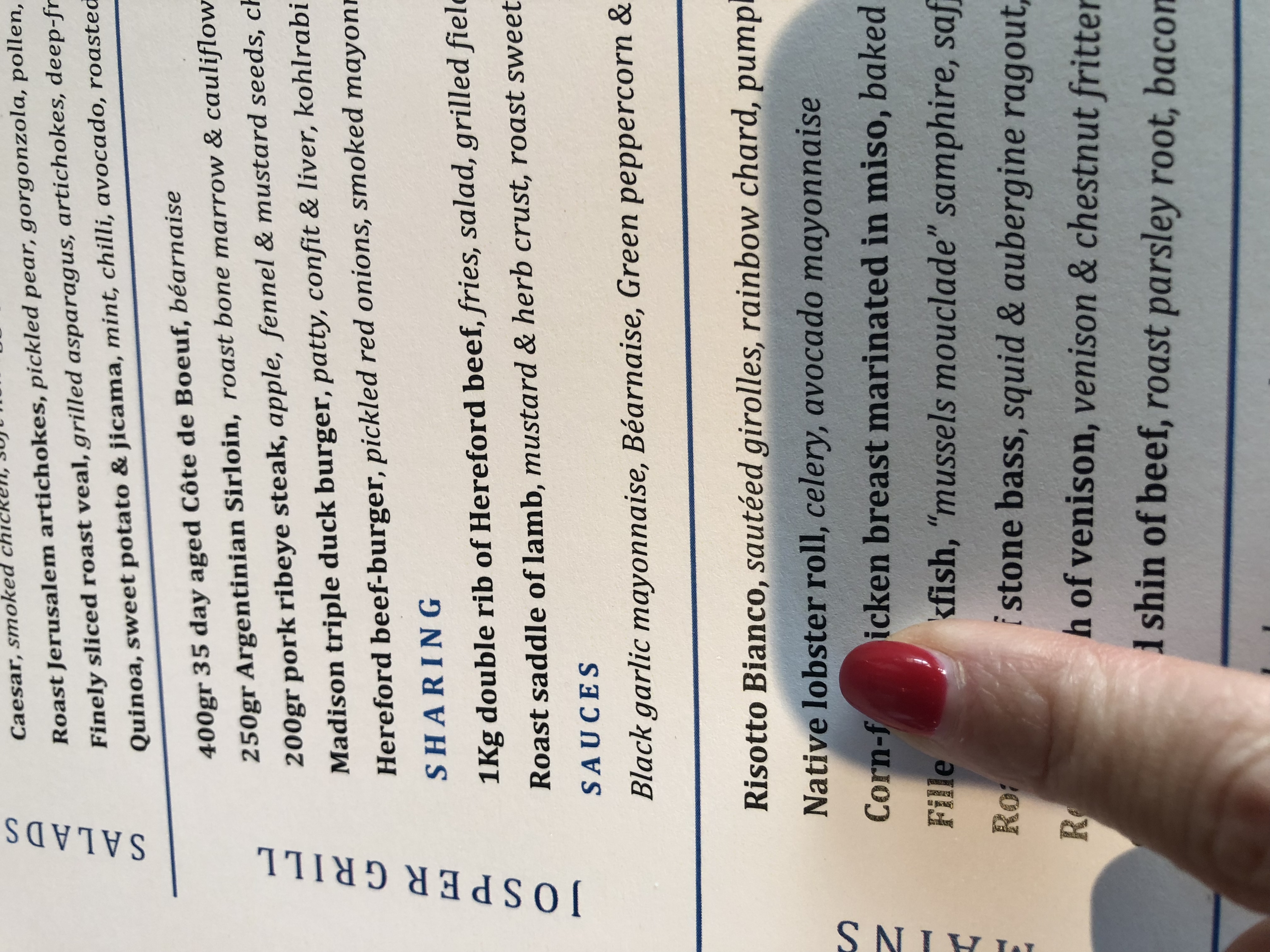 Of course I was going to have the lobster roll! Always eager to try one somewhere new!! We started with some nuts and olives for the table which I have to say are better than the ones we usually have in Burger & Lobster (not that this is a comparison blog)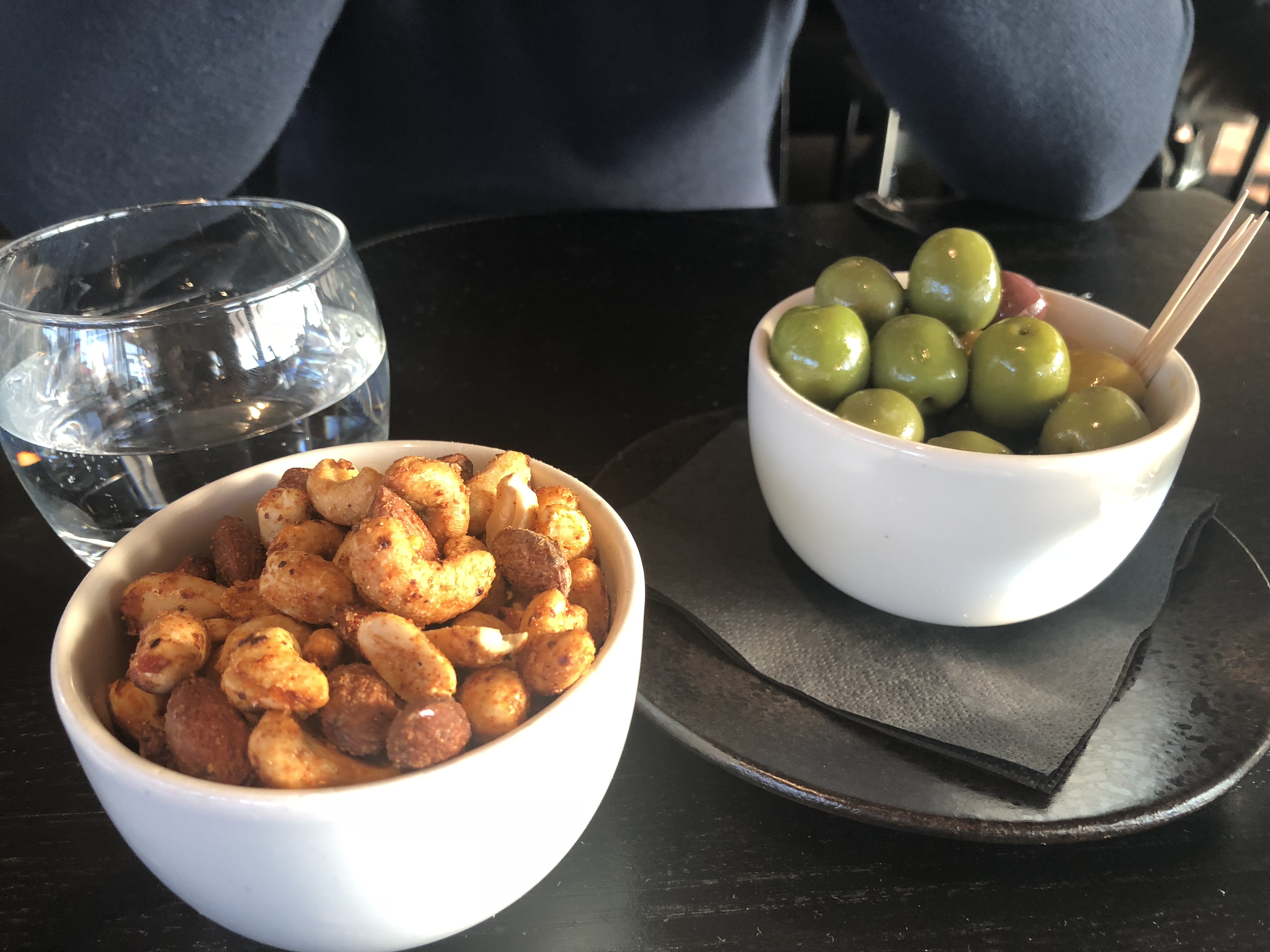 Luke and I then both decided on the butternut squash soup with the blue cheese for our starters. A bit of a gamble for me as I don't like blue cheese, so was hoping it would be really subtle. The first thing both Luke and I noticed about our soup was that it was HOT! I can't tell you how many times we have eaten out and ordered soup for our starters and it's been luke warm at best, so it was a nice surprise to have it hot! As for taste, well it's probably one of the best butternut squash soups I've had! So much flavour and the walnut oil finished it off nicely.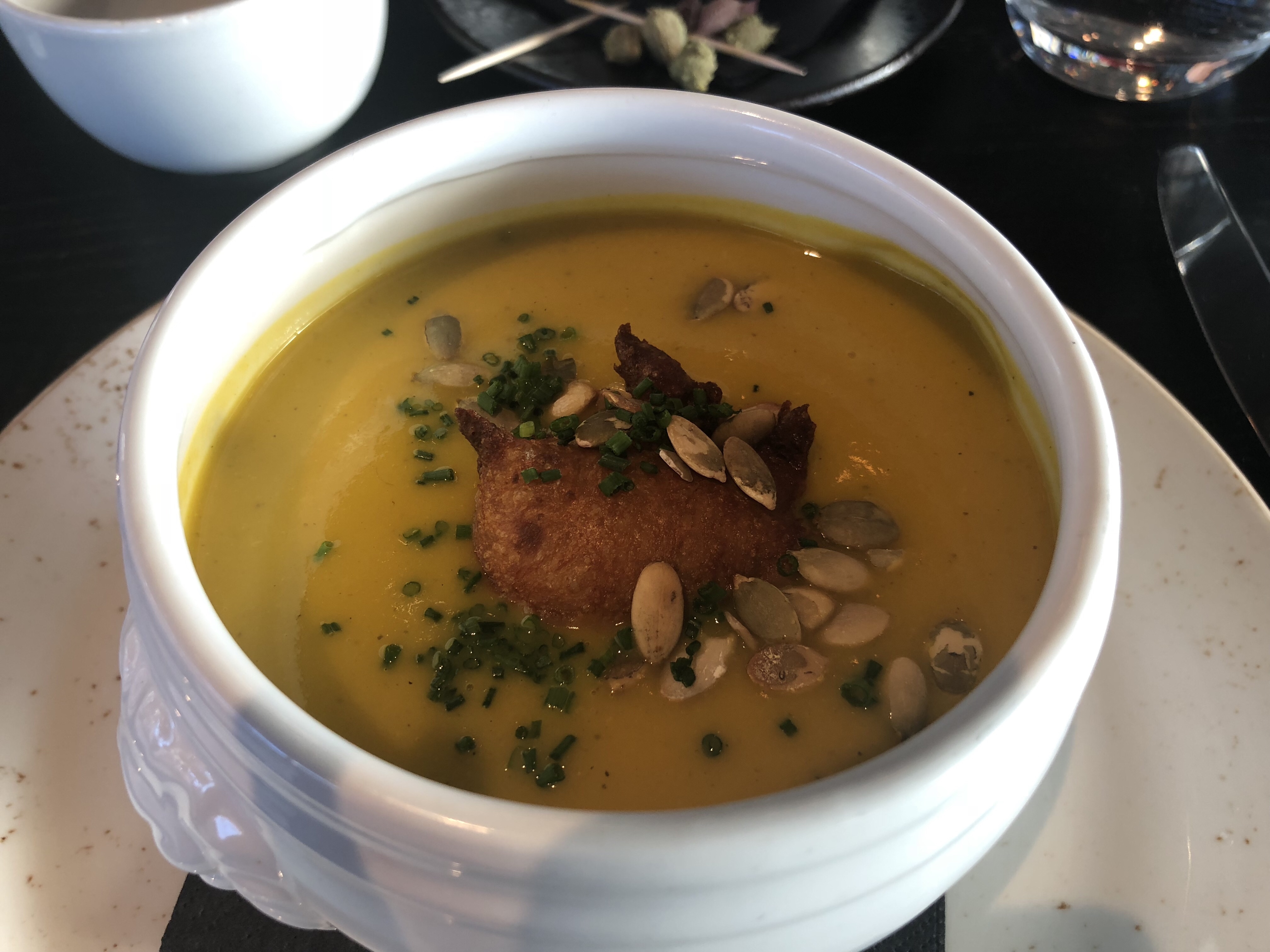 Okay I am by this point getting a little full……. I've already eaten nuts and olives and my soup!!Luckily our mains were not bought over straight away, which was nice. I hate that in some restaurants where it's one thing bought out after another and you never have a chance to let your food go down.
For my main I OF course went for the lobster roll which was served with chips (normal or truffle infused chips) I went for truffle infused chips as I love truffle oil! I also ordered a side plate of rocket and parmesan salad. I am always critical of a lobster roll, will it pass my test!? It was as I mentioned served with truffle infused chips, a small salad, onions and coleslaw (a little annoying as I wouldn't have ordered the extra salad had I of known it was served with one) the lobster was served in a normal roll (not brioche) and already had the garlic butter poured onto it instead of on the side. The lobster meat was so tender and tasty and there was a lot of it packed in the roll, the salad, coleslaw and onions made a nice side and the flavours really complemented each other. My absolute ONE and ONLY criticism was the bun, it fell apart very quickly, and it was quite doughy too! Brioche with lobster is far better. That is the only slight criticism I can make, because other than that it was all so delicious and perfect! Luke had the mushroom risotto which he said was very nice, he offered me a taste but I was so full I couldn't manage any!!! He added a side of Mac & cheese to his dish, SO good!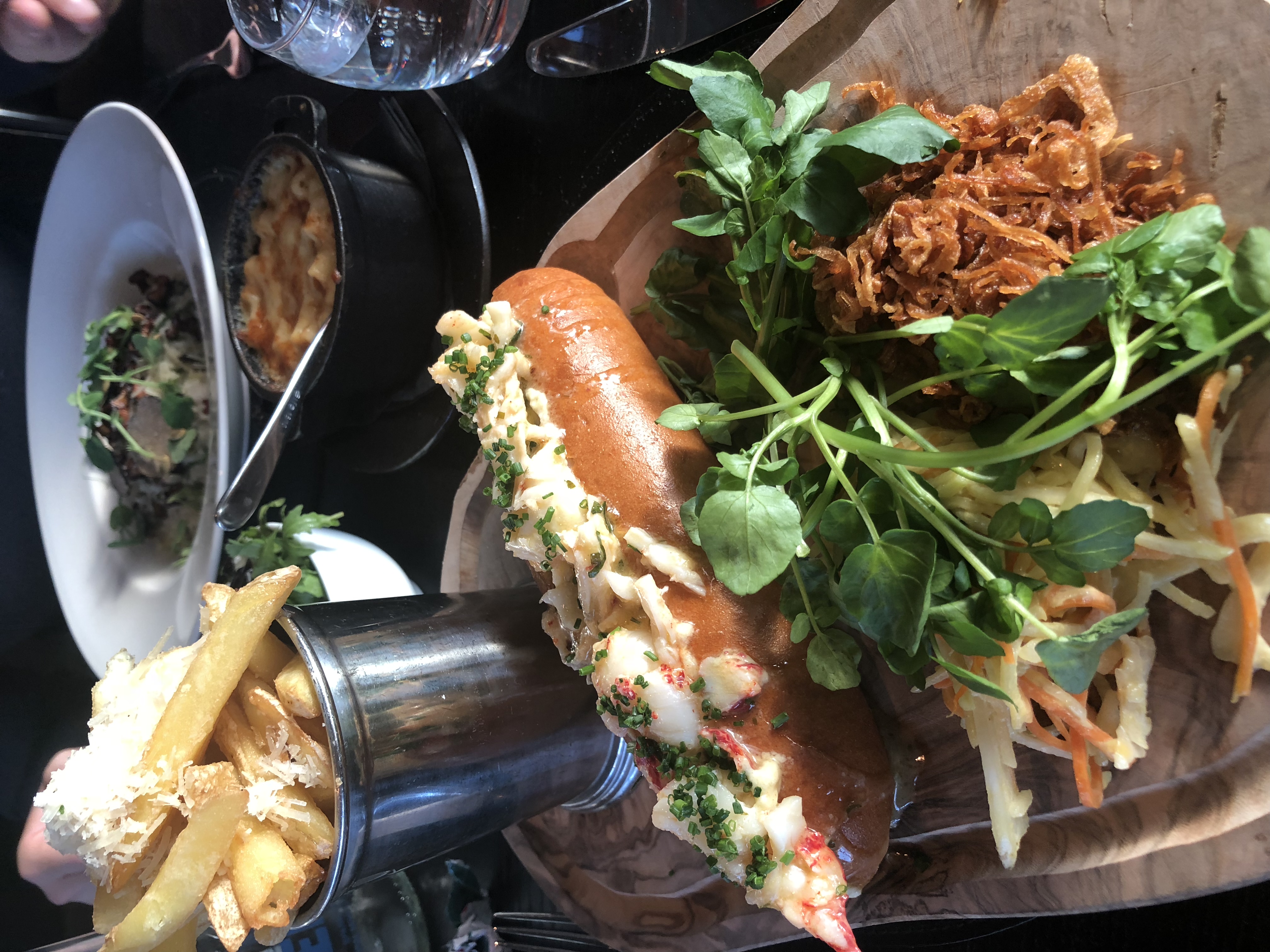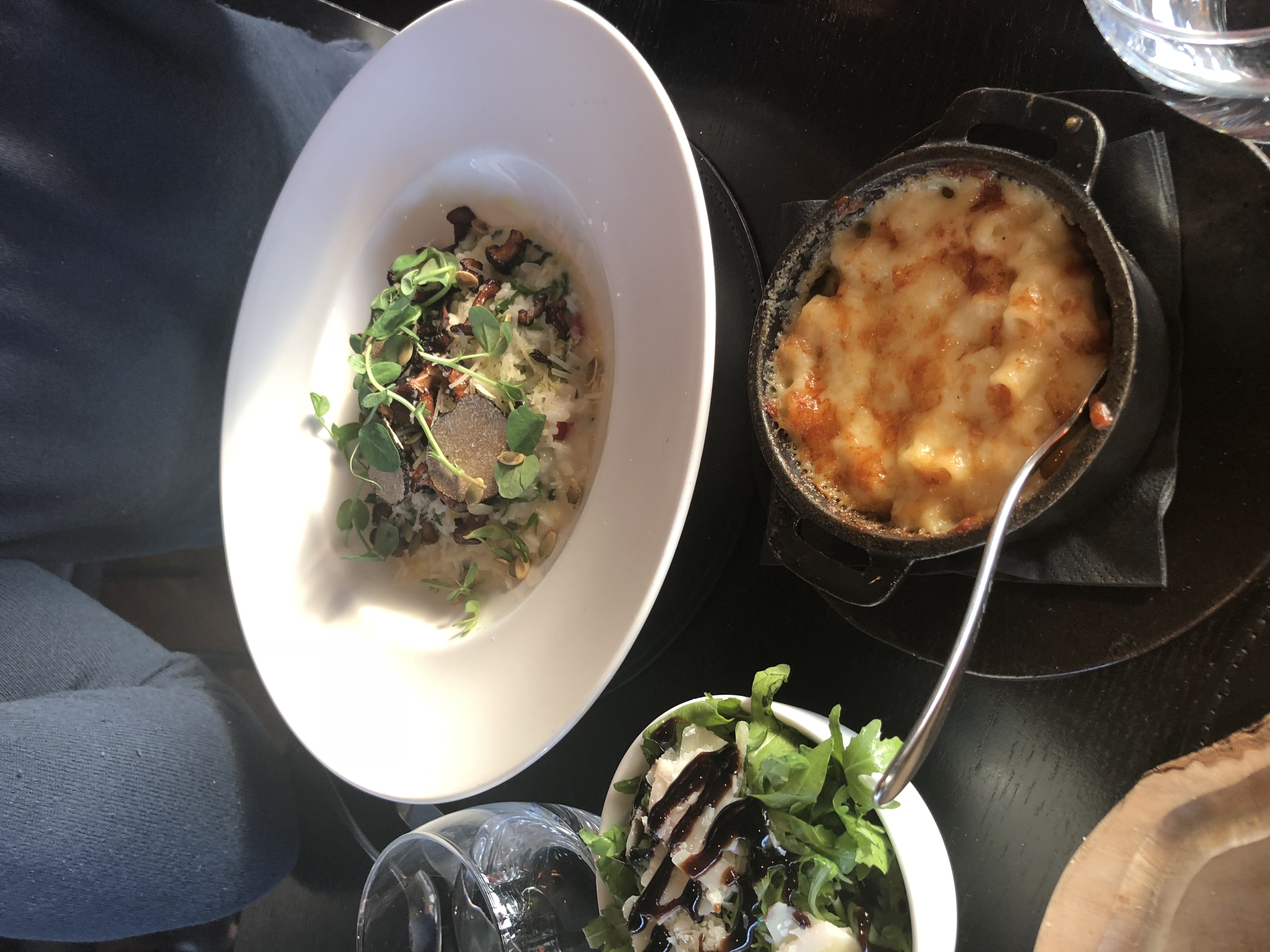 We had a couple of cocktails but definitely could not fit in a dessert, as much as I would of liked too!!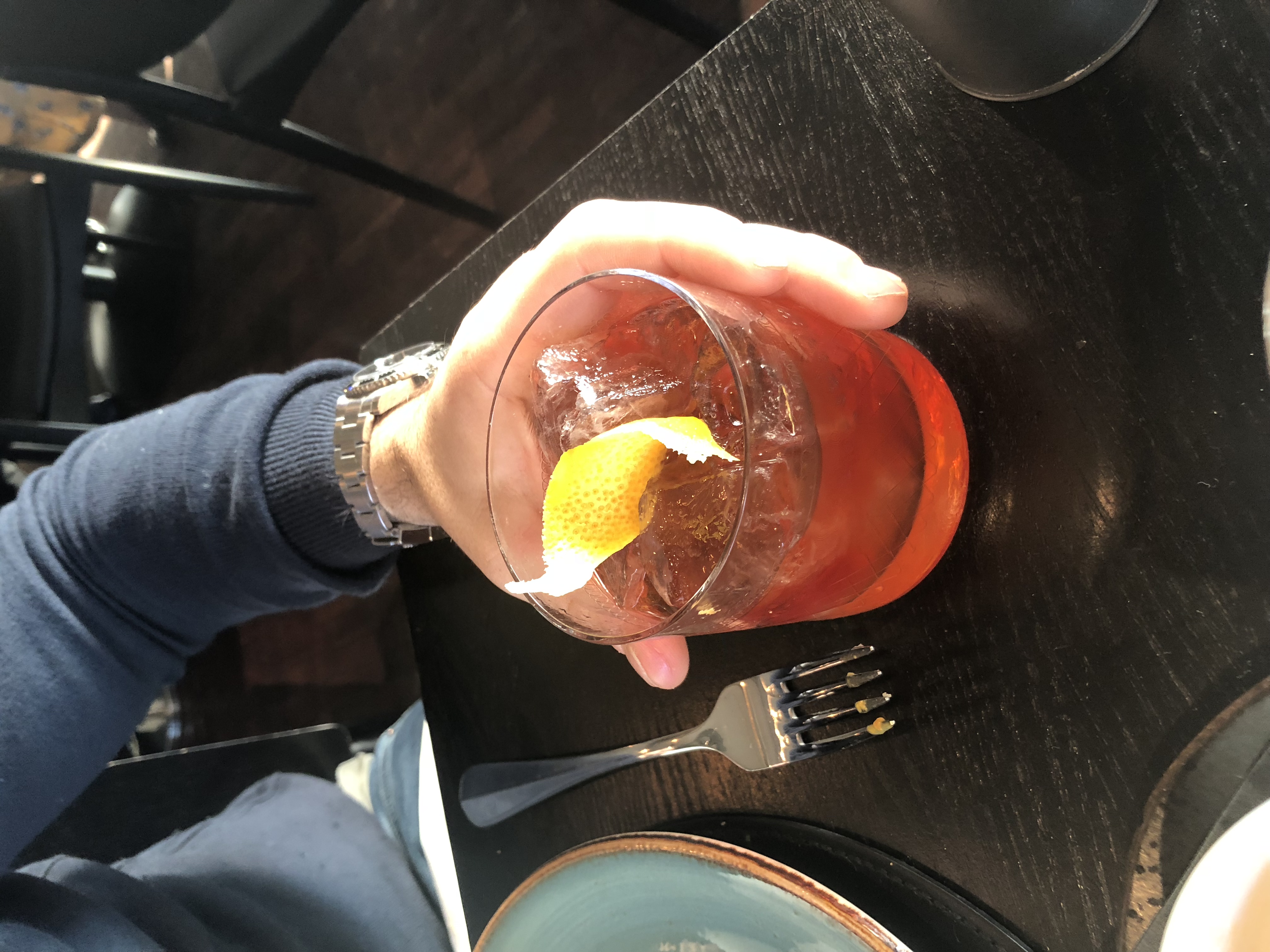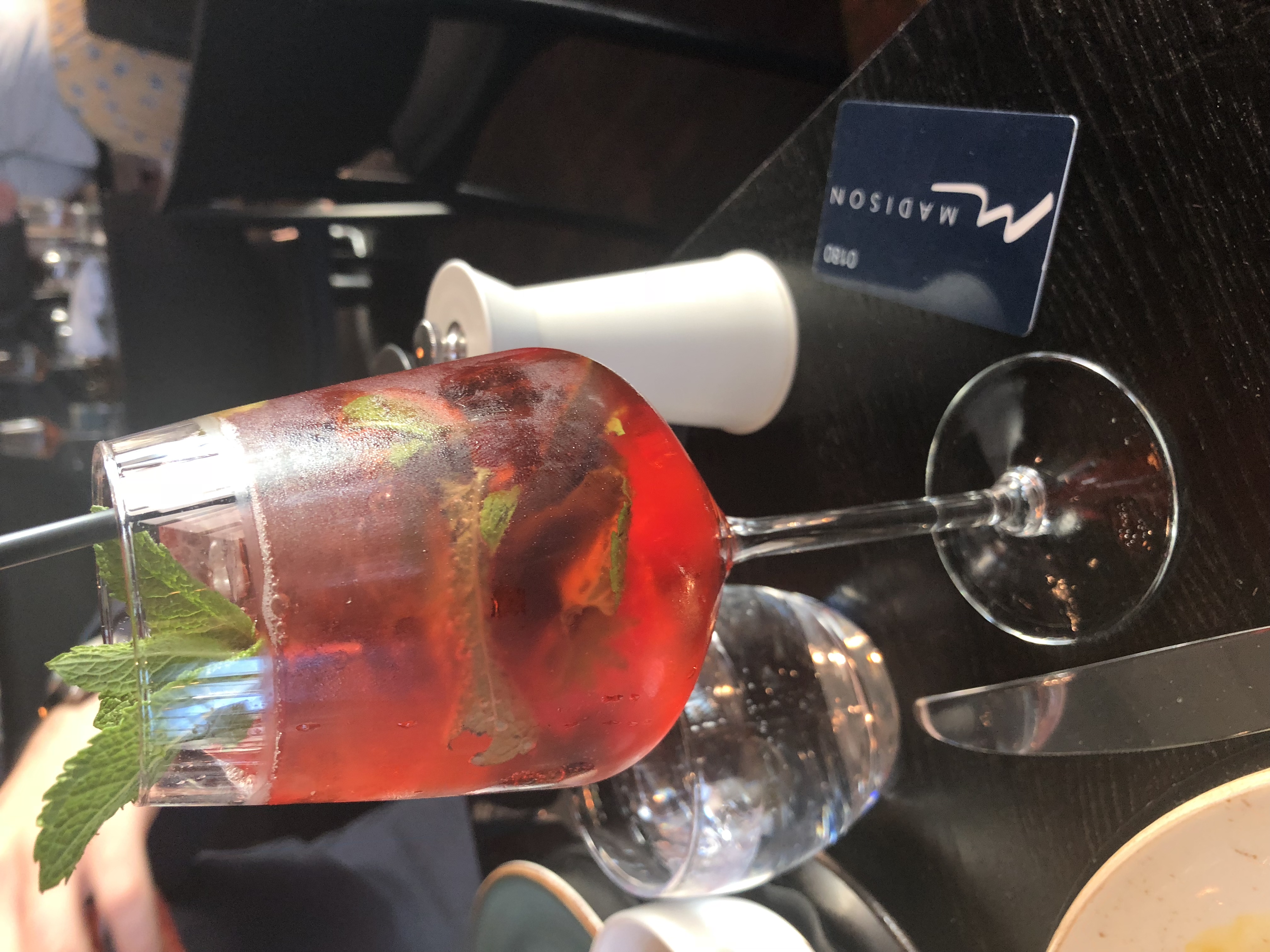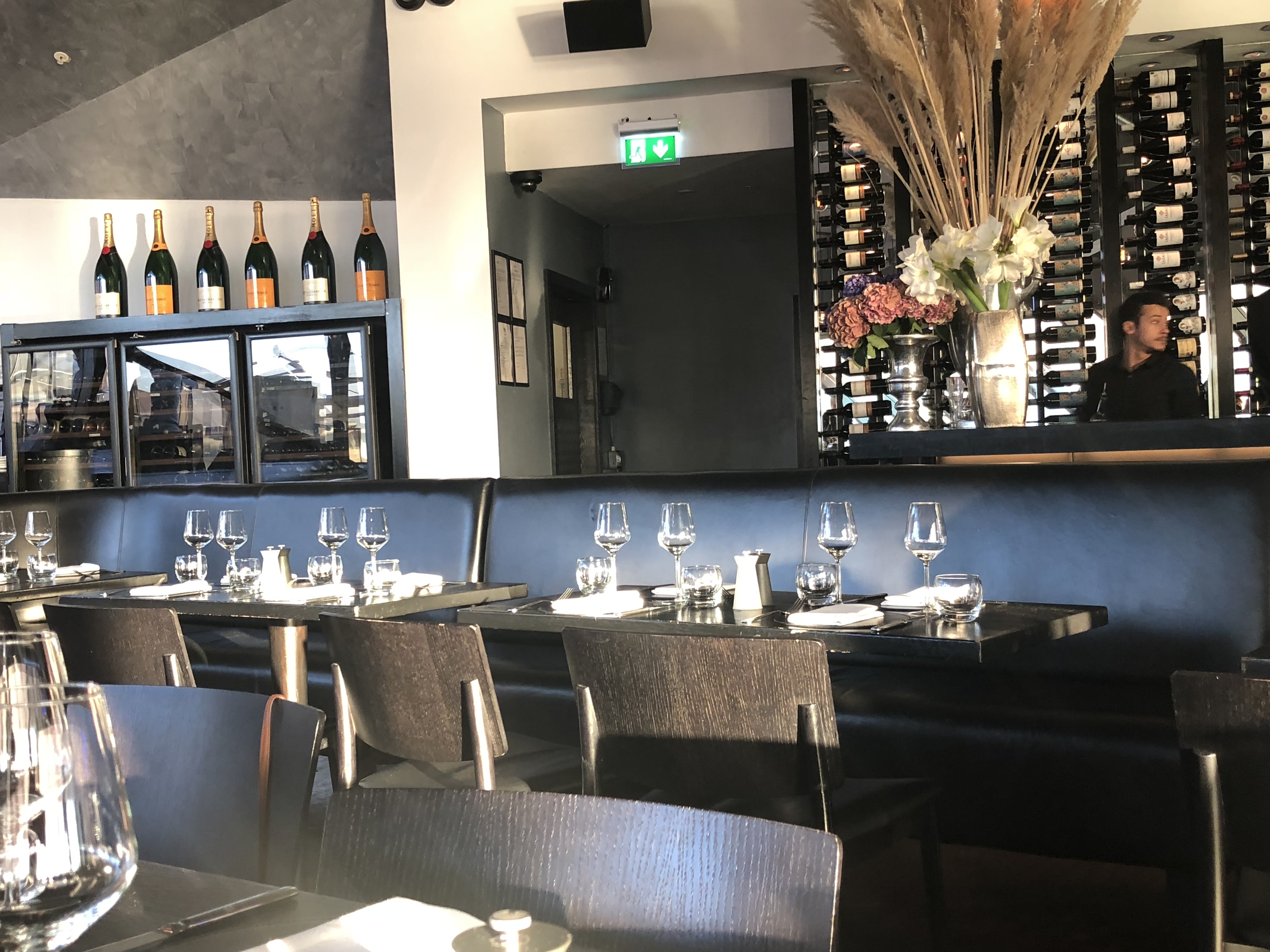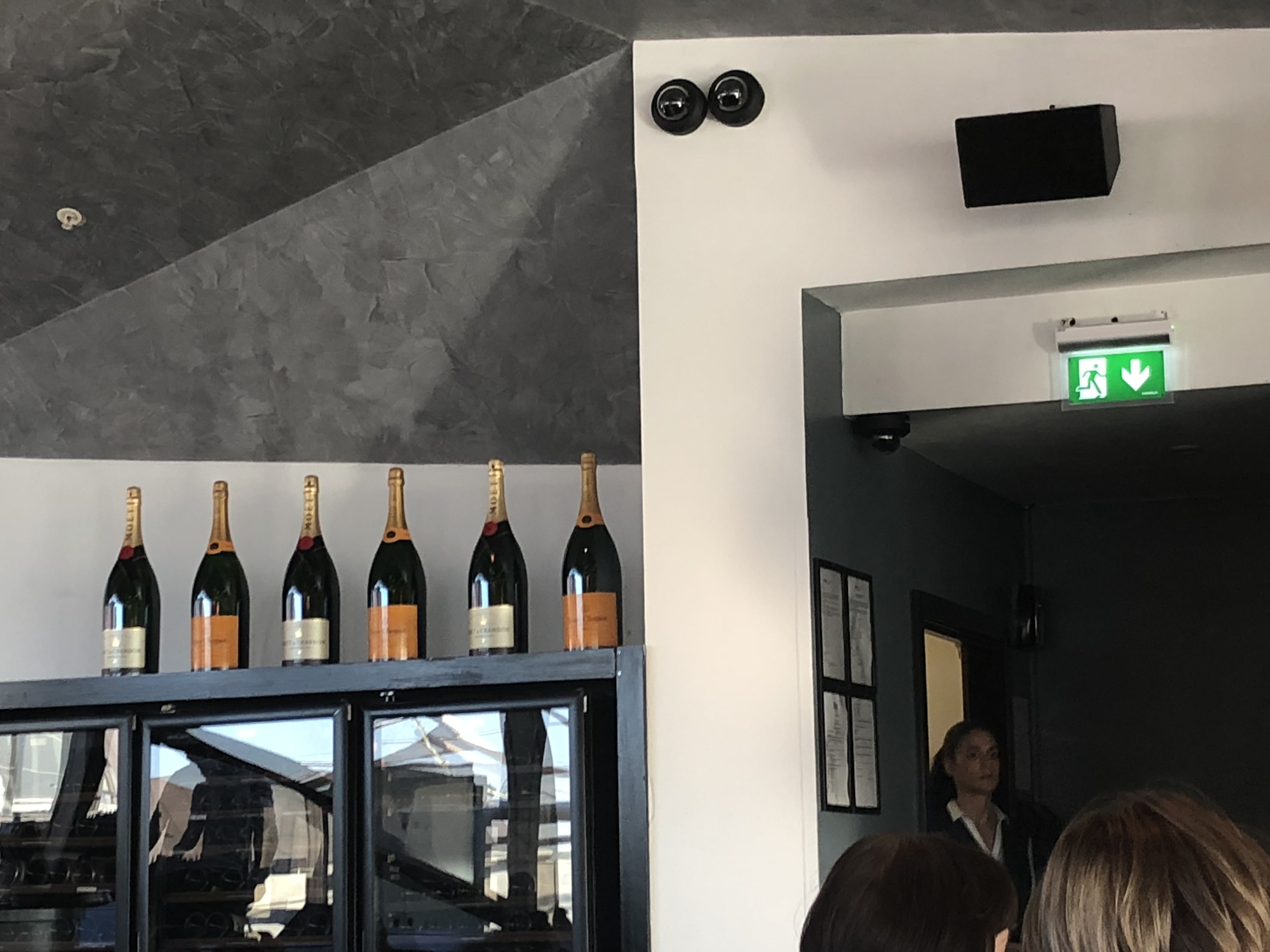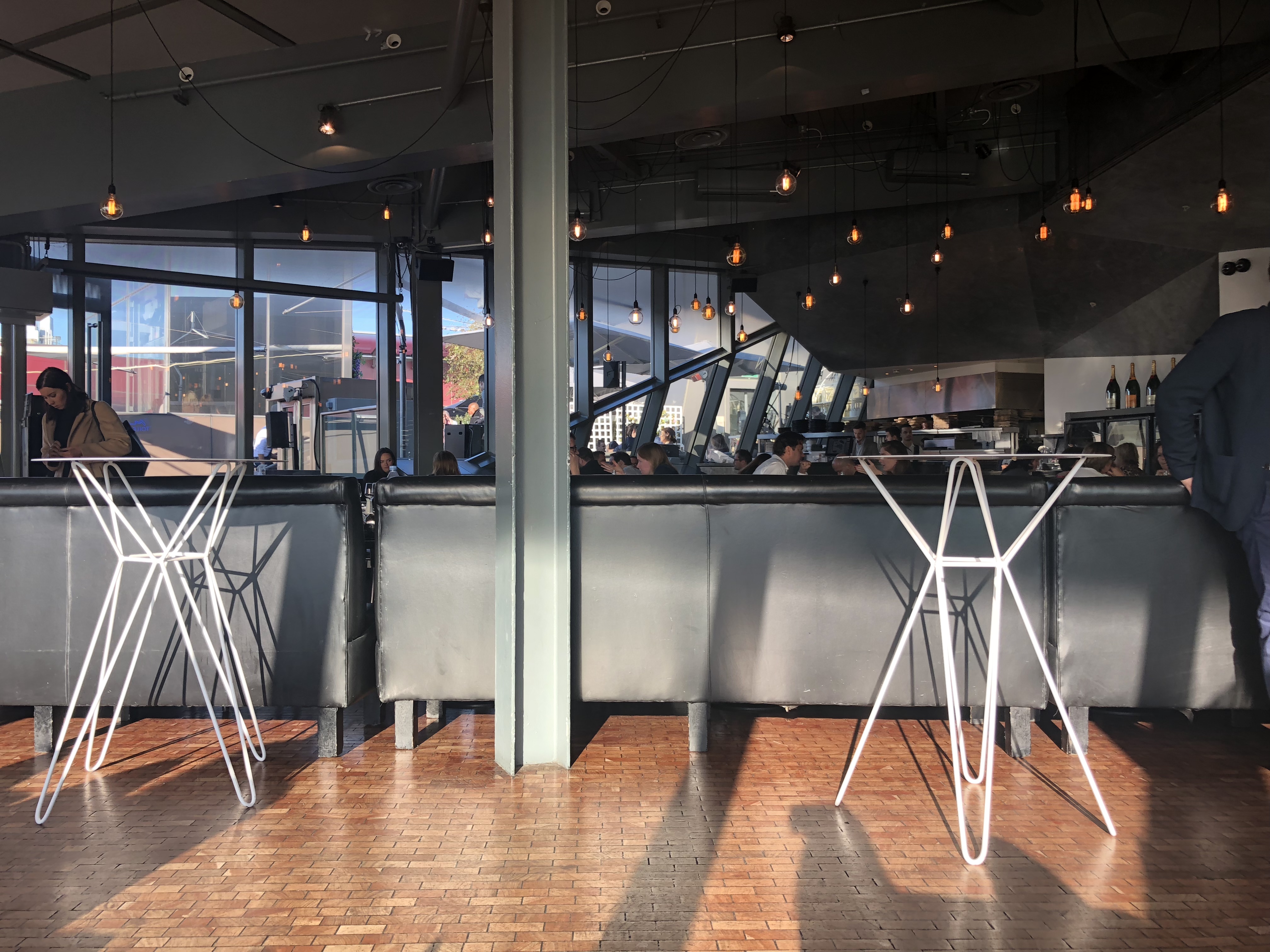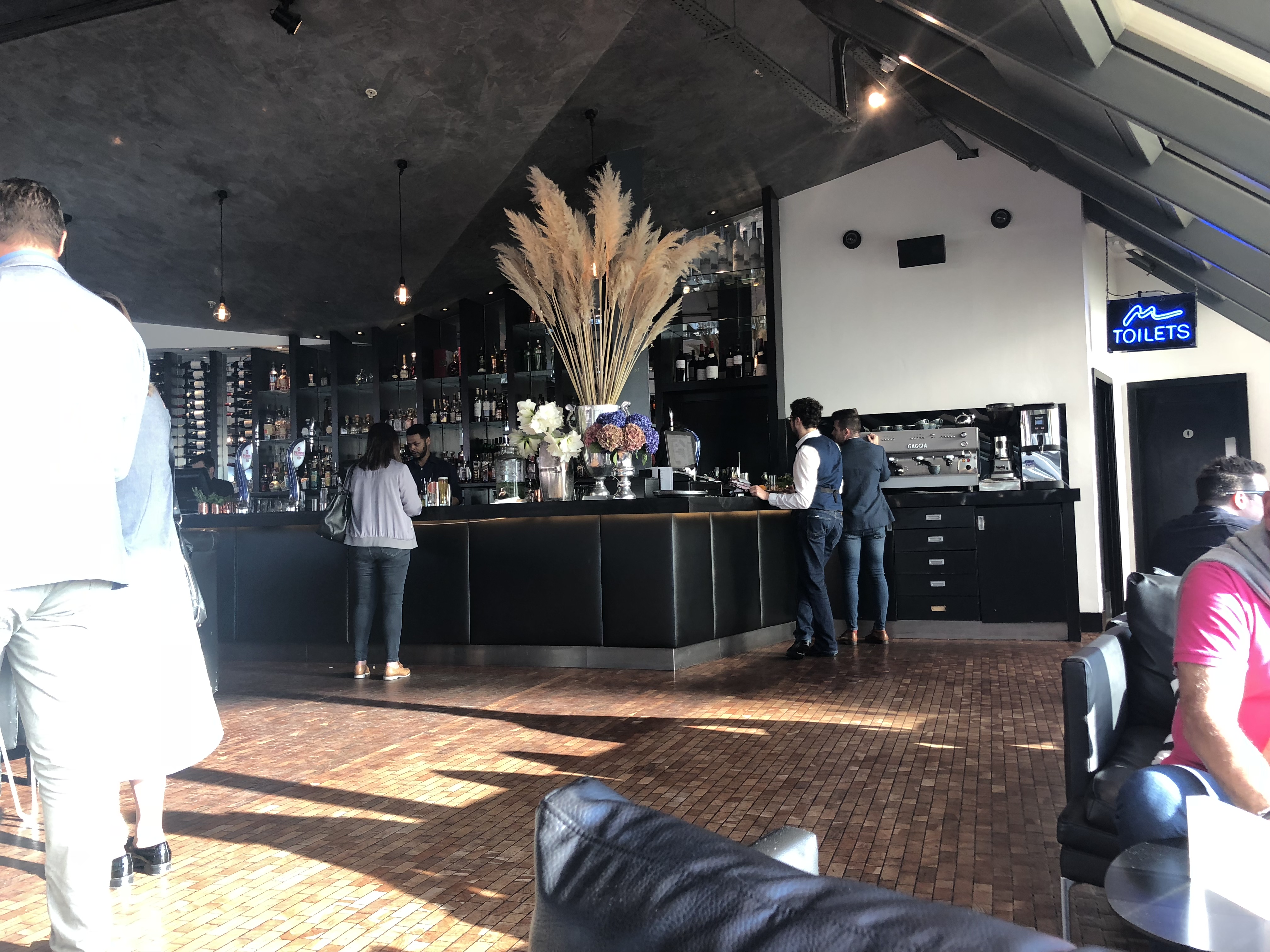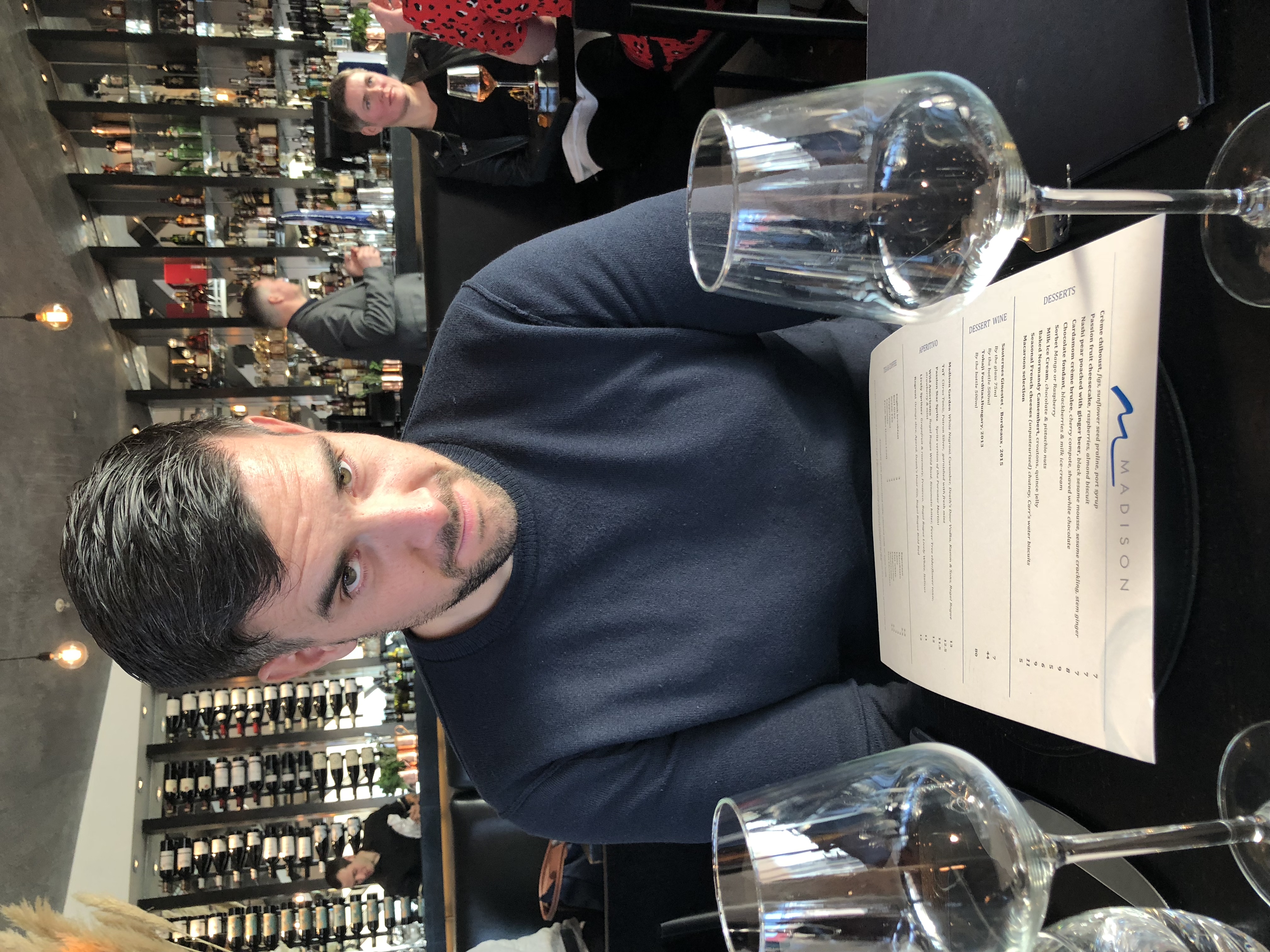 I had a lovely time at the Maddison, the atmosphere and food was amazing, the cocktails were delicious and the service was very good and quick. I had never heard of the Maddison before, but I am so glad Luke took me to this little hidden gem. It's now on my list of good restaurants in London!!! Dress code here is smart casual NO trainers or sports wear. I wore a high waisted skirt from ASOS and a grey roll neck top from ASOS and accompanied this with some black knee high boots and a grey gillet and my oxblood mulberry bag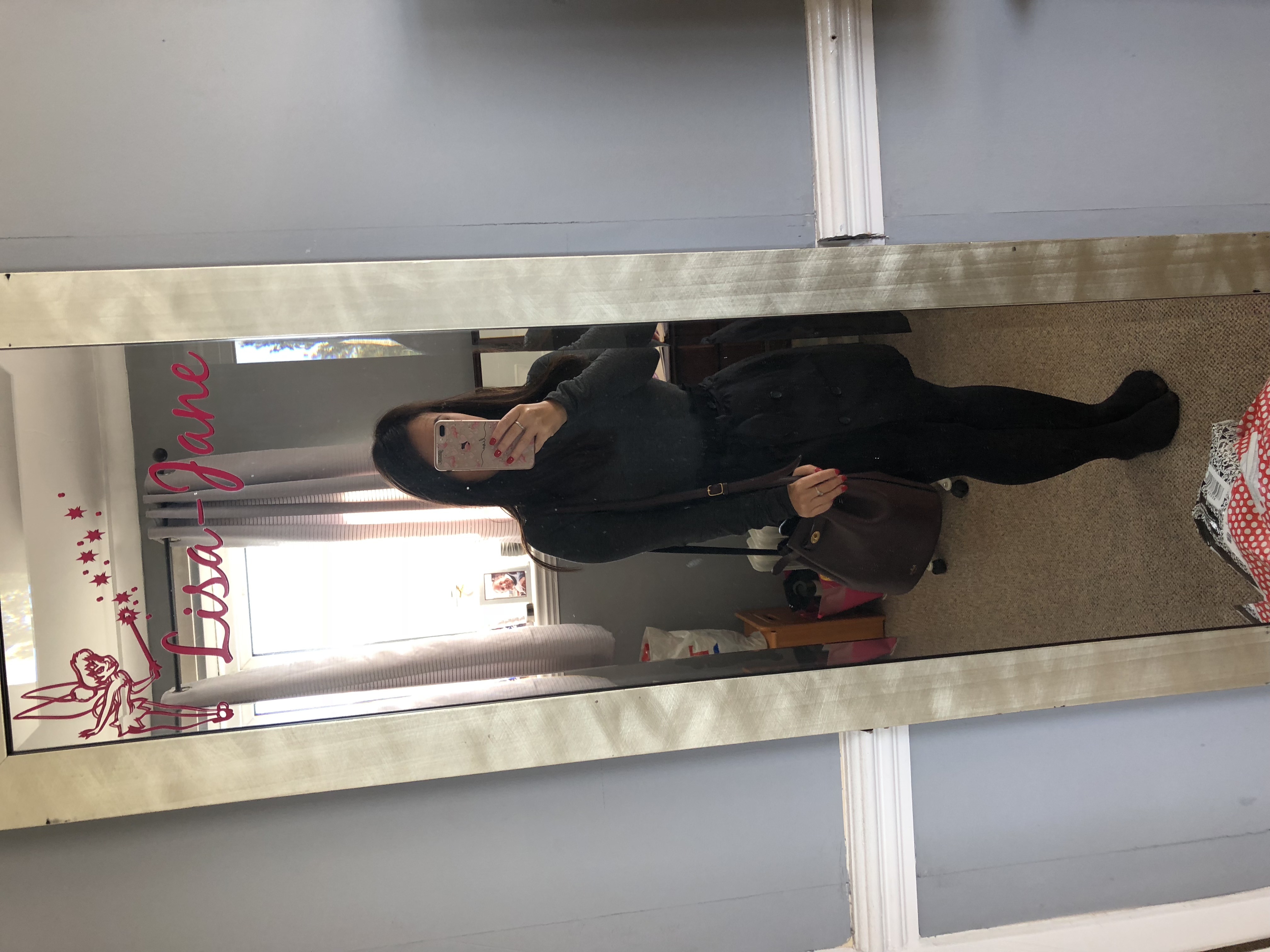 Later on that evening Luke and I went on The alleyways and shadows ghost walk, An atmospheric Saturday night ghost tour that explores some of the most haunted locations in the City of London in the dark including hidden passages, ancient burial grounds, haunted alleyways and ghostly passageways. Luke and I have done a couple of similar ones in the past, one in London and another when we were staying in Brighton. I love anything like this, I find the supernatural fascinating and I am a believer of the paranormal. The walk it's self is not scary, it's not a fright night where people jump out at you, instead it's a walk some of London's oldest streets that are rich with history and story's. Our guide was extremely knowledgeable and had lots to tell us about each different location, he was also on hand to answer any questions. It was a fun way to spend a Saturday evening, and at only £10 per ticket it was very reasonably priced. The whole tour lasted roughly around 1 hour 45 minutes. Well worth it if you have time to spare when in London and want to know a little more about the history of some of the haunted locations.
Luke and I caught the 10.30pm train back home to Essex and in true Lisa style finished off the night with a good old cup of tea! Ready for bed and looking forward to long Sunday lay in.
Chilling out tonight with a hot chocolate feeling happy and very much in love, I am pleased to see my diary looking full and can't wait for all the fun autumn dates I have planned with my boyfriend.
Enjoy the rest of your evening, hope everyone has a great week
Thanks for reading