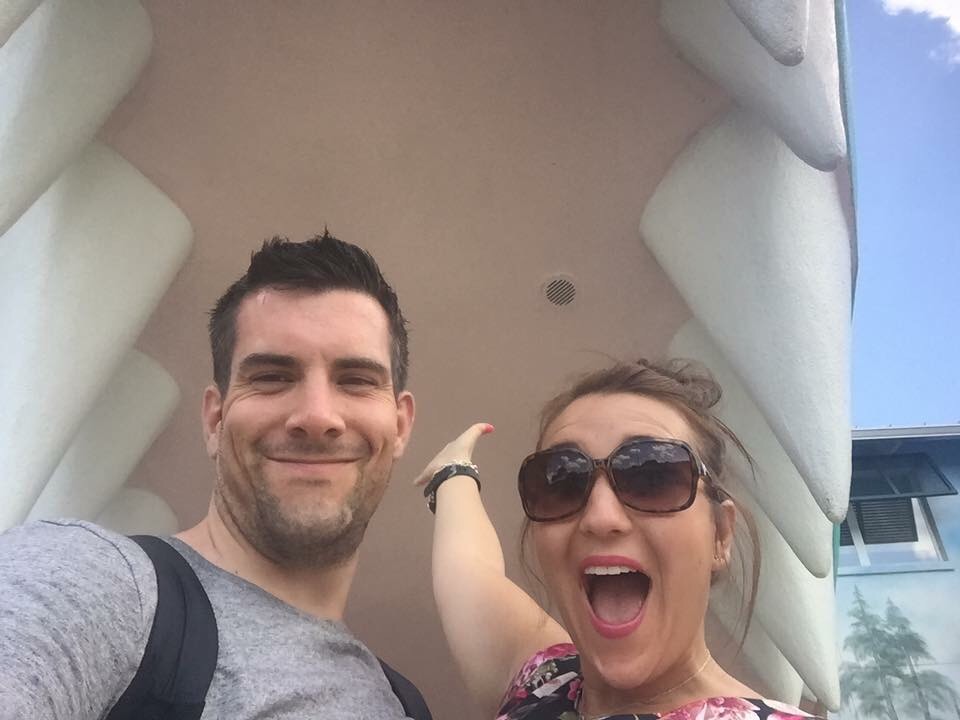 Vacationing in Orlando Florida is one of my favorite things to do, and I'd be lying if I said our main purpose of going to Orlando wasn't just to visit Walt Disney World. OF COURSE IT IS! We are massive Disney fans so naturally we vacation here with every intention of hitting those Disney Parks! However I do find it very important to get away from the Disney Magic for a day or 2 while I'm there, and it would be criminal to go all that way, and not see some more of Florida Orlando.
On my very first trip to Florida my parents took myself and my sister to a place called Gatorland which is in the orange blossom trail just south of Orlando, and is about a 21 minute drive from Walt Disney World. We loved it so much that we have returned every time we have visited Florida. Luke and I have included it in this years itinerary because it's such a great day out and we love it!
So I did a little bit of digging to give you all the background story of Gatorland.
Founded 68 years ago by Owen Godwin on former cattle land in 1949, it has been privately owned by his family since then. Known as the "Alligator Capital of the World," Gatorland features thousands of alligators and crocodiles, and is a breeding marsh with boardwalk and observation tower. There are reptile shows, aviary, petting zoo, swamp walk, and educational programs. The park is known for buying and rescuing nuisance alligators from trappers that would otherwise be killed for their meat and skin. INTERESTING FACT ALERT!-The Breeding Marsh area of the park was used in the filming of the 1984 movie Indiana Jones and the Temple of Doom.
The alligator population in Florida is HUGE, of course Florida is mainly swamp land which technically means they were there first! I have heard the statistics are something like there are 10 Gators to 1 human!! CRAZY!!!! It's certainly not uncommon to see them in the swamps or near the lakes as your drive through the state. And it's always an idea to check your surroundings and NEVER be complacent about them!
So Gatorland is also known for rescuing unwanted venomous reptiles and spiders! The story I was told on my trip last year is that in the mornings(in the parks early days)the staff would find exotic unwanted pets left by the front gate for them to deal with, it become so common that these unwanted animals now have a forever home at gatorland.
There is loads to see and do here from the jumparoo show, featuring some of the largest alligators I have ever seen!!
To the close encounter show, featuring an array of venomous reptiles.
And there is even a spot of gator wrestling too.
The staff are absolutely brilliant! They are funny, and really get the crowd going while being informative and compassionate about the animals in their care. You can tell that they love and enjoy what they do.
The swampy surroundings of Gatorland are fun to explore, and a great way to see some of Florida's wildlife.
They also allow you to feed the ALLIGATORS!!! Now we signed up for this at the main gate and it cost around $10 each. I thought we would probably be standing in a ledge throwing in a bit of meat…. OH HOW WRONG I WAS!!
Yes above is a picture of myself and Luke a few feet away from around 60 HUGE ALLIGATORS! You're eyes are not deceiving you….There are NO fences or wires separating you from the hungry gators! It's exactly how you see it! This was a truely AWESOME experience, as I said it cost around $10 per person and you are allowed in the pen in groups of around 6. You then put on your plastic glove (provided) and take a piece of chicken from the bucket provided. In groups of 2 you are then asked to step forward and, throw your piece of meat to the gators. You do this a total of 3 times! Then at the end you pose for you picture….. with your back turned on the GATORS!!! I'm not sure that's ever a good idea!!! Of course the whole time there are 2 Gatorland members of staff with you, but they still didn't stop me from thinking…. "WHAT AM I DOING!!!!!" Crazy but an amazing experience. As I said I had no idea it would be that intense! And so up close and personal!!!
Other things to do there (apart from the shows) are The Screamin' Gator zip line!– Imagine Soaring through the air and over some of the theme park's star attractions – including Cuban and Nile crocodiles – before heading over the Alligator Breeding Marsh, complete with one hundred and thirty giant alligators watching from below! Whilst SUSPENDED on a ZIP WIRE!!!! I haven't done this yet……… Maybe this year?!…..
They also have the petting zoo, which is my personal favorite! I love nothing more than feeding the birds and the goats and having a little stroke of them, Luke for some reason is never as enthusiastic as I am!

We usually spend about half a day when we visit gatorland, although there is more than enough to fill up a whole day.

All in all this is a great day out and great for children too, I can't wait to make my 5th trip back there this year!!
Click here to check out there website and prices! Don't forget you can nearly always find a money off voucher in one of the many coupon books found in Walmart or publix.